June 30, 2022 Russia-Ukraine news
3:12 a.m. ET, July 1, 2022
5:32 p.m. ET, June 30, 2022
The strategic territory of Snake Island is "free again," Zelensky says
From CNN's AnneClaire Stapleton
Snake Island is "free again," Ukraine President Volodymyr Zelensky said in his nightly brief Thursday. 
"Zmiinyi [Snake] Island is a strategic point, and it significantly changes the situation in the Black Sea. It does not guarantee safety yet, it does not yet guarantee that the enemy will not return. But it already limits the actions of the occupiers significantly. Step by step, we will drive them out of our sea, our land, and our sky," Zelensky said. 
The small but strategic territory was the scene of one of the opening salvos of the war in Ukraine, with demands from a Russian warship calling for the Ukrainian defenders to surrender, who boldly replied with "Russian warship, go f*** yourself."
Known as Zmiinyi Ostriv in Ukrainian, Snake Island lies around 30 miles (48 kilometers) off the coast of Ukraine and is close to the sea lanes leading to the Bosphorus and Mediterranean.
Some background: Ukrainian Armed Forces said Russian troops left the island on Thursday, after they carried out what they said was a "successful" operation. Meanwhile, Russian army spokesperson Igor Konashenkov said at a briefing that its forces left the island "as a gesture of goodwill."
2:29 p.m. ET, June 30, 2022
Pentagon reviewing proposals for new weapons capabilities for Ukraine's fight against Russia, official says
From CNN's Barbara Starr
The US Defense Department is now reviewing 1,300 proposals from 800 companies for innovative new weapons and commercial capabilities they may be able to develop and produce for Ukraine to use in its fight against Russia's invasion, according to a defense official.
The Pentagon expects to decide in the coming weeks on which ideas it will pursue, leading to possible eventual production for Ukraine as well as for the US military.
The proposals, requested by the department, center around key areas — including weapons capabilities for air defense, anti-armor, anti-personnel, coastal defense, anti-tank, unmanned aerial systems, counter battery and secure communications — which have been identified by Ukraine as key military needs. 
They were sought as part of a broad initiative by the Defense Department to "fulfill Ukraine's priority security assistance requests," according to the original solicitation for ideas sent to industry. The goal is to get ideas and information in hand in order to accelerate production and build more capacity across the industrial base, as its now accepted the US and its allies are likely to have to support Ukraine long after its own existing weapons stockpiles run out.    
This comes as the Pentagon continues its multiple billion-dollar weapons transfers. On Thursday, President Joe Biden said the US will soon announce another $800 million in new aid, including air defense systems and offensive weapons. So far, the US has committed $6.1 billion in security assistance to Ukraine since the Feb. 24 invasion by Russia. The US has been working with more than 50 other nations to see what weapons they can offer. 
The preference has been for what they have in Russian weapons, because Ukraine's forces are familiar with those systems and would not need training. But as the war has gone on, more advanced weapons have been provided and Ukraine's forces have been trained in nearby countries. 
The department's plan for potential new production contracts reflects some urgency as it looks for potential deliveries anywhere from less than 30 days to more than 180 days. It is also asking companies to detail what type of air, land or sea platform their weapon might be deployed on and if they already have something in production.
"In particular, the Department is exploring options which would accelerate production and build more capacity across the industrial base for weapons and equipment that can be rapidly exported, deployed with minimal training, and that are proven effective in the battlefield," the DOD said in its solicitation to industry for ideas.
The effort comes as a followup to a Pentagon meeting earlier this year with eight of the largest defense contractors, as well as approval by Congress for funding purchase contracts for weapons in addition to the ongoing drawdown and transfer of systems from the US military stockpile.  
The Pentagon has put into place a detailed bureaucratic structure to assess Ukraine's needs and try to accelerate supplying them, it said. A new "senior integration group" of senior officials reviews Ukraine's latest operational needs.
The funding could potentially come from the Ukraine Security Assistance Initiative, which is a pot of nearly $1 billion for contracting for weapons for Ukraine. Nearly $240 million has been contracted for in areas ranging from Switchblade drones to secure communications devices. 
2:19 p.m. ET, June 30, 2022
Russia says it has complete control of Lysychansk oil refinery while Ukraine admits only "partial success" 
From CNN's Julia Presniakova and AnneClaire Stapleton
The Russian barrage continued on the eastern city of Lysychansk and Russian troops have "completely taken over the refinery," Vitaliy Kiselev, the assistant minister of the interior of the Russian-backed Luhansk People's Republic (LPR), announced on Russian-backed media outlet Zvezda. 
"Today, our troops have completely taken over the refinery, cleaning is underway. Our divisions have already entered almost beyond the refinery. That is, we control part of the city from the side of the refinery. Similarly, we have units that entered from the eastern side, crossed the Siverskyi Donets River and crashed into residential buildings. And we have exactly the same situation, even better, after we took Vovchoiarivka, our units came even closer. And from the side of Toshkivka we crashed into the residential areas. Almost from all sides we control Lysychansk, somewhere by 50%," Kiselev said. 
Meanwhile, Ukraine says Russia is still conducting assault operations in the area of ​​the Lysychansk oil refinery and "had a partial success, and holds the northwestern and southeastern parts of the plant," according to a Thursday evening update from the Ukrainian Armed Forces.
"The enemy carried out assault operations in the areas of the northeastern part of the Lysychansk refinery, the settlement of Topolivka and the northern part of the settlements of Vovchoiarivka and Maloriazantseve," the Ukrainian Armed Forces statement said. "[Russia] is partially successful. Keeps under fire control section of the road Topolivka – Lysychansk. Unable to withstand the fire of our artillery, missile and air units, the Russian occupiers left Snake Island. Thus, the Odesa region was completely liberated."
Serhiy Hayday, head of the Luhansk region military administration, said on Thursday night that Lysychansk is an "extremely difficult situation."
"The shelling comes from several directions. Because the Russian army approached Lysychansk from different directions. As always, they reported that they controlled half the city. It is not true. But the shelling is very powerful. They even are deliberately shooting at our humanitarian centers. There are wounded. Now we advise people to be constantly in shelters. Evacuation is not possible. This is extremely dangerous. They mine the access roads with anti-tank mines. Russians on the outskirts. There are no street fights inside the city," Hayday said. 
12:52 p.m. ET, June 30, 2022
Sweden has promised Turkey it will extradite 73 people, Turkish president says
From CNN's Isil Sariyuce in Istanbul
Sweden promised to extradite 73 people to Turkey as a result of the memorandum that was signed in Madrid on Tuesday between Sweden, Finland and Turkey, Turkish President Recep Tayyip Erdoğan said.
"If the promise is not kept, we will do what is necessary in the agreement," he said during a presser in Madrid on Thursday, adding that Turkey would not send the ratification of the agreement to the parliament. "If they do not fulfill these, we will not send it to parliament."
Still, Erdoğan called the memorandum a "diplomatic victory."
Prior to the NATO summit where the trilateral memorandum was signed, Turkey said it will veto Sweden and Finland's NATO membership bids, claiming they harbor members of Kurdistan Workers Party, or PKK which Turkey, EU and USA recognize as terror organization, as well as FETO which Turkey sees behind 2015 coup attempt.
The 10-article memorandum says Sweden and Finland will address Turkey's pending extradition requests of terror suspects in accordance with the European Convention on Extradition.
Turkey dropped its objection to Finland and Sweden's NATO membership as a result of the memorandum signed by those three countries and after Erdogan spoke to US President Joe Biden on Wednesday.
12:47 p.m. ET, June 30, 2022
Satellite images show how Ukraine used drones to target Russian forces on Snake Island
From CNN's Paul P. Murphy
For the first several weeks after Snake Island in the Black Sea fell to the Russians on the first day of their invasion into Ukraine on Feb. 24, it was relatively quiet. That all changed on May 2, when the Ukrainians began utilizing Bayraktar TB2 drones to target Russian forces and equipment on and near the island. 
Since then, almost every week, the Ukrainians conducted drone strikes on the island. The strikes have been overwhelmingly successful, knocking out military vehicles, buildings, ships and even a helicopter. 
Ukrainian Armed Forces said Russian troops left the island on Thursday, after they carried out what they said was a "successful" operation. Meanwhile, Russian army spokesperson Igor Konashenkov said at a briefing that its forces left the island "as a gesture of goodwill."
The small but strategic territory was the scene of one of the opening salvos of the war in Ukraine, with demands from a Russian warship calling for the Ukrainian defenders to surrender, who boldly replied with "Russian warship, go f*** yourself."
See some of the satellite images from the strategic island here:
1:24 p.m. ET, June 30, 2022
Here are the key takeaways from US President Biden's speech at the NATO summit
From CNN staff
The NATO summit this week in Madrid, Spain, made headlines as it renewed its focus to address Russia's war in Ukraine and China as a threat. US President Joe Biden said these developments show that the US-led military alliance is "moving to a place that reflects the realities of the second quarter of the 21st century."
Here's a look at key remarks from Biden's speech at the conclusion of the summit.
A message of transatlantic unity against Putin's goals: The global response to every crisis created due to the Russian invasion of Ukraine shows Russian President Vladimir Putin is "getting exactly what he did not want," Biden said, citing Moscow's anger at Sweden and Finland's decision to join NATO.
"We're more united than ever. And with the addition to Finland and Sweden, we'll be stronger than ever. They have serious militaries, both of them. We're going to increase the NATO border by 800 miles along the Finnish-Russian border. Sweden is all in."
Russia is feeling the impact: While pledging to "support Ukraine as long as it takes," Biden said that the war in Ukraine has already taken a toll on Russia as it defaulted on foreign debt for the first time in a century. "They're paying a very, very heavy price for this," Biden said. 
Inflation is a problem globally and Russia is to blame: Biden also addressed the increase in gas prices and food shortages around the globe and especially back at home in the US, squarely placing the blame on Russia's invasion of Ukraine. "The bottom line is ultimately the reason why gas prices are up is because of Russia. Russia, Russia, Russia. The reason why the food crisis exists is because of Russia."
10:39 a.m. ET, June 30, 2022
"Too early" to establish outpost on Snake Island, Ukrainian military official says
From CNN's Anastasia Graham-Yooll in London
While the Russian forces have withdrawn from Snake Island in the Black Sea, it may be "too early" for Ukraine to establish an outpost there, said the spokesperson for the Ukrainian Military's Southern Command, Natalia Humenyuk.
Humenyuk reported the island remains engulfed in heavy smoke as explosions continue. Although the Ukrainian military saw Russian troops evacuate using speedboats, Humenyuk said investigation needs to take place into possible "diversion tools left behind" before claiming back the island.
"Our forces haven't landed on the island yet," she added clarifying it is not clear if Russian troops withdrew completely. "We cannot state that they all withdrew. But we hope that they had enough sense to do that."
Humenyuk suggested the Russian military set anti-air missile systems and radar station on fire "to cover their tracks."
"As soon as they understood all these systems were being targeted by us effectively and could not serve them anymore, they realized they had to fold their outpost and get out," she added. "We have to monitor their behavior in terms of their ship groupings and the use of other forces. It is too early for us to form an outpost on the Snake island. We have to finish the investigation into the result of the military operation." 
Russian military command justified their withdrawal from the island on Thursday "as a gesture of goodwill."
An islet off the Ukrainian coast near Odesa, Snake Island had been captured by the Russian Navy in the early day of the war in February. An important outpost for marking Ukrainian territorial waters, it has become the symbol of Ukrainian resistance against Russian occupation.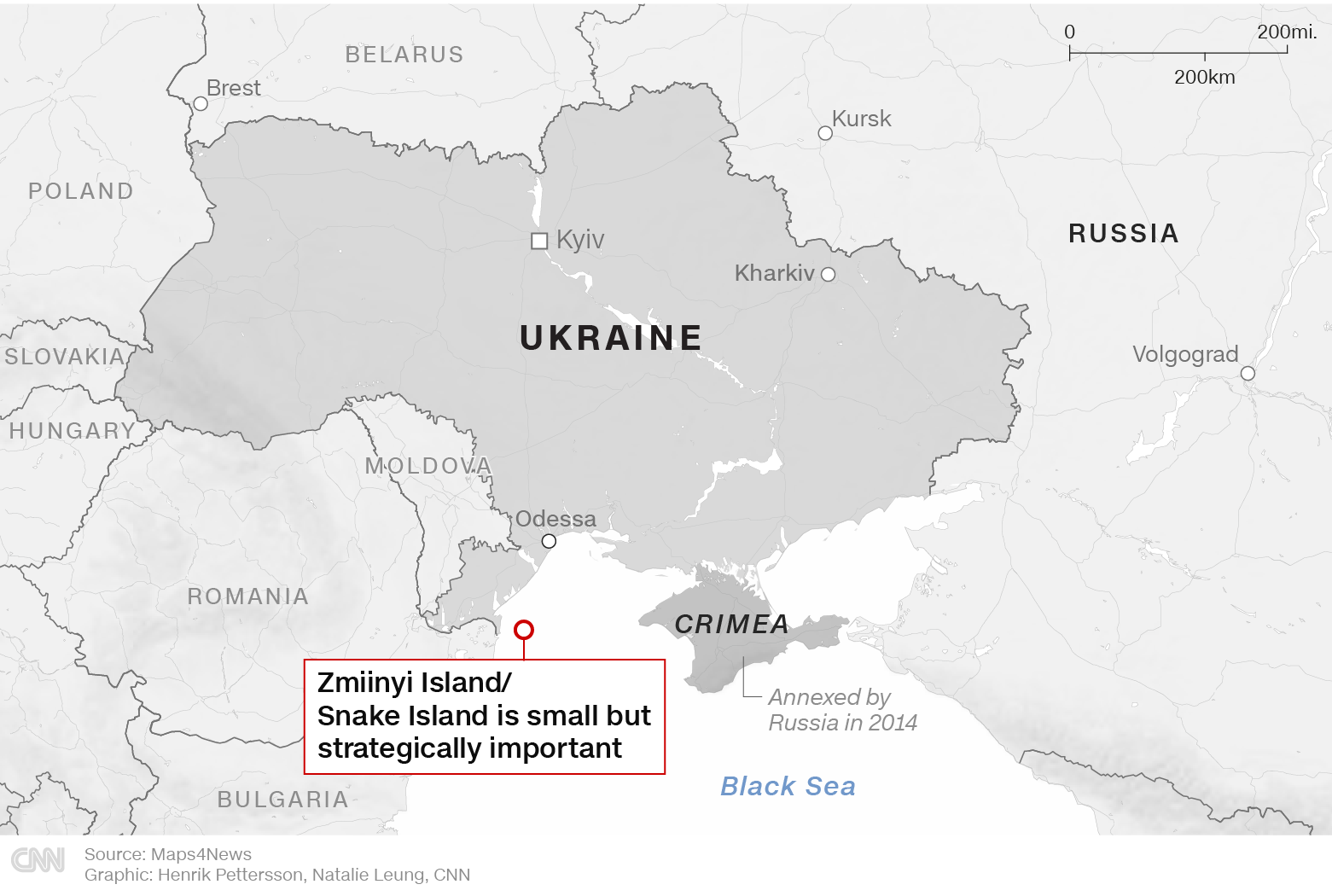 Read more about Russian withdrawal from Snake Island here.
10:28 a.m. ET, June 30, 2022
Ukraine severs diplomatic ties with Syria over recognition of separatist-controlled areas in Donbas
From CNN's Oleksandra Ochman
Ukraine announced Thursday that it has severed diplomatic relations with Syria after Damascus on Wednesday recognized the independence of the pro-Russia separatist-controlled Donetsk People's Republic and Luhansk People's Republic.
"The Ministry of Foreign Affairs of Ukraine strongly condemns the decision of the Syrian Arab Republic to recognize the so-called 'independence' of the temporarily occupied territories in the Donetsk and Luhansk regions of Ukraine," the ministry said in a statement on Thursday.
"We consider this decision to be an unfriendly act against Ukraine, an encroachment on the sovereignty and territorial integrity of our state, and a gross violation of Ukrainian law, the UN Charter, and the fundamental norms and principles of international law," it added.
Syria is the only country aside from Russia to formally recognize the independence of the breakaway regions.
"In response to this unfriendly act, Ukraine declares the severance of diplomatic relations with Syria without the severance of consular relations, in accordance with Article 2 of the Vienna Convention on Consular Relations done in Vienna on 24 April 1963," Ukraine's foreign ministry also said, adding that it will impose a trade embargo, as well as other sanctions, on Syria.