Ukrainian officials said they have procedures in place for a potential Russian assault on the Zaporizhzhia power plant, as Kyiv warned of a provocation from the Kremlin at the facility.
Deputy Defense Minister Hanna Maliar warned Moscow is capable of "completely reckless actions" that could it try to pass off as sabotage by Ukraine. At the same time, Kremlin spokesperson Dmitry Peskov said there is a "great threat of sabotage by Kyiv" at the plant, which could have "catastrophic consequences."
Maliar said on Wednesday: "In order to minimize potential negative consequences, emergency services have been training for several days in four Ukrainian regions -- Dnipropetrovsk, Zaporizhzhia, Kherson and Mykolaiv -- to overcome the consequences of a possible terrorist attack on the ZNPP."
Russia could attack the plant, she warned, to turn the momentum of the war in its favor and "achieve its military goals," she added.  
Ukrainian President Volodymyr Zelensky accused the Kremlin on Tuesday of possibly planting explosives on the roof of the Zaporizhzhia plant, an assertion based on military intelligence. 
Radiation levels are "within normal limits" and in the 30-kilometer (18.6-mile) zone around impacted power plants and areas around Chernobyl are "within monthly average values," according to the Ukrainian Ministry of Internal Affairs.
Meanwhile, Ukrainian officials in Nikopol in southern Ukraine said the Russian-occupied Zaporizhzhia plant is operating normally and there have been no "significant movements of occupiers' manpower and equipment." 
Local military official Yurii Malashko echoed Maliar and said that while Russian forces are "unpredictable," Ukrainian special forces are ready for any dangerous development and have "checked the necessary equipment and worked out response plans."  
The Ukrainian state energy company Energoatom said the water level in the cooling pond is "stable and under control," despite a Russian attack on the Kakhovka dam, which provides water for cooling the plant, causing extensive flooding in the nearby Kherson region. 
Russian-installed officials in Zaporizhzhia rebuffed concerns raised by Ukrainian authorities, saying "everything is normal," and the plant is operational.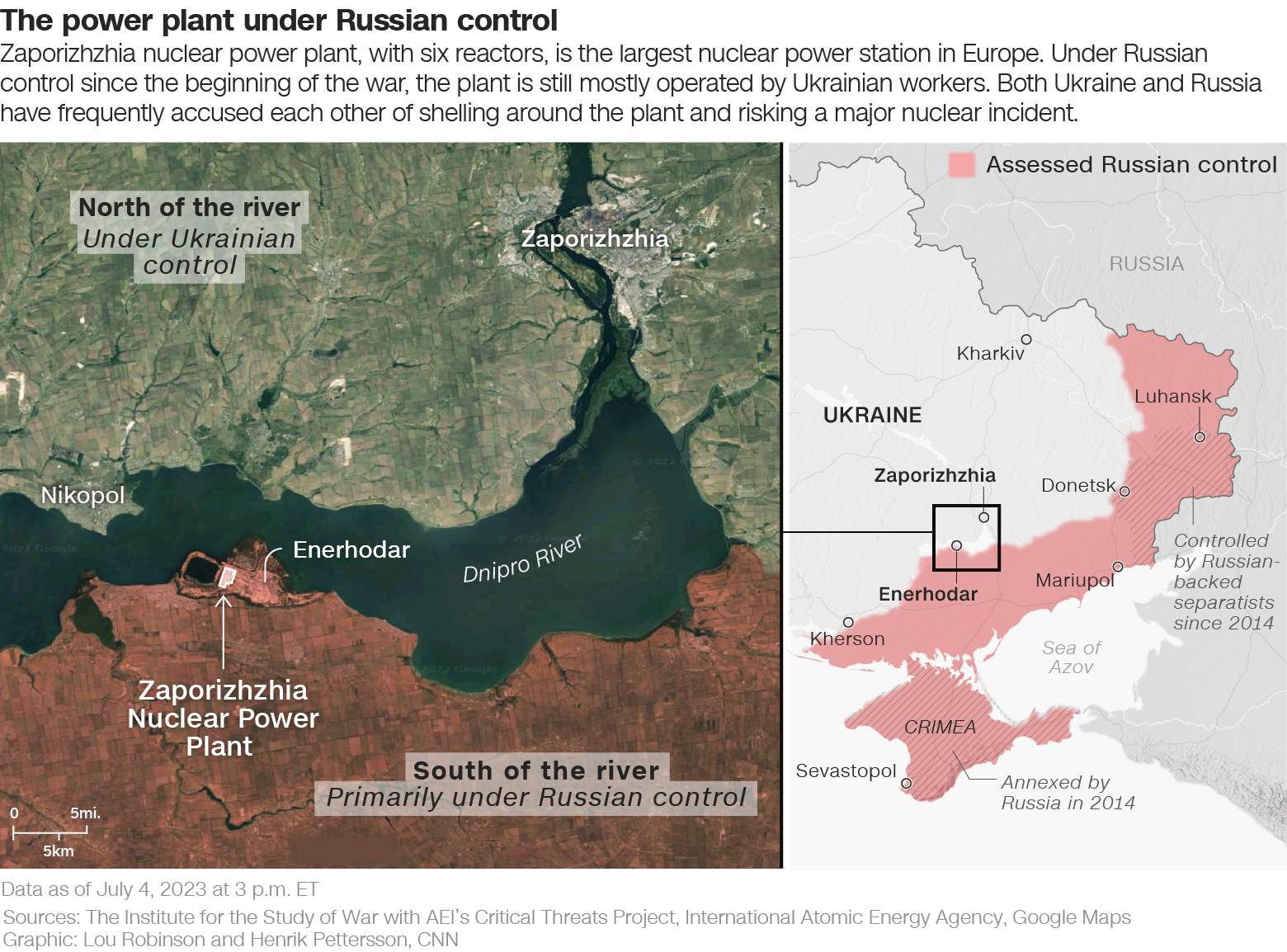 CNN's Anna Chernova, Radina Gigova and Svitlana Vlasova contributed reporting.