Ukrainian President Volodymyr Zelensky told CNN that Ukraine is unwilling to cede any of its land to Russia, standing firm that a concession of Ukrainian territory won't be part of any diplomatic negotiations to end the war.
Here are the latest headlines:
Zelensky won't cede territory: The Ukrainian President said "Ukrainians are not ready to give away their land," in an exclusive interview with CNN. He acknowledged that Russia controls "almost all the Luhansk region" but urged the West to continue providing military support to help Ukraine keep up its fight. Zelensky also reiterated his call for US President Joe Biden to visit Kyiv, saying it would send a message to Russia and the world.
Putin warns of long war: Russian President Vladimir Putin issued a warning to the West and Ukraine, saying the war could drag on until the "last Ukrainian is left standing." Putin challenged the West to defeat Russia on the battlefield, saying "Let them try." He also said the longer the conflict goes on, "the more difficult it will be for them to negotiate with us."
Kharkiv strikes: At least three people were killed and five others injured in shelling in one of Kharkiv's districts in northeastern Ukraine, according to a National Police official. Russian troops carried out an attack on a residential area in the Nemyshliansky district of the city, using Uragan multiple launch rocket systems and high-explosive shells, the official said.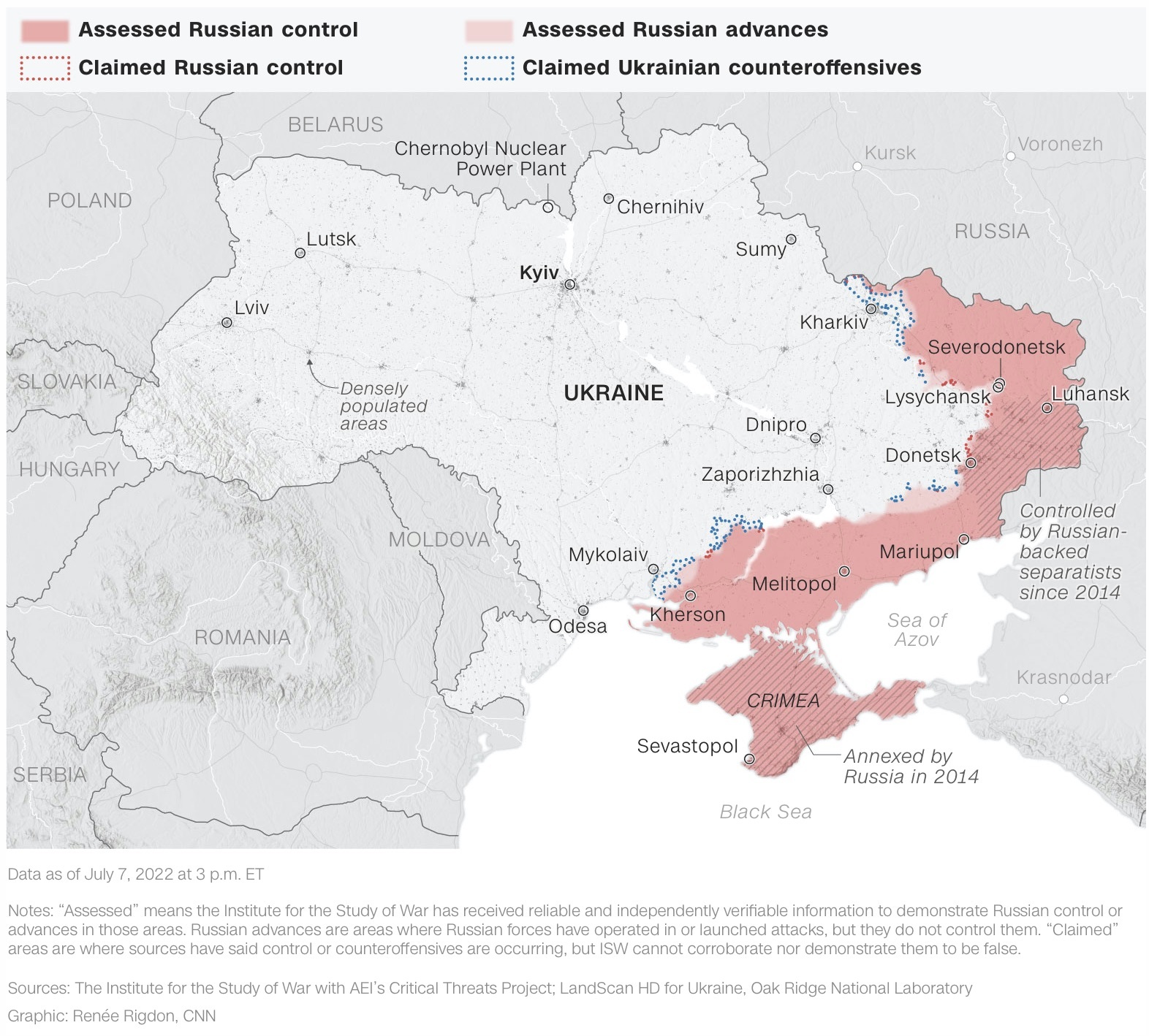 Donbas missile: A missile struck the center of Kramatorsk in Ukraine's eastern Donbas region on Thursday, according to a regional official. As the battle for control in the east intensifies and Russian forces prepare for a renewed assault in Donetsk, hundreds and thousands of people have been urged by Ukrainian officials to evacuate the region.
Snake Island: A Russian aircraft attacked Snake Island Thursday, according to both the Russian Defense Ministry and the Ukrainian armed forces, shortly after Ukrainian troops raised the national flag there. Russia claimed it killed "some" military personnel but Ukraine did not mention any casualties.
Anger over grain ship: Ukraine's Foreign Ministry said the release of a Russian ship allegedly carrying stolen Ukrainian grain from Turkish waters is "unacceptable." Turkey ignored a request to arrest the vessel and cargo and the ship was released on July 6, according to a ministry statement. The Russian merchant ship, Zhibek Zholy, had carried the grain from the occupied port of Berdiansk to the Turkish port of Karasu.
Foreign leaders talk Ukraine: Russia's war will be a priority at the G20 foreign ministers meeting in Bali on Friday, with the US warning it is not a time for business as usual with Moscow. US Secretary of State Antony Blinken is not planning to have a one-on-one meeting with his Russian counterpart, breaking with tradition. He will, however, meet with Chinese Foreign Minister Wang Yi for a "candid exchange" on Beijing's response to the war in Ukraine.