July 16, 2023 Russia-Ukraine news
12:01 a.m. ET, July 17, 2023
11:12 p.m. ET, July 16, 2023
"Emergency incident" on Crimean Bridge, Russia-backed official says 
From CNN's Josh Pennington and Alex Stambaugh 
An "emergency incident" has been reported on the Crimean Bridge, halting traffic on the only link between the annexed peninsula and Russia, a Moscow-backed official said Monday.
Sergey Aksenov, the Russia-appointed head of Crimea, did not specify the nature of the incident. 
"Law enforcement agencies and relevant services are at work. I spoke to the Minister of Transport of the Russian Federation, Vitaly Savelyev, and measures are being taken to ameliorate the situation," Aksenov said. 
Aksenov urged residents and those traveling to and from Crimea to choose an alternative land route. 
Some context: Earlier this month, Ukraine's Deputy Defense Minister Hanna Maliar made what appeared to be the clearest admission yet that Ukrainian forces were responsible for an attack last October on the bridge.
The attack disrupted major transport links between Russia and Crimea, which Moscow has controlled since it seized the peninsula in 2014. It also hit Russia's military effort in Ukraine and represented a psychological blow for Moscow and a major propaganda victory for Kyiv.
4:45 p.m. ET, July 16, 2023
Fighting on the front lines, grain deal deadline and Putin's rhetoric. Here's the latest
From CNN staff
Russian President Vladimir Putin painted the Ukrainian counteroffensive as "unsuccessful" in an interview with a pro-Kremlin journalist published Sunday, and by its own account, Ukraine acknowledges the campaign has been characterized by tough fighting and limited progress.
Kyiv insists it does not feel under pressure by Western allies to deliver quick results as it does the hard work of driving Russian forces out of its territory.
On the front lines this weekend, Ukraine reported fierce battles in the east, with the two sides swapping fighting positions and Russia going on the offensive in some areas. Outside the long-contested city of Bakhmut, however, Ukraine's military has reported slow but steady progress.
In southern Ukraine, heavy Russian attacks wounded multiple people in the Zaporizhzhiaand Kherson regions this weekend, local Ukrainian officials said.
Here are some other key developments surrounding Russia's war in Ukraine:
5:18 p.m. ET, July 16, 2023
What we know about Russia's history of using cluster munitions in Ukraine
From CNN's Radina Gigova and Maria Kostenko
Despite saying Ukraine using cluster munitions is a "crime" — and vowing to retaliate if Kyiv uses the ones recently supplied by the US — Russian President Vladimir Putin's forces have been using the controversial weapons throughout the course of the war, Ukraine and the United Nations have said. 
Ukraine's Prosecutor General's Office has launched a number of investigations on Russia's use of cluster bombs since the very beginning of the war. 
Here's what those probes and reports from international organizations have revealed so far:
Ukrainian claims: In a statement on March 27, 2022, the Prosecutor General's Office said Russia has used cluster munitions on civilian targets in the eastern Dnipropetrovsk region, and that the regional prosecutor's office has launched "criminal proceedings over violation of the laws and customs of war."
According to the investigation, Russian armed forces made the prohibited artillery shelling with a multiple rocket launcher system, targeting a settlement in the region's Kryvyi Rih district, the prosecutor's office said in a post on Telegram.
"The missile was equipped with prohibited cluster munitions. In the course of the inspection of the scene, law enforcement officers and explosives experts discovered and seized fragments of the rocket," it added. 
In a Telegram message posted on May 11, the Zaporizhzhia region military administration said Russian forces "massively attacked (the town of) Malokaterynivka with multiple rocket launchers, where 8 people were injured by cluster munitions." Three of those wounded were ambulance workers who were responding to a call.
CNN is not able to independently verify the Ukrainian claims. 
Reports from outside organizations: Cluster munitions have been used on civilian targets in the northeastern Kharkiv region as well, a CNN investigation from last year found.
The report documented how a Russian general who oversaw atrocities in Syria led the cluster bombings on Ukraine's second-largest city.
The UN and affiliated organizations have also published reports on the issue.
In a statement published March 30, 2022, the UN rights chief at the time, Michelle Bachelet, said credible reports indicated Russia had already used cluster munitions in populated areas of Ukraine "at least two dozen times," just over a month after the invasion was launched.
In a report published on August 25, 2022, the UN-partnered Cluster Munition Monitor civil society group said Russian forces had "repeatedly" used cluster munitions since the start of the war. 
Ukraine's own use of the weapons: The same report by the Cluster Munition Monitor group found that Ukrainian forces had also used cluster munitions "several times" and "mostly" in populated areas.
Ukraine has acknowledged its previous use of the weapons, saying it was using the bombs to defend its territory from a war launched by Russia.
Ukrainian and US officials have said the cluster munitions provided by the US won't be used in heavily populated areas, even if those areas are occupied by Russian forces, and that Kyiv will make efforts to sweep areas it bombs with the munitions for unexploded ordnance.
Cluster munitions have killed at least 215 civilians and injured 474 people overall since the start of the war, according to the monitoring group's report. 
CNN's Uliana Pavlova contributed reporting to this post.
2:56 p.m. ET, July 16, 2023
Fighting positions changing for both sides along the eastern front, Ukrainian official says
From CNN's Mari Kostenko and Radina Gigova
Positions on both sides are "changing dynamically" along the eastern front as fighting there has "somewhat escalated," a Ukrainian official said.
"There are fierce battles, and the positions of the parties are changing dynamically several times a day," Ukraine's Deputy Defense Minister Hanna Maliar said Sunday. 
Russia has been "actively advancing" near the city of Kupyansk in the country's northeastern Kharkiv region for two days in a row, Maliar said. "We are on the defense," she added.
Further south along the eastern front, Maliar said Ukrainian forces are gradually moving forward around Bakhmut and that there are "daily advances on the southern flank" of the long-contested city.
On Bakhmut's northern flank, Ukrainian forces are trying to hold their positions, while Russian forces continue to attack, Maliar said.
"In Bakhmut itself, we are shelling the enemy, and the enemy is shelling us," she added. 
And south of Bakhmut, Russian forces are also on the offensive in areas surrounding the towns of Avdiivka and Marinka, Maliar said.
"Our defenders continue to effectively hold them back. Hot battles continue with no change in positions," she said.
It is not possible for CNN to immediately verify claims of territorial gains or losses by either side. 
Here are the areas each side controls in southern and eastern Ukraine: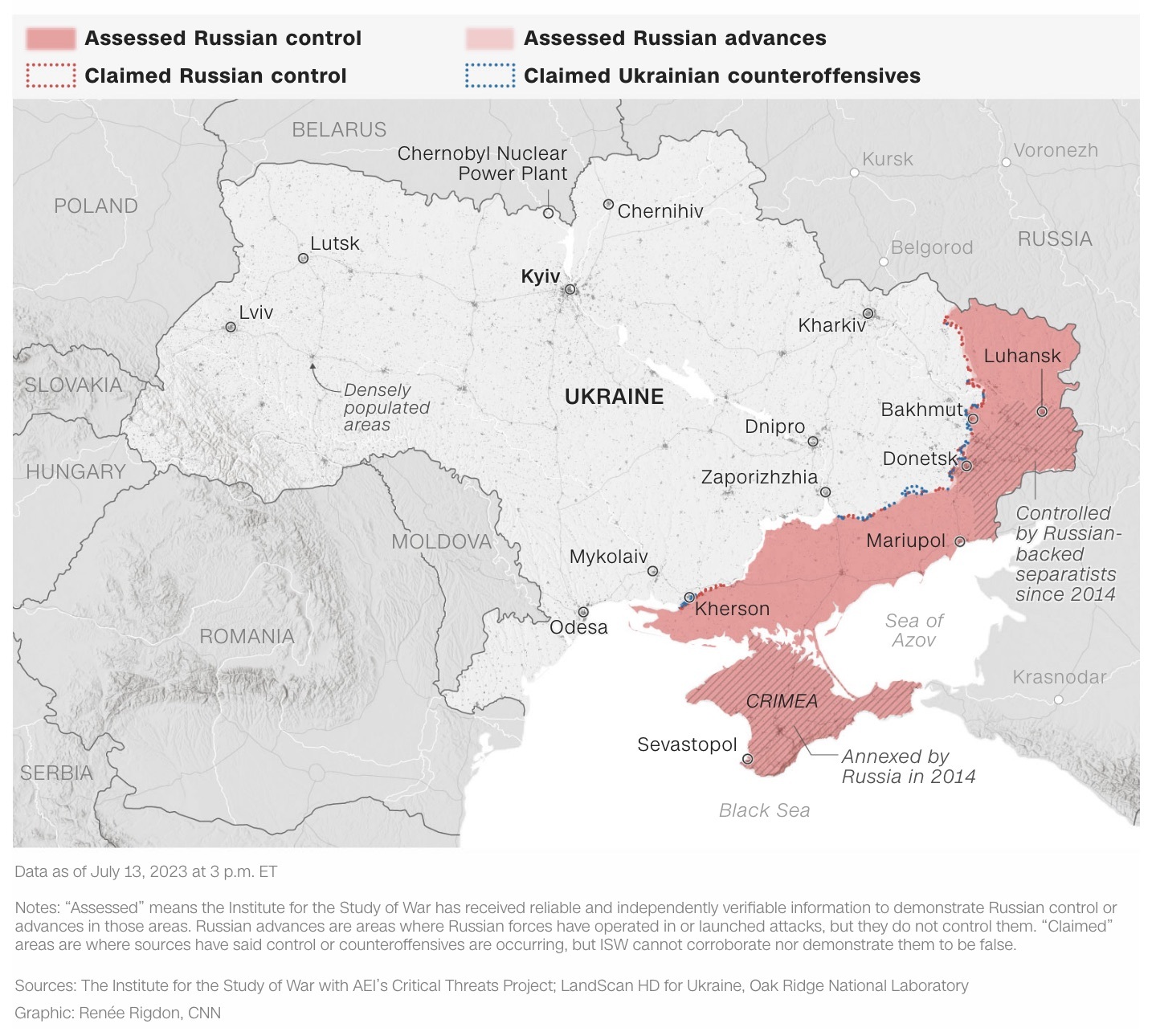 1:26 p.m. ET, July 16, 2023
Ukrainian children wounded by explosive device they found outside, official says
From CNN Mariya Knight and Maria Kostenko
Two children — boys, ages 8 and 10 — were badly wounded by an explosion as they played in a village in the southern Kherson region, according to Oleksandr Prokudin, head of the region's military administration.
The boys were among four people wounded and one person killed in Kherson over the past 24 hours, Prokudin said in a Telegram message Sunday.
The children had been playing in the street in the village of Tryfonivka, northeast of Kherson city, when they found an "unknown object on the street," according to the official.
"The device detonated while they were playing," Prokudin wrote. "The children sustained craniocerebral injuries and concussions. The younger one also received shrapnel wounds to his torso and arms, and a burn to his leg."
In his message, Prokudin pleaded with Ukrainian parents to talk to their children about staying safe and not playing with unfamiliar objects.
Russian attacks: Moscow's forces fired 10 shells at the city of Kherson and shelled the surrounding region 69 times over the past 24 hours, leaving one person dead, Prokudin said.  
The Kherson region military administration reported that two people were wounded by shelling in the village of Rozlyv, just west of the city, but did not release further details.
Prokudin said the shelling damaged civilian infrastructure in multiple parts of the region. 
1:00 p.m. ET, July 16, 2023
The Black Sea grain deal is just over 24 hours from expiring if Russia refuses to renew
From CNN's Radina Gigova
A crucial deal that allows the export of grain from Ukrainian ports in the Black Sea is set to expire Monday unless Russia agrees to an extension.
The grain deal will end at midnight July 17 into July 18 Istanbul time (5 p.m. ET on Monday), according to Ismini Palla, the chief UN media and communications officer for the Black Sea Grain deal.
The last ship to travel under the deal left the port of Odesa early on Sunday, Palla said.
The deal was first brokered by Turkey and the United Nations in July 2022, after Russia launched its full-scale invasion of Ukraine and blockaded ports.
Russian President Vladimir Putin told South African President Cyril Ramaphosa in a phone conversation Saturday that the deal has not met its objectives.
Though Russia has renewed the deal three times, it has repeatedly complained about international sanctions that hinder its own shipments of fertilizers and grain.
In some previous negotiations on the deal, Putin has maintained a hard line until shortly before a deadline and then ultimately agreed to remain in the pact.
11:37 a.m. ET, July 16, 2023
US is not delaying F-16 training for Ukrainian fighter pilots, national security adviser says
From CNN's Jasmine Wright and Morgan Rimmer
US national security adviser Jake Sullivan confirmed Sunday that the US will allow European countries to start training Ukrainian fighter pilots to use F-16 fighter jets, after reports that Europe was awaiting formal approval. 
"Yes, we will," Sullivan told CNN's Jake Tapper when asked. "The president has given a green light and we will allow, permit, support, facilitate and in fact provide the necessary tools for Ukrainians to begin being trained on F-16s, as soon as the Europeans are prepared." 
Sullivan noted that European leaders have said they need several weeks to prepare training abilities and that the US would meet whatever timeline they set out.
"The United States will not be the hold up in ensuring that this F-16 training can get underway," he said.
Remember: Ukraine's quest for the superior US-made fighter jets received a huge boost when the Biden administration said in May that it would back a training program for pilots and would not disallow allies from supplying Kyiv with the planes. But the US has not said that it will supply Kyiv with F-16s directly.
What US lawmakers are saying: Sen. Mark Kelly, an Arizona Democrat and former Navy pilot who sits on the Armed Services Committee, defended the timeline for directly supplying the fighting aircraft to Ukraine.
Responding to perceived criticism that the administration is slow-walking the decision to send F-16s, Kelly said in an interview with CNN on Sunday that it will take time and resources to train Ukrainian pilots on how to fly the aircraft in the first place.
"This is going to take some time. I don't think it's been slow-walked, but the process is a lot longer," Kelly said, adding that during a visit to Ukraine in April, President Volodymyr Zelensky and his team still weren't certain what specific combat missions they wanted to use the jets for.
By contrast, Sen. Dan Sullivan, an Alaska Republican and former Marine who also sits on the Armed Services Committee, criticized the Biden administration's approach.
While he praised Biden for his actions at the recent summit for the NATO military alliance, he criticized the administration for "slow-rolling" weapons systems to Ukraine, specifically citing the F-16s.
"As I predicted, they're eventually going to do it, but it's too darn long. That's exactly what happened," said Sullivan.
11:03 a.m. ET, July 16, 2023
Russian strikes leave at least 7 people wounded in southern Ukraine, regional official says
From Maria Kostenko in Kyiv
Russia pounded the southern Ukrainian city of Zaporizhzhia and surrounding areas with 52 strikes over the course of about 24 hours this weekend, according to a Ukrainian leader in the region.
The rocket attacks left three adult women and four adult men wounded in Sepnohirsk, a village south of Zaporizhzhia city, Yurii Malashko, the head of the regional military administration, said in a Telegram post Sunday.
The Russian barrage also targeted the city itself and at least nine surrounding settlements, Malashko said.
A member of the Zaporizhzhia City Council said the attacks damaged infrastructure and left parts of the city without power.