August 1, 2022 Russia-Ukraine news
2:28 a.m. ET, August 2, 2022
4:30 p.m. ET, August 1, 2022
Zelensky welcomes first grain shipment but says Russia cannot be trusted
From CNN's Tim Lister and Oleksandra Ochman 
Ukrainian President Volodymyr Zelensky has welcomed the first shipment of grain from the port of Odesa since the Russian invasion began in February.
"The port started working, the export traffic started, and this can be called the first positive signal that there is a chance to stop the development of the food crisis in the world," Zelensky said in his daily video address.
At the same time, he warned, "We cannot be under any illusion that Russia will simply refrain from trying to disrupt Ukrainian exports. Russia consistently provoked famine in the countries of Africa and Asia, which traditionally imported significant amounts of Ukrainian food. And now - in conditions of extreme heat, as this year in Europe, the threat of a price crisis and a certain food shortage is also present for some European countries."
Zelensky said that 16 ships are waiting their turn for shipment, and "we are ready to make a proper contribution to the stabilization of the world food market."
He also said that more than a million jobs in Ukraine rely on traffic resuming.
Zelensky said he'd spoken with French President Emmanuel Macron about agricultural exports and defense issues and also about financial support for Ukraine. He said he'd asked Macron "to help us to unblock macro-finance, which has stalled in Europe. I want to remind all the leaders that it is 9 billion euros. These are not trifles for us, but important social things — these are our pensions, these are our salaries, support for immigrants."
2:59 p.m. ET, August 1, 2022
Pentagon announces additional $550 million security assistance package for Ukraine
From CNN's Barbara Starr
The Pentagon announced an additional package of security assistance for Ukraine valued at up to $550 million on Monday.
The assistance which is being drawn from US stockpiles includes 75,000 rounds of ammunition and an undisclosed amount of additional ammunition for the High Mobility Artillery Rocket Systems.
Here's the full statement from the Pentagon on the additional security assistance:
Today, the Department of Defense (DoD) announces the authorization of a Presidential Drawdown of security assistance valued at up to $550 million to meet Ukraine's critical security and defense needs. This authorization is the Biden Administration's seventeenth drawdown of equipment from DoD inventories for Ukraine since August 2021.
 Capabilities in this package include equipment the Ukrainians are using effectively to defend their country such as: 
75,000 rounds of 155mm artillery ammunition;
Additional ammunition for High Mobility Artillery Rocket Systems (HIMARS).
In total, the United States has committed approximately $8.8 billion in security assistance to Ukraine since the beginning of the Biden Administration. Since 2014, the United States has committed more than $10 billion in security assistance to Ukraine.
To meet its evolving battlefield requirements, the United States will continue to work with its Allies and partners to provide Ukraine with key capabilities.
2:59 p.m. ET, August 1, 2022
Ukrainian military claims it has repelled multiple attempts by Russian troops to advance in Donetsk
From CNN's Tim Lister
The Ukrainian military says that every attempt by Russian forces to advance in the eastern Donetsk region in the past 24 hours has been repelled. 
In its latest update on the battlefield situation, the Ukrainian General Staff said that in several areas the Russians had sent forward reconnaissance units, which had suffered losses and retreated.
Once again the focus of Russian efforts was around the town of Bakhmut. The General Staff said, "the enemy tried to improve the tactical position in the areas of Soledar, Vershyna and Bakhmut with assault actions, but was unsuccessful and retreated."
It said another Russian effort to advance near Avdiivka, north of the city of Donetsk, had also been repelled, and hostilities in the area continued.
North of the city of Sloviansk, the Russians continued to shell several settlements — most of them empty except for military positions. But "the Defense Forces exposed and neutralized an enemy reconnaissance group," the General Staff said.
Across much of the front line, the Russians resorted to heavy artillery and tank fire but appear to have made little headway. The General Staff claimed that the lack of Russian success on the ground was due to "significant losses of manpower, military equipment and the low level of morale" of enemy troops.
On the southern front, the military said that there was widespread shelling across the River Inhulets, where the Russians are trying to stall Ukrainian advances.
2:35 p.m. ET, August 1, 2022
White House commends first grain ship departure from key Ukrainian port since late February
From CNN's Maegan Vazquez
John Kirby, National Security Council coordinator for strategic communications, said the United States welcomes Monday's departure of the first grain ship to leave from the port of Odesa since late February, calling on Russia to meet its commitments to ease global food insecurity amid their ongoing war with Ukraine. 
The M/V Razoni became the first commercial vessel to leave the crucial Black Sea port since Feb. 26, two days after Russia launched its assault on Ukraine. It is carrying some 26,000 metric tons of corn. Its final destination is Tripoli, Lebanon. 
"We obviously welcome this important step, and we hope to see more ships depart in the coming days to travel onward to world markets with agricultural products such as grain, wheat, sunflower oil and corn. The ship left today, had something like 26,000 tons of corn," Kirby said Monday at the White House press briefing.                                                                                                                     
He continued: "Russia has, of course weaponized food, and has effectively blockaded Ukraine's ports since the beginning of this crisis. We urge Russia to meet its commitments under this new arrangement, including by facilitating unimpeded exports of agricultural products from Black Sea ports in order to ease the food insecurity around the world. So, we're going to be watching that closely." 
1:53 p.m. ET, August 1, 2022
US secretary of state calls on Russia to live up to its arm control commitments
From CNN's Jennifer Hansler
US Secretary of State Antony Blinken on Monday called on Russia to live up to its nuclear arms control commitments, accusing Moscow of "reckless, dangerous nuclear saber rattling" as part of its war in Ukraine and warning of the negative impact the war will have on this month's conference to recommit to the importance of nuclear non-proliferation.
In remarks at the start of the Nuclear Non-Proliferation Treaty (NPT) Review Conference at the United Nations, the top US diplomat noted that Russia had joined with the other NPT nuclear states — the United States, United Kingdom, France, and China — in a joint statement in January emphasizing the importance of avoiding nuclear war and arms races.
"The very next month, Russia launched a full scale invasion of Ukraine, and it's engaging in reckless, dangerous nuclear saber rattling, with its president warning that those supporting Ukraine self-defense, 'risk consequences such as you have never seen in your entire history,'" Blinken said.
Blinken said Russia's war is in violation of the UN Charter, the rules-based international order, and the Budapest Memorandum, the 1994 agreement under which Russia pledged to respect Ukraine's sovereignty and Kyiv agreed to forfeit its nuclear weapon arsenal.
"What message does this send to any country around the world that may think that it needs to have nuclear weapons to protect, to defend, to deter aggression against its sovereignty and independence? The worst possible message. And so it's directly relevant to what's going on here this month at the United Nations," he said.
"Most recently, we saw Russia's aggression with its seizure of Ukraine's Zaporizhzhia nuclear power plant, the largest such plant in all of Europe," Blinken continued. "Russia is now using the plant as a military base to fire at Ukrainians, knowing that they can't and won't shoot back because they might accidentally strike a reactor or highly radioactive waste in storage."
"That brings the notion of having a human shield to an entirely different and horrific level," he said.
Blinken contrasted the actions by Moscow to those of the US, which he said has sought to avoid escalation "by forgoing previously scheduled ICBM tests and not raising the alert status of our nuclear forces in response to Russian saber rattling."
"There is no place in our world, no place in our world for nuclear deterrence based on coercion, intimidation, or blackmail," he said.
11:51 a.m. ET, August 1, 2022
French president hails departure of first ship carrying grain from Odesa
From CNN's Camille Knight in Paris
French President Emmanuel Macron hailed the departure of the first ship carrying Ukrainian grain from Odesa in a phone call with Ukrainian President Volodymyr Zelensky on Monday, according to a statement from the Élysée Palace.
"He also indicated that European efforts to export Ukrainian grain by land and river would continue," the statement added.
The call between Macron and Zelensky lasted for an hour and a half, according to the Elysée palace.
The statement also said that in regards to Russian forces' recent attack on the detention facility in Olenivka, "the President of the Republic reaffirmed his support towards the Ukrainian people and their resistance and spoke about his determination to make sure that these crimes are not left unpunished."
Macron also asked Zelensky about "his military, humanitarian and economic needs," the statement said, adding that he "confirmed France's will to continue with its support of the Ukrainian armed forces in order to allow them to resist Russian aggression."
10:34 a.m. ET, August 1, 2022
UN: First grain ship departure from key Ukrainian port "an enormous collective achievement"
From CNN's Richard Roth and Samantha Beech in New York
The United Nations Secretary-General Antonio Guterres has commended the parties involved in the negotiations of a UN-brokered export deal that secured the first ship carrying grain from Ukraine, raising hopes that a global food supply crisis caused by Russia's invasion can be eased.
The M/V Razoni became the first commercial vessel to leave the crucial Black Sea port since Feb. 26, two days after Russia launched its assault on Ukraine.
"This ship – the Merchant Vessel Razoni – is loaded with two commodities in short supply: corn, and hope," Guterres said to reporters in New York on Monday. "Hope for millions of people around the world who depend on the smooth running of Ukraine's ports to feed their families."
The journey comes after a breakthrough agreement, brokered by the UN and Turkey and signed by representatives from Russia and Ukraine in July, which facilitates the resumption of vital grain exports. Some 20 million metric tons of wheat and corn have been trapped at the port of Odesa.
"Today's departure is an enormous collective achievement by the Joint Coordination Centre, set up last week in Istanbul under United Nations auspices, with representatives from Ukraine, the Russian Federation, and Turkey," Guterres said. "The parties have worked tirelessly to reach this milestone."
Guterres called the departure of the first grain ship "an important starting point." He said, "It must be the first of many commercial ships bringing relief and stability to global food markets."
Guterres added the UN is "working every day to bring relief to the people of Ukraine, and to those suffering the effects of the conflict around the world."
"This war must end, and peace must be established, in line with the Charter of the United Nations and international law," he said.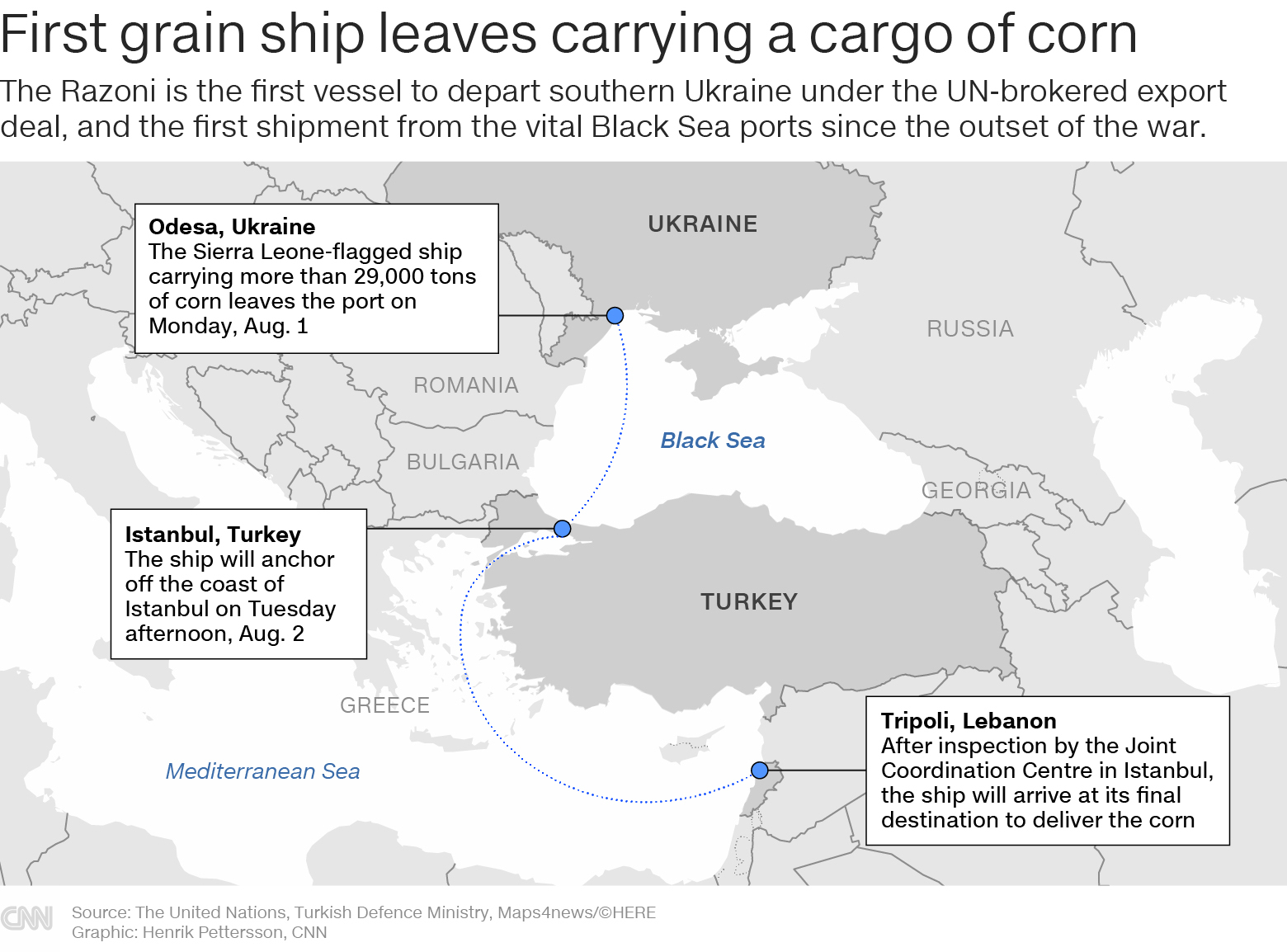 10:08 a.m. ET, August 1, 2022
Ukrainian military says another Russian storage site in Kherson was destroyed
From CNN's Tim Lister and Olga Voitovych 
Ukrainian officials say that another long-range attack on a Russian storage site in the Kherson region has caused substantial damage.
Serhii Khlan, adviser to the head of the Kherson civil military administration, said on Ukrainian television that "another depot of ammunition and military equipment, which was brought by the enemy from Crimea, was destroyed yesterday on the outskirts of Skadovsk."
Skadovsk is on the Black Sea coast, about 80 kilometers from the nearest Ukrainian frontline position. A target there was struck last week.
Khlan said: "The turning point in the military operations in the Kherson direction took place more than two weeks ago - due to HIMARS, thanks to which we began to knock out depots in the rear positions of the enemy."
He said that in Skadovsk "there was a large amount of fuel and lubricant materials, and engineering equipment, which they are now driving from Crimea to repair the logistics arteries that were damaged by our military forces."
Social media video Saturday night showed a large and continuing fire in the region, according to community Telegram channels, but could not be exactly geolocated.
"From the evening until the morning there was such a flame, and according to the locals, they had never seen such a flame," Khlan said.
Fighting continues along Kherson's northern borders, where Ukrainian forces have made moderate progress against entrenched Russian defenses.
Dmytro Butriy, temporary acting head of Kherson region military administration, said 46 settlements had emptied because of the fighting, which is in an area of small villages and rolling farmland.
"There are villages that are practically destroyed, by 90%," he said. "They are still under constant shelling, the lion's share of the population has left there. But people still remain in some settlements."