August 1, 2023 Russia-Ukraine news
8:56 p.m. ET, August 2, 2023
Our live coverage of Russia's war in Ukraine has moved here.
3:52 p.m. ET, August 1, 2023
Poland will increase soldiers at border after Belarusian helicopters allegedly violated airspace, officials say
From CNN's Niamh Kennedy and Josh Pennington 
Poland will increase the number of soldiers along its border with Belarus after two Belarusian helicopters allegedly violated the Polish airspace on Tuesday, according to the defense ministry. 
In a statement Tuesday, the ministry said the Polish Defense Minister Mariusz Blaszczak convened a meeting of Poland's Committee on National Security and Defence Affairs after reports that the Polish airspace was violated earlier on Tuesday. 
"It was established that today, August 1, 2023, there was a violation of Polish airspace by two Belarusian helicopters, which were conducting training near the border. The Belarusian side had previously informed the Polish side about the training. The border crossing took place in the Bialowieza region at a very low altitude, making detection by radar systems difficult," the statement said. "Mariusz Blaszczak Minister of National Defense, chairman of the Committee for National Security and Defense Affairs, ordered that the number of soldiers on the border be increased and that additional forces and resources, including combat helicopters, be deployed," the ministry added. 
Poland has informed NATO of the incident and moved to summon the Belarusian chargé d'affaires to the Polish foreign ministry to "explain the incident," according to the statement. 
"As a reminder, Russia and Belarus have recently stepped up hybrid actions against Poland," the defense ministry stressed.
Poland has been on high alert in recent weeks following the move of soldiers from the mercenary group Wagner to Belarus. 
Last weekend, Polish Prime Minister Mateusz Morawiecki warned that the situation along the Belarusian border is "becoming even more dangerous," warning Wagner fighters are moving closer. 
More context: More than 100 troops from the mercenary group Wagner are moving toward a thin strip of land between Poland and Lithuania, Poland's prime minister said over the weekend and warned they could pose as migrants to cross the border. Morawiecki said Saturday that his government had received information that the Wagner mercenaries were not far from Grodno, a city in western Belarus close to the land, which is also known as the Suwalki gap or corridor.
Though just 60 miles long, the corridor is strategically important to NATO, the EU, Russia and Belarus. The border region connects the Russian exclave of Kaliningrad to Belarus and it is the only overland link between the Baltic states and the rest of the EU.
3:04 p.m. ET, August 1, 2023
2 dead and 7 wounded in shelling on city in Russian-occupied Donetsk region, official says
From CNN's Josh Pennington
A strike on the city of Yasynuvata on Tuesday left two civilians dead and another seven people wounded, including a teenage girl, according to Denis Pushilin, the head of Russian-occupied Donetsk.
"Two civilians were killed today as a result of the shelling of Yasynuvata [...] There were seven wounded, among them a teenage girl born in 2010," said Pushilin in a message on his official Telegram channel.
Yasnyuvata is a city located just to the northeast of Donetsk city — near the front lines between Russian and Ukrainian forces.  
1:46 p.m. ET, August 1, 2023
Drone downed in occupied Crimean city of Sevastopol, Russian-installed official says
From Yulia Kesaieva and Darya Tarasova
The Russian-installed governor of Sevastopol, Mikhail Razvozhaev, said a drone was shot down in the Kara-Koba area of the occupied Crimean city amid reports of an explosion.
"According to preliminary data, an UAV (unmanned aerial vehicle) was shot down in the Kara-Koba area. An explosion occurred on the ground, grass and bushes caught fire," Razvozhaev wrote on his Telegram account Tuesday. "Fire brigades are already at the scene and have started putting out the fire."
Residents of the city reported hearing a loud explosion on Tuesday afternoon, which shook windows and set off car alarms. Some also said they could see a cloud of smoke rising from the city center. 
Both Ukraine and Russia reported cross-border attacks Tuesday. Moscow said Kyiv again attempted a drone strike in Moscow, targeting the exact same building that was hit on Sunday. Kyiv accused Russia of shelling a medical facility in the southern port city of Kherson, killing a doctor and wounding a nurse.
11:31 a.m. ET, August 1, 2023
F-16 questions linger as Ukrainian pilots set to start training this month
From CNN's Natasha Bertrand and Jennifer Hansler
The US is still waiting for European officials to submit a final plan for training Ukrainian pilots on F-16 fighter jets, which the US will have to authorize before the program can actually begin, officials familiar with the matter told CNN.
The training is supposed to start this month, Ukrainian President Volodymyr Zelensky and European officials have said publicly. But two months after President Joe Biden announced US support for training Ukrainian pilots on F-16s, there remain a number of critical details to work out.
It is also still unclear which countries will commit F-16s to the training program—and to Ukraine itself once the program is finished. Transferring the planes to Ukraine will require separate US approval. 
US defense officials told CNN that the US is still deciding whether to send American pilots to help train the Ukrainians, but that no decisions will be made until a final training plan is authorized.
Some background: The training program is being supported by a coalition of 11 NATO countries and requires official US approval because the F16 is an American technology.
The course itself is expected to be conducted in Denmark and Romania, with help from the Netherlands, Belgium, Canada, Luxembourg, Norway, Poland, Portugal, Sweden and the UK, officials have said. But the details, including the dates, locations, and length of the syllabus "are still being worked out," National Security Council Coordinator for Strategic Communications John Kirby said during a briefing last week.
Read more here.
CNN's Oren Liebermann contributed to this report.
10:17 a.m. ET, August 1, 2023
Lukashenko denies some Wagner fighters have moved closer to Polish border  
From CNN's Radina Gigova and Anna Chernova 
Belarusian President Alexander Lukashenko on Tuesday denied Poland's claims that about 100 of the Wagner mercenaries, who are in the country, have moved closer to the Polish border, according to a statement published by his office.   
"I suddenly hear the other day that Poland has freaked out that allegedly some unit as large as 100 people is moving here. No PMC Wagner units 100 people strong have moved here. And if they have, they did it only in order to pass on combat experience to the brigades, which are stationed in Brest and Grodno," Lukashenko said during a working visit to Kamenets District, in the southwestern Brest region, according to the statement.  
Last month, the Belarusian defense ministry said the country's forces will hold joint military exercises with Wagner fighters near its border with the NATO member. Wagner fighters have arrived in Belarus following a short-lived mutiny by the private military group in June.
"I need to train my own military personnel, because an army that doesn't fight is half an army," Lukashenko added according to the statement. "So they [Wagner] are here to pass on their experience."
The longtime ally of Russian President Vladimir Putin said the Wagner fighters "want to go nowhere" and that they stay "near Osipovichi in the center of Belarus."
10:06 a.m. ET, August 1, 2023
Russian shelling kills doctor in Kherson medical facility, Ukraine says
From CNN's Olga Voitovych
Ukrainian officials have accused Russia of shelling a medical facility in Kherson, killing a young doctor and wounding a nurse. 
The attack occurred at 11:10 a.m. local time on Tuesday, according to the head of the Kherson City Military Administration Roman Mrochko. "One of the healthcare facilities was hit, killing a young doctor who had been working for only a few days, and wounding a nurse who is now fighting for her life!" he said on Telegram Tuesday
The doctor, who has yet to be identified, had just finished his internship and had just had his first day on the job, according to the Ukrainian Ministry of Health.
"Two floors of the hospital were damaged. The rubble is still being cleared, the final number of victims is unknown," the ministry also said. "Our condolences to the family and friends of the doctor."
On Monday, Russian shelling of the city of Kherson killed at least four people and injured 17 others, said Andriy Yermak, the head of the Office of the President of Ukraine.
Local officials said Russia had intensified shelling on the city to provide cover for rotating troops.
CNN's Maria Kostenko contributed reporting to this post.
10:10 a.m. ET, August 1, 2023
Drones target Moscow again. Here's what you need to know today
From CNN staff
Russia says Ukraine again attempted a drone strike in Moscow, targeting the exact same building that was hit on Sunday.
Ukrainian officials, including President Volodymyr Zelensky, have suggested that these attacks are meant to shatter any remaining sense of calm in the Russian capital.
"Moscow is rapidly getting used to a full-fledged war," said Mykhailo Podolyak, an adviser to Zelensky.
Here's what else you need to know:
Here's a look at the latest map of control in Ukraine: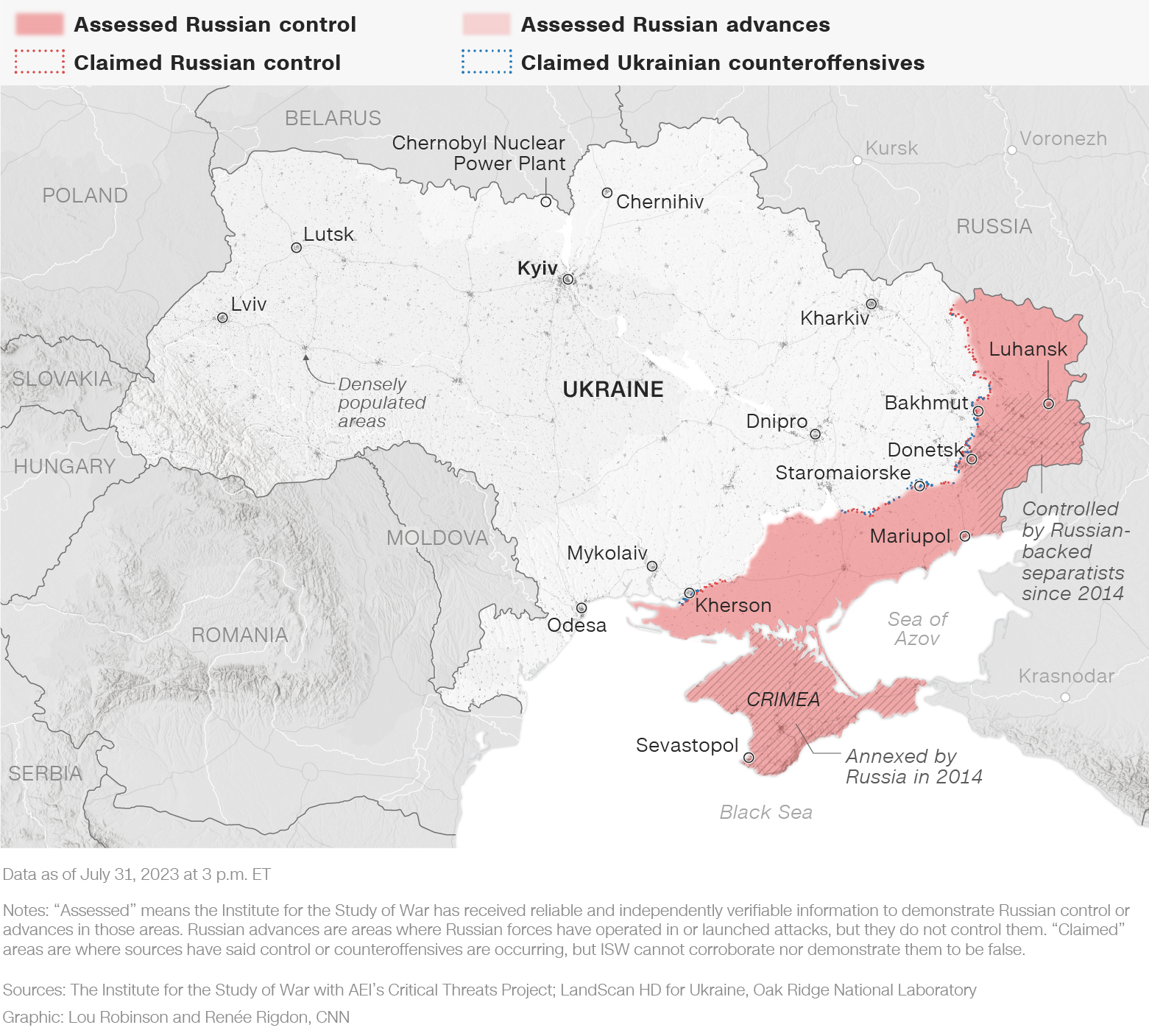 8:19 a.m. ET, August 1, 2023
What we know about recent drone strikes in Russian territory
From CNN's Joshua Berlinger
Russia has repeatedly accused Ukraine of conducting drone attacks within its territory in recent months.
Though Kyiv denied involvement in what appeared to be an attempted drone strike on the Kremlin on May 3, the Ukrainian military has reportedly been behind several attacks on the Russian capital since then.
Their drones have attempted to hit targets in and around Moscow three times in the last week as well as on multiple occasions since the end of May.
These incidents have caused some damage but few -- if any -- casualties. Ukrainian officials say the goal is to bring the unease and fear of war to Moscow, as the Kremlin has done to Kyiv.
Hours after the attempted drone strike in Moscow on Sunday, Ukraine President Volodymyr Zelensky said that war was "returning to Russia." One of his key advisers said Tuesday that the increasing drone strike in Moscow are a sign that the the Russian capital is becoming "used to a full-fledged war."
Moscow isn't the only Russian city that's allegedly been targeted by Ukraine's fleet of unmanned aerial vehicles.
A look back at some of the suspected attacks: