August 11, 2022 Russia-Ukraine news
By Heather Chen, Jack Guy, Aditi Sangal, Adrienne Vogt, Maureen Chowdhury and Elise Hammond, CNN
Updated
3:11 a.m. ET, August 12, 2022
3:11 a.m. ET, August 12, 2022
5:59 p.m. ET, August 11, 2022
UN nuclear watchdog head: Fighting near Zaporizhzhia nuclear plant could have "serious consequences"
From CNN's Richard Roth and Jonny Hallam
The head of the UN's nuclear watchdog told an emergency meeting of the Security Council on Thursday that fighting close to the Zaporizhzhia nuclear power plant in Ukraine had caused some damage to the facility and called for an immediate inspection mission to be allowed to visit the plant.  
However, Russia and Ukraine have been unwilling to agree to such a mission and thus the plant ends up caught in the crossfire. 
International Atomic Energy Agency (IAEA) Director General Rafael Mariano Grossi outlined the parts of the plant that have been knocked out due to attacks. 
Speaking from Istanbul by video link, Grossi said the situation at Zaporizhzhia had recently been "deteriorating rapidly to the point of being very alarming."  Grossi said right now, "IAEA experts believe that there is no immediate threat to nuclear safety," but "that could change at any moment." He warned of a potential nuclear radiation leak and said that would be "unacceptable." 
"Any military action jeopardizing nuclear safety, nuclear security, must stop immediately," Grossi said. "These military actions near to such a large nuclear facility could lead to very serious consequences."
Grossi said the situation at the nuclear plant had reached a "grave hour" and insisted that the "IAEA must be allowed to conduct its mission to Zaporizhzhia as soon as possible." 
The plant — which is the largest nuclear power facility in Europe — was taken over by Russian forces in early March, along with the town of Enerhodar, where the complex is located.
Moscow and Kyiv have accused each other of shelling the plant. Russian UN Ambassador Vassily Nebenzia on Thursday blamed Ukraine for the shelling of the plant and urged supporters of Kyiv to stop attacks and prevent a disastrous radiation leak.
Bonnie Jenkins, US under-secretary for arms control and international affairs, said Russia is the country responsible for the nuclear dilemma now. She warned the Security Council "the many consequences of this conflict, including the situation at the Zaporizhzhia nuclear power plant, will only end when Russia ends its war. Today the United States demands particularly urgent action to address the nuclear risks posed by Russia's latest moves. This must be done through the work of the IAEA and a return of full control of the Zaporizhzhia facility to Ukraine." 
The Security Council is not expected to issue any statement today.
4:43 p.m. ET, August 11, 2022
NATO accession decision was a "necessary step to take," Swedish finance minister says
 From CNN's Winston Lo in Stockholm 
Sweden's finance minister said that while the country's decision to join NATO "was not a happy one," it was a "necessary step to take" in the wake of Russia's aggression against Ukraine.
In an interview with CNN's Richard Quest in Stockholm, Mikael Damberg said that Russia's invasion of Ukraine "really makes people think, 'we can be next.'"
"We have [to] defend ourselves, and we do it better together with other European and American partners," he added.
When asked about the status of the accession process, Damberg added the country wants to join NATO "as fast as possible."
"So far, it's gone well, and we expect that all countries ... would welcome Sweden and Finland as members of NATO," he said.
NATO formalized its invitation to Sweden and Finland to join the alliance at the end of June, and the decision must go to the 30 member states' parliaments and legislatures for final ratification.
Additionally, Damberg said he's "very much uncertain" about the country's economic growth in the next few months, as the war in Ukraine rages on, compounded by inflation pressures and the prospect of higher interest rates.
"People are expecting tougher times," Damberg said as inflation in Sweden hits 30-year highs.
"We see the second quarter coming out quite well when it comes to growth, but when we look ahead, we think it will slow down. We will be affected by Europe, by the war, [and] by the German economy," he said.  
4:10 p.m. ET, August 11, 2022
US Embassy officials were last in touch with Brittney Griner on the day of her sentencing
From CNN's Jennifer Hansler and Christian Sierra
Officials from the US Embassy in Moscow were last in touch with detained WNBA star Brittney Griner on Aug. 4, the day of her sentencing, State Department principal deputy spokesperson Vedant Patel said Thursday.
During a briefing call with reporters, Patel reiterated that "the US government continues to urge Russia to release wrongful detainees Brittney Griner and Paul Whelan."
Patel said that "ultimately, the ball is in Russia's court" when it comes to the "substantial proposal" put forward by the US to secure the release of the two wrongfully detained Americans.
Patel did not say explicitly whether there had been contact between US and Russia on the deal following US Secretary of State Antony Blinken's call with Russian Foreign Minister Sergey Lavrov.
"This proposal has been raised through appropriate channels," he said.
The Deputy Director of the Russian Foreign Ministry Information and Press Department Ivan Nechaev confirmed negotiations on Thursday, and said "they are being conducted by the competent authorities."
1:36 p.m. ET, August 11, 2022
Russian military aircraft have entered Alaskan air defense identification zone at least 3 times this week
From CNN's Barbara Starr
The North American Aerospace Defense Command on Thursday disclosed a third incident of a Russian military aircraft flying into the Alaskan air defense identification zone (ADIZ) some time between Aug. 8 and 10.  
CNN previously reported Tuesday about two incidents of Russian military aircraft flying into Alaska's ADIZ.
The ADIZ is international airspace adjacent to Alaska that extends in places more than 100 miles (more than 160 kilometers) from US territory. The US military initiates identification procedures for aircraft in the ADIZ in the interest of national security. 
NORAD would not disclose which day the third incident occurred.
The US military also distributed a photo of the second incident from the air, showing an F-22 flying within visual range of a Russian Il-20 aircraft.
6:46 p.m. ET, August 11, 2022
Ukraine says it repelled Russian assaults in the east
From CNN's Vasco Cotovio and Petro Zadorozhnyy
The Ukrainian military has repelled and even pushed back assaults by Russian forces in the east, its general staff said in an update Thursday evening. 
"The occupiers unsuccessfully tried to improve the tactical position" near the city of Kramatorsk, but they were " pushed back," it said.
The Ukrainian military also said it was also able to repel Russian forces pushing toward Bakhmut and Avdiivka.
"Ukrainian soldiers inflicted casualties on the occupiers and forced them to flee," the General Staff said, adding that Russia did not succeed in the direction of the Avdiivka, "suffered losses, and withdrew."
The Ukrainian military said intense shelling and airstrikes were felt across the entire eastern frontline. 
2:34 p.m. ET, August 11, 2022
US supports calls for "demilitarized zone" around Zaporizhzhia nuclear plant
From CNN's Jennifer Hansler
The United States supports calls for a "demilitarized zone" around Ukraine's Zaporizhzhia Nuclear Power Plant, a US State Department spokesperson said Thursday.
"Fighting near a nuclear plant is dangerous and irresponsible – and we continue to call on Russia to cease all military operations at or near Ukrainian nuclear facilities and return full control to Ukraine, and support Ukrainian calls for a demilitarized zone around the nuclear power plant," the spokesperson said in a statement.
Russia is accused of using the nuclear power plant as a military base. US Secretary of State Antony Blinken last week cited reports "that Russia is using this plant as the equivalent of a human shield, but a nuclear shield in the sense that it's firing on Ukrainian from around the plant." 
"And of course, the Ukrainians cannot and will not fire back, lest there be a terrible accident involving a nuclear plant. So this is the height of irresponsibility," he said.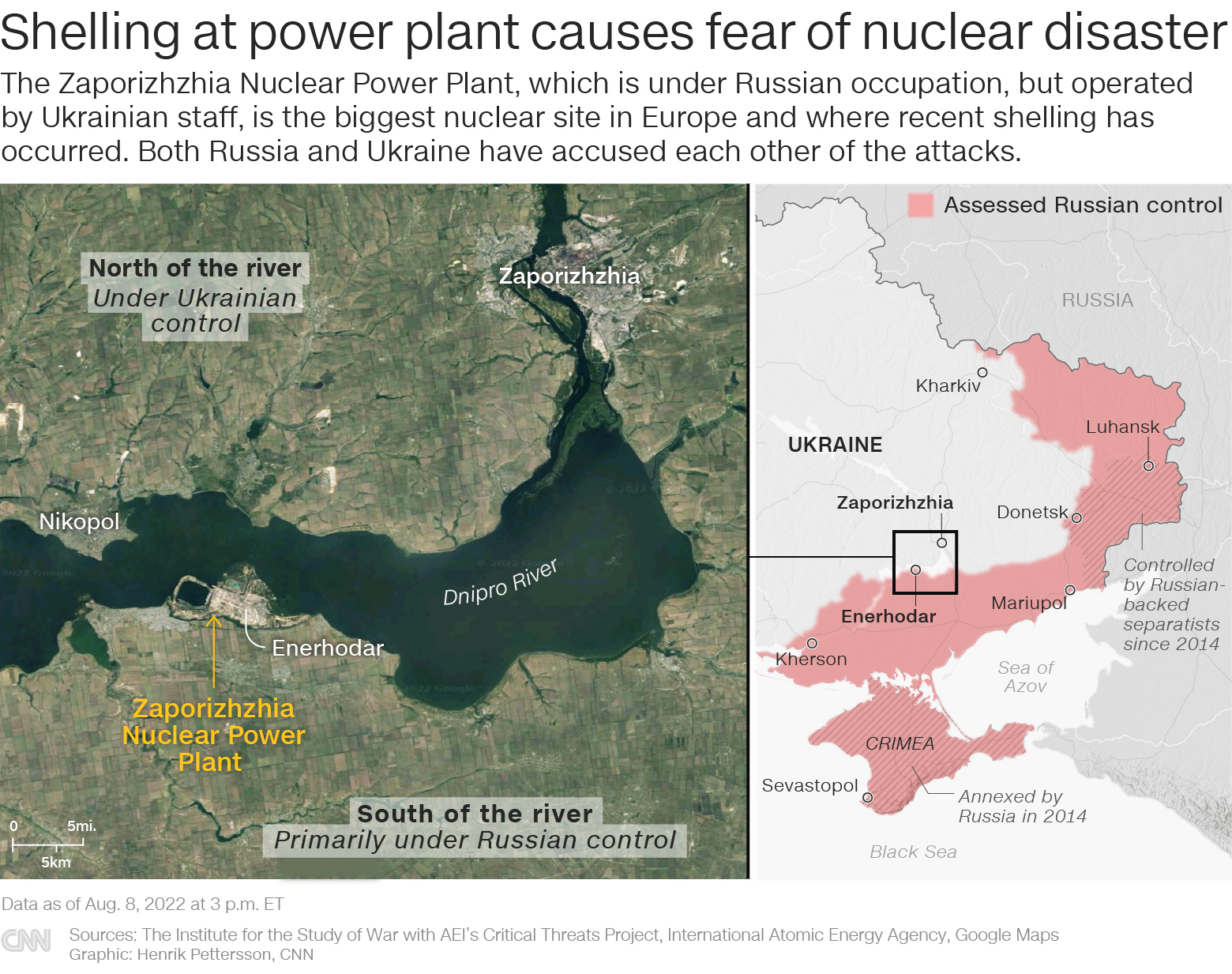 Both Ukraine and Russia have traded blame for attacks.
On Thursday, Ukrainian President Volodymyr Zelensky said Russia was maximizing the risk of a nuclear disaster at the facility, and the UN secretary general said he was "gravely concerned about the situation."
"We must be clear that any potential damage to Zaporizhzhia or any other nuclear facilities in Ukraine, or anywhere else, could lead to catastrophic consequences not only for the immediate vicinity, but for the region and beyond," Antonio Guterres said in a statement.
On Wednesday, the G7 Foreign Ministers in a joint statement demanded "that Russia immediately hand back full control to its rightful sovereign owner, Ukraine, of the Zaporizhzhya Nuclear Power Plant as well as of all nuclear facilities within Ukraine's internationally recognized borders to ensure their safe and secure operations."
"We remain profoundly concerned by the serious threat that the seizure of Ukrainian nuclear facilities and other actions by Russian armed forces pose to the safety and security of these facilities, significantly raising the risk of a nuclear accident or incident and endangering the population of Ukraine, neighboring states and the international community," they said.
Radiation levels at Europe's largest nuclear power plant are within the normal range despite renewed shelling on the site, Ukraine's nuclear agency Energoatom said on Thursday.
12:42 p.m. ET, August 11, 2022
Ukraine accuses Russia of shelling the Zaporizhzhia nuclear plant again on Thursday 
From CNN's Maria Kostenko
Ukraine has accused Russia of shelling the Zaporizhzhia Nuclear Power Plant (NPP) again on Thursday, the country's nuclear agency Energoatom said in a telegram post.
"The invaders again targeted the territory of the nuclear power plant, hitting not far from the first power unit," Energoatom said in the post Thursday. "They damaged the domestic sewage pumping station. Extensive smoke was recorded nearby."
"The situation is getting worse, because there are radiation sources nearby and several radiation sensors are damaged," Energoatom added.
The nuclear agency also said Thursday that radiation levels at the plant were within the normal range despite renewed shelling on the site. 
In a statement on Wednesday, G7 nations demanded that Russia give back full control of the Zaporizhzhia nuclear plant and other nuclear facilities to Ukraine, amid growing concern from international organizations that nearby fighting could lead to catastrophic consequences.
11:40 a.m. ET, August 11, 2022
Ukraine is expecting arrival of ship that will take much-needed grain to Ethiopia
From CNN's Vasco Cotovio in London
Ukraine is expecting the arrival of a ship that will be taking 23,000 tonnes of grain to Ethiopia, Ukrainian Infrastructure Minister Oleksandr Kubrakov tweeted on Thursday. 
"Ukraine is ready for the BRAVE COMMANDER arrival, which is expected tomorrow [Friday]," Kuvrakov said. "Thanks to the Black Sea Initiative we are ready to load more than 23,000 tons of grain & export it to Ethiopia." 
Conflict in the north and a drought in the south have pushed around 20 million people to a vulnerable and precarious humanitarian situation in Ethiopia, which, according to the United Nations, has been made worse by the war in Ukraine. 
"At the same time, the ripple effect of the war in Ukraine is set to exacerbate Ethiopia's food security crisis," the UN said in a report published in June. "With over three-quarters of [World Food Programme] and government wheat – a country staple – coming from Ukraine or Russia, the precarious situation there is threatening to push its cost, as well as that of fertilizer, beyond the means of millions of Ethiopian farmers.