August 24, 2022 Russia-Ukraine news
2:25 a.m. ET, August 25, 2022
5:46 p.m. ET, August 24, 2022
Zelensky: At least 22 killed in attack on train station in southeastern Ukraine
From CNN's Karen Smith
President Volodymyr Zelensky says the death toll has risen to 22 people in Wednesday's attack on the Chaplyne train station in Dnipropetrovsk Oblast. 
"Chaplyne is our pain today. As of this moment, there are *22 dead, five of them burned in the car, a teenager died, he was 11 years old, a Russian rocket destroyed his house. Search and rescue operations at the railway station continue. We will definitely make the occupiers answer for everything they have done. And we will certainly throw out the invaders from our land," he said. 
The attack occurred on the Chaplyne train station and at least 50 people were injured. Earlier in the day, Zelensky said he expects the number of injured to increase.
3:50 p.m. ET, August 24, 2022
DoD: US to provide Ukraine with counter-unmanned aerial systems to "shoot missiles out of the sky"
From CNN's Ellie Kaufman
The US will provide Ukraine VAMPIRE counter-unmanned aerial system, or counter-drone system that uses "small missiles essentially to shoot missiles out of the sky," Department of Defense undersecretary for policy Dr. Colin Kahl told reporters on Wednesday. The VAPIRE counter-UAS systems are included in the latest $3 billion US security assistance package for Ukraine announced Wednesday. 
The US continues to "train Ukrainian forces on all systems" that the US and NATO allies are providing, Kahl said. This training has been happening on a "rolling basis," he added.
For training on systems included in the latest package of security assistance, the US believes there is "time to train the Ukrainians on whatever system they are not familiar with," Kahl added.
Because the latest security assistance comes from Ukraine Security Assistance Initiative funding — meaning it will be sourced and produced by industry partners and not directly from DoD stockpiles of weapons — it could take "months to get on contract and one, two, three years in some instances to arrive in Ukraine," Kahl said. 
4:15 p.m. ET, August 24, 2022
11-year-old among those killed in train station attack in southeastern Ukraine, parliament speaker says
From CNN's Olga Voitovych and Karen Smith
An 11-year-old was among those killed in Wednesday's attack on the Chaplyne train station in Dnipropetrovsk Oblast, Ukrainian Parliament Speaker Ruslan Stefanchuk said on Twitter.
He wrote, "Just recently, 15 people, including an 11-year-old child, were killed during a rocket attack on the Chaplyne railway station. About 50 more were wounded. What else is needed for the world to recognize this ersatz country as a terrorist? We will not forget. We will not forgive."
The regional office of the State Emergency Service in the Dnipropetrovsk region tells CNN rescuers are still working on the scene.
See the Ukrainian parliament speaker's tweet:
2:53 p.m. ET, August 24, 2022
Ukrainian football match halted 4 times by air raid sirens, takes over four hours to complete
From CNN's Matt Foster
A Ukrainian Premier League (UPL) football match in Lviv was halted four times on Wednesday as a result of multiple air raid sirens at Skif Stadium in Lviv, according to the UPL. The match, between Rukh Lviv and Metalist Kharkiv, was the only league fixture impacted by the sirens on Wednesday.
In an email to CNN, the UPL stated "Safe and security measures is the main priority for us, so both teams had to go to the shelter every time, according to the available safety protocols. The overall time of the match was indeed 4 and half hour(s)."
Social media accounts posted videos showing the events at the stadium, including what reportedly happened when the first siren went off, and of the players returning to the pitch after one of the stoppages.
Metalist Kharkiv won the match 2-1.
Read more about the league's restart and its protocol surrounding air raid sirens here. 
2:28 p.m. ET, August 24, 2022
There have been Russian missile strikes across Ukraine on its Independence Day, official says
From CNN's Nicholas Pearce in London
Russia has conducted "missile strikes across Ukrainian territory" on Wednesday, according to Yuriy Sak, an adviser to the Ukrainian Defense Minister Oleksii Reznikov.
"The aggressor … proved the expectations that we had and is conducting today missile strikes across the Ukrainian territory," Sak told CNN's Sara Sidner on "Amanpour."
He said that Ukraine had "been receiving warnings about the possibility of massive missile strikes" on Ukraine's Independence Day for nearly a week.
Wednesday marks six months since Russia's invasion and 31 years since Ukraine declared independence from the Soviet Union.
Sak added that Ukraine had been prepared for strikes because it had been living in an "atmosphere of missile terror for six months."
"In Kyiv today … we've already had eight air raid sirens. In other major cities of Ukraine, even those which are far away from the battlefield, there have been explosions, there have been missile strikes," Sak said.
Sak said that an 11-year-old child in the Dnipro region had been killed and that residential homes had also been destroyed.
"The number of strikes, the number of regions of Ukraine which are targeted, the number of air raid sirens…this is abnormal, even by our standards," he said.
2:05 p.m. ET, August 24, 2022
Russia's ruble has stabilized after crashing at the beginning of the war
After Russia launched its invasion of Ukraine in February, its currency — the ruble — crashed, with Moscow scrambling to prevent financial meltdown.
Tough sanctions: The United States, European Union and other Western allies imposed sanctions on much of the country's banking system, including freezing hundreds of billions of dollars worth of reserves Moscow had been stockpiling for years to shield the economy.
In response, Russia's central bank introduced policies to prevent investors and companies from selling the currency and other measures that force them to buy it. Russia has also demanded that European countries make energy payments in rubles, cutting off gas supplies to customers who refused to do so.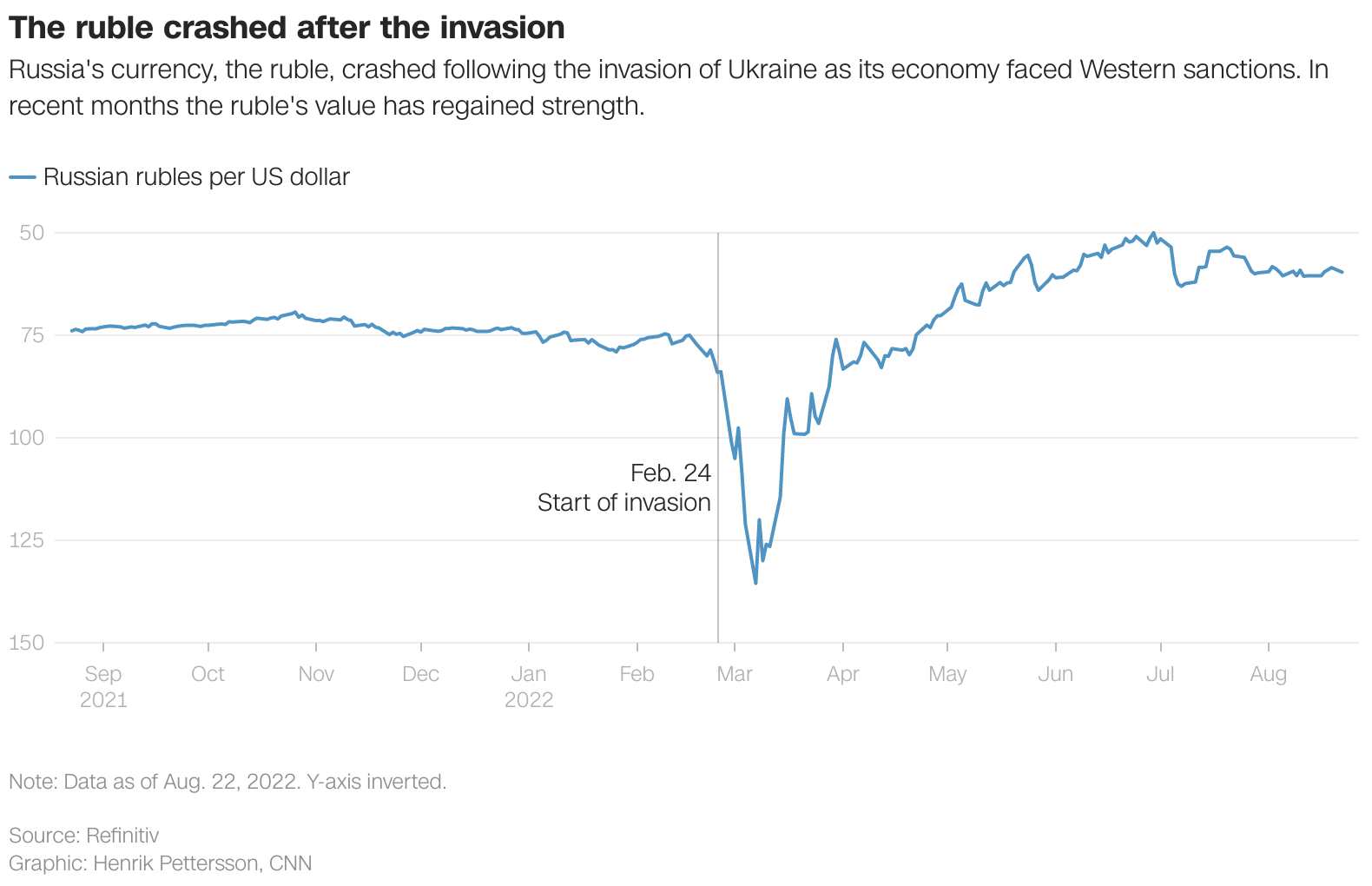 But the ruble has stabilized in recent months. Despite the early impact of the sanctions, they have largely failed to cripple Russia's economy, as surging energy prices have padded the country's coffers.
Meanwhile, Russia's currency soared to a seven-year high against the US dollar, thanks to Russian President Vladimir Putin's efforts to support the ruble.
And although the country defaulted on its foreign debt in June, global markets barely reacted —  the move had been widely expected, and the market had been bracing itself.
1:46 p.m. ET, August 24, 2022
Biden to speak with Zelensky on Thursday as US warns of upcoming "sham referenda" in regions of Ukraine
From CNN's Kevin Liptak
US President Joe Biden will speak Thursday with Ukrainian President Volodomyr Zelensky to update him on US arms shipments and congratulate him on Ukrainian Independence Day, according to the White House.
John Kirby, the communications coordinator at the National Security Council, said the US would continue to "rally the free world" and "galvanize allies and partners" to support Ukraine as the Russian invasion hits the six-month mark. 
He said the phone call between Biden and Zelensky would reaffirm those commitments.
"The President's looking forward to that," Kirby said, while saying there were no travel plans to discuss for Biden to visit Kyiv. He said if a "trip makes sense," it would come under consideration.
Biden today announced a nearly $3 billion security assistance package to Ukraine.
Warning of a potential next step in the Russian invasion, Kirby said the US has information showing Russia is preparing to hold "sham referenda" in regions of Ukraine, potentially within days.
He said an announcement could come before the end of the week. The potential regions where a referenda could occur include Kherson and Zaporizhzhia, along with Donetsk and Luhansk in eastern Ukraine.
"The United States and the international community have been very clear that any attempts at controlling Ukraine sovereign territory will not be considered legitimate," Kirby said.
He said the US expects Russia to manipulate the results of the votes and falsely claim the Ukrainian people want to join Russia.
"It will be critical to call out and counter this disinformation in real time," he said.
He said the US information shows Russian officials are concerned there would be low voter turnout in the upcoming votes.
12:36 p.m. ET, August 24, 2022
As leaders issue warnings over Zaporizhzhia, it's not the first time the 6-month war has spurred nuclear fears
From CNN's Rob Picheta and Nathan Hodge
The threat of nuclear calamity has hung for months over Russia's half-year war in Ukraine.
Those fears were renewed in the last two weeks after shelling intensified around the massive Zaporizhzhia nuclear power plant, Europe's largest, which has been under Russian control since March.
Attacks at the complex, which have ramped up as fighting flares in Ukraine's south, have sparked concerns about the specter of nuclear disaster, leading the United Nations' watchdog and world leaders to demand that a mission be allowed to visit the site and assess the damage.
There's been a barrage of accusations made by each side about security and military action at and around the plant. The lack of independent access to the plant makes it impossible to verify what is happening there. Over the past month, a number of rockets and shells have landed on the territory of the plant, according to satellite imagery analyzed by CNN.
So just how real is the risk that the fighting poses?
Nuclear experts are keen to defuse some of the more alarmist warnings, explaining that the main threat is closest to the plant itself and doesn't justify Europe-wide alerts. Experts are particularly wary of any comparisons to the 1986 Chernobyl disaster, a repeat of which is incredibly unlikely, they said.
"It's not very likely that this plant will be damaged," Leon Cizelj, president of the European Nuclear Society, told CNN. "In the very unlikely case that it is, the radioactive problem would mostly affect Ukrainians that live nearby," rather than spreading throughout eastern Europe as was the case with Chernobyl, he said.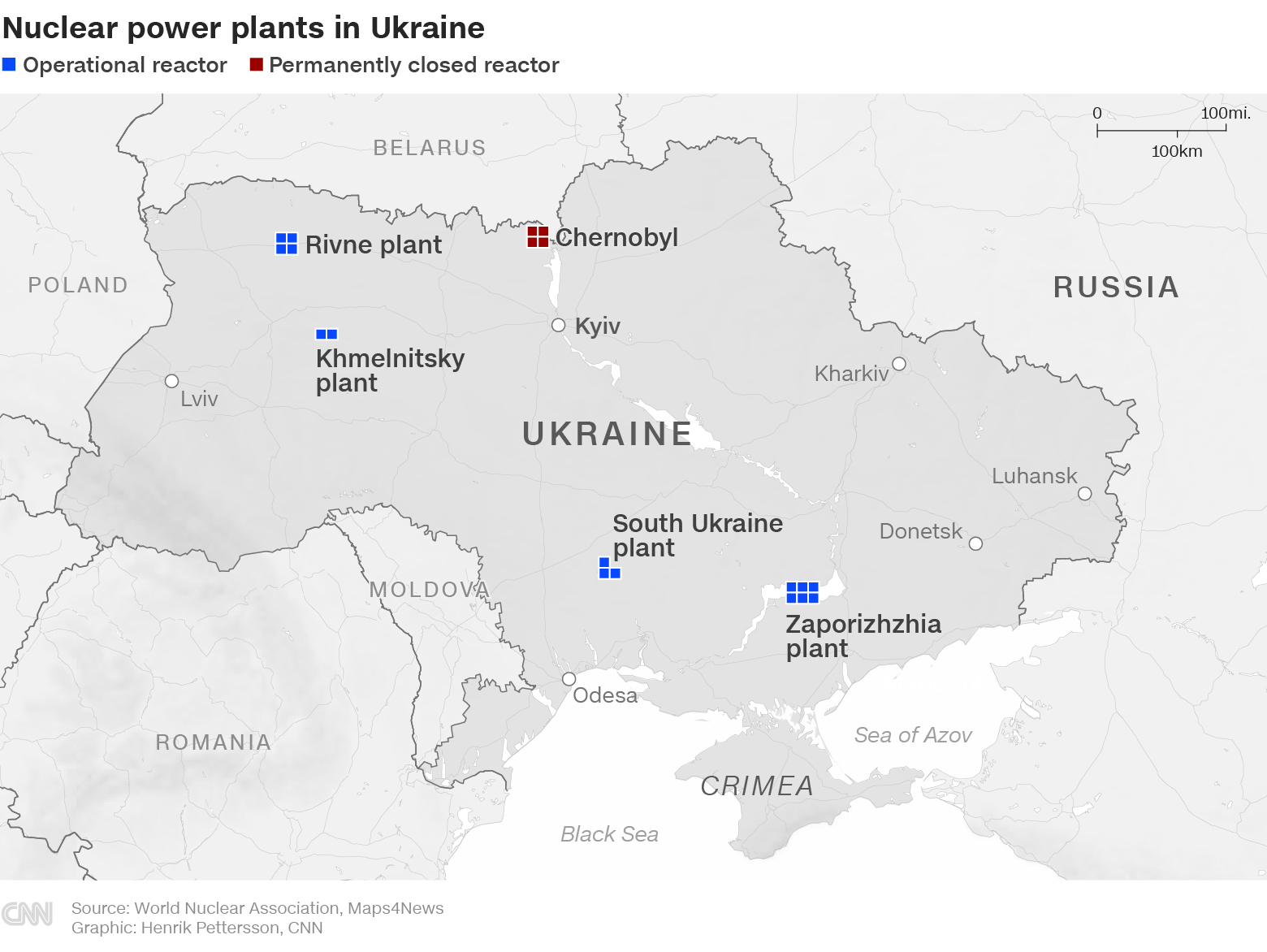 Russia's invasion triggered fears about nuclear safety at the start of the war
In late February and March, the Russian occupation of Chernobyl in northern Ukraine triggered fears that safety standards inside the exclusion zone could be compromised.
During the first week of the war, the plant and its surrounding territory fell into the hands of Russian troops. They withdrew on March 31, according to Ukraine's nuclear operator.
Ukraine's government said that Russian forces had looted and destroyed a lab close to the abandoned nuclear plant, which was used to monitor radioactive waste.