September 2, 2022 Russia-Ukraine news
7:01 p.m. ET, September 2, 2022
Follow the latest news on Russia's war in Ukraine here and read more about today's developments in the posts below. 
4:53 p.m. ET, September 2, 2022
Manufacturer says an engine leak is no reason to stop Nord Stream 1 turbine
From CNN's Robert North and Arnaud Siad
Siemens Energy, the German manufacturer of the turbines on the Nord Stream 1 pipeline, said an oil leak is "not a technical reason" that would justify stopping the supply of gas from Russia to the rest of Europe.
"As the manufacturer of the turbines, we can only state that such a finding is not a technical reason for stopping operation," it said in a statement to CNN on Friday. 
Earlier on Friday, Russian state energy giant Gazprom said it would not resume flows through the pipeline on Saturday as planned because it had detected an oil leak at its Portovaya compressor station. The pipeline has been shut since Wednesday for maintenance. It didn't give a timeline of when exports might resume.
According to Siemens, such leakages do not usually affect the operation of a turbine and can be sealed on site.
"It is a routine procedure during maintenance work. In the past, the occurrence of this type of leakage has not resulted in a shutdown of operations," it added.
Siemens also said they had pointed out "several times" that there are enough additional turbines available at the Portovaya compressor station for Nord Stream 1 to operate.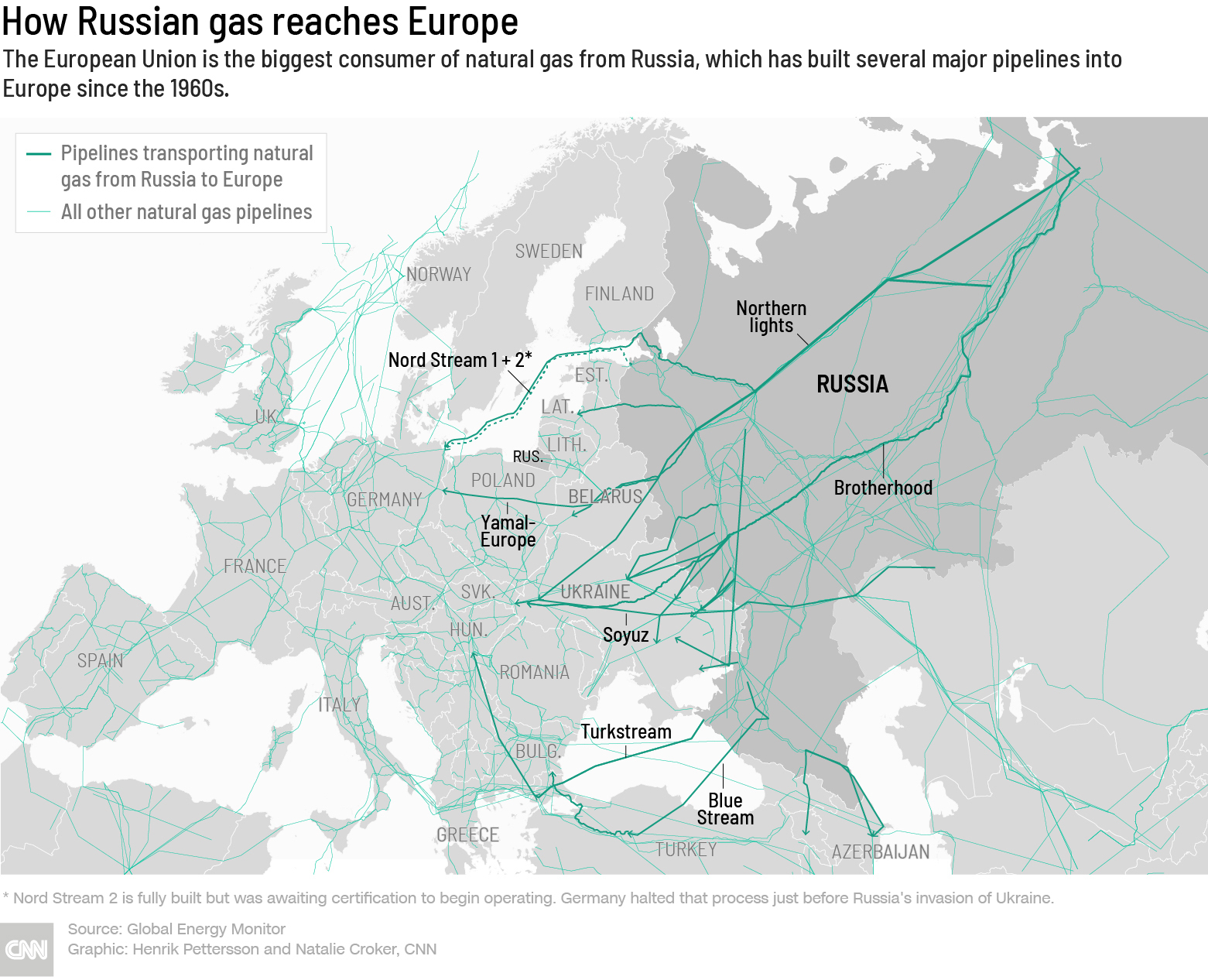 4:14 p.m. ET, September 2, 2022
Head of UN nuclear watchdog plans to issue report on Zaporizhzhia plant early next week 
From CNN's Arnaud Siad
International Atomic Energy Agency chief Rafael Grossi said he plans to issue a report on the status of the Russian-held Zaporizhzhia nuclear power plant in Ukraine early next week. 
"We're trying to have an in-depth assessment of how things stand at the moment. I expect to produce a report early next week, as soon as we have the full picture of the situation by the end of the weekend more or less," Grossi said at a news conference in Vienna Friday. 
Six IAEA staff members remain at Zaporizhzhia, Europe's largest nuclear plant, after Grossi led a 14-person mission of investigators there on Thursday. He added that the number would be reduced to two next week, and those two would be the UN nuclear watchdog's continuous presence there in the longer term.
4:33 p.m. ET, September 2, 2022
 IAEA mission to nuclear power plant can still be "fruitful," Zelensky says
From Mitchell McCluskey and Josh Pennington
The mission of the International Atomic Energy Agency (IAEA) at the Zaporizhzhia nuclear power plant can still be "fruitful" despite Russian control, Ukrainian President Volodymyr Zelensky said on Friday.
Speaking in a video address streamed at the Ambrosetti Forum, a conference held in Italy and attended by the leaders of various states and businesses, Zelensky expressed disappointment at how Russia is controlling the mission. 
"The Russian military stopped the journalists traveling with the mission at a checkpoint and did not let them go any further. Obviously, the occupiers felt that in the presence of a free media it would be impossible to lie to the IAEA and the whole world," he said. 
"We did everything to ensure that the IAEA got access to the Zaporizhzhia NPP. I believe that this mission can still be fruitful," Zelensky stated. 
Earlier on Friday, IAEA Director General Rafael Grossi said the organization knows "much more" about the state of the plant after visiting. A team of inspectors will have "continued presence" at the plant, Grossi said.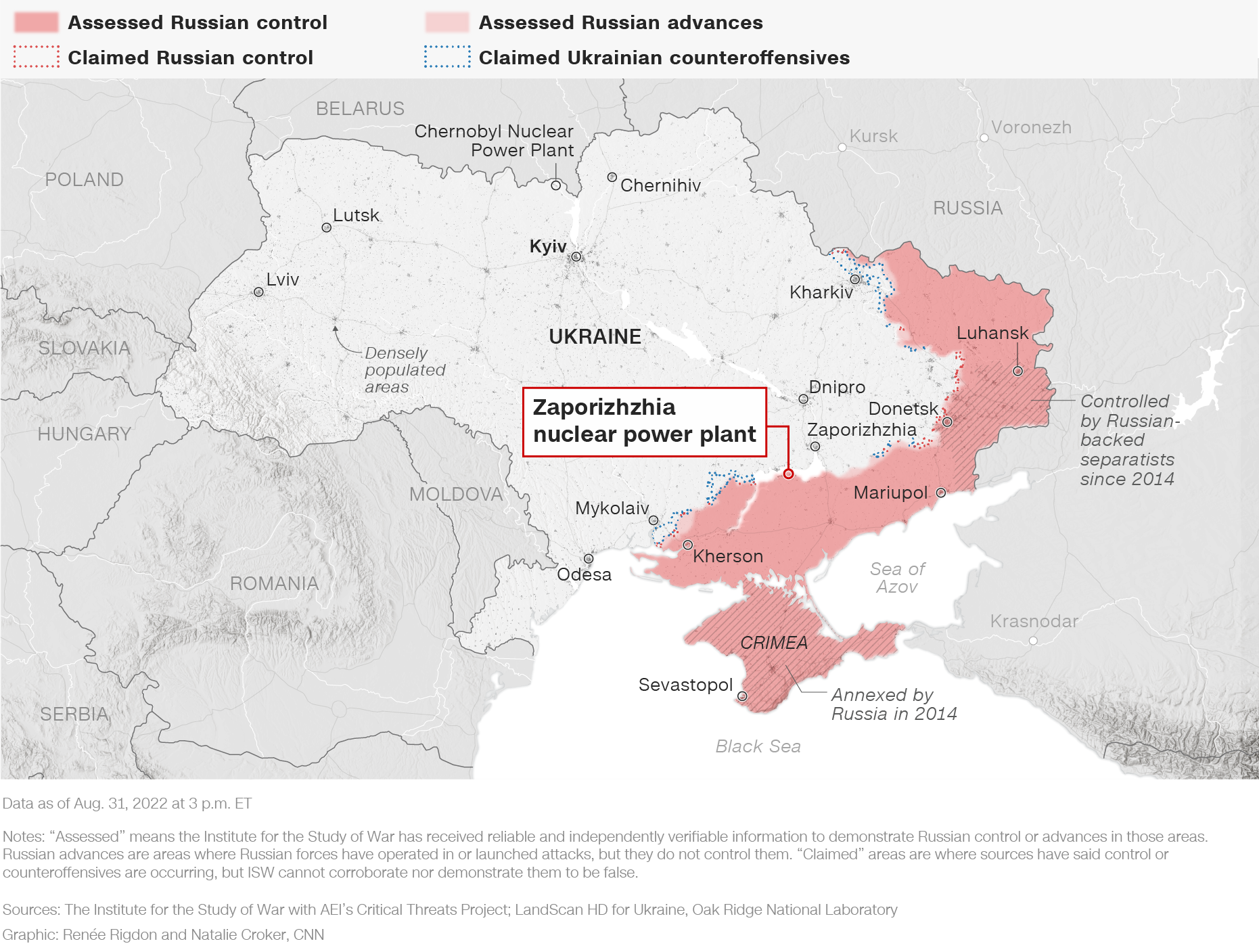 Zelensky, who has urged the withdrawal of the Russian military from Zaporizhzhia, said he has not heard the IAEA push Russia on the matter. 
"Unfortunately, we also have not yet heard from the IAEA the key thing — the call to Russia regarding the demilitarization of the plant," Zelensky said. 
"I really hope that the mission will adhere to what the parties have agreed upon and what is in the interests of the entire international community. The greatest risk of a radiation disaster in 40 years must be removed," he said.
4:33 p.m. ET, September 2, 2022
After Zaporizhzhia visit, IAEA chief says his main concerns are the safety of staff and power supply
From CNN's Arnaud Siad and Jennifer Hauser
After visiting the Zaporizhzhia nuclear power plant on Thursday, International Atomic Energy Agency Director General Rafael Grossi told reporters in Vienna that he is mainly concerned about the safety of staff and the power supply.
"It is obvious there is a lot of fighting in this part of Ukraine, so the military activity and operations are increasing in that part of the country, and this worries me a lot," the head of the United Nations' nuclear watchdog said.
Grossi said that during yesterday's visit, he and his team saw holes and markings from shelling on buildings of the plant — the biggest nuclear complex of its kind in Europe.
"The physical integrity of the facility has been violated not once, but several, several times. And this is something, irrespective of the kinetic power of whatever you are throwing at the plant, is unacceptable in any way under any safety and security criteria," Grossi said.
Both Ukraine and Russia have blamed each other for shelling at and around the plant. CNN is unable to verify what strikes occurred or who was responsible.
Regarding the threat to power supply, he said: "It is clear that those who have these military aims know very well that way to cripple or to do more damage is not to look into the reactors, which are enormously sturdy and robust, but to hit where it hurts so the plant becomes very, very problematic." 
Grossi reiterated that the several inspectors who are currently at the plant will remain there.
Stressing the importance of the IAEA being on site, he said that he now knows much more than he did before the visit. The team is learning more "as we speak," he said, adding that its presence has "big added value." 
4:11 p.m. ET, September 2, 2022
The Biden administration is requesting more than $13 billion from Congress for items related to Ukraine war
From CNN's Betsy Klein
US President Joe Biden's administration is outlining its request to Congress for the next government funding bill that includes additional money for what it is describing as "four critical needs," including support for Ukraine as the war continues.
The White House is requesting $11.7 billion for security and economic assistance for Ukraine and an additional $2 billion "to help address the impacts Putin's war has had on domestic energy supply and reduce energy costs in the future," Office of Management and Budget (OMB) director Shalanda Young said in a blog post.
Per a summary from the OMB, that $13.7 billion request includes:
$4.5 billion for equipment
$2.7 billion for military, intelligence and other defense support
$4.5 billion for direct budget support to Ukraine
$1.5 billion for "uranium to fuel US nuclear reactors to offset a potential decrease in Russian supplies and $500 million for modernizing the Strategic Petroleum Reserve to reduce domestic energy costs and ensure sustainable access to energy resources."
The request comes as lawmakers are set to return to Washington, DC, after the August recess facing a major must-pass legislative agenda item: Preventing a government shutdown by the end of the month.
So far, the US has provided approximately $13 billion in military aid to Ukraine since Russia's invasion of Ukraine began Feb. 24, a National Security Council official told CNN. The US has also provided $7 billion in grants for direct budget support and over $1.5 billion of humanitarian aid for Ukraine and Ukrainian refugees.
4:14 p.m. ET, September 2, 2022
It's nighttime in Kyiv. Catch up here on the latest headlines. 
From CNN staff
These are the latest developments from the war in Ukraine today:
Price cap on Russian oil: Finance ministers from the G7 nations released a joint statement announcing that they have agreed to implement a price cap on Russian oil and petroleum products in an attempt to weaken Russian revenues and Russia's ability to fund the war.
Russia's Deputy Prime Minister Alexander Novak earlier warned that Moscow would no longer supply countries that choose to implement such restrictions.
Zaporizhzhia nuclear plant: A team of International Atomic Energy Agency (IAEA) inspectors remains at the site, as the head of the UN nuclear watchdog pledged to have a "continued presence" at the plant. Ukrainian state nuclear operator Energoatom said a second reactor out of six is now up and running.
Meanwhile, Ukrainian officials have demanded that the IAEA press for the demilitarization of the area around the plant, which is currently held by Russian forces. The plant and the adjacent city of Enerhodar have endured persistent shelling that has raised fears of a nuclear accident through the interruption of the power supply to the facility. Each side continues to accuse the other of acts of nuclear terrorism. CNN is unable to verify what strikes occurred or who was responsible.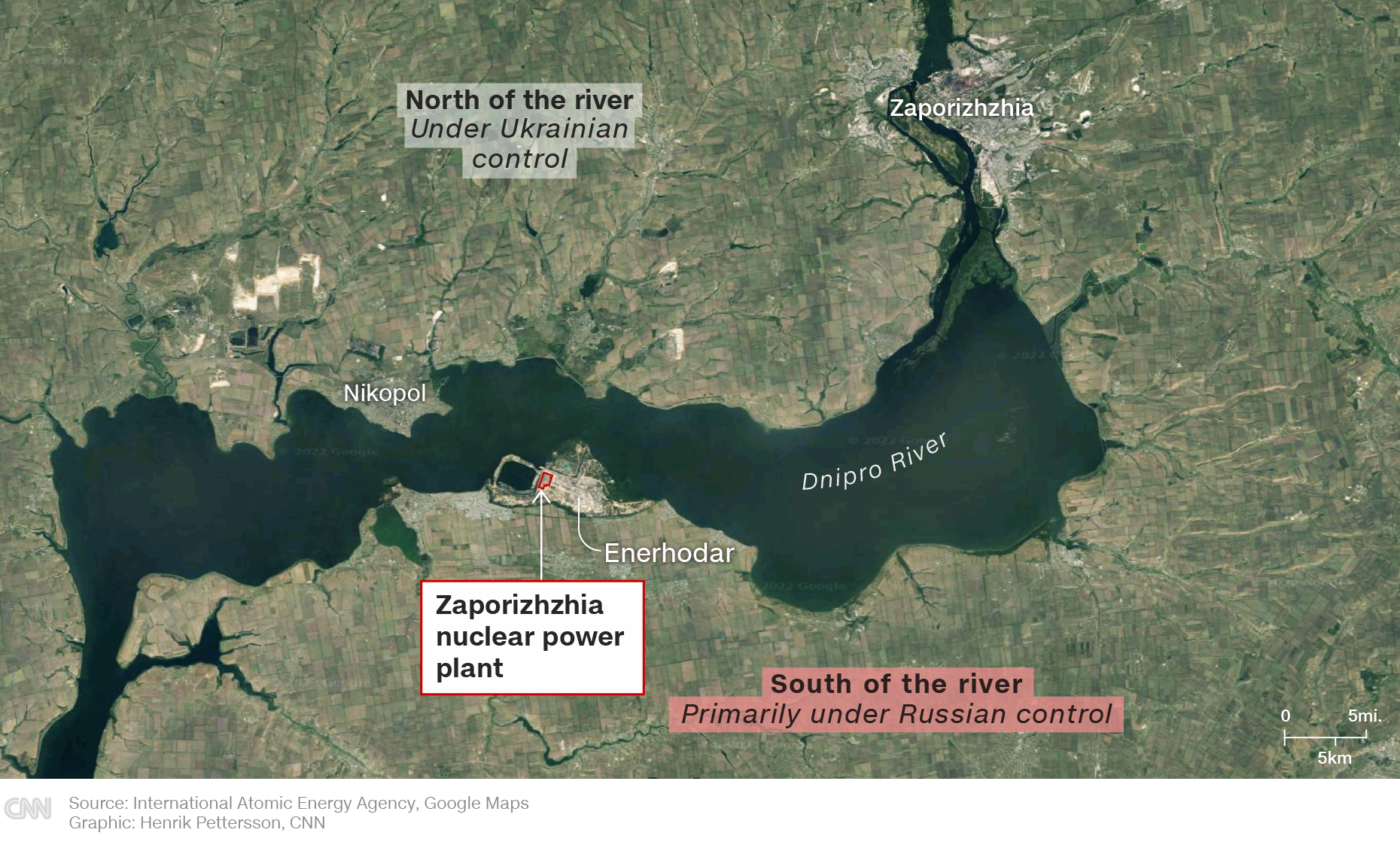 Key pipeline halted: Russian gas giant Gazprom is completely stopping gas supplies to Nord Stream 1 — which is the biggest pipeline bringing Russian natural gas to Europe — citing an oil leak, Gazprom said in a statement on Friday.
Following a 72-hour shutdown of the pipeline that started Wednesday in order to perform what it said was maintenance work, Gazprom was due to resume gas flows on Saturday.
Battle lines: Russian forces have suffered "significant losses" in the southern region of Kherson following the Ukrainian counteroffensive launched earlier this week, Ukraine's military said Friday. The military said it is keeping up the pressure on Russian forces in Kherson, with attacks on several targets Thursday, including bridges across the Dnipro river. Ukraine claimed it destroyed a ferry crossing and an ammunition depot in the south.
The Ukrainian military also said the situation in the eastern Donetsk region is virtually unchanged, despite weeks of efforts by Russian forces and their allies in the Donbas militias to take new territory.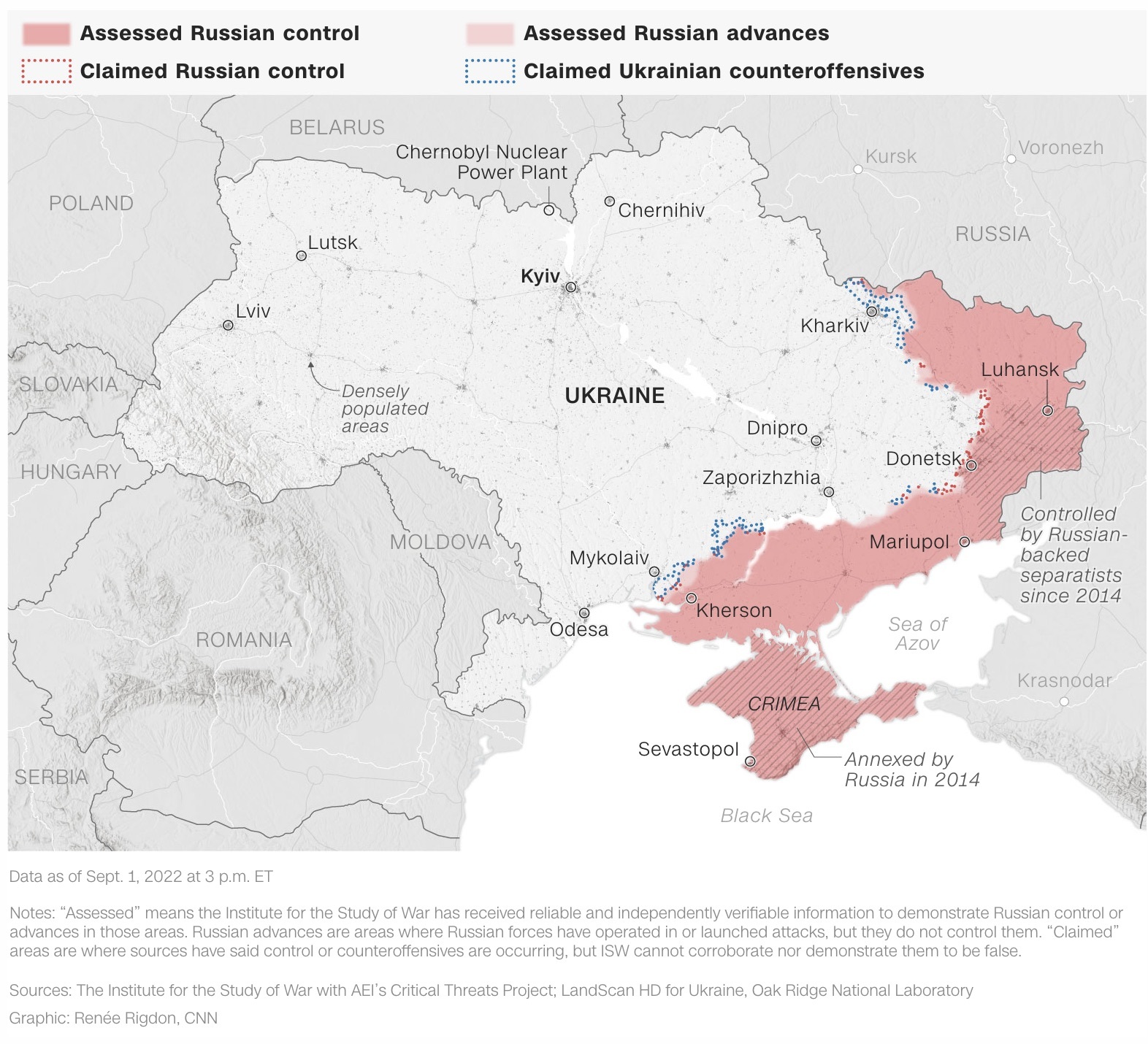 2:09 p.m. ET, September 2, 2022
Gazprom fully halts gas supplies to Nord Stream 1, citing a leak
From CNN's Uliana Pavlova
Russian gas giant Gazprom is completely halting gas supplies to Nord Stream 1 and is citing an oil leak, Gazprom said in a statement on Friday.
Nord Stream 1 — the biggest pipeline bringing Russian natural gas supplies to Europe via Germany — was on a planned 72-hour shutdown for maintenance work and was due to resume gas flows tomorrow (Saturday).
However, with this latest statement, Gazprom said the pipeline supply would be "completely stopped" until the the issues with equipment operations are resolved, giving no clear timeline for when the flow would resume.
During maintenance work at its Portovaya compressor station, Gazprom detected an oil leak, it said in the statement, adding that the Russian state watchdog issued a warning to the company and that it has also sent a letter to Siemens about the need to repair the turbine.
CNN is reaching out to Germany's Energy department for comment.
1:23 p.m. ET, September 2, 2022
Ukraine sanctions Putin's daughters
From CNN's Yulia Kesaieva
Russian President Vladimir Putin's daughters have topped the new Ukraine sanctions list.
According to Ukraine's Ministry of Reintegration of Temporarily Occupied Territories, the government approved a list including 99 individuals and 178 legal entities.
Putin's adult daughters Katerina Tikhonova and Maria Vorontsova were among those named, plus the Russian Federation of Industrial Companies and officials of the national banks of Russia and Belarus.
Earlier this year, the US applied sanctions against the people and entities listed by Ukraine. Ukraine noted that from now on, it will be matching those who are also sanctioned by partner countries.