September 16, 2022 Russia-Ukraine news
7:55 p.m. ET, September 16, 2022
Follow the latest news on Russia's war in Ukraine here and read more about today's developments in the posts below.
6:49 p.m. ET, September 16, 2022
Biden warns Putin against escalating the fighting in Ukraine
From CNN's Sam Fossum
President Joe Biden warned Russian President Vladimir Putin against escalating the fighting in Ukraine, saying that there will be consequences if the Kremlin uses chemical or nuclear weapons.
"Don't. Don't. Don't. It would change the face of war unlike anything since World War II," Biden said during a 60 Minutes interview.
The clip of the interview aired on CBS Evening News on Friday. 
Asked by Scott Pelley what the US response would be if Russia used a chemical or nuclear weapon, Biden said it would be "consequential." 
"You think I would tell you if I knew exactly what it would be. Of course, I'm not going to tell you. It'll be consequential. They'll become more of a pariah in the world than they ever have been. And depending on the extent of what they do will determine what response," Biden said.
6:21 p.m. ET, September 16, 2022
President Biden is meeting with the families of Brittney Griner and Paul Whelan
From CNN's Sam Fossum
President Joe Biden is meeting now with the families of Brittney Griner and Paul Whelan, according to the White House.
In separate meetings, Biden will sit with Elizabeth Whelan, Paul's sister, and with Griner's wife Cherelle and agent Lindsay Colas, the administration said.
The first of the meetings in the Oval Office began at 4:51 p.m. ET. 
Jake Sullivan, the assistant to the president for national security affairs, is accompanying the president.
Some background: The families of Whelan, who has been held by Russia for alleged espionage since 2018, and WNBA star Griner, jailed in Moscow for drug possession since February, have urged the White House to secure their release, including via a prisoner exchange if necessary.
The administration said this week that Biden is "not going to let up" on getting Griner and Whelan back to the US. Secretary of State Antony Blinken said the matter is "at the very top of my priority list."
7:49 p.m. ET, September 16, 2022
Mexico to propose committee aimed at reaching a truce in Ukraine at UN General Assembly
From CNN's Karol Suarez in Mexico City
Mexico's president, Andrés Manuel López Obrador, said on Friday that Foreign Minister Marcelo Ebrard will propose a plan to create a '"Committee for Dialogue and Peace" to immediately seek a cessation of hostilities in Ukraine.  
During a speech at the Independence Day military parade in Mexico City, López Obrador said the proposal seeks to achieve a truce of at least five years in favor of peace among all nations.
To be unveiled at the upcoming United Nations General Assembly in New York, the plan would allow the time to be dedicated "to face the significant and severe economic and social problems that affect the peoples of the world," he said.
López Obrador criticized the sanctions on Russia and the "massive shipment" of weapons to Ukraine, calling them "actions that contributed to the ongoing confrontation, an additional dose of irrationality."
According to López Obrador, the proposal envisions Prime Minister of India Narendra Modi, Pope Francis, and the UN Secretary-General Antonio Guterres serving as mediators in the committee. He said he hopes this will start direct talks between the leaders of Ukraine and Russia.
3:00 p.m. ET, September 16, 2022
It's 10 p.m. in Kyiv. Here's what you need to know
Ukrainian President Volodymyr Zelensky said some of the bodies found at a mass burial site in Izium show "signs of torture." Meanwhile, Russian President Vladimir Putin has acknowledged "concerns" from both China and India about the war.
Here are the latest developments:
Horrors in Izium: Ukrainian officials said that at least 440 graves had been discovered at a mass burial site in the city of Izium, in the recently liberated Kharkiv region. Zelensky said some bodies had "signs of torture," while the governor of the Kharkiv region claimed that "99% show signs of violent death," adding "there are several bodies with their hands tied behind their backs, and one person is buried with a rope around his neck."
A United Nations source said a team will be going to Izium and the surrounding areas soon, and the war crimes investigation team may follow afterward.
India and China voice concerns: On Friday, Indian Prime Minister Narendra Modi told Putin that "today's era is not of war" — a significant rebuke from a leader who has stayed largely silent on the conflict. And a day earlier, Putin on Thursday acknowledged China's President Xi Jinping had "questions and concerns" regarding the conflict in Ukraine. 
Putin speaks on counteroffensive for first time: In his first comments following Kyiv's successful counteroffensive in northeastern Ukraine, the Russian leader said the main goal of Russia's "special military operation" has not changed and that there's "no hurry."
"Let's see how this ends," he added.
Russia shelling continues: Much of Ukraine's Kharkiv region has been retaken by Ukrainian forces, but the military said liberated areas are now being heavily shelled by Russian artillery, resulting in some injuries. Attacks are also taking place in Luhansk, Donetsk and Dnipropetrovsk regions.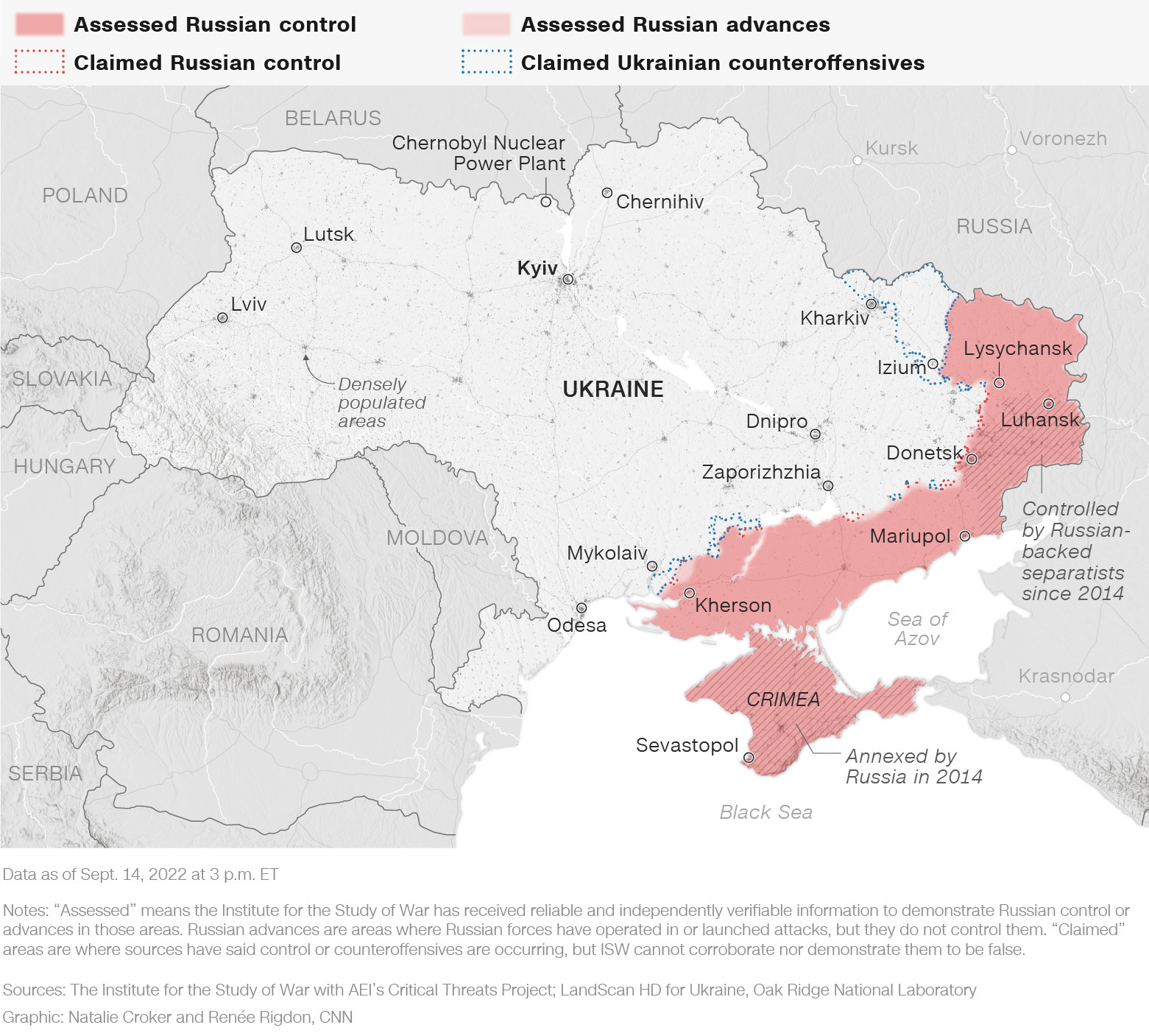 Russian-backed officials dead: The leader of the self-declared Luhansk People's Republic said its prosecutor general had been killed in a "terrorist act," while the head of the Russian-backed administration in occupied areas of the Zaporizhzhia region said a senior official there was killed.
Biden to meet families of detained Americans: US President Joe Biden will personally meet with the families of Brittney Griner and Paul Whelan at the White House today. The administration said Biden is "not going to let up" on getting Griner and Whelan back to the US. Secretary of State Antony Blinken also said the matter is "at the very top of my priority list."
US officials express frustration on sanctions: Senior US officials tell CNN they are disappointed US-led sanctions haven't had a bigger impact so far on the Russian economy and are now predicting that the harshest effects probably won't materialize until early next year at the earliest.
2:49 p.m. ET, September 16, 2022
Ukraine is "consolidating their gains" around Kharkiv, US Department of Defense says
From CNN's Michael Conte
The US assesses that the Ukrainians are "consolidating their gains" from retaking territory in the area of Kharkiv, according to the Defense Department.
"In the north, what we assess is that the Ukrainians are consolidating their gains after taking back significant territory, and that the Russians are attempting to shore up their defensive lines after having been pushed back," said Pentagon Press Secretary Air Force Brig. Gen. Pat Ryder at a briefing with reporters.
Ryder also said that Ukrainian forces are making "deliberate, calculated forward movement" with their counteroffensive in the Kherson area.
"As always, our focus continues to remain on providing them the support that they need in their fight," Ryder said.
2:22 p.m. ET, September 16, 2022
Biden is "not going to let up" on getting detained Americans back to the US, official says
From CNN's Nikki Carvajal
The White House said US President Joe Biden is "not going to let up" on getting Brittney Griner and Paul Whelan back to the United States from Russia. The comments on Friday come as Biden is scheduled to meet with their families.
"What I can tell you for sure is the President is not going to let up," John Kirby, strategic communications adviser at the National Security Council, told CNN at a press briefing. "He's confident that this is going to remain at the forefront of his mind and his team's mind, and that are going to continue to work this as hard as they can." 
He added that Biden wants "these two individuals home back where they belong with their families."
Asked why Russia hadn't already accepted a US offer for Griner and Whelan's return, Kirby said, "If we had the answer to that question, we might already have a deal. I think that's a better question put to our Russian colleagues."
"We made a serious offer, we want them to accept it," Kirby said. "Frankly, these two individuals ought to be home anyway, period, but we understand that's probably going to have to be the result of the negotiating process — one that we're willing to participate in honestly and fully, and we've been doing that. We await them to take the offer that's on the table."
CNN previously reported that the Biden administration offered to exchange Viktor Bout, a convicted Russian arms trafficker serving a 25-year US prison sentence, as part of a potential deal to secure the release of two Americans held by Russia, according to sources.
2:16 p.m. ET, September 16, 2022
White House calls reports of mass burial site in Ukraine "repugnant" and "horrifying"
From CNN's Kevin Liptak
The White House said reports of a mass burial site in the eastern Ukrainian city of Izium are "horrifying" and "repugnant."
John Kirby, the strategic communications adviser at the National Security Council, said the discovery of what Ukrainian officials say is at least 440 graves at the site was "in keeping with the kind of depravity and the brutality with which Russian forces have been prosecuting this war against Ukraine and the Ukrainian people."
Kirby said the United States would continue to "actively support efforts to document war crimes and atrocities that Russian forces commit in Ukraine and assist national and international efforts to identify and hold Russians accountable."
Ukraine's Center for Strategic Communications said on Thursday that some of the graves discovered at Izium were "fresh" and that the bodies buried there were "mostly civilians."
Izium was subject to intense Russian artillery attacks in April, and the city, which sits near the border between the Kharkiv and Donetsk regions, became an important hub for the invading military during five months of occupation.
2:14 p.m. ET, September 16, 2022
UN General Assembly votes to allow Zelensky to speak by video link
From CNN's Tim Lister
The UN General Assembly has voted to allow Ukrainian President Volodymyr Zelensky to address the 77th session of the Assembly by video link.
The vote was 101 in favor and seven against, with 19 abstentions.
The countries voting against were Russia, Belarus, North Korea, Eritrea, Nicaragua, Syria and Cuba.
China abstained.
General debate in the Assembly will run from Sept. 20 through Sept. 26.