September 25, 2023 - Russia-Ukraine news
12:00 a.m. ET, September 26, 2023
7:35 p.m. ET, September 25, 2023
Russian shelling kills 6 in Kherson as Ukraine targets regions near Crimea. Here's what you need to know
From CNN staff
A Russian attack hit port infrastructure in Ukraine's southern Odesa region overnight, sparking a fire and injuring at least two people, Ukrainian officials said Monday. Ukrainian officials also reported deadly shelling in the nearby region of Kherson.
Here's what you need to know about the attack and other developments in Ukraine as Russia continues its war:
Here's where the state of control stands in Ukrainian territory: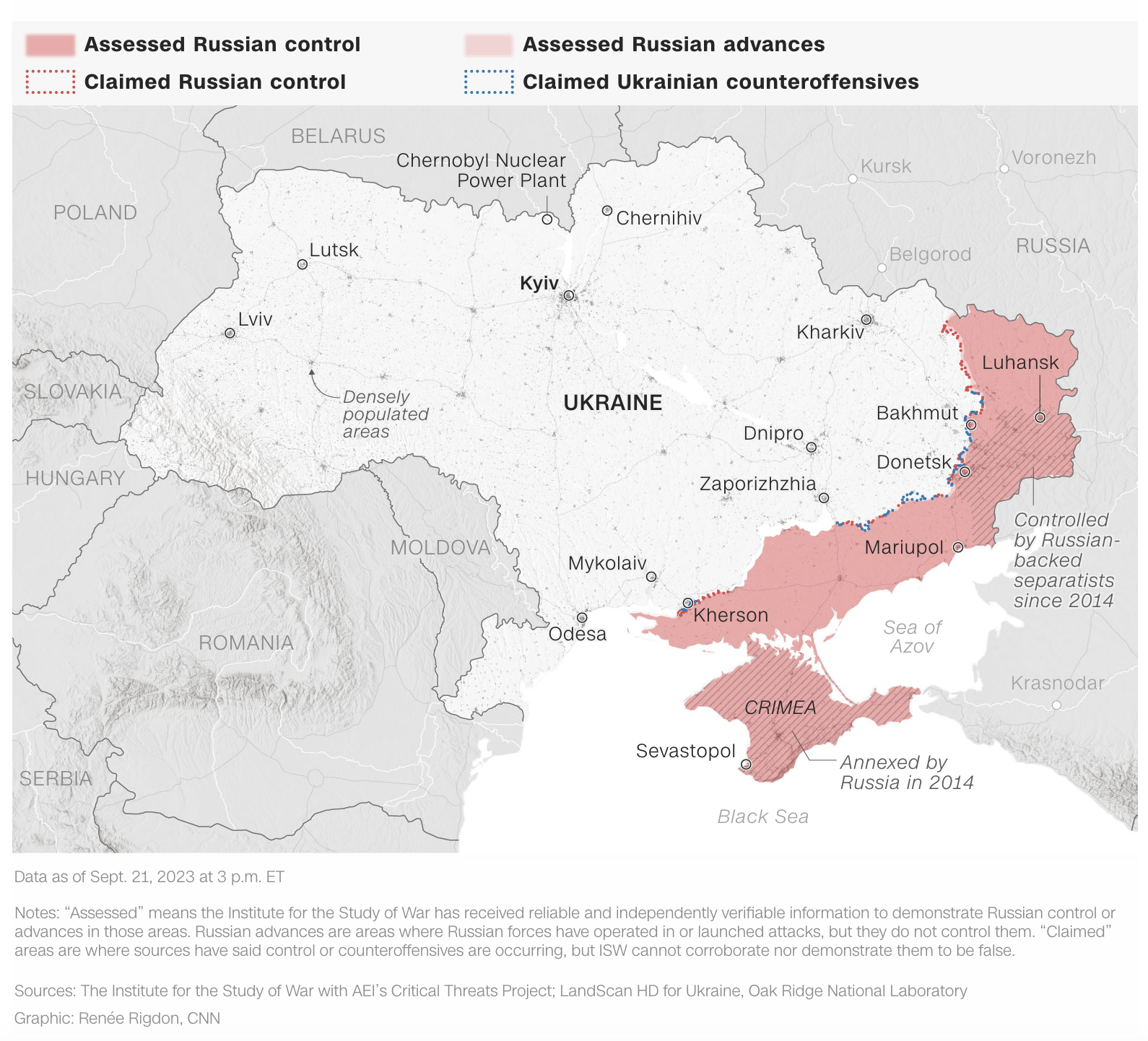 Editor's note: This post has been updated with the latest death toll in Kherson.
7:03 p.m. ET, September 25, 2023
Russia claims to have countered several attacks over the Kursk and Belgorod regions, officials report
 From CNN's Mariya Knight
Russian forces claimed to have thwarted Ukrainian missile and drone attacks on several regions Monday, according to officials.
Moscow's air defenses shot down four Ukrainian drone attacks over the Kursk region and seven drone attacks over the Belgorod region, the Russian defense ministry and regional officials reported.
Russian forces also stopped a missile attack over Sevastopol, the defense ministry said.
No significant damage or casualties were reported by the officials in the area. 
Mikhail Razvozhaev, a Russian-appointed governor of Sevastopol, said that "air defense forces shot down one missile" in the area of ​​the Belbek military airfield in Sevastopol, without providing any further details.  
5:42 p.m. ET, September 25, 2023
Death toll in Kherson region rises to 6 after more Russian attacks, Ukrainian military official says 
From CNN's Mariya Knight and Yulia Kesaieva 
At least six people have died and five were injured as a result of Russian shelling in Ukraine's Kherson region on Monday, Oleksandr Prokudin, head of the region's military administration, said in an updated post on social media.
"The Russian army again attacked the Dniprovskyi district of the city of Kherson. According to preliminary information, two men and one woman died from their injuries," Prokudin said.
According to Prokudin, three more people were also injured and taken to the hospital.
Earlier, Prokudin reported that three people had died and two were injured as a result of the Russian air strike on the city of Beryslav in the Kherson region Monday.
Prokudin said that only a quarter of the population remains in the Beryslav community after the civilian evacuations following the intense Russian shelling.
"Over the past two weeks, almost 100 children and their families have left the dangerous coastal communities" of the Kherson region, Prokudin said.
10:10 p.m. ET, September 25, 2023
Russian ships in Black Sea still launching strikes after alleged death of top commander, Ukrainian Navy says 
From CNN's Radina Gigova and Yulia Kesaieva 
Russian ships were still launching attacks on Ukraine following the alleged death of the commander of Russia's Black Sea Fleet, but those attacks are being launched "by inertia," Dmytro Pletenchuk, spokesperson for the Ukrainian Navy, said Monday on national television. 
Pletenchuk was asked about comments made by Ukrainian authorities earlier Monday, claiming that Adm. Viktor Sokolov along with 33 other officers were killed and more than 100 servicemen were wounded in Friday's attack in Sevastopol. 
Pletenchuk said Russian President Vladimir Putin "does not control the actual operation of ships at sea" and relies on his admirals who know "their means and forces, personnel, how to manage them, how to better deploy them. And they can also keep things from him [Putin], not report on certain issues."
He then claimed, "At this moment, they (the Russian Navy) lost the person who actually manages all of this, and his staff, who manages the fleet together with him. This is a large grouping that requires a great number of managers to run all the processes to make it (the fleet)work as a single mechanism. Imagine that the core part of this mechanism becomes inoperable."
Pletenchuk went on to say that "yes, last night they (referring to the Russian ships in the Black Sea) were still launching strikes by inertia" but he compared the operations to "a chicken running around without a head."
"Therefore, as of now, they (the Russian navy) will have respective problems with the control of the troops," he said. 
Earlier on Monday, the Ukrainian Special Operations Forces said Sokolov has been killed in Sevastopol on Friday, in perhaps the most daring attack by Ukrainian forces on Crimea so far. 
"Eliminated during a strike on the headquarters in Sevastopol Commander of the Russian Black Sea Fleet Admiral Sokolov,"  Col. Vladislav Nazarov, spokesperson for the Operational Command "South," said. 
CNN cannot independently confirm Ukraine's claims about Sokolov and the rest of the casualties in Sevastopol. CNN has reached out to the Russian Ministry of Defense for comment but at the time of this writing has not received a response. 
1:01 p.m. ET, September 25, 2023
Death toll in Kherson rises to 3, authorities say
From CNN's Yulia Kesaieva and Radina Gigova
Three people have died as a result of Russian shelling on Ukraine's Kherson region on Monday, Oleksandr Prokudin, head of the Kherson Regional Military Administration, said in an updated post. 
A 55-year-old man, who was severely injured in the strike on the city of Beryslav, has died, Prokudin said. 
"Doctors fought for his life in the morning, but his injuries turned out to be too severe," he said. "My condolences to the families of the victims! I wish the wounded a speedy recovery."
Russian forces dropped four bombs on the southern Ukrainian city of Beryslav on Monday, Prokudin said, previously reporting that two people were killed and two more injured in the attack. He added that over the past day, Russian forces have launched 87 attacks on the Kherson region.
10:14 a.m. ET, September 25, 2023
UN: There's "continuous evidence" Russian forces are "committing war crimes in Ukraine"
From CNN's Sharon Braithwaite and Stephanie Halasz
There is "continuous evidence" Russian forces are "committing war crimes in Ukraine," the United Nations Human Rights Council said.
The council alleged that attacks in Ukraine include "unlawful attacks with explosive weapons, attacks harming civilians, torture, sexual and gender-based violence, and attacks on energy infrastructure"
The council's Independent International Commission of Inquiry on Ukraine said it had "documented explosive weapons attacks on residential buildings, a functional medical facility, a railway station, a restaurant, shops and commercial warehouses. These attacks led to civilian casualties, the damage or destruction of key facilities, and the disruption of essential services and supplies."
The commission heard from torture victims and quotes one person as saying, "every time I answered that I didn't know or didn't remember something, they gave me electric shocks … I don't know how long it lasted. It felt like an eternity."
The commission reported Russian soldiers committing sexual violence against women of ages ranging from 19 to 83 years, and said it continues to "investigate individual situations of alleged transfers of unaccompanied minors by Russian authorities to the Russian Federation."
Furthermore, the commission said it is investigating what caused the Nova Kakhovka dam to collapse in June.
9:48 a.m. ET, September 25, 2023
Blinken: Russia-North Korea cooperation is "a two-way street that is increasingly dangerous"
From CNN's Jennifer Hansler
The United States sees Russia and North Korea's cooperation as "a two-way street that is increasingly dangerous," Secretary of State Antony Blinken said Monday.
The top US diplomat described Kim Jong Un's trip to Russia as demonstrative of North Korea's "threats to broader security," noting Russia is "desperate to find equipment, supplies, technology for its ongoing aggression against Ukraine" and North Korea "that is looking for help to strengthen and advance its own missile programs."
Speaking at the Center for Strategic and International Studies ROK-U.S. Strategic Forum, a forum that brings together US and Republic of Korea officials, Blinken added, "we're working hand-in-hand with other partners and allies to highlight the dangerous ways Russia and North Korea's military cooperation threaten global peace and security."
3:53 p.m. ET, September 25, 2023
Zelensky says US Abrams tanks have arrived in Ukraine 
From CNN's Yulia Kesaieva, Radina Gigova, Haley Britzky and Alex Marquardt
US Abrams tanks have arrived in Ukraine and are "getting prepared to reinforce our brigades," Ukrainian President Volodymyr Zelensky said Monday.
"Good news from Minister [of Defense Rustem] Umerov. 'Abrams' are already in Ukraine and are getting prepared to reinforce our brigades. I am grateful to our allies for fulfilling the agreements! We are looking for new contracts and expanding the geography of supply," Zelensky said in a Telegram statement. 
The Pentagon confirmed that the first batch, which includes 31 Abrams tanks, have arrived in Ukraine.
"The mere presence of Abrams tanks serves as a potent deterrent. By having these tanks in their arsenal, the Ukrainian army can more effectively discourage aggressive actions," Pentagon spokesperson Maj. Charlie Dietz said Monday.
The armored capability adds a powerful ground component to Ukrainian troops who have already endured more than a year and a half of war.