September 26, 2022 Russia-Ukraine News
5:28 p.m. ET, September 26, 2022
Our coverage for the day has ended. Follow the latest Ukraine news here or read through the updates below.
5:11 p.m. ET, September 26, 2022
Gaining ground in Donetsk is Ukraine's top objective, Zelensky says
From CNN's Josh Pennington, Dennis Lapin and Philip Wang
Ukraine's president says gaining ground in the strategic Donetsk region is his number one priority because it is Russia's top priority.  
President Volodymyr Zelensky, speaking in his nightly address on Monday, said the "situation is particularly severe in the Donetsk region. We are doing everything to thwart enemy activity. This is our number one objective now, since Donbas is still the number one objective for the occupiers."
Donetsk, which is a part of Donbas, is partially occupied by the Russian military.
As Russian forces continue to advance through the Donbas region, pro-Russian leaders in Donetsk and Luhansk are holding referendums on joining Russia.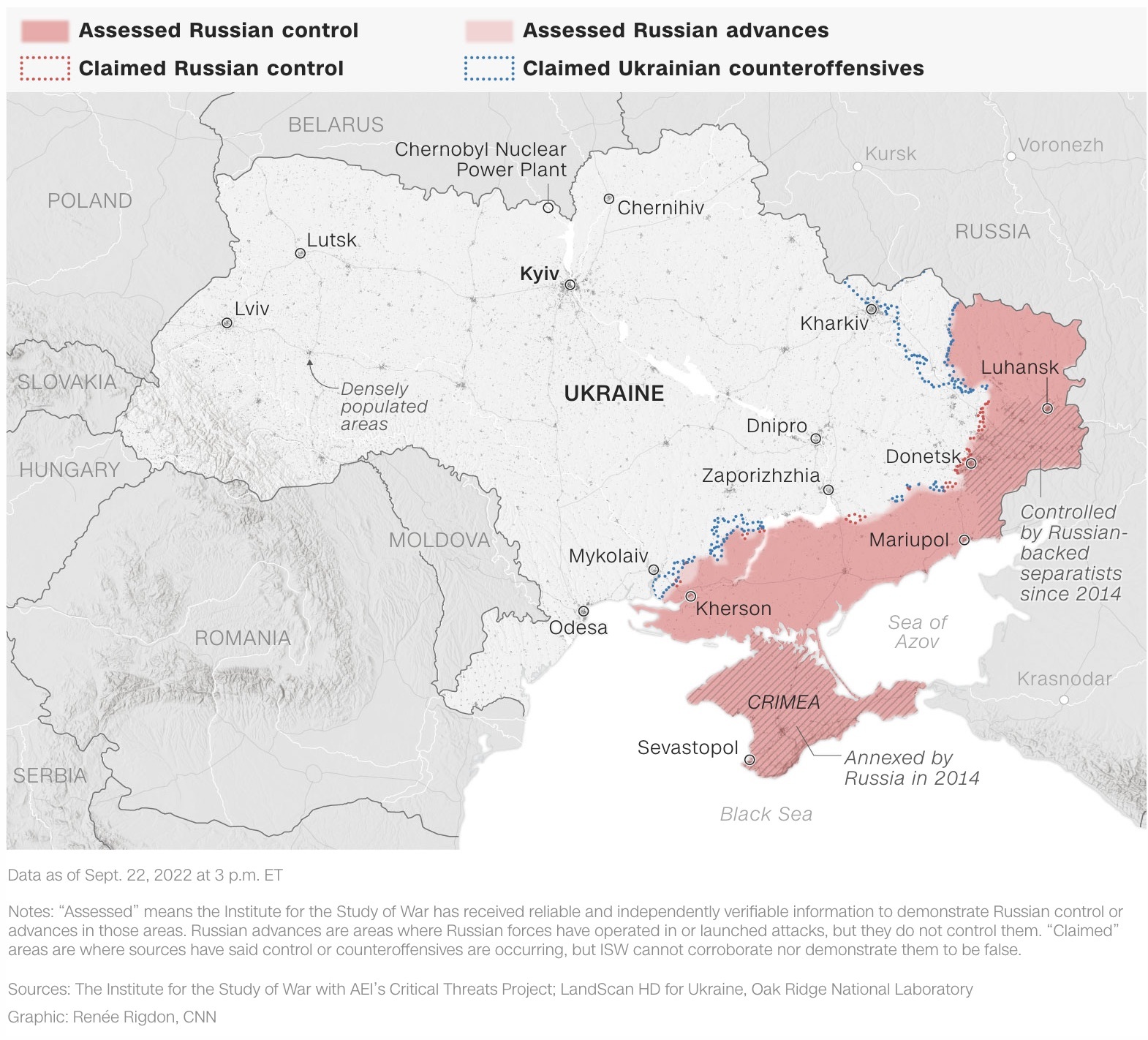 Some context: Authorities in Kyiv and other Western countries say that the referendums are a "sham" whose outcome has been preordained, and which are carried out often literally at the barrel of a gun. International observers and the Ukrainian government expressed similar concerns in 2014 when Russia unilaterally annexed Crimea after a referendum carried out in the presence of Russian troops. 
3:39 p.m. ET, September 26, 2022
US officials are closely watching referendums in Russian-occupied areas of Ukraine and preparing to act
From CNN's Kaitlan Collins
White House officials are watching closely and preparing their potential response Monday as four Russian-occupied areas of Ukraine continued to vote in referendums that are being effectively carried out at gunpoint and have been dismissed by the West as a "sham."
With the results of the Russian-organized voting expected to be announced as soon as tomorrow, US officials anticipate Russia could move quickly to annex the four areas, potentially within days.
If and when they do, it would prompt a swift response from the US, which has pledged not to recognize the results, one official said. 
The US is not currently expected to respond until Russia has moved to annex the regions, the official said, and when Russia ultimately attempts to do so remains to be seen.  
British foreign secretary James Cleverly said in recent days that Russia has already decided in advance what will happen after these referendums are finished, stating that by "the end of the month, Russia's intention will be to formalize the annexation of the four regions into the Russian Federation."
As they monitor the referendums, top Biden administration officials have become more vocal in recent days about warnings they have delivered in private to Russian officials about the potential use of nuclear weapons in Ukraine.
"Russia understands very well what the US would do in response to the use of nuclear weapons in Ukraine because we have spelled it out for them," national security adviser Jake Sullivan said in a television interview Sunday, though he declined to characterize who received those warnings or what the consequences would be.  
While officials have still not seen indications that Russia is planning to use nuclear weapons in the near term, they are more concerned about the possibility now than they were six or seven months ago, one official confirmed to CNN, though they still maintain that the likelihood of Russia doing so is low. 
2:56 p.m. ET, September 26, 2022
US State Department: No indication China is preparing to support Russia's invasion of Ukraine
From CNN's Michael Conte and Jennifer Hansler
The US State Department said they have not seen any indication that China is preparing to assist Russian President Vladimir Putin's invasion of Ukraine or assist Russia in evading sanctions.
"We are looking at every single bit of information we have," State Department spokesperson Ned Price said. "We have seen nothing as of yet at least to indicate that the PRC is taking a different approach when it comes to security assistance, when it comes to efforts to systematically help Russia evade sanctions," he said.
Price said the US is "continuing to watch" what China does on Ukraine, and said that remarks by Chinese Foreign Minister Wang Yi indicate that China has "a degree of unease with what Russia is doing in Ukraine."
US Secretary of State Antony Blinken met with Yi on Friday at the United Nations and "highlighted the implications if the PRC [People's Republic of China] were to provide support to Moscow's invasion of a sovereign state," according to the State Department readout of the meeting.
2:49 p.m. ET, September 26, 2022
Ukraine says it captured a Russian soldier allegedly linked to atrocity in Bucha
From CNN's Victoria Butenko
The Ukrainian security service says that a Russian soldier captured during combat in Kherson region this month has been linked to an atrocity carried out in Bucha near Kyiv back in March.
In a statement Monday, the agency claimed that the captured soldier, together with other Russian troops, "shot a car with a machine gun on the highway near Zdvizhivka village, Bucha district" in early March.
"The driver died on the spot," the statement said, claiming that the group then buried the victim's body in the forest.
The security service also said the driver's corpse was exhumed and submitted for forensic examination.
At the time Russian forces had just occupied Bucha.
When the Russian soldier was detained in September during combat in the Kherson region, the agency said its investigators proved the soldier's involvement in the crime.
2:40 p.m. ET, September 26, 2022
White House: US prepared to impose "severe economic costs" on Russia if they move forward with annexation 
From CNN's Nikki Carvajal                                                                          
The United States will "never recognize" Russian-occupied territory as "anything other than… part of Ukraine," the White House said, as separatist leaders in four regions of Ukraine say that referendums are underway on whether to secede from Ukraine and join the Russian Federation.
White House press secretary Karine Jean-Pierre told CNN's Kaitlan Collins at a Monday press briefing that the "sham referendum" was a "flagrant violation of international law."
"We will continue to work with our allies and partners to hold Russia accountable and support Ukraine for as long as it takes," Jean-Pierre said.
"As far as what we are doing, we are prepared to impose additional swift and severe economic costs on Russia, along with our allies and partners, in response to these actions that we're seeing currently if they move forward with annexation," she said.
She added, "you will hear more from us in the coming days on this."
1:42 p.m. ET, September 26, 2022
Polling station in Luhansk hit by Ukrainian shelling, Russian media reports
From CNN's Denis Lapin
The Russian state news agency TASS reported that a school in Luhansk region in eastern Ukraine that was being used as a polling station in the so-called referendum on joining Russia has been hit by Ukrainian shelling.
Remember: Authorities in Kyiv and other Western countries say that the referendums are a "sham" whose outcome has been preordained, and which are carried out often literally at the barrel of a gun. International observers and the Ukrainian government expressed similar concerns in 2014, when Russia unilaterally annexed Crimea after a referendum carried out in the presence of Russian troops. 
TASS reported that six shells hit the school in Rubizhne. 
CNN is unable to verify what caused the extensive damage to the school.
The last day of the referendum process in four Russian-occupied areas of Ukraine is Tuesday.
1:19 p.m. ET, September 26, 2022
At least 1 dead after Russian missile and artillery attacks in eastern Ukraine, Ukrainian officials say
From CNN's Denis Lapin and Tim Lister
Russian artillery and missile attacks have left at least one person dead and several injured in Kharkiv and Donetsk regions, according to Ukrainian officials. 
Oleg Synehubov, head of the regional military administration in Kharkiv, said a missile attack on the city of Pervomaiske had killed a teenage girl and injured others. Two houses were destroyed.
Mykola Baksheev, the mayor of Pervomaiske, said there were several victims in the attack, and some Ukrainian media are reporting a higher number of fatalities.
In Donetsk, the middle of the city of Kramatorsk was hit, causing damage to an apartment block, according to images from the city council. 
The city of Sloviansk was also struck, according to the mayor Vadym Lyakh.
Despite recent progress by Ukrainian forces in the east, many cities and towns in those parts of Donetsk and Kharkiv under Ukrainian control are still within reach of Russian weapons. 
12:52 p.m. ET, September 26, 2022
Large lines of traffic wait to cross from Russia into Georgia, satellite images show
From CNN's Tim Lister, Sebastian Shukla and Gianluca Mezzofiore
Satellite images from Sunday provided by Maxar Technologies show long lines of traffic on the Russian side of the border with Georgia.
Maxar says the northernmost image shows traffic queuing about 16 kilometers (nearly 10 miles) north of the border crossing, and adds that "the traffic jam likely continued further to the north of the imaged area."
CNN reported earlier Monday, that images and social media video from the border crossing between Russia and Georgia have shown long lines of stationary traffic through a mountain pass. Drone video uploaded from the area Monday suggests there are hundreds of vehicles gathered on the Russian side, with witnesses saying that people are waiting up to 48 hours to cross into Georgia.
Several videos show additional Russian security forces arriving at the border in an armored personnel carrier.
Queues have built up at the Verkhnii Lars crossing from North Ossetia into Georgia and other border crossings since the announcement last week by President Vladimir Putin of a partial mobilization.
Videos show some families and many men on their own among those waiting to cross at Verknii Lars Hundreds of people are approaching the crossing on foot, pulling suitcases. 
Amid the sudden influx, "we have been pushing government to introduce visas and/or close the borders," an opposition politician in Georgia, Nona Mamulashvili, told CNN.
At the moment, the border appears still to be open.