September 30, 2022 Russia-Ukraine news
6:11 p.m. ET, September 30, 2022
Our coverage for the day has ended. Follow the latest Ukraine news here or read through the updates below.
4:11 p.m. ET, September 30, 2022
Zelensky again calls Moscow's annexation claims a "farce"
From CNN's Mick Krever in London, and Denis Lapin and Victoria Butenko in Kyiv
Ukrainian President Volodymyr Zelensky used his evening address on Friday to once again condemn the "farce" of Russia's claimed annexations of Ukrainian territory.
"Another farce took place in Moscow today," he said. "Something was celebrated there. They were chanting something there. They sang in the square."
"They were talking about Zaporizhzhia – when they themselves arranged such a thing in Zaporizhzhia," he said, referring to the Friday attack on a civilian convoy that killed at least 30 and wounded 88.
He also said that Ukraine was working with its Western allies to impose new sanctions on Russia "against key persons and significant Russian enterprises."
"Of course, sanctions will also be applied to those citizens of other countries who took part in the Russian farce on the occupied territory of our country," he said.
G7 foreign ministers said Friday they will impose additional economic sanctions on Russia over the annexation of Ukrainian territories.
In his daily address, Zelensky also hailed the country's military moves in eastern Ukraine, where Ukrainian forces have nearly encircled the town of Lyman.
"We have substantial results in the east of our country," he said. "There is already enough public information about this. Everyone has heard what is happening in Lyman, Donetsk region."
"These are steps that mean a lot to us. And I am thankful to all our fighters for implementing this element of our defense plan! It is very important," he said.
4:07 p.m. ET, September 30, 2022
US national security adviser: Ukraine's NATO application "should be taken up at a different time"
From CNN's Nikki Carvajal
The United States believes the process for Ukraine to join NATO "should be taken up at a different time," US President Joe Biden's national security adviser Jake Sullivan said Friday, after Ukrainian President Volodymyr Zelensky claimed the country was applying for membership under an "accelerated procedure." 
"The United States has been clear for decades that we support an open-door policy for NATO," Sullivan told reporters at a White House press briefing. "Any decision on NATO membership is between the 30 allies and the countries aspiring to join." 
"Right now, our view is that the best way for us to support Ukraine is through practical, on-the-ground support in Ukraine and that the process in Brussels should be taken up at a different time," he continued.  
Earlier Friday, NATO Secretary General Jens Stoltenberg said member states of the alliance support Ukraine's "right to choose its own path" but cautioned that any decision on membership has to be taken up by all 30 members of the alliance.
5:26 p.m. ET, September 30, 2022
Russia vetoes UN Security Council resolution that condemns annexation and calls for withdrawal from Ukraine
From CNN's Mick Krever and Richard Roth in New York
Russia on Friday vetoed a resolution at the United Nations Security Council that would have condemned Russia's claimed annexation of four Ukrainian regions after so-called referendums on joining the Russian Federation.
The referendums have been universally dismissed as "a sham" by Ukraine and Western nations.
The resolution would have denounced Russia's "organization of illegal so-called referenda in regions within Ukraine's internationally recognized borders" and declared that the referendums "have no validity."
The resolution would have also called on Russia to "immediately, completely and unconditionally withdraw all of its military forces from the territory of Ukraine within its internationally recognized borders."
Russia was the sole country to oppose the resolution.
Ten countries voted in favor: Albania, France, Ghana, Ireland, Kenya, Mexico, Norway, the United Arab Emirates, the United Kingdom and the United States.
Four countries abstained: Brazil, China, Gabon and India.
Speaking ahead of the vote, the US Ambassador to the UN Linda Thomas-Greenfield – who tabled the resolution along with her Albanian colleague – said it was aligned with the Security Council goals of defending sovereignty, protecting territorial integrity and ensuring peace and security.
"We're talking about a UN member state, a Security Council member, attempting to annex part of another through force," Thomas-Greenfield said. "The outcomes of these sham referenda were predetermined in Moscow, and everybody knows it. They were held behind the barrel of Russian guns."
Vasily Nebenzya, Russia's ambassador to the UN, said the results spoke for themselves.
"The overwhelming majority of those who voted supported the integration of these regions into Russia," he said.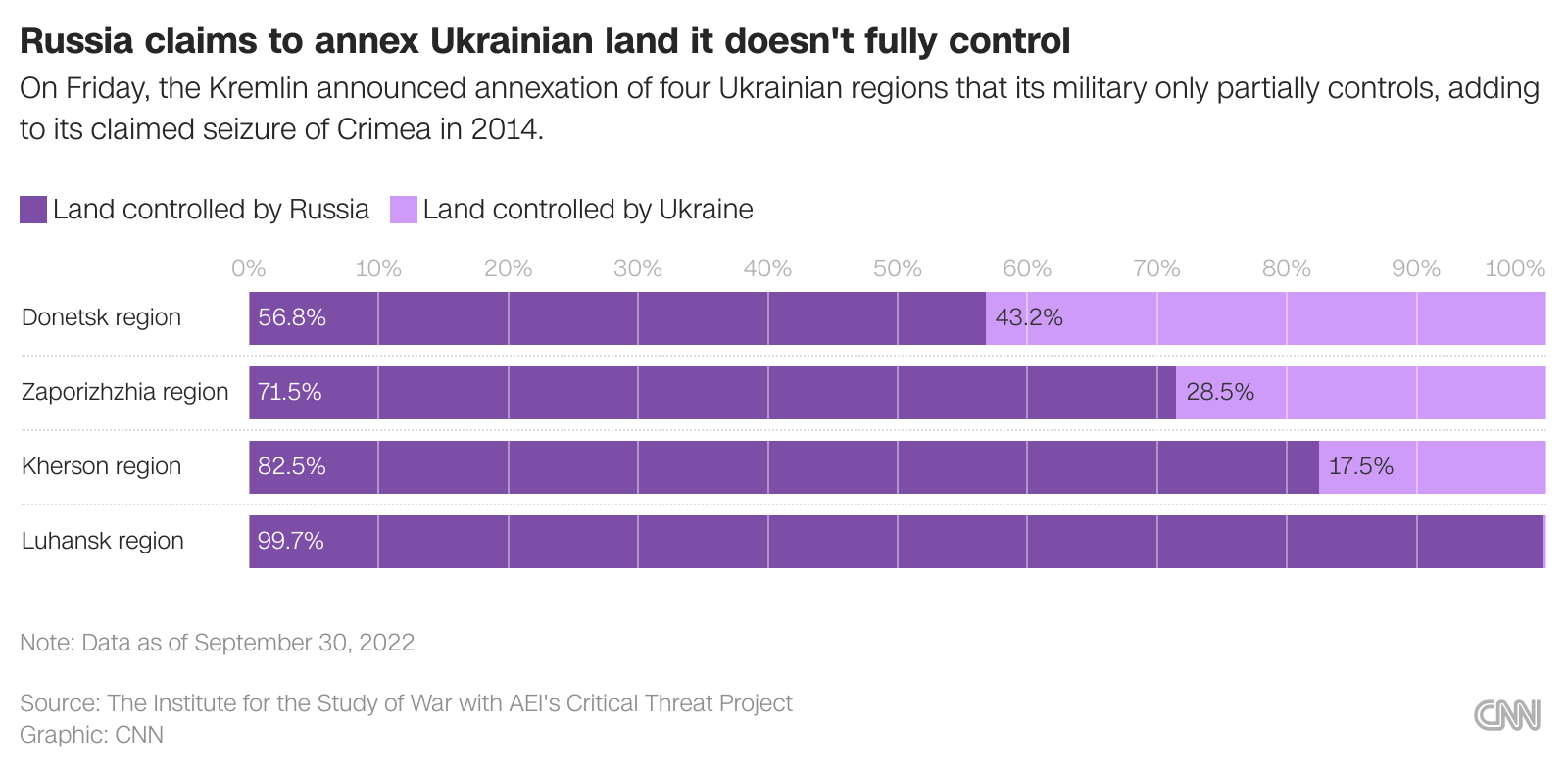 4:55 p.m. ET, September 30, 2022
Danish police to set up a team with Germany and Sweden to investigate Baltic Sea gas leaks
From CNN's Sharon Braithwaite
The Danish police has started an investigation into the gas leaks in the Baltic Sea and will "soon" establish a joint international investigation (JIT) team consisting of relevant authorities from, among others, Germany and Sweden.
The Danish Police "expects the JIT to be established soon, but it is still too early to state a date," it said in a statement on Friday. 
"Until a JIT has been established, there will be a close cooperation with relevant foreign authorities, including Swedish and German authorities, on the basis of the general rules concerning international cooperation on investigations," the police also said.
Some background: Western nations have said leaks in two Russian gas pipelines, Nord Stream 1 and 2, are likely the result of sabotage.
On Monday, leaks were discovered in the pipelines, prompting investigations by European authorities that determined powerful underwater explosions had occurred just before the pipelines burst in several places.
The pipelines were created to funnel gas from Russia into the European Union, and were controversial long before Russia waged war on Ukraine, largely because of fears around European reliance on Russian energy.
Experts also say the explosion could release an "unprecedented" amount of the greenhouse gas methane and be enormously damaging to the climate.
3:21 p.m. ET, September 30, 2022
Obstacles to NATO accession will disappear "as soon as Russia loses," Ukrainian official says
From CNN's Mick Krever in London
A top Ukrainian official on Friday said that any obstacles to Ukraine's NATO accession will disappear "as soon as Russia loses" – a tacit acknowledgment that alliance members are unlikely to agree on admitting the country while it is at war with Russia.
"As soon as Russia loses, after that, there will be no obstacle for Ukraine to join NATO," Mykhailo Podolyak, adviser to the head of the Office of the Ukrainian President, said on Ukrainian television. "Those countries that are currently in doubt, after our victory, will be the first to vote" for Ukraine's accession.
Ukrainian President Volodymyr Zelensky said on Friday that his country is applying "under an accelerated procedure" to become a NATO member, while acknowledging that accession would require the consensus of all members.
Podolyak said that the membership application marks "the beginning of a new era for Ukraine."
"We rejected any formal or informal agreements that we have neutral status, non-aligned status. The President clearly demonstrates that there is only one route for Ukraine, which our partners will support," Podolyak said.
And meanwhile, he said, Ukraine's efforts on the battlefield would continue.
"A counteroffensive continues on the Donetsk direction and in the southern direction," he said. "Russia is not able to stop the Ukrainian Armed Forces except solely by the number of its people who are ready to lay their heads on Ukrainian soil."
3:03 p.m. ET, September 30, 2022
Putin signs decree on routine autumn conscription
From CNN's Uliana Pavlova
Russian President Vladimir Putin on Friday signed a decree on routine autumn conscription — in this case, 120,000 Russian citizens aged 18 to 27.
The Russian Defense Ministry reported, according to Russian state news agency TASS, that the autumn conscription had nothing to do with what Russia calls its "special military operation" in Ukraine. 
The serving conscripts will be dismissed after their mandatory service and sent back to their places of residence, according to TASS.
2:36 p.m. ET, September 30, 2022
Iranian drones that Russia obtained have had numerous failures in battle, US defense official says
From CNN's Ellie Kaufman
The US has seen evidence that Iranian drones that Russia is using in the ongoing conflict in Ukraine have had "numerous failures" on the battlefield, Deputy Undersecretary of Defense for Policy Sasha Baker told reporters during a briefing Friday.
"We have seen some evidence already that the UAVs associated with the transfer from Iran have already experienced numerous failures on the battleground, on the battlefield. in Ukraine," Baker said.
Baker said these drones don't represent a big technological step for Russia in the conflict.
"I think that the idea that they represent some technological leap ahead, frankly, we're just not seeing borne out in the data," Baker added.
More background: In late August, the US assessed Russia was in possession of weapons-capable Iranian drones, Biden administration officials told CNN. The Russians picked up the drones from an Iranian airfield and transported them back to Russia in cargo planes in mid-August, the officials said. Russian officials began training on the drones in Iran in July, CNN reported,   
2:28 p.m. ET, September 30, 2022
Baltic states say they support Ukraine's NATO application
From CNN's Sharon Braithwaite in London
Estonia, Latvia, Lithuania said Friday they "fully support welcoming Ukraine into NATO as soon as possible."
Their respective foreign ministers — Urmas Reinsalu, Edgars Rinkēvičs and Gabrielius Landsbergis — shared similar messages on their Twitter accounts.
"Ukraine's inspirational bravery can only strengthen our alliance," they all said.
Ukrainian President Volodymyr Zelensky said on Friday that his country is applying "under an accelerated procedure" to become a member of the defense alliance.