Russia said Friday its forces had captured Soledar, a salt mine town in eastern Ukraine, in what would represent a symbolic if not strategic victory for Moscow after months of setbacks on the battlefield. However, Kyiv refuted the claim.
Taking Soledar would also represent a symbolic PR win for the man who runs Wagner – oligarch Yevgeny Prigozhin, who has frequently criticized the Russian Defense Ministry's management of the "Special Military Operation" in Ukraine.
Where is Soledar: The small lies at the center of the Donbas region, the vast expanse of eastern Ukraine whose capture Russia has prized above all other regions since last summer. Indeed, Moscow regards it as Russian territory since claiming (illegally) that it had annexed all of Donetsk region – including the approximately 40% that lies outside Russian control.
It is just a few miles northeast of the larger city of Bakhmut, which has become perhaps the most contested and kinetic part of the 1,300-kilometer (800 mile) front line in Ukraine and the scene of some of the fiercest fighting of the war.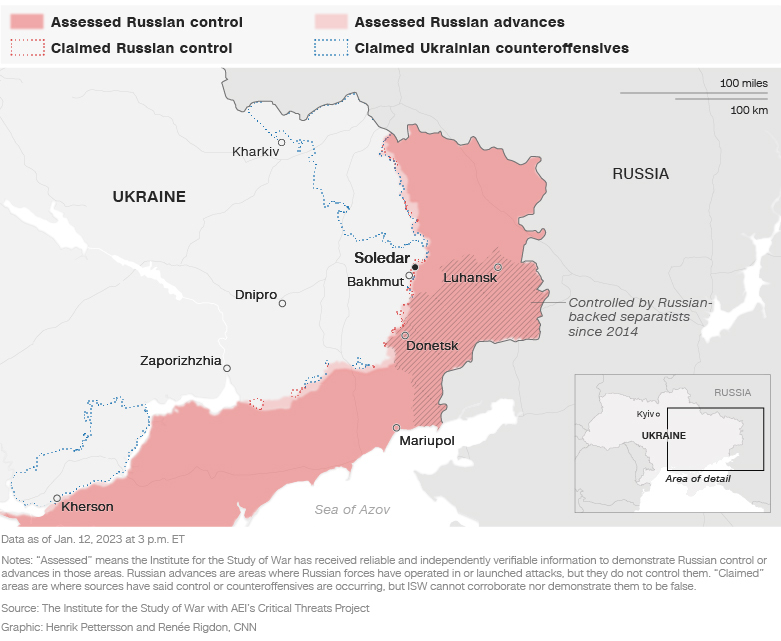 Why has Soledar been a target? With a pre-war population of about 10,000, it has little strategic value in itself, but is a waypoint in the Russians' attritional slog westwards. Moscow has struggled for months to attack Bakhmut from the east, but were it to capture Soledar, Moscow would at least be able to approach the city from a different path.
An eye on salt mines: The area around Soledar includes large salt mines, which belong to state enterprise Artemsil, the biggest producer of salt in Europe, which halted production shortly after Russia's invasion last February. The area surrounding the town hosts "extensive reserves of very pure salt that have only been exploited on an industrial scale since 1881," according to the European Route of Industrial Heritage.
Some have speculated that the Russians – and Wagner's leader Prigozhin – have eyed Soledar for its huge resources of gypsum. Prigozhin has used Wagner in Africa and Syria as a mercenary force to leverage access to resources including diamonds and oil.
But exploiting Soledar's famed salt mines would require heavy investment and a more tranquil environment than at present. Prigozhin has said the vast network of tunnels created by the mining offers "unique and historic defenses," and a "network of underground cities."
A win for Russia after a long time: The Russian armed forces have had nothing to celebrate since the beginning of July, and have had to retreat in both Kharkiv to the north and Kherson in southern Ukraine. The capture of Soledar, despite its now-ruined state, would therefore be rare progress. But it would be symbolic rather than substantive.
CNN's Seb Shukla contributed reporting to this post.