Ukraine's forces retook more territory in the eastern Donetsk region on Sunday, a military spokesperson said, following the liberation of the key city of Lyman. Ukraine also struck Russian targets during efforts to win back neighboring Luhansk, the official added.
Ukrainian forces have also made additional gains in the country's south, pushing towards the occupied city of Kherson and capturing the town of Zolota Balka on the western bank of the Dnipro river, according to a regional official and pro-Russian military blogger.
"Our Armed Forces are powerfully advancing just along the bank of the Dnipro closer to Berislav," Serhii Khlan, adviser to the head of Ukraine's Kherson region military administration, said in a news briefing.
Catch up on more of the latest headlines from Russia's war in Ukraine:
Russia begins process to rubber-stamp annexations: Russia's legislature on Monday began the process of approving President Vladimir Putin's decision to annex four parts of Ukraine in violation of international law, a move that comes as the Ukrainian military continues to liberate towns previously occupied by Russian forces. The procedure is expected to be a formality, although it will take a couple of days. Putin and his allies effectively control both branches of the Russian legislature, and the space for political dissent in Russia has shrunk in recent years. Meanwhile, the Kremlin said Monday that Moscow will "continue consulting" with the residents of the Zaporizhzhia and Kherson regions to establish the exact borders of the Ukrainian regions claimed to be annexed by Russia following last week's so-called referendums, which have been dismissed by Ukraine and Western nations as "a sham." Part of the territory in these regions is still currently under control of the Ukrainian military. Putin's spokesperson declined to comment on whether Russia will consider this as its own land.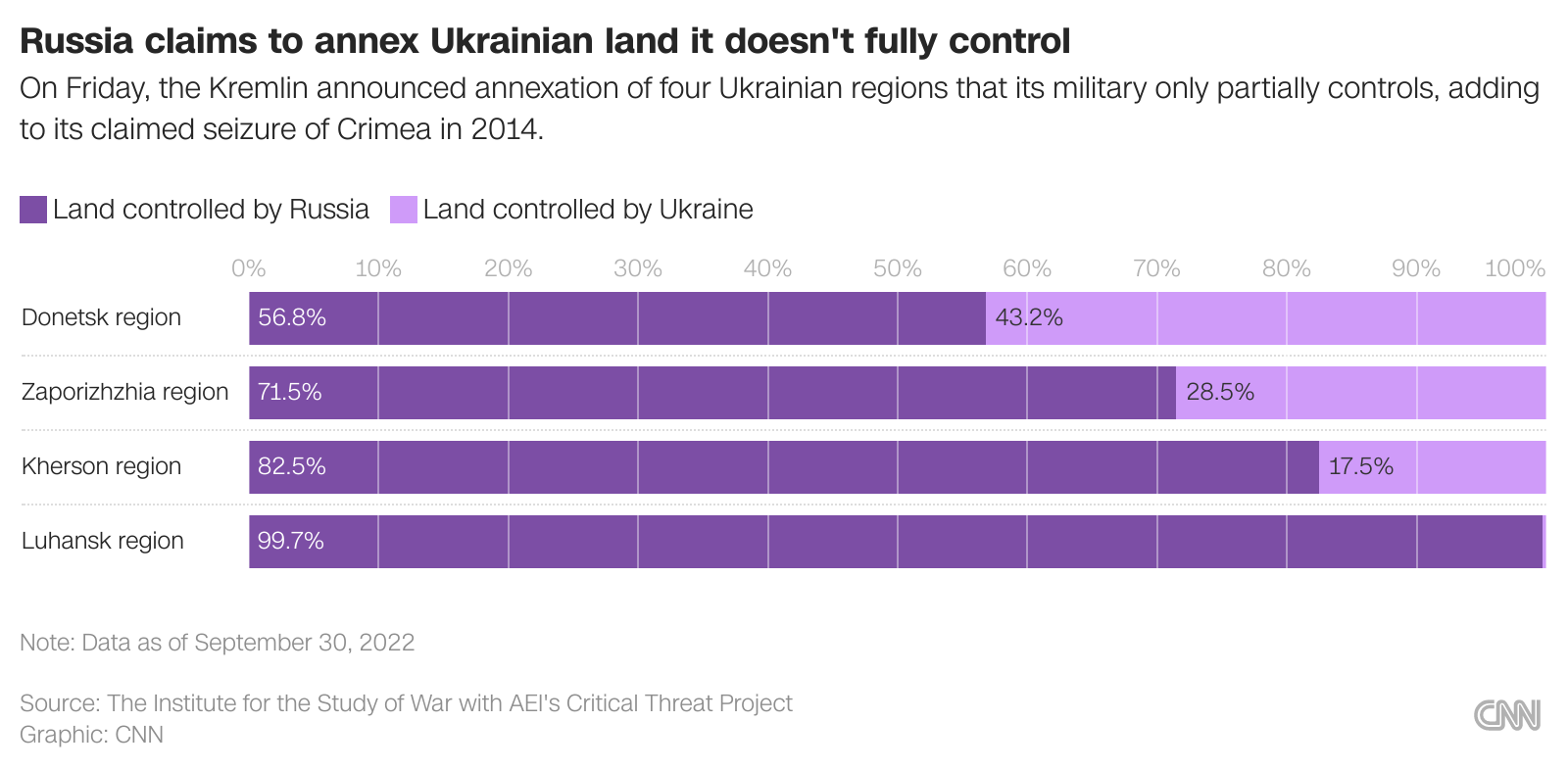 The US is considering how to respond to possible Russian escalation in Ukraine: With concerns growing that Vladimir Putin will escalate Russia's war in Ukraine, the US is considering how to respond to a range of potential scenarios, including fears that Russians could use tactical nuclear weapons, according to three sources briefed on the latest intelligence. The US has since the start of the conflict been developing contingency plans to respond, including to the possibility that Russia's President could escalate via a step just short of a nuclear attack on Ukraine.
Swedish Coast Guard says leak from Nord Stream 2 pipeline has increased in size: The Swedish Coast Guard said that one leak from the Nord Stream 2 pipeline had not stopped but instead grown larger in size, according to Swedish authorities. Following a fly-over of the leak locations on Monday morning a leak from Nord Stream 1 was no longer visible and therefore could be said to have stopped, the Swedish Coast Guard said. However, "the smaller one from Nord Stream 2 is instead slightly larger than yesterday" and measured around 30 meters in diameter, the coast guard said in a statement.
Russian forces look to bolster numbers: The Russian military is carrying out "door-to-door" checks in occupied areas of Ukraine, looking for young men of conscription age, the Ukrainian military said on Monday, adding that Moscow has stepped up document inspections at checkpoints. Ukrainian officials have been warning for some time that Russia planned on using its claimed annexations as a pretext to draft Ukrainians in occupied areas.