October 6, 2020 Russia-Ukraine news
7:43 p.m. ET, October 6, 2022
Our coverage for the day has ended. Follow the latest Ukraine news here or read through the updates below.
7:47 p.m. ET, October 6, 2022
At least 7 people killed in Russian missile strikes on Zaporizhzhia, Ukrainian official says
From CNN's Yulia Kesaieva and Mohammed Tawfeeq
At least seven people were killed when several missiles hit the city of Zaporizhzhia in southern Ukraine on Thursday, according to a Ukrainian official.
Oleksandr Starukh, the head of the Zaporizhzhia regional military administration, shared the update in a post on Telegram.
Starukh warned the death toll could increase, as five people are still missing. He also said at least 21 people have been rescued and that crews are still working to find others.
Ukrainian officials accused Russia of intentionally targeting civilians.
"There are neither military nor important objects near the hit site, only civilian buildings, and apartment buildings," Starukh said.
Foreign Minister Dmytro Kuleba said at least seven Russian missiles "hit people sleeping peacefully at their homes."
"More have struck during the day. Russians keep deliberately striking civilians to sow fear. Russian terror must be stopped — by force of weapons, sanctions, and full isolation," Kuleba continued.
Some context: Zaporizhzhia is a major city in southern Ukraine, not far from the frontline and the site of a nuclear power plant that the international community is watching warily.
Part of the wider region is occupied by Russian forces.
Russian President Vladimir Putin signed measures this week to annex four Ukrainian regions, including Zaporizhzhia, in violation of international law.
6:24 p.m. ET, October 6, 2022
US will be watching for which countries side with Russia at an emergency UN session next week
From CNN's Kylie Atwood
The United Nations General Assembly will hold an emergency special session on Monday to introduce a resolution condemning Russia's actions in Ukraine as a clear violation of the UN charter and demanding that Russia withdraw its forces, a senior Biden administration official said on Thursday.  
The US will call on all UN member states to support the resolution, which has been drafted by countries in the European Union. While Russia is expected to oppose the resolution, the US will be watching for which other countries oppose it. 
"One of the things we'll be looking for in this vote is essentially who's going to vote with Russia. How many countries are willing to stand up and cast a 'no' vote for this resolution? And I think that number will be quite low," the official said.  
After the resolution is introduced on Monday, a period of debate will follow.
"We expect that a number of member states will sign up to take the floor as we saw the last time this emergency special session was convened, and we expect the debate may well stretch into the following days of the week," the administration official said, saying the resolution will be put for a vote when the debate is over.
To pass, the resolution will need "yes" votes from two-thirds of the countries.
The General Assembly vote follows a US-led effort to introduce a similar resolution in the UN Security Council last week. That failed after Russia, as a permanent member of the council, vetoed the resolution.
China, Brazil, Gabon and India also abstained from voting on the US resolution. 
6:05 p.m. ET, October 6, 2022
European Union will send more arms to Ukraine, including French howitzers, Macron says
From CNN's Niamh Kennedy
The European Union will send more military equipment to Ukraine, including long-range weapons from France, according to French President Emmanuel Macron.
The EU is continuing to "advance the demands" it has received from Ukraine, including for French-made CAESAR self-propelled howitzers, Macron said at a news conference in Prague on Thursday.
The announcement followed the first European Political Community Summit.
Macron said that all 44 nations at the summit "clearly expressed their condemnation for this Russian aggression" in Ukraine. 
"We will continue to support Ukraine from a financial point of view, from a humanitarian point of view and from a military point of view," Macron said.
5:35 p.m. ET, October 6, 2022
2 Russian nationals seek asylum in the US after crossing to Alaska by boat, lawmakers say
From CNN's Julia Vargas Jones and Priscilla Alvarez
Two Russian nationals have sought asylum in the US after arriving by boat in Alaska, according to the state's senators.
The pair landed on St. Lawrence Island on Tuesday after crossing the Bering Strait and are now in federal custody in Anchorage, Gov. Mike Dunleavy said in a news briefing Wednesday.
A spokesperson for Sen. Lisa Murkowski said the pair fled Russia to avoid conscription into the nation's military.
"This incident makes two things clear: First, the Russian people don't want to fight Putin's war of aggression against Ukraine," said Sen. Dan Sullivan, who joined in a statement with Murkowski. "Second, given Alaska's proximity to Russia, our state has a vital role to play in securing America's national security."
They were transported to Anchorage for inspection, which includes screening and vetting, and were then processed in accordance with US immigration laws, a spokesperson for the Department of Homeland Security told CNN.
At its narrowest point, the distance between mainland Russia and Alaska is 55 miles, according to Alaska Public Lands Information Centers. 
"This was a surprise to us," Dunleavy said. "Who knows what's going to happen in the future if more individuals from Russia are trying to leave Russia through the Bering Strait." 
The governor warned of a storm currently hitting areas of northwest Alaska, saying that "any type of transiting the Bering Strait for the next couple of days could be dangerous."
CNN has reached out to the Alaska Governor's Office for further information.
CNN's Ben Finley and Cheri Mossburg contributed to this report.
4:08 p.m. ET, October 6, 2022
Ukraine says it's recovered about 120 settlements in the last 2 weeks in northeast and southern regions
From CNN's Tim Lister
A senior Ukrainian military official said the country's forces have recaptured around 120 settlements in the past two weeks as they advance in Kharkiv, Donetsk and Kherson regions.
Oleksii Hromov, a senior official with the General Staff of the Armed Forces of Ukraine, said that since Sept. 21, Ukrainian troops had managed to advance 55 kilometers (about 34 miles) in the northeast, "establish control over 93 settlements, [and] take control over more than 2,400 square kilometers."
Hromov appeared to be referencing gains in Kharkiv region that were made before Sept. 21 but only confirmed later. 
"In the Kherson direction, the enemy is trying to counterattack at the expense of reserves in order to restrain the advance of our troops and regain lost positions. Since Oct. 1, 29 settlements have been taken under [our] control," he said. 
Hromov said Russia had stepped up its use of Iranian-made attack drones.
"Since Sept. 30, the enemy used 46 'Shahed 136' kamikaze drones to strike military facilities, civilian infrastructure and troop positions; 24 of those drones were destroyed," he said.
In total, Hromov said, Russia had used 86 of those drones.
In its operational update Thursday, the Ukrainian General Staff said that Russia continued to try "offensive actions" in the Donetsk region and had carried out more than 20 rocket attacks. Settlements in Donetsk and Zaporizhzhia regions had been damaged, but Russian efforts to advance in the Bakhmut area and other parts of Donetsk had failed, the military said.
The General Staff said the Ukrainian Air Force had carried out 11 strikes Thursday but provided no details on the progress of the Kherson offensive.
Satellite imagery suggests that Russian forces have fortified defensive positions near the towns of Vesele and Nova Kakhovka on the Dnieper River.
4:06 p.m. ET, October 6, 2022
It's nighttime in Kyiv. Here's what you need to know
All eyes were on Zaporizhzhia on Thursday after a Russian missile attack left at least one person dead in the southern city while the head of the UN's nuclear watchdog agency met with Ukraine's president for an update on the embattled power plant.
Elsewhere, Ukrainian forces pressed ahead with their counteroffensive in the south and east.
Here are the latest developments:
Nuclear watchdog in Ukraine: Rafael Grossi, director general of the International Atomic Energy Agency (IAEA), visited Kyiv to discuss the situation at the Zaporizhzhia nuclear power plant. There were several notable takeaways:
The nuclear agency head reiterated that Russia's annexations in Ukraine are not accepted by international law — the legal framework that guides his organization.
Grossi said he'll travel to Moscow next as part of his continued effort to prevent a nuclear accident. He said he could "neither boycott nor play along" with potential Russian attempts to operate the plant and make Zaporizhzhia staff employees of Russia's Rosatom.
Ukrainian President Volodymyr Zelensky appeared to urge Grossi for a stronger defense, saying "we expected a tough statement from the IAEA."
Russian missiles strike Zaporizhzhia: Grossi's visit came the same day as missile attacks on the key southern city, which killed one person and left seven hospitalized, including a three-year-old girl, according to local officials.
Kyiv gains more ground: Ukrainian troops re-entered the Luhansk region and will "keep moving in that direction" with difficult battles ahead, officials said. It's the first time since the start of the conflict that they have advanced into the eastern area. More settlements in the south of Ukraine have also been liberated in the Kherson region, according to Zelensky.
Russia-backed leaders criticize war effort: Continuing the trickle of public criticism from regional officials in recent weeks, the Russian-appointed deputy leader of occupied Kherson blamed battlefield shortcomings on "incompetent commanders." And the head of Russia's State Duma Defense Committee demanded officials report the truth about battlefield developments, saying senior figures need to "stop lying."
This map captures the latest state of the counteroffensive and current areas of control: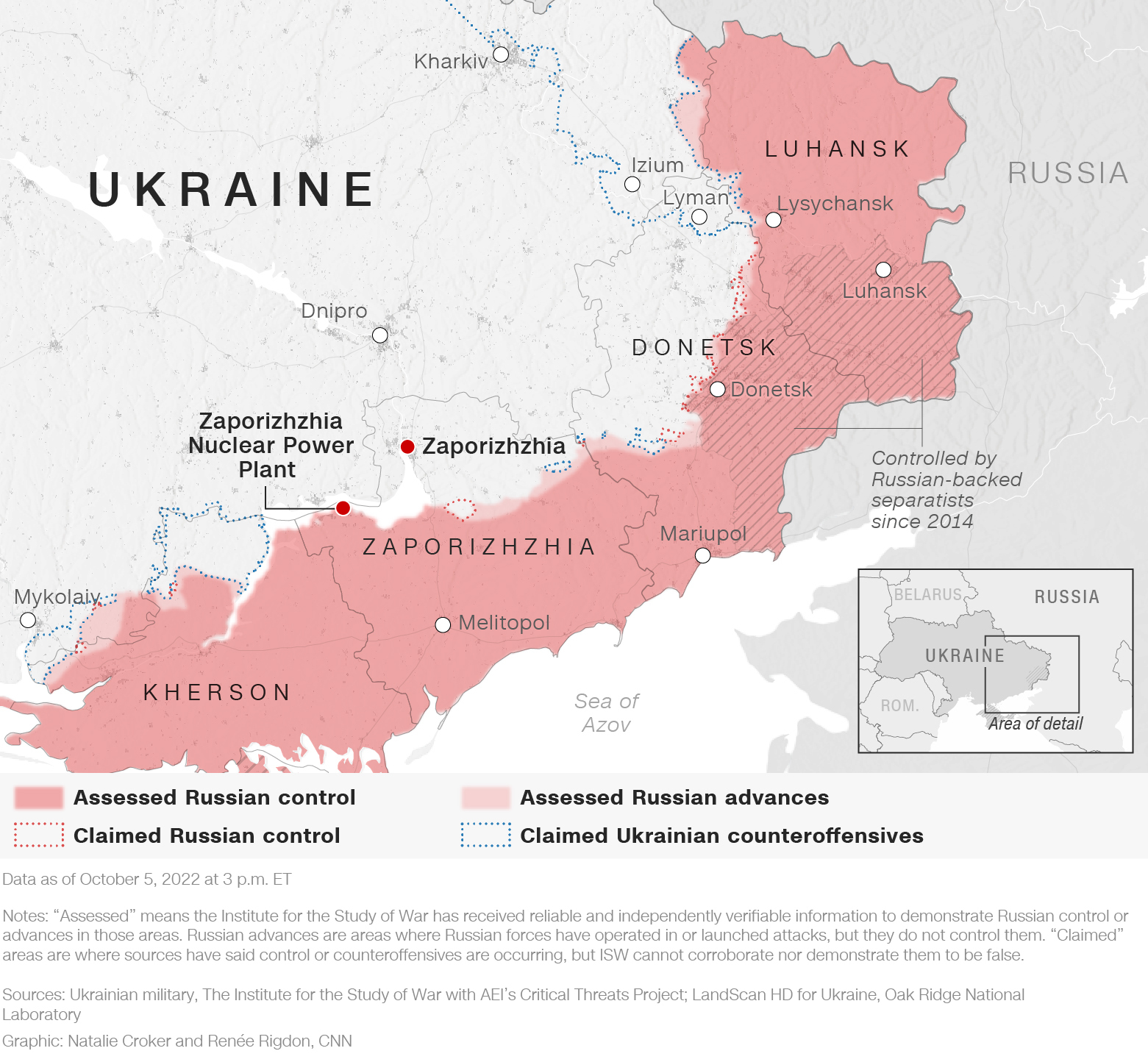 5:37 p.m. ET, October 6, 2022
Zelensky: Ukrainians "expected a tough statement" from IAEA after Putin's decree claiming Zaporizhzhia plant
From CNN's Julia Kesaieva 
Ukrainian President Volodymyr Zelensky has appealed to the International Atomic Energy Agency (IAEA) to denounce the decree by President Vladimir Putin unilaterally taking the Zaporizhzhia nuclear power plant into Russian ownership.
"I would like to hear what you think about this, because we expected a tough statement from the IAEA. I think that society expects this condemnation from you," Zelensky said speaking at a meeting with Rafael Grossi, the IAEA director general, in Kyiv.
Zelensky also requested Grossi's views on the presence of Russian forces at the plant, which he said was "not resolved."
"According to our data, confirmed by the workers of the plant — there are around 500 soldiers there," the Ukrainian President said.
Zelensky thanked Grossi for the IAEA's assistance in securing the release of the director of the plant, Ihor Murashov, after he was detained by Russian forces at the weekend.
Earlier Thursday, Grossi told CNN's Fred Pleitgen that the Zaporizhzhia plant is a Ukrainian facility and possible changes "would be a complex issue" that he'll have to discuss during his upcoming visit to Moscow.
2:34 p.m. ET, October 6, 2022
Russian annexations are invalid under international law, UN nuclear watchdog agency head says 
From CNN's Fred Pleitgen, Radina Gigova and Niamh Kennedy
The head of the UN's nuclear watchdog agency said Russia's annexations in Ukraine are not accepted by international law — and that is the legal framework guiding his organization.
Rafael Grossi, the director general of the International Atomic Energy Agency (IAEA), made the remarks at a news conference in Kyiv Thursday. CNN's Fred Pleitgen asked whether he will address Russia's claim that it now owns the Zaporizhzhia Nuclear Power Plant during upcoming meetings in Moscow.
"We are an international organization. We are guided by international law. And as you know very well, you all know very well, annexations are not accepted under international law, the UN Charter, other instruments. So, this is very clear," Grossi told reporters.
"But there are practical consequences, and I am dealing with that as well," he added. 
During the news conference, the IAEA chief also highlighted the plight of the plant's workers, who he said are "operating under almost unbearable circumstances." 
Grossi said uncertainty about the plant's ownership has only exacerbated the stress workers are experiencing.
He also said the IAEA plans to increase the number of its staff members based at the plant from two to four, likely carrying out three-to-four-week rotations.