October 24, 2022 Russia-Ukraine news
1:52 a.m. ET, October 25, 2022
8:40 p.m. ET, October 24, 2022
UN nuclear watchdog to send inspectors to 2 sites in Ukraine after request from Kyiv
From CNN's Niamh Kennedy
The UN's nuclear watchdog said it will send inspectors to visit two nuclear locations in Ukraine after receiving a request to do so from authorities in Kyiv. 
The International Atomic Energy Agency said it was "aware of statements made by the Russian Federation on Sunday about alleged activities at two nuclear locations in Ukraine," according to a news release on the agency's website Monday
The agency did not give the location of the two sites. 
The decision follows allegations made by Russian officials in recent days that Kyiv planned to use a so-called "dirty bomb" in a false flag operation.
The weapon is designed to combine a conventional explosive, such as dynamite, with radioactive material, such as uranium, so as to disperse radioactive material over a large area.
Moscow claims without evidence that there are scientific institutions in Ukraine housing the technology needed to create the weapon and accuses Kyiv of planning to use it.
The allegations have been strongly refuted by the US, Ukraine and the United Kingdom who in turn accused Russia of trying to launch its own false-flag operation.
IAEA Director General Rafael Grossi received a written request from Ukraine to send teams to carry out verification activities at the two locations.
Grossi stressed that both sites are under IAEA safeguards.
"The IAEA inspected one of these locations one month ago and all our findings were consistent with Ukraine's safeguards declarations. No undeclared nuclear activities or material were found there," the IAEA chief said. 
8:07 p.m. ET, October 24, 2022
US defense secretary discusses Russia-Ukraine with NATO's Stoltenberg
From CNN's Barbara Starr
US Defense Secretary Lloyd Austin spoke with NATO Secretary General Jens Stoltenberg on Monday on a range of security issues, including Russia, according to a Pentagon readout.
"The leaders discussed recent diplomatic engagements with Russia, Russia's false accusation that Ukraine is preparing to use a dirty bomb on its own soil, and the need for Russia to de-escalate," Pentagon Press Secretary Brigadier General Patrick Ryder said in the readout.
"Both leaders agreed on the importance of maintaining strong deterrence and defense and emphasized that Russia's actions have resulted in a stronger and more unified NATO," the readout added.
Some background: Austin spoke Sunday with Russian defense minister Sergei Shoigu, who accused Ukrainians of planning to use a so-called dirty bomb – a claim US officials refuted as a Russian false flag operation.
It was the second call in three days between the top officials.
The Russian Ministry of Defense said the two discussed the situation in Ukraine but did not provide further details. It was Shoigu who initiated the phone call to Austin, according to a senior US administration official.
A second official familiar with the conversation said Shoigu made the claim about the planned usage of a dirty bomb, a weapon that combines conventional explosives and uranium. That claim, which the Kremlin has amplified in recent days, has been strongly refuted by the US, Ukraine and the United Kingdom as a Russian false flag operation.
Shoigu has made similar comments to his French and British counterparts as well.
6:19 p.m. ET, October 24, 2022
Ukraine president continues to call for air-defense systems to combat Iranian-made drones
From CNN's Yulia Kesaieva and Jen Deaton
Ukraine's President Volodymyr Zelensky is continuing to urge for more air-defense systems, saying that according to Ukrainian intelligence, Russia had ordered about 2,000 Shahed drones from Iran.  
Zelensky made the comments in a pre-recorded video address to the Haaretz Democracy Conference. Haaretz is an Israeli daily newspaper and news website.
Ukraine's president said Russia might be offering Iran assistance with its nuclear program in exchange for Iranian-made drones that Russia has used to batter Ukraine in recent weeks, though he didn't offer any evidence to support that claim, nor can CNN independently authenticate that.   
Zelensky also spoke about why Russia had resorted to using drones.  
"Russia loses to us in a real confrontation on the battlefield. Putin's army does not know how to fight. We beat them on our land in such a way that it is forced to withdraw its contingents even from other regions that they tried to destabilize," he said.
He continued, "But, unfortunately, we do not have our own 'Iron Dome'. We still do not have a modern and effective air defense and missile defense system that could secure our skies. That is why Russia hopes to use terror in the air to compensate for losses on the ground."
Some background: Zelensky's comments come about a week after Ukraine appealed to Israel for air-defense systems — like Israel's Iron Dome anti-missile system — to counter Iranian ballistic missiles and long-range drones. 
Israel said it would help Ukraine develop an air defense alert system but did not plan to deliver any weapons systems. Israel has strategic ties with Russia, especially in its dealings with Syria, and while Israel has given Ukraine humanitarian aid, it has not offered any weapons support to date.   
6:20 p.m. ET, October 24, 2022
Ukraine and US officials deny Russia's "dirty bomb" claims. Here are the key headlines to know
From CNN staff
Moscow is bringing new military units into Kherson as it prepares to defend the southern city from any fresh Ukrainian offensive, according to a Ukrainian intelligence chief. Residents report growing tensions, one saying that people are "emotionally exhausted."
Meantime, Kremlin spokesman Dmitry Peskov reiterated accusations that Ukraine is preparing to use a "dirty bomb" despite Kyiv and Western officials refuting the claims.
Here are the top headlines to know:
Nuclear watchdog requested to investigate "dirty bomb" claims: The European Union said it supports a request from Ukraine to have a representative from the International Atomic Energy Agency investigate Russia's latest claims, the bloc's chief diplomat told Ukraine's foreign minister Dmytro Kuleba. The Russian defense ministry is claiming that Ukraine is planning a provocation related to the detonation of the so-called "dirty bomb" or low-yield nuclear weapon in its own territory.
Rebukes of "dirty bomb" claim: Ukrainian President Volodymyr Zelensky and US officials dismissed Russia's allegations. The White House also said on Monday it is "monitoring as best we can" any potential preparations for use of a dirty bomb in Ukraine but doesn't currently see anything to indicate the imminent use of such a weapon.
Ukraine repelling Russian drone attacks, report says: Ukraine's efforts to repel Russian attacks with Iranian-made drones are becoming "increasingly successful," the UK Ministry of Defence said in its latest assessment. "Russia is likely expending a high number of Iranian Shahed-136 UAVs in order to penetrate increasingly effective Ukrainian air defences," it said.
Grain grain in jeopardy?: Russian Foreign Minister Sergey Lavrov cast doubt on the future of a UN-backed grain deal, saying there is a "lot of work" to do before the agreement can be renewed next month. The agreement has allowed Ukraine – one of the world's largest wheat producers – to export grain from its Black Sea ports since the beginning of August.
The US and the war: A group of 30 liberal Democrats called on President Joe Biden to negotiate directly with Russia to end the war. Separately, House Speaker Nancy Pelosi reiterated the US commitment to Kyv, saying that "Iran is making a big mistake" in providing help to the Russians, adding that support for Ukraine is bipartisan.
Detained Americans: Basketball star Brittney Griner is hoping that the Russian court will reduce her 9-year prison sentence at an appeal hearing Tuesday, her legal team said. At the same time, the State Department said the US has had active discussions "in recent days" with Russia on freeing Griner and other detained American Paul Whelan, "but the discussions "have not gotten to the point where we would like them to be."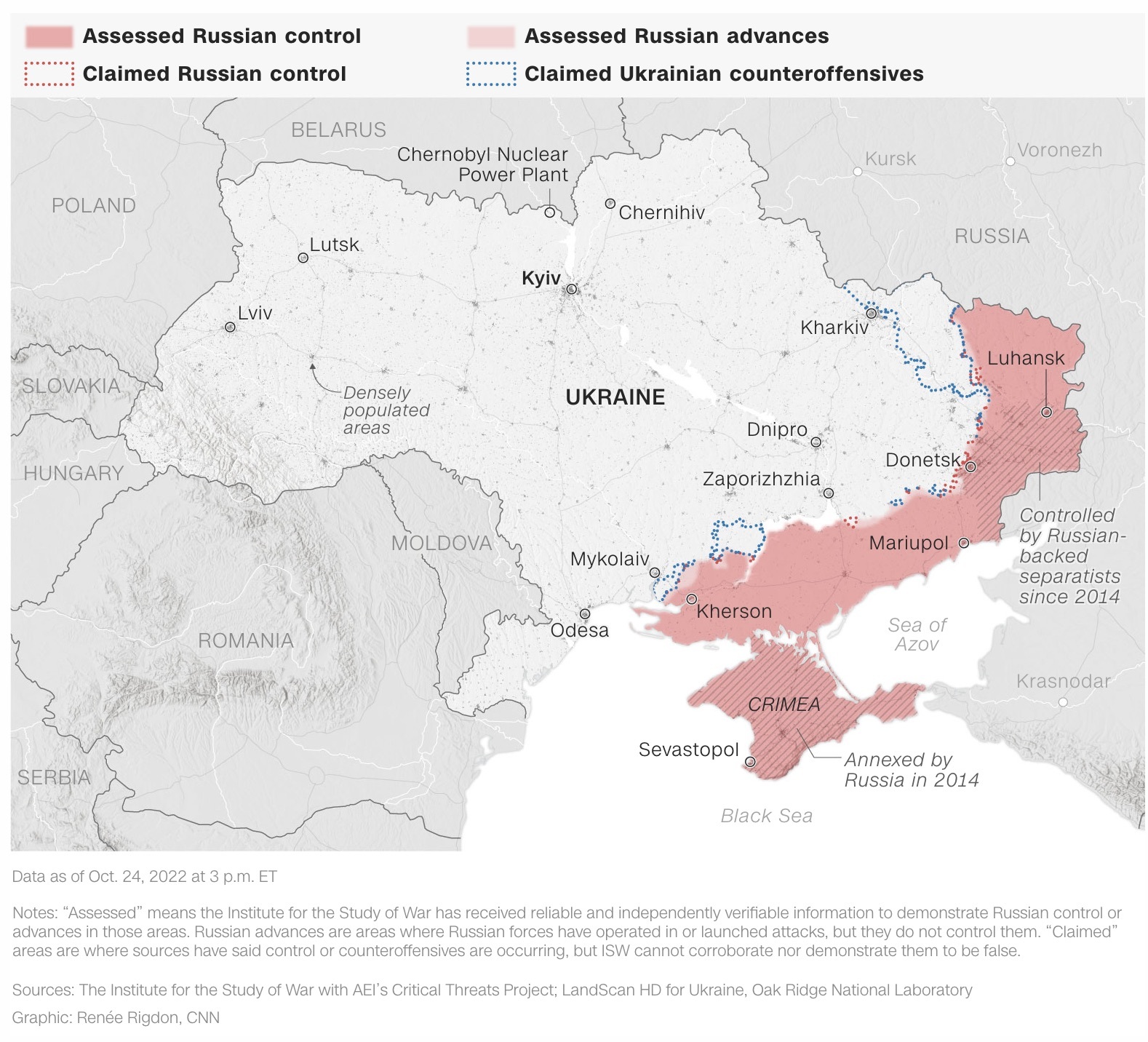 4:02 p.m. ET, October 24, 2022
Liberal Democrats call on Biden to shift Ukraine strategy and negotiate directly with Russia
From CNN's Kevin Liptak
More than two-dozen liberal House members are calling on President Joe Biden to shift course in his Ukraine strategy and pursue direct diplomacy with Russia to bring the months-long conflict to an end.
In a letter sent to Biden on Monday, the group of 30 Democrats praised Biden's efforts to support Ukraine while avoiding direct US involvement on the ground. But they suggest a more forceful attempt at bringing the war to an end through diplomacy, saying it is necessary to prevent a long and slogging conflict.
"Given the destruction created by this war for Ukraine and the world, as well as the risk of catastrophic escalation, we also believe it is in the interests of Ukraine, the United States, and the world to avoid a prolonged conflict," the group, led by Congressional Progressive Caucus chairwoman Pramila Jayapal, write in the letter. "For this reason, we urge you to pair the military and economic support the United States has provided to Ukraine with a proactive diplomatic push, redoubling efforts to seek a realistic framework for a ceasefire."
The letter comes at a critical moment in the war, with Russia increasingly targeting civilian infrastructure with a particular focus on cutting power supplies ahead of winter.
In Congress, questions have grown about the willingness of lawmakers to sustain the massive financial and military support that has gone to Ukraine. Some Republicans have threatened to cut aid to the country if they take control of Congress in November.
The liberal Democrats, in their letter, say that more direct attempts at engaging Moscow were necessary.
John Kirby, the strategic communications coordinator at the National Security Council, said the White House had received the letter. He also said there were no indications that Russian President Vladimir Putin was willing to engage in serious diplomacy to bring the war to an end.
"When you see and you listen to his rhetoric, and you see the other things, be they atrocities, the war crimes, the airstrikes against civilian infrastructure that the Russians are committing, it's clear Mr. Putin is in no mood to negotiate," Kirby said.
He said it would be up to Ukraine and its president, Volodymyr Zelensky, to determine when the time is right to return to the negotiating table.
3:31 p.m. ET, October 24, 2022
US still in discussions with Russia on Griner and Whelan, State Department says
From CNN's Kylie Atwood, Michael Conte and Saba Haroon
The State Department said the US has had active discussions with Russia on freeing Brittney Griner and Paul Whelan, "including in recent days," but the discussions "have not gotten to the point where we would like them to be."
"We put forward a substantial proposal a number of months ago now," said State Department Spokesperson Ned Price. "We have consistently urged our Russian counterparts to act on this proposal."
Asked about Griner's hope that Russia would reduce her prison sentence on appeal, Price said that the US officials "have not weighed in on the various judicial proceedings and judicial steps because as we've made clear, we believe that these proceedings have been largely shambolic."
Some background: A Russian court will hear Griner's appeal arguments Tuesday, her legal team said on Monday. 
"She is prepared for the appeal and is very nervous. Brittney does not expect any miracles to happen, but hopes that the appeal court will hear the arguments of the defense and reduce the number of years," her lawyers Maria Blagovolina and Alexander Boykov said. 
Her legal team expects there to be a verdict on the same day because appeal hearings normally happen within one court session. 
Brittney Griner was convicted in August of deliberately smuggling drugs into Russia and sentenced to nine years of jail time while Whelen has been held by Russia for alleged espionage since 2018.
1:36 p.m. ET, October 24, 2022
EU supports Ukraine's request for nuclear watchdog to investigate Russian bomb accusations
From CNN's Xiaofei Xu
The European Union said it supports Ukraine's decision to invite experts from the United Nations nuclear watchdog to investigate Russia's "false allegations" that Kyiv plans to frame Russia for using nuclear weapons in Ukraine, the bloc's chief diplomat told Ukraine's foreign minister Dmytro Kuleba on Monday. 
"(We) welcome Ukraine's decision to request an IAEA expert mission to be dispatched. EU support to Ukraine continues unabated, including in countering disinformation," EU's foreign policy chief Joseph Borrell said in a tweet after his call with Kuleba. 
Borrell referred to Moscow's claims as "Russia's latest false allegations." 
What Russia is saying: The Russian defense ministry said that it has information that shows Ukraine is planning a provocation related to the detonation of the so-called "dirty bomb" or low-yield nuclear weapon in its own territory.
The ministry didn't provide any evidence to back its claim.  
5:09 p.m. ET, October 24, 2022
Top US general spoke with Russian and Ukrainian counterparts on Monday
From CNN's Jamie Crawford
Top US Gen. Mark Milley, the chairman of the Joint Chiefs of Staff, spoke with his Russian and Ukrainian counterparts on Monday, his spokesperson said in brief readouts of each call.
In his conversation with the chief of Russian General Staff Gen. Valery Gerasimov, they "discussed several security-related issues of concern and agreed to keep the lines of communication open. In accordance with past practice, the specific details of their conversation will be kept private," said Col. Dave Butler, the Joint Staff spokesperson.
Milley spoke with the Ukrainian Armed Forces Gen. Valery Zaluzhny about "the unprovoked and ongoing Russian invasion of Ukraine and exchanged perspectives and assessments," the spokesperson said.
"The Chairman reaffirmed unwavering support for Ukraine's sovereignty and territorial integrity," according to the readout.
Yesterday, Russian Defense Minister Sergei Shoigu and Defense Secretary Lloyd Austin spoke via telephone, the second call in three days between the two.