October 26, 2022 Russia-Ukraine news
3:13 a.m. ET, October 27, 2022
10:43 p.m. ET, October 26, 2022
Several airstrikes hit Kyiv, military official says
From CNN's Josh Pennington and Philip Wang
Several airstrikes hit Kyiv on Thursday morning local time, according to Oleksiy Kuleba, head of the Kyiv regional military administration. 
The strikes hit a community in the region, Kuleba said. The fire was extinguished, and the local air defense forces have taken out some "enemy objects" from the sky, he said.
No casualties have been reported. 
8:51 p.m. ET, October 26, 2022
Russia tries to halt a UN investigation into the use of Iranian-made drones in Ukraine
From CNN's Sr. UN Correspondent Richard Roth 
Russia tried again at the UN Security Council on Wednesday to shift the focus on the use of Iranian-made drones in Ukraine.
Russia claimed the senior UN leadership was stepping outside its responsibilities by planning to send experts to Ukraine to examine drones the US insists were made and shipped by Iran.
Russia believes that Article 100 of the UN Charter prohibits the UN Secretary-General and his staff from receiving or seeking instructions from a member state.
However, the UN legal office disagreed and provided past examples of countries asking the Secretary-General for assistance, including Russia. 
Wednesday's discussions came after British, French and German diplomats wrote to the Secretary-General last Friday urging the UN to investigate Iran's transfer of drones to Russia, saying it violated UN Security Council Resolution 2231, which restricts certain arms transfers to or from Iran.
US Ambassador Robert Wood said that Moscow was again wasting time to deflect attention from its egregious wrongdoing while UK Ambassador James Kariuki said Russia and Iran had been "caught red-handed violating resolution 2231."
The resolution was linked to the 2015 Iran nuclear deal, and elements of that resolution, including a ban on the transfer of conventional weapons, were phased out in 2020. But the Western countries said that both Iranian drone models were manufactured after the resolution entered into force and that the transfer "has not been permitted in advance by the Security Council."
9:41 p.m. ET, October 26, 2022
Israel's Herzog says there are limitations on supplying Ukraine with air defense systems
From CNN's Philip Wang
Israel's President Isaac Herzog said Wednesday there are limitations that prevent his country from supplying Ukraine with certain air defense systems, but he also said Israel was willing to supply non-lethal products. 
"There are weapons that we don't even have an export version for. There are things that we don't want them to fall in the hands of our enemies. There are secrets that we can't deliver. But wherever we can help, we're trying to help," Herzog told CNN's Wolf Blitzer.
The Israeli president took exception to criticism about Israel's stance on supplying weaponry, noting that the US and Europe have declined to provide some military equipment to the Kyiv government.
He also noted that Israel was "analyzing the situation" when it comes to the Russian deployment of Iranian-made drones in the conflict.
Russia has so far used around 400 Iranian-made drones to attack Ukrainian civilians and infrastructure since the invasion started, Ukrainian President Volodymyr Zelensky said Wednesday.
The Ukrainian leader also said this week that Russia could be paying Iran for drones by providing assistance for Iran's nuclear program.
In the CNN interview, Herzog responded that he didn't have specific information about such a deal, but that there was no further proof needed to demonstrate that Iran was a danger to "world order and stability."
7:07 p.m. ET, October 26, 2022
It's nighttime in Kyiv. Here's what you need to know.
Ukrainian President Volodymyr Zelensky said Wednesday that the toughest battles are taking place in the eastern Donetsk region, specifically toward the city of Bakhmut and Avdiivka. 
Meanwhile, a Zelensky advisor, Oleksiy Arestovych, said the "heaviest of battles" lies ahead in Kherson, the strategically important southern city that is under Russian control.
The Moscow-installed local authorities have warned of an impending Ukrainian attempt to retake the regional capital and ordered civilians to leave.
Here are the latest headlines:
Tens of thousands of civilians have left Kherson region, Russian-appointed official says: More than 70,000 people have left the right bank of the Dnieper river in the Kherson region in recent days, the Russian-appointed governor, Vladimir Saldo, said. Ukraine's military intelligence claimed Moscow was reinforcing the city with recently mobilized recruits, which it described as "cannon fodder."
Drone strikes are a response to the Crimea bridge explosion, says Russian envoy: Russia's Ambassador to the UK Andrey Kelin said Moscow launched the wave of drone strikes in Ukraine in retaliation for the Crimean bridge explosion earlier this month. Ukraine's Zelensky said that the Russian missiles and Iranian-made drones "destroyed more than a third" of the country's energy sector.
Russian ambassador says Moscow will not use nuclear weapons in Ukraine: Ambassador Kelin said Russia will not use nuclear weapons in the country's war against Ukraine. "Russia is not going to use nukes. It is out of the question," he told CNN's chief international anchor Christiane Amanpour.
CIA chief visited Ukraine: CIA director Bill Burns traveled to Ukraine earlier this month to meet with Zelensky and other officials as the war appears poised to grind into its second year, according to two sources familiar with the trip.
Kremlin: Any Griner prisoner swap conversations need to be done quietly: The Kremlin said that any discussions on a potential prisoner exchange involving US basketball star Brittney Griner can only be done quietly. Speaking on a daily briefing, spokesperson Dmitry Peskov refused to comment on the Moscow Regional Court's decision Tuesday to uphold Griner's drug smuggling conviction. Asked about a potential prisoner swap, Peskov said all conversations regarding possible exchanges could only be carried out in conditions of "complete impermeability and silence."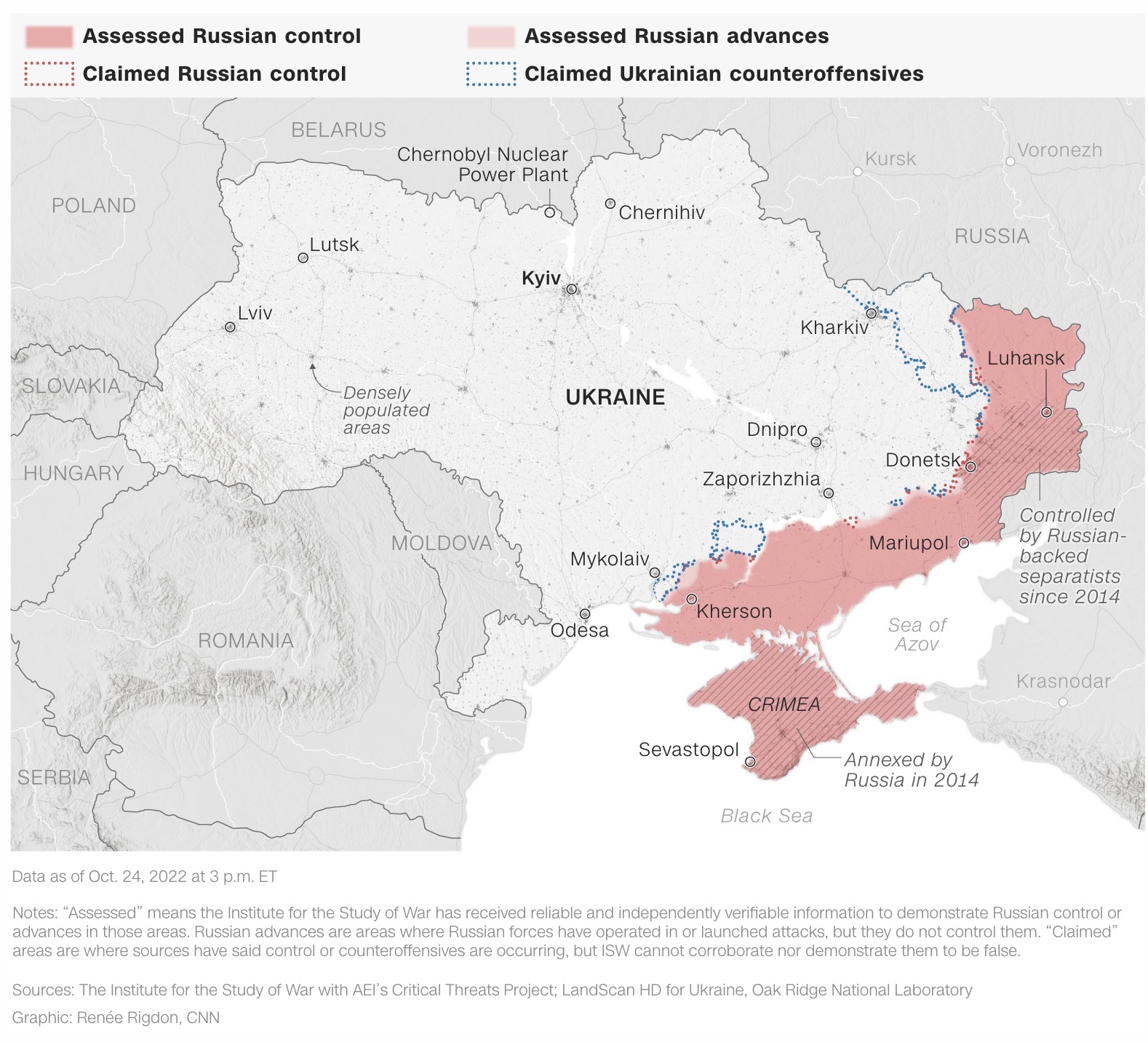 6:32 p.m. ET, October 26, 2022
White House claims US is seeing signs Russia may be advising Iran on how to crack down on protests
From CNN's Maegan Vazquez
White House officials said that the United States is seeing signs Russia may be advising Iran on how to crack down on public demonstrations after clashes broke out across Iran during demonstrations marking 40 days since the death of Mahsa Amini.
"We are concerned that Moscow may be advising Tehran on best practices, drawing on Russia's extensive experience of suppressing open demonstrations," White House press secretary Karine Jean-Pierre said during a press briefing on Wednesday. "The evidence that Iran is helping Russia rage its war against Ukraine is clear and it is public. And Iran and Russia are growing closer the more isolated they become. Our message to Iran is very, very clear – stop killing your people and stop sending weapons to Russia to help kill Ukrainians."
Jean-Pierre and John Kirby, the communications coordinator at the National Security Council who spoke later in the briefing, did not provide evidence for the accusation.
Protests have swept through the Islamic Republic following the death of Amini, the 22-year-old Kurdish Iranian woman who died on Sept. 16 after being detained by the country's "morality police" and taken to a "re-education center," allegedly for not abiding by Iran's conservative dress code. And nationwide protests marking 40 days since Amini died sparked clashes through Iran on Wednesday.
To read more, click here.
5:39 p.m. ET, October 26, 2022
Zelensky says the toughest battles are taking place in Donetsk region
From CNN's Philip Wang
Ukraine's President Zelensky said Wednesday that the toughest battles are taking place in the Donetsk region, specifically toward the city of Bakhmut and Avdiivka. 
"The situation on the frontline has not changed significantly," Zelensky said during his daily address when talking about the frontline situation in the eastern region. 
5:04 p.m. ET, October 26, 2022
Inside the House GOP effort to keep weapons flowing to Ukraine
From CNN's Kylie Atwood, Jeremy Herb, Katie Bo Lillis and Melanie Zanona
After House Minority Leader Kevin McCarthy suggested last week that Republicans might pull back funding for Ukraine next year if they take the majority, the GOP leader has worked behind the scenes to reassure national security leaders in his conference that he wasn't planning to abandon Ukraine aid and was just calling for greater oversight of any federal dollars, sources told CNN.
McCarthy told key Republican national security committee members – some of whom reached out to McCarthy – that his comments that Ukraine wouldn't get a "blank check" in a Republican majority were being taken out of context, the sources said. Rather, McCarthy told his members he was simply saying that a GOP-led House would not automatically rubber-stamp a request from the administration for additional Ukraine aid.
"McCarthy was not saying, 'We wouldn't spend money.' McCarthy was saying, 'We're gonna be accountable to the taxpayer for every dollar we spend,'" one GOP lawmaker familiar with McCarthy's thinking told CNN. "A 'blank check' means that people get whatever they ask for. What we're saying is there's going to be some thought, there's going to be accountability, and taxpayer dollars are going to be used appropriately."
McCarthy's effort to soothe the House's senior defense hawks, which has not been previously reported, underscores the fine line the aspiring speaker is walking on foreign policy as the war in Ukraine appears poised to grind into a second year. But it also offers a preview of the types of policy and political battles to come between the establishment and pro-Trump wings of the GOP, presenting a tricky balancing act — and potential headaches — for Republican leaders in a House majority.
To read more, click here.
5:40 p.m. ET, October 26, 2022
Analysis: Putin has been watching and waiting for this moment in Washington
From CNN's Stephen Collinson
For months, Russian President Vladimir Putin has waited and watched, hoping for a fracturing of the remarkable Washington consensus built by President Joe Biden on the need to do everything it takes to defend democracy in Ukraine.
Now, at last, the first cracks may be appearing.
There is no sign that the $18 billion US pipeline of military aid that has helped Ukraine drive back Russia's onslaught is immediately in danger. But the stirrings of political opposition to an endless US role in the war are growing on both sides of the aisle just two weeks before the November midterms.
Even the slightest hint of a softening of American resolve could comfort Putin as the Kremlin strongman prepares to inflict a painful winter on Ukrainian civilians and Europeans reliant on Russian gas.
In what can only be described as a political debacle on Tuesday, progressive Democrats published, then withdrew, a letter initially signed in June that called on the White House to match its effort to arm Ukraine with a strong diplomatic effort to engage Russia and seek a ceasefire. This came days after House Minority Leader Kevin McCarthy, the possible next speaker, warned that Kyiv could not expect a "blank check" on aid if the GOP is in charge next year.
Seeking to highlight US and Western commitment to Ukraine amid the political chatter, Biden delivered a fresh warning on Tuesday against the use of smaller-yield nuclear weapons on the battlefield in Ukraine.
The President's comments were a reminder that the maneuvering in Washington over Ukraine aid is taking place in a critical context, with anxiety still acute over a possible escalation of the war that could spill over into direct US-Russia hostilities and put the world on a disastrous path toward a full-on nuclear escalation.
This is why signs of fraying political resolve in the United States, and in some allied nations, are so significant. They could convince Putin that a war of attrition over the winter could sooner or later cause fatigue in the West and therefore weaken Ukraine's ability to fight.
To read more, click here