November 4, 2022 Russia-Ukraine news
8:56 p.m. ET, November 4, 2022
Our live coverage for the day has ended. Follow the latest Ukraine news here or read through the updates below. 
5:51 p.m. ET, November 4, 2022
Ukrainian defenses shot down 8 more Iranian-made drones Friday, Zelensky says
From CNN's Yulia Kesaieva 
Ukrainian President Volodymyr Zelensky said eight Iranian-made drones were shot down by an anti-aircraft missile regiment in southern Ukraine on Friday.
Two Kalibr cruise missiles were also destroyed by units of the southern and central air commands, he said in his nightly address.
"The fiercest combat actions during this week are concentrated in Donbas: Bakhmut and Soledar," the president said, referring to eastern regions near the frontlines of the conflict.
"We are holding our positions. And in these and some other areas in the Donetsk region, the Russian army has already wasted more lives of its men and lost more ammunition than it probably had lost in the two Chechen wars combined," Zelensky said, referring to the Moscow's casualties in Chechnya.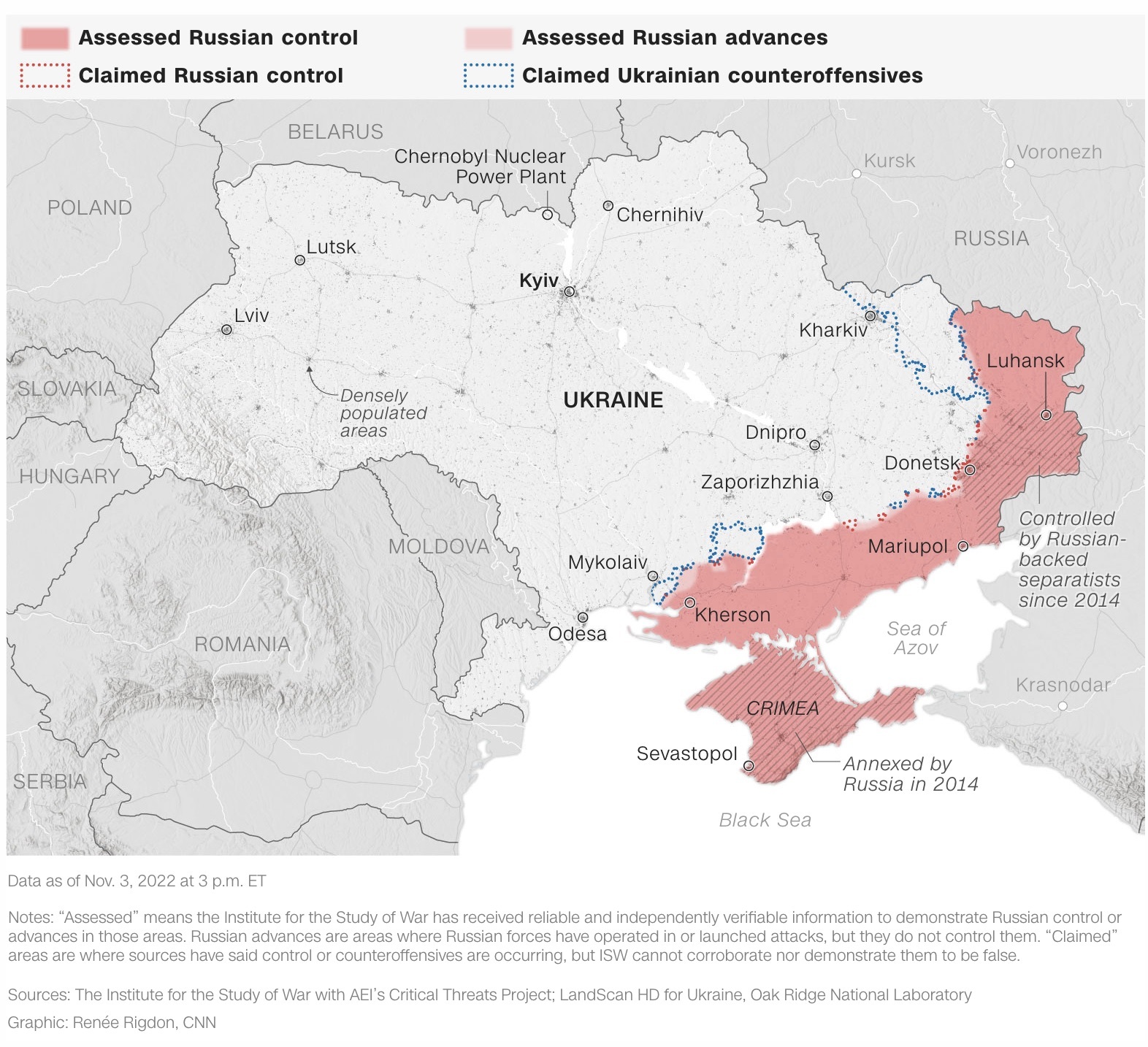 4:34 p.m. ET, November 4, 2022
Friday marks 12th time this month Russian strikes have hit Ukrainian energy firm's facilities
From CNN's Yulia Kesaieva
Russia's onslaught of attacks on civilian infrastructure, particularly energy and water facilities, has repeatedly hampered a Ukrainian company this month.
DTEK Group, which owns coal and thermal power plants in various parts of Ukraine, reported the latest missile attack damaging its energy facilities on Friday. It was the twelfth attack on a DTEK facility in the past month.
There were no casualties from the shelling, according to preliminary information.
"As a result of the enemy attack, the power equipment of the enterprise was significantly damaged. After the end of the shelling, the company's employees will promptly begin to eliminate the consequences and resume work," DTEK said in a statement. "For safety reasons, only critical employees are present at the facilities. All others work remotely."
DTEK is Ukraine's biggest private energy firm and a frequent target of Moscow's forces — conventional and otherwise.
In July, the firm said Russian hackers carried out a cyberattack on its facilities.
More background: Russia's bombardment of the Ukrainian energy grid could have grave consequences this winter, according to a growing number of Kyiv's allies around the globe.
The G7 group of wealthy nations will coordinate their support for Ukraine as the weather turns colder there and power outages persist, German foreign minister Annalena Baerbock said Thursday.
''We will not allow the brutality of the war to lead to the death of lots of elderly people, children, teenagers and families to die from hunger or cold over the upcoming winter months due to the brutal tactics of the Russian president," Baerbock told reporters.
4:02 p.m. ET, November 4, 2022
Ukraine says it shot down 2 Russian cruise missiles fired from the Black Sea
From CNN's Yulia Kesaieva
Ukrainian forces shot down two Kalibr cruise missiles fired by Russian forces from the Black Sea on Friday, according to Ukraine's Air Command "South" in Odesa.
The air command said one cruise missile was shot down over the Kherson region, and one was shot down over the Mykolaiv region.
Meanwhile, the General Staff of the Armed Forces of Ukraine reported that Russians have been attacking Bakhmut, Avdiivka, and Novopavlivka in the east.
In addition, the Lviv region in the west and the Kharkiv, Dnipro and Zaporizhzhia regions in the east have been hit with missiles and shelling in the last day, it said.
"There is a low level of moral and psychological state of the personnel of the enemy units located in Zaporizhzhia region. These are the consequences of unsatisfactory conditions of detention, poor equipment, constant delays and incomplete payments of salaries, as well as the dismissive attitude of the military leadership to subordinates," the General Staff said in a Telegram statement Friday.
The General Staff reported that the Russian headquarters in the city of Melitopol was hit on Thursday. Melitopol has been occupied by Russian forces since the early days of the invasion.
The General Staff also said a Russian-occupied administration building in Hola Prystan in the Kherson region was struck.
Kirill Stremousov, the Russian-appointed deputy head of the Kherson region military administration, confirmed the strike Thursday but said nobody was injured.
5:18 p.m. ET, November 4, 2022
US secretary of state says any use of nuclear weapons by Russia would be catastrophic for Putin
From CNN's Michael Conte and Jennifer Hansler
US Secretary of State Antony Blinken said any use of a nuclear weapon by Russian President Vladimir Putin would have disastrous consequences for him and his nation.
"Together with the G7, countries around the world are making clear to President Putin that any use of a nuclear weapon would be catastrophic for him and for Russia," Blinken said at a press conference at the G7 Foreign Ministers' Meeting in Munster, Germany.
The G7, short for Group of Seven, is made up of representatives from some of the world's largest economies. At its meeting this week, foreign ministers from the coalition collectively vowed "severe consequences" for any use of chemical, biological or nuclear weapons by Moscow. 
Blinken on the oil price cap: The secretary of state also weighed in on the G7's price cap for Russian oil, a key way the alliance is trying to punish Russia for its invasion of Ukraine.
The top US diplomat downplayed concerns that such a mechanism could backfire and drive up gas prices amid threats by the Kremlin to withhold oil sales to nations that implement a price cap. 
Blinken said the purpose of the cap is two-fold.
"It's to ensure that energy continues to come onto the market, to meet demand," he said. "And second, to put some limits on President Putin's ability to line his pockets with the proceeds of sales of energy to fuel and fund the war against Ukraine." 
"I believe that that mechanism will help us do just that," Blinken concluded.
4:46 p.m. ET, November 4, 2022
US national security adviser makes unannounced visit to Kyiv on Friday
From CNN's Kevin Liptak
National Security Adviser Jake Sullivan made an unannounced visit Friday to Kyiv, where he met Ukrainian President Volodymyr Zelensky and other top officials.
Sullivan underscored US support for Ukrainians "as they defend their sovereignty and territorial integrity," said Adrienne Watson, a spokesperson for the National Security Council, in a statement.
In Kyiv, Sullivan announced an additional $400 million security assistance package to Ukraine. It includes refurbished T-72 tanks and drones, along with refurbished surface-to-air missiles.
He also affirmed the US will continue to provide economic and humanitarian assistance to Ukraine:
"The United States is going to be with Ukraine for as long as it takes in this fight. There will be no wavering, no flagging, no flinching in our support as we go forward."
Sullivan added that the war could easily end if Russia chose to stop fighting and ceased its occupation.
"And that's precisely what it should do from our perspective," he told reporters.
Zelensky said he was grateful to Sullivan for his support for Ukraine.
"I had the honor of presenting Jake with the Order of Prince Yaroslav the Wise of the II degree on behalf of the entire Ukrainian people for strengthening interstate cooperation, supporting state sovereignty and territorial integrity of Ukraine," the Ukrainian president said in a Telegram post.
4:03 p.m. ET, November 4, 2022
US announces new $400 million in additional security assistance to Ukraine
From CNN's Michael Conte and Ellie Kaufman
The US Defense Department announced a new security assistance package for Ukraine worth about $400 million under the Ukraine Security Assistance Initiative.
The package includes tanks and drones.
"The USAI package underscores the continued US commitment to supporting Ukraine by meeting their most urgent requirements … while also building the capacity of Ukraine's armed forces to defend its sovereignty over the long term," Pentagon deputy press secretary Sabrina Singh said at a news conference Friday.
The package supplies refurbished T-72 tanks, new Phoenix Ghost drones, funding to refurbish HAWK air defense systems to send to Ukraine, and other items.
The tanks will be coming from the Czech Republic, with the US paying for 45 of them to be refurbished, according to Singh, and the Netherlands paying to refurbish an additional 45 tanks.  
Some of the tanks are expected to be delivered by the end of December, Singh said.
"These will be the most technically advanced tanks on the battlefield," she added.
Singh also announced that "a portion" of the Phoenix Ghost drones previously pledged to Ukraine have already been delivered.
"We've seen success already on the battlefield, but I don't have an exact timeline for when this next tranche will be delivered," she said.
The US will refurbish HAWK air defense missile systems for the first time using Ukraine Security Assistance Initiative funding, Singh said during the briefing.
Singh would not specify how many HAWK air defense systems will be refurbished and sent to Ukraine, citing operational security. 
Some background: Ukraine has been asking NATO allies and the US for more air defense systems as Russian forces have continued to attack the country with missiles and Iranian-made drones. While the US has used Ukraine funding to provide NASAMS (National Advanced Surface-to-Air Missile System), another air defense system, those NASAMS have not arrived in Ukraine yet.
Ukrainian President Volodymyr Zelensky thanked the US for the support later Friday:
1:16 p.m. ET, November 4, 2022
Luhansk regional military head describes devastation in the eastern region
From CNN's Jennifer Hauser
A Ukrainian military official surveyed the devastation in de-occupied parts of the eastern Luhansk region, leaving him with "rather mixed feelings," he said Friday.
Serhiy Hayday, head of the Luhansk region military administration, described the pain of seeing what the Russians left behind. He found destroyed villages, cattle that are ill or dead, and empty houses, according to a Telegram post about his visit.
Hayday said his party found five to six people "who remained there up to the last" and helped take them out of the settlement. He recommended civilians stay away due to shelling and mines in the area.
Fierce fighting in the region: There are constant battles in Luhansk's Svatove-Kreminna area, north of Russian-occupied Severodonetsk, according to Hayday. He said the Russians are increasing their manpower in the area.
"Every time during the attack, the Russians send their soldiers (numbering up to a platoon) for reconnaissance, in which they cannot survive. They die, and the next ones go forward. Every new attack is accompanied by the fact that the Russians are trampling their dead. Of course, no one takes the bodies out. There is no such thing as value of human life for them," Hayday said Friday.
1:03 p.m. ET, November 4, 2022
Russian-appointed official says city of Kherson is "calm" Friday but warns of possible Ukrainian movement
From CNN's Yulia Kesaieva
A Russian-appointed official says "everything is calm in Kherson city" Friday but again warned Ukrainian forces could be preparing for an attack on the city.
Kirill Stremousov, the Russian-appointed deputy head of Kherson's region military administration, said that while there has been no advance by Kyiv's forces, Ukrainian military equipment has been lined up in columns in some parts of the region.
He said the Ukrainians could be preparing for an attack on Kherson city and again warned residents should evacuate. But currently, "Kherson city is under the defense of Russian servicemen," Stremousov said in a Telegram post Friday.
A senior Moscow-appointed official's remark Thursday that Russian troops will "most likely" fall back from positions in Kherson has led to some confusion about the situation on the ground there. A Ukrainian official suggested the statement could be a trap.
What Ukrainian authorities are saying: Serhii Khlan, a member of the Kherson Regional Council, said that residents in the city are seeing an increased military presence in the streets.
Ukrainian forces hit a Russian troops' distribution center in Oleshky on the east bank of the Dnieper river Thursday night. In an interview with Ukrainian station Espreso TV Friday morning, Khlan said Russian troops are carrying out forced evacuations by making residents leave their homes so that the military can move into them. He said it is "happening everywhere in the east bank" of the river.
Kherson regional police said Friday that the agency has begun 42 criminal proceedings over what it called "war crimes" by Russians in the region in the last 24 hours.
In Oleshky, "the occupiers are stealing cars, taking homes away from locals and invading their homes. Russians are settling in recreation facilities," according to police. The department added that there have been reports of kidnapping in the cities of Kherson and Kalanchak in the last 24 hours.
In Kherson city, police said Russians are destroying water-crossing equipment with explosives and are shooting and burning boats.