November 25, 2022 Russia-Ukraine news
8:58 p.m. ET, November 25, 2022
Our live coverage has ended. Follow the latest Ukraine news here or read through the updates below. 
6:36 p.m. ET, November 25, 2022
More than 6 million customers still without power in Ukraine, Zelensky says
From CNN's Lindsay Isaac
More than 6 million customers are still without power in Ukraine, though that is half the number initially cut off by Russian air strikes Wednesday, Ukrainian President Volodymyr Zelensky said in a Friday address. 
"As of this evening, blackouts continue in most regions and in Kyiv city," Zelensky said. "On Wednesday evening, almost 12 million consumers were cut off."
The capital, as well as the regions of Kyiv, Odesa, Lviv, Vinnytsia and Dnipro face the greatest problems with power supply as of Friday, according to Zelensky. 
About 600,000 consumers in Kyiv alone are still cut off, he added. Many residents of the capital have been without electricity for more than 20 or even 30 hours.
6:39 p.m. ET, November 25, 2022
Kyiv hospital almost forced to evacuate some patients after loss of water supply
From CNN's Yulia Kesaieva in Kyiv and Jo Shelley in London
One of Ukraine's largest state hospitals was on the verge of evacuating some patients Wednesday after it lost water supply due to a Russian missile barrage, a local official told CNN.
The Kyiv Regional Clinical Hospital was about to move patients undergoing dialysis treatment, which requires an uninterrupted water supply, the deputy head of the region's military administration said in a phone interview.
"Unfortunately, when the power goes off in Kyiv, the central water supply also often fails," the official, Vitaliy Vlasiuk, explained. "A lack of water supply is critical."
"Without water, it is difficult to run the hospital. First of all, sterilization rooms suffer and (dialysis) is impossible to conduct," he said. "On Wednesday, the Kyiv Regional Clinical Hospital was on the edge of evacuating patients who require (dialysis) to other facilities, but in the afternoon the water supply was restored and everyone received the procedures vital for them."
Some background: Ukraine was hit by a barrage of Russian missiles Wednesday afternoon, which damaged critical infrastructure and resulted in a temporary loss of power to the national grid. 
Hospitals have generators that kick in when the power is cut, but these have limited capacity, Vlasiuk said. Medical chiefs try to conserve power by using them only for essential activities. 
How Ukraine's hospitals survive outages: Power from generators allows surgeons to continue operations during a blackout, but non-urgent surgery does not take place, according to Vlasiuk.
Hospital staff may wear headlamps so that the generator can last longer, he continued.
But he insisted that wards would be "fully lit" – despite photos that have shown doctors in the capital and other regions wearing the lights.
Orest Chemerys, the head of Lviv's regional health department, said that critical equipment like incubators and the intensive care wards were switched to generator power within seconds of a blackout. Almost all the region's health care facilities temporarily survived on generators after Wednesday's airstrikes.
"We are prepared for a situation in which there might be no power for 7 to 10 days," Chemerys said. Each hospital in the Lviv region has a generator and the authorities have agreements with local gas stations to supply the fuel, he added.
Ukraine's minister of health, Viktor Liashko, told national TV on Friday that each hospital with an ICU and operating room had a generator and the government was bringing in additional generators to further increase capacity.
6:29 p.m. ET, November 25, 2022
Putin says Russia used to live by someone else's rules, but is now on the path toward reinvention
From CNN's Radina Gigova and Katharina Krebs 
President Vladimir Putin said Friday that Russia used to live by someone else's rules – without saying who that was – and that "those who tried to control us" pushed Moscow to invade Ukraine. 
Moscow describes the February invasion of Ukraine as a "special military operation."
"What happened in the previous years was largely because we played, lived by someone else's rules. The events of today are a path to some internal purging and reinvention," Putin said during a meeting with mothers of Russian servicemen in Ukraine.
Without specifying who was trying to control Russia, Putin said the country made a mistake by following a different path in the nineties and the 2000s, a reference to the period following the breakup of the Soviet Union.
"And in the end, those who tried to control us, by and large, thanks to their efforts, we ended up in this situation, including in the zone of a special military operation. After all, they pushed the situation to this," he said. 
In other remarks to the mothers of those serving in Ukraine, Putin said:
Russia is not fighting Ukrainians, but those who use them "as cannon fodder," an apparent reference to Western nations who are supporting the Kyiv government following the invasion in February.
"We have to fight not with them (Ukrainians), but with those who supply everything to them and finance them," Putin said.
Some context: The war in Ukraine combined with Western sanctions are taking a toll on Russians. While the shelves in most stores remain well-stocked, Western products are becoming increasingly scarce and very expensive, further driving prices that are already hammering many Russian households.
Some economists believe the population will grow increasingly critical of the "special military operation" amid mounting defeats, like in the southern city of Kherson, where a determined Ukrainian offensive forced a Russian withdrawal.
5:21 p.m. ET, November 25, 2022
Ukraine on the agenda when France's Macron visits White House next week
CNN's Saskya Vandoorne in Paris
French President Emmanuel Macron will discuss a range of political issues with US President Joe Biden next week including the war in Ukraine, trade issues and climate change, according to a French government official. 
Beginning Wednesday the White House will host Macron and his wife, Brigitte Macron, for the first full-scale state visit of Biden's administration. 
The visit will be a multi-day affair with formal ceremonies, meetings and a black-tie dinner on Thursday. 
Macron is the first French president to be offered two state visits, a gesture that "underscores the alliance between the two countries," according to the official. 
"It will be a different visit to the one with Trump as the dynamic won't be the same," the official said.
Macron, now in his second term, has emerged as the leading voice to advocate for the European Union. He is expected to raise concerns over Biden's Inflation Reduction Act, a US climate and tax law seen as a major threat to European companies. 
"We cannot risk a shock on European industry," the official said. 
Macron is also expected to tackle energy issues, and he will emphasize that the sanctions on Russia aren't having the same consequences on Europe and the US.
"The U.S is self-sufficient, but the EU does not produce gas or petrol, so we are very impacted by energy prices, and once again it's another problem for European industry," he said. 
The relationship between the leaders hasn't always been smooth sailing.
A failed deal for France to produce nuclear-powered submarines for Australia caused a major international rift, with the French ambassador to Washington, Philippe Etienne, being recalled for what was believed to be the first time in the nearly 250-year-old history of the alliance
Speaking to CNN's Melissa Bell on Thursday, the ambassador said trust had since been "restored."
4:55 p.m. ET, November 25, 2022
Residents start evacuating Kherson as officials warn of harsh winter and Russian shelling
From CNN's Yulia Kesaieva In Kyiv
Voluntary evacuations for residents from the recently liberated port city of Kherson are underway, with the first train carrying away 100 people, the Ukrainian government said.
The train is bound for the western city of Khmelnytskyi, according to the country's Ministry of Reintegration of Ukraine. Among residents who "took advantage of the free evacuation" are 26 children, seven bedridden hospital patients and six people with limited mobility, it said in a statement.
Authorities in Kherson are urging residents to leave the city, which is still mainly without power, before temperatures plunge further. Kherson has also come under renewed shelling since Russian troops were forced to leave the west bank of the Dnipro River. 
Evacuees will receive financial support, accommodations and humanitarian aid once they reach Khmelnytskyi, according to city officials.
Authorities say there are also buses running from the Kherson region to the cities of Odesa, Mykolaiv and Kryvyi Rih, where people will be "accommodated in specially equipped shelters and then evacuated to safer regions of Ukraine by car."
3:35 p.m. ET, November 25, 2022
The West is struggling to set an oil price cap that hurts Russia
From CNN's Julia Horowitz
Allies of Ukraine want to put a price limit on Russian oil. But there's a problem: They can't agree on a number that would actually pile pressure on the Kremlin.
The West's biggest economies agreed earlier this year to cap the price of Russia's most valuable export and vowed to hash out the details by early December. The move is aimed at reducing inflows to President Vladimir Putin's war chest without adding to stress on the global economy by further reducing the supply of energy.
But as the deadline approaches, countries are still haggling over where the cap should be set.
A delicate balance: Media reports this week from a gathering of European diplomats indicated that Russian oil could be capped at between $65 and $70 per barrel. Yet this range is controversial since it's close to the current market price of Russian crude.
That would mean limited disruption to supply, but also limited pain for Russia.
Setting the price lower would be more punishing to Moscow, but could exacerbate the global energy crisis — particularly if Russia retaliates. If it were to slash production by more than expected, it would drive up fuel prices just as countries like the United States, Germany and Japan are eager to get inflation under control.
Putin said Thursday that Western plans to introduce oil price caps would have "grave consequences" for energy markets.
Disruption is inevitable: The price level isn't the only issue at hand. Setting a static range for the price cap — as opposed to establishing a floating discount for Russian crude pegged to where Brent is trading — could pose logistical problems since it would need to be frequently adjusted.
There's also skepticism among oil traders that the measure can be enforced, according to Giovanni Staunovo, an analyst at UBS. He expects parties to transactions will hunt for loopholes.
Some analysts think the price cap will ultimately be less important than Europe's oil embargo. The bloc has been buying about 2.4 million barrels per day of Russian crude, and Moscow will soon be forced to hunt for new customers.
To limit spare barrels, it's likely to reduce output. That could push oil prices higher no matter what.
Read more here.
1:01 p.m. ET, November 25, 2022
This map shows the latest state of control in Ukraine
The map below reflects the current front lines in Russia's invasion of Ukraine.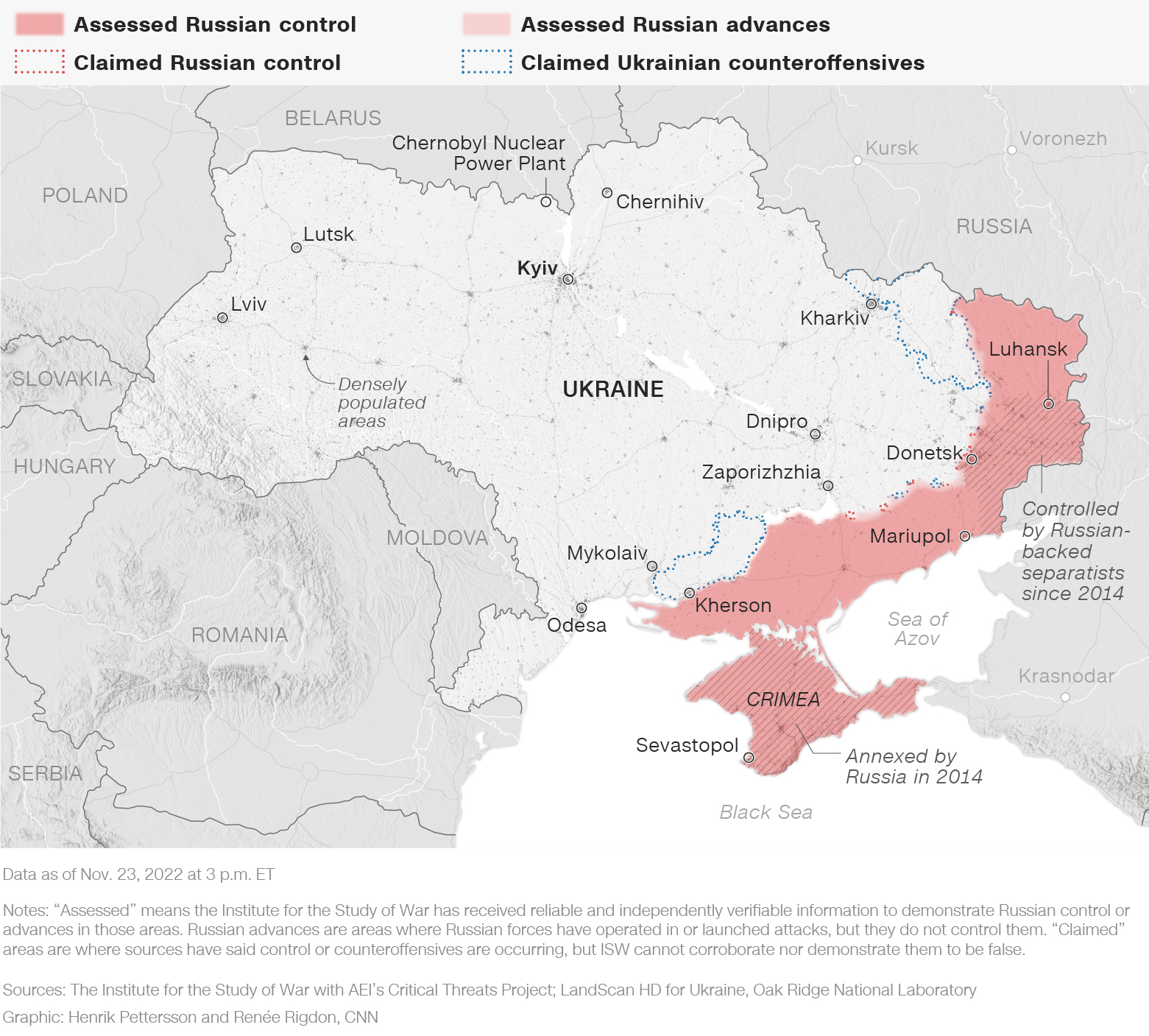 12:28 p.m. ET, November 25, 2022
EU countries donate generators to help Ukraine get through winter
From CNN's Eve Brennan, Irina Morgan and Ivana Kottasova
A number of European Union countries said they will donate power generators to Ukraine to help the country have heating for the winter. 
France has announced it will send 100 high-power generators to Ukraine "as Russia wants to make winter a weapon of war," French Foreign Minister Catherine Colonna tweeted on Friday.
"Reminder: strikes against civilian infrastructures are war crimes," she added. 
Prague Mayor Zdeněk Hřib announced that the Czech Republic will also donate power generators to Ukraine.
Hřib said the package would include 626 heaters, with 400 for Kyiv and 226 for Mykolaiv, along with other equipment.
"Plus 22 million CZK (approximately $939,000 USD) worth of medical supplies for the Public Health Centre of the Ministry of Health of Ukraine," he added.
Latvia's ambassador to Ukraine, Oleksandr Mishchenko, announced on Facebook that the capital city of Riga had partnered with a charity to donate 84 power generators and 100 heat guns for Kyiv.
Some background: The new pledges come after the EU launched its "Generators of Hope" initiative Wednesday, whereby a network of more than 200 large European cities aim to provide energy to essential facilities in Ukraine.
A Russian missile strike dealt another significant blow to Kyiv's electricity infrastructure earlier this week, though an energy official voiced optimism Friday that normal power levels would be restored soon.
CNN's Radina Gigova contributed to this report.