December 7, 2022 Russia-Ukraine news
3:11 a.m. ET, December 8, 2022
8:38 p.m. ET, December 7, 2022
Inside a hospital saving the lives of Ukraine's war wounded
From CNN's Jo Shelley, Sam Kiley, Peter Rudden and Olha Konovalova
A constant stream of Ukraine's fittest bodies, now torn by metal and punctured by bullets, are rushed to a specialist trauma hospital in the city of Kramatorsk on Wednesday afternoon after being wounded in the bloody battle for the eastern town of Bakhmut. 
Only hours earlier, they were the adrenaline-pumped vanguard of the Ukrainian army's attempt to take on the Russian troops – among them mercenaries that hold much of the area. Now they wait, cold and pale, for their turn on the operating table.
Chief surgeon Dr. Vitaly Malanchuk is often the first to assess the men's injuries.
"We're dealing with shrapnel wounds and gunshot wounds," he says. "People can have severed limbs, with large facial defects… Plus there's polytrauma, where different organs are involved."
"Polytrauma" is what a layperson would call many holes in the body.
The surgical team has treated around 100 patients a day over the past few weeks and operated on around half of them. It's intense work, performed under the threat of missile attacks from Russian-held territory just 30 kilometers away. The pace of arrivals means there's no time to shelter when air raid warnings sound here. 
Tape on the windows appears the only attempt to mitigate damage from any blast.
7:11 p.m. ET, December 7, 2022
CNN Exclusive: Biden administration weighs Ukrainian requests for cluster munitions from US stockpile
From CNN's Natasha Bertrand, Alex Marquardt and Zachary Cohen
Ukrainian officials and lawmakers have in recent months urged the Biden administration and members of Congress to provide the Ukrainian military with cluster munition warheads, weapons that are banned by more than 100 countries but that Russia continues to use to devastating effect inside Ukraine. 
The Ukrainian request for the cluster munitions, which was described to CNN by multiple US and Ukrainian officials, is one of the most controversial requests the Ukrainians have made to the US since the war began in February. 
Senior Biden administration officials have been fielding this request for months and have not rejected it outright, CNN has learned, a detail that has not been previously reported. 
Cluster munitions are imprecise by design, and scatter "bomblets" across large areas that can fail to explode on impact and can pose a long-term risk to anyone who encounters them, similar to landmines. They also create "nasty, bloody fragmentation" to anyone hit by them because of the dozens of submunitions that detonate at once across a large area, Mark Hiznay, a weapons expert and the associate arms director for Human Rights Watch, previously told CNN. 
Top US officials have publicly stated that they plan to give the Ukrainians as much support as they need to give them an upper hand at the negotiating table with Russia, should it come to that. But Western military equipment is not infinite, and as stockpiles of warheads dwindle, the Ukrainians have made plain to the US that it could use the cluster munitions currently gathering dust in storage.
For Ukraine, cluster munitions could address two major issues: The need for more ammunition for the artillery and rocket systems the US and others have provided, and a way of closing Russia's numerical superiority in artillery.
The Biden administration has not taken the option off the table as a last resort if stockpiles begin to run dangerously low. But sources say the proposal has not yet received significant consideration in large part due to the statutory restrictions that Congress has put on the US' ability to transfer cluster munitions. 
6:24 p.m. ET, December 7, 2022
Catch up: More Russian strikes hit Ukraine as the country works to repair energy infrastructure
The Kherson and Donetsk regions of Ukraine endured Russian shelling, according to local officials. Meantime, repair work on critical energy infrastructure is ongoing following extensive damage caused by Russian strikes.
Here are the top headlines to know:
Shelling in Donetsk: 10 civilians were killed Wednesday in a Russian rocket attack on the town of Kurakhove in the Donetsk region, according to Ukrainian President Volodymyr Zelensky. Kurakhove is west of the city of Donetsk, which is held by the self-declared Russian-backed Donetsk People's Republic.
Putin's threats: Russian President Vladimir Putin said that the threat of nuclear war is increasing. Putin says he still views nuclear weapons as a deterrent but also said Moscow will continue the "fight for its national interests" by "all means available, if necessary.
Russia's ally: Belarus, Russia's closest ally, announced that it is moving troops and military equipment, citing "counter-terrorism threats," according to state news agency BelTA. The country was used as a platform by Russian troops during the invasion in February.
Ukrainian defense: The Ukrainian Armed Forces shot down 14 Iran-made attack drones overnight Tuesday into Wednesday, it said in its daily operational update. A variety of Iran-made drones have been used by Russian forces in Ukraine, often in attacks on infrastructure.
Civilian casualties: The United Nations High Commission for Human Rights documented the killings of 441 northern Ukrainian civilians. Its report details the murder of people for "cutting firewood and buying groceries" in the regions previously occupied by Russian forces.
Drone strikes in Russia: The US is not working to prevent Ukraine from developing its own long-range strike capabilities that could potentially target inside Russian territory, US Defense Secretary Lloyd Austin said. His comments come after a top US State Department official on Tuesday suggested that the Ukrainians were behind the recent drone strikes on two Russian bases, though no one has claimed responsibility.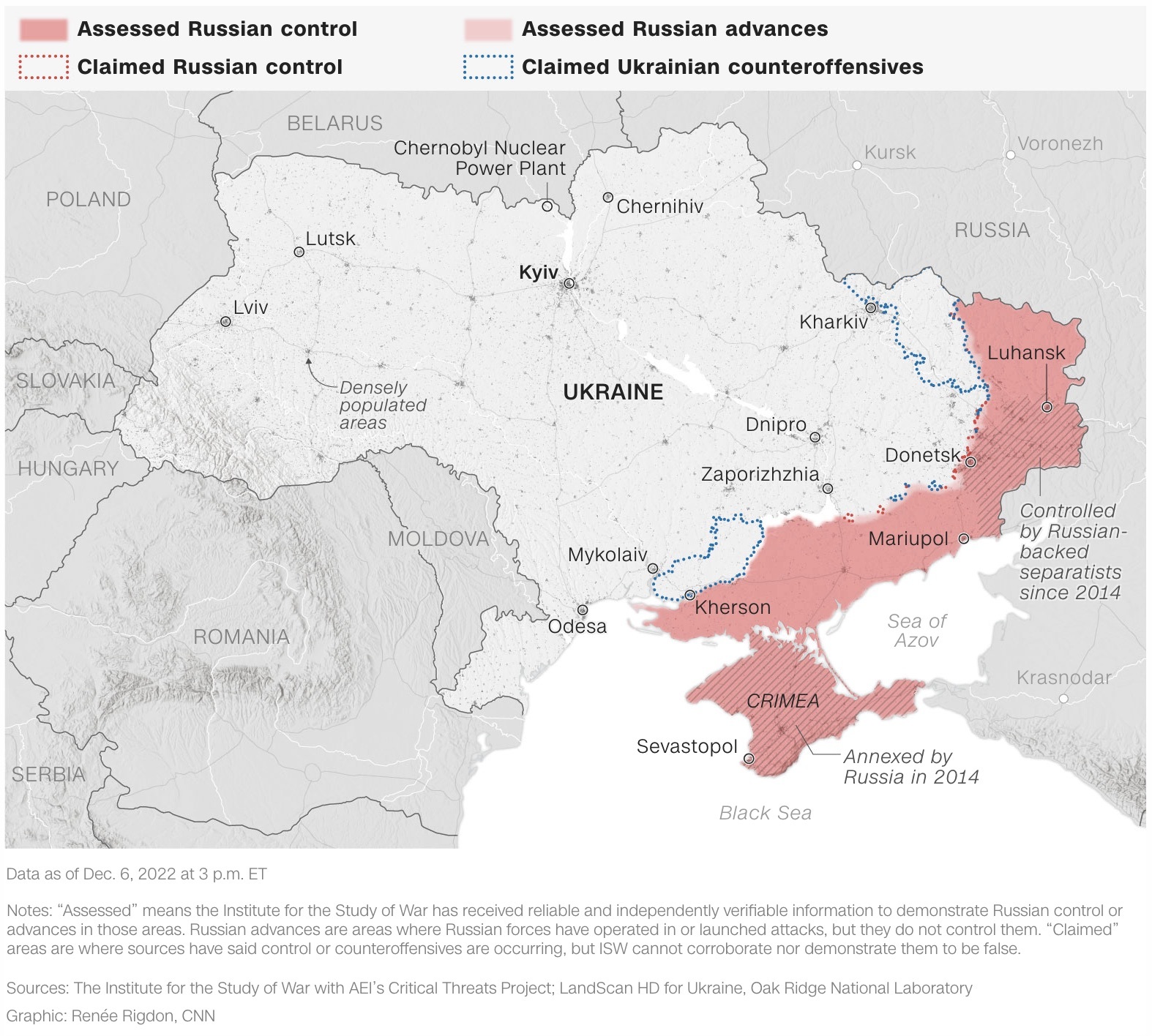 Energy: Ukraine is working to restore its energy infrastructure damaged by waves of Russian missile strikes. Ukrenergo, Ukraine's state-run energy operator said there was still a "significant deficit" in the nation's power system, triggering limits on consumption.
New EU sanctions: The European Union is adding another nearly 200 individuals and entities to its sanctions list, according to European Commission President Ursula von der Leyen. It includes members of the Russian parliament and defense industrial companies.
5:38 p.m. ET, December 7, 2022
Germany to send 18 more self-propelled howitzers to Ukraine
From CNN's Fred Pleitgen and Chris Stern in Berlin
Germany plans to supply Ukraine with 18 RCH 155 wheeled howitzers, according to the government's updated list of arms deliveries to Ukraine.
The delivery is in "preparation/implementation" phase, according to the list. 
Germany will also be providing an additional 100 drone defense sensors and jammers, two hangar tents and seven load-handling trucks, according to the list.
Germany and the Netherlands have already sent 14 self-propelled howitzers PzH2000 to Ukraine, along with thousands of rounds of ammunition. 
The RCH 155 is a modernized version of the PzH 2000 on wheels instead of tracks and with a higher degree of automation and crew safety, according to the company producing the howitzer, Krauss Maffei Wegmann. The German government legally cleared the way for RCH 155s to be sent to Ukraine in late September.
5:02 p.m. ET, December 7, 2022
Zelensky says 10 civilians killed in one Russian strike against town in Donetsk
From CNN's Julia Kesaieva
Ukrainian President Volodymyr Zelensky says 10 civilians were killed Wednesday in a Russian rocket attack on the town of Kurakhove in Donetsk. Additionally, he said four police officers were killed by Russian mines in Kherson in the south.
In what he said had been a long and difficult day, Zelensky accused the Russian army of "a very brutal, absolutely deliberate strike at Kurakhove, precisely at civilians. At ordinary people. At the market, elevator, gas station, bus station, residential buildings," he said in his daily video message.
He said battles continue to rage around Bakhmut in Donetsk.
Zelensky said that among the dead in Kherson was the chief of police of the Cherkasy region in northern Ukraine, Mykhailo Kuratchenko, who had gone to the south to help with "stabilization" measures after Kherson was liberated last month.
On energy: The Ukrainian president said that for now the energy situation is improving but it will not reach its maximum capacity.
"We are constantly increasing the generation and supply of electricity — we are adding more volume almost every day. But we should not forget, and everyone should not forget, that it is now impossible to restore 100% of the energy system as it was before the beginning of the Russian energy terror. We need time. That is why power outages schedules remain in most cities and districts," he said.
Zelensky said Kyiv and Lviv regions were among the most affected by outages.
4:37 p.m. ET, December 7, 2022
Putin says threat of nuclear war is increasing
From CNN's Katharina Krebs in London
Russian President Vladimir Putin said Wednesday that the threat of nuclear war is increasing.
In a meeting at the Kremlin with Russia's Human Rights Council, Putin said "In terms of the threat of nuclear war, you are right, such threat is increasing. As for the idea that Russia wouldn't use such weapons first under any circumstances, then it means we wouldn't be able to be the second to use them either — because the possibility to do so in case of an attack on our territory would be very limited,"
Putin added, "Nevertheless, we have a strategy... namely, as a defense, we consider weapons of mass destruction, nuclear weapons — it is all based around the so-called retaliatory strike — that is, when we are struck, we strike in response."
The Russian leader said that US nuclear weapons were located in large numbers on the European continent, while Russia had not transferred its nuclear weapons to other territories and is not planning to do so, but "will protect its allies with all the means at its disposal, if necessary."
Putin says he still views nuclear weapons as a deterrent measure. "We have not gone crazy. We are aware of what nuclear weapons are. We have these means, they are in a more advanced and modern form than those of any other nuclear country, this is obvious," he said.
"But we are not going to brandish these weapons like a razor, running around the world. Of course, we proceed from the fact that it exists. This is a deterrent factor that does not provoke the expansion of conflicts, but a deterrent, and I hope everyone understands this," Putin explained.
2:16 p.m. ET, December 7, 2022
EU implements 9th package of sanctions against Russia
From CNN's Allegra Goodwin and James Frater in London
The European Union is "stepping up the pressure on Russia" with another package of sanctions, European Commission President Ursula von der Leyen announced on Wednesday.
The package — the EU's ninth — adds another nearly 200 individuals and entities to its sanctions list. It includes armed forces, members of the Russian parliament and defense industrial companies.
The EU will also sanction three more Russian banks, including a full transaction ban on the country's regional development bank, "to further dry out Putin's war chest," she added.
The measures will also cut Russia's access to drones, both directly and via third-country suppliers such as Iran, she said.
The bloc will also impose new controls on exports, with a focus on dual-use goods such as chemicals, nerve agents, electronics and IT components, which "could be used by the Russian war machine," she added.
EU Commission Vice President Josep Borrell said the latest measures are a direct consequence of the weaponization of winter by Russian President Vladimir Putin.
"He wants to disrupt electricity, heating, and water supplies for millions of civilians across Ukraine. We are responding with the 9th package of sanctions against those who are instrumental in this brutal war," he said on Twitter.
1:00 p.m. ET, December 7, 2022
8 civilians reported killed in Russian attack on Donetsk town in eastern Ukraine 
From CNN's Tim Lister and Julia Kesaieva
Artillery and mortar fire has picked up on both sides of the front lines in the eastern Donetsk region, according to accounts from both the Ukrainian military and authorities in the self-declared Donetsk People's Republic.
On the Ukrainian side, Kyrylo Tymoshenko, deputy head of the president's office, said that at least eight people were killed and five injured in an attack on the town of Kurakhove.
 "The enemy shelled the settlement with multiple rocket launchers. The market, bus station, gas stations, residential buildings came under fire," Tymoshenko said.
Kurakhove is west of the city of Donetsk; the shelling may have been in retaliation for Ukrainian fire on the city, which is held by the self-declared Donetsk People's Republic, over the last three days.
To the north, in the town of Yampil, according to Tymoshenko, "the occupiers used cluster munitions. The central square of the city and the administrative building came under fire."
Yampil was liberated in September as Ukrainian forces pushed Russian units back into Luhansk. 
Other impacted areas: The Ukrainian military says that Russian artillery has fired at several settlements in Luhansk and Kharkiv — as Russia consolidates new defensive lines in the east.  
The Washington-based Institute for the Study of War says that Ukrainian forces have "likely made recent gains in north-eastern Kharkiv," and have probably retaken the settlement of Kyslivka, some 25 kilometers (more than 15 miles) northwest of the strategic hub of Svatove where Russian forces are concentrated. 
The Ukrainian General Staff said Russia was focusing its efforts on assaults toward the cities of Bakhmut and Avdiivka in Donetsk, both of which have been under fire for months but remain in Ukrainian hands.
It said Russians continued to bombard Ukrainian settlements in recently liberated parts of Kherson along the west bank of the river Dnipro.
After a lull in the Russians' use of Iranian-made attack drones, the General Staff said one was shot down Wednesday.