As Russia's invasion of Ukraine approaches the one-month mark, fighting is raging across major cities with defending forces trying to take back some areas, according to a US official.
Russia attacks Mariupol-bound convoy: A convoy of 11 empty buses driving towards the besieged city of Mariupol to rescue fleeing Ukrainians was commandeered by Russian forces, according to the Ukrainian government. The Russians have driven the buses, along with their original drivers and several emergency services workers, to an undisclosed location, the government says.
Strikes rain down on Mariupol: Meanwhile from the sea, strikes are coming from Russian ships in the Sea of Azov towards the southeastern city of Mariupol, according to a senior US defense official. The city has already been under an ongoing Russian bombardment from long-range missile launches and artillery outside the city. New satellite images from Maxar Technologies show more fires and destruction across the city, a consistent target for the Russian military since the start of the conflict.
Ukrainian forces fight back: Ukrainians forces have now been trying to take back territory in the last few days that the Russians had gained, according to a senior US defense official, calling them "able and willing" to do so. The official cited the examples of Ukrainians fighting to take back Kherson, as well as pushing Russian forces from the northeast of Mykolaiv to have to reposition south of the city, but cautioned that the US cannot say whether these moves are part of a "larger operational plan" by the Ukrainians or not.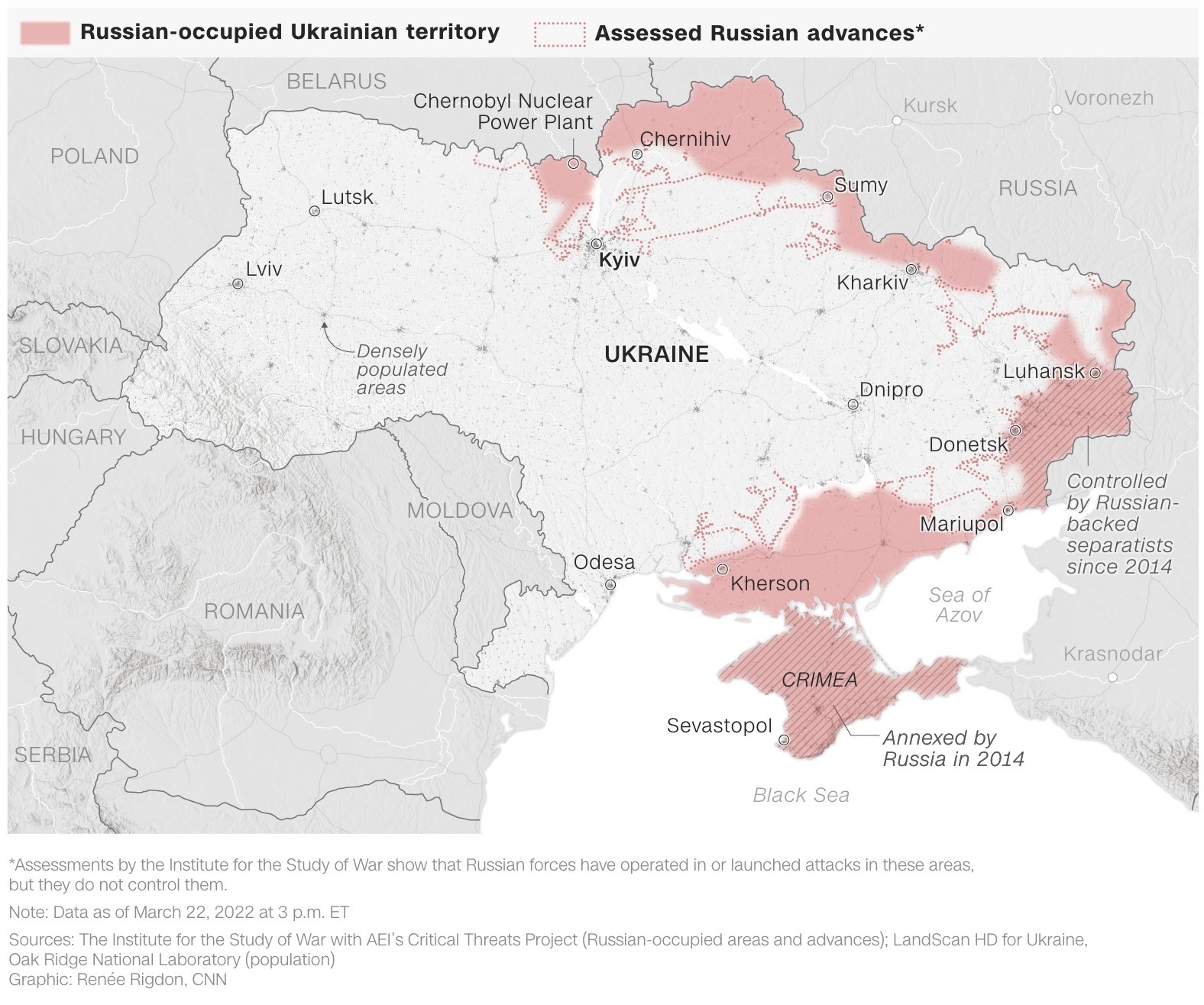 Belarus could join war: The US and NATO believe that Belarus could "soon" join Russia in its war against Ukraine, US and NATO officials told CNN, and that the country is already taking steps to do so. It is increasingly "likely" that Belarus will enter the conflict, a NATO military official said Monday. 
Sending NATO peacekeepers "reckless," Kremlin says: The deployment of a NATO peacekeeping mission to Ukraine would be "very reckless" and "extremely dangerous," according to Kremlin spokesperson Dmitry Peskov, who told journalists that "any possible contact between our military and NATO military can lead to quite understandable consequences that are difficult to repair."
US action: President Joe Biden will arrive in Brussels on Wednesday for a planned NATO summit -- one of many summits he will attend in Europe this week. At these summits, he is expected to unveil sanctions on members of the Duma. These sanctions will be on hundreds of Russians serving in the country's lower legislative body, an official familiar with the announcement said.