The scenes in the towns of the Kyiv region freed from Russian control were "crucial evidence of brutal war crimes of the Russian Federation," Ukraine's Prosecutor General Iryna Venediktova said in a statement published on Sunday via her verified Facebook page.
"The tortured Kyiv region is not a route for political tourism, but a crime scene," Venediktova said, urging prosecutions in Ukrainian and international courts. 
Substantial evidence of the massacre of civilians has emerged in recent days in suburbs of Kyiv, such as Bucha and Irpin.
To date, 410 bodies of slain civilians have been removed from Kyiv region and 140 of them have already been examined by prosecutors and other specialists, according to Venediktova.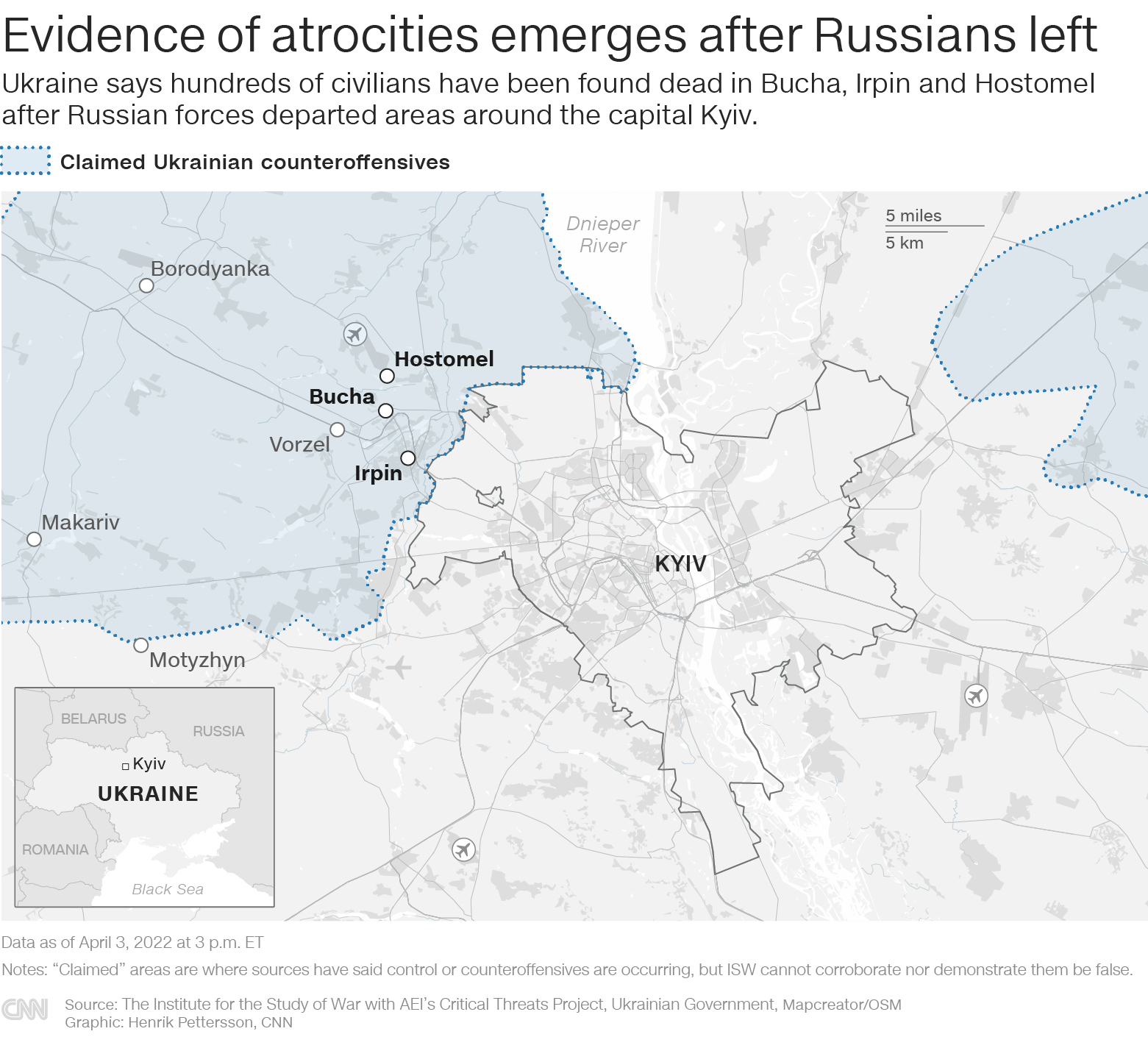 The Office of the Prosecutor General of Ukraine, together with the pre-trial investigation bodies, the military command, and the Military Law Enforcement Service, are working to document alleged crimes committed by Russian troops, she said.
Here are some more details she provided:
Ukrainian authorities have subdivided the region into areas of responsibility in which investigative and operational groups of prosecutors and the National Police are working.
Forensic inspectors, explosives technicians, K-9 teams and doctors are involved in site inspections.
The State Emergency Service are first on site to clear out unexploded ordnance left behind.
In Bucha region alone, there are more than 50 National Police officers and prosecutors currently involved in conducting urgent investigative actions.
The Office of the Prosecutor General will further increase the number of investigative task forces to ensure efficient collection of the evidence of war crimes.
Officials have said efforts are underway to search for witnesses, victims and to collect photo and video evidence.
The Russian Ministry of Defense has issued blanket denials in response to intense international outcry, calling claims of alleged war crimes "fake."