April 5, 2022 Russia-Ukraine news
By Melissa Macaya, Jason Kurtz, Maureen Chowdhury, Aditi Sangal, Helen Regan, Travis Caldwell, Ben Church, Lianne Kolirin and Seán Federico O'Murchú, CNN
Updated
12:01 a.m. ET, April 6, 2022
12:01 a.m. ET, April 6, 2022
11:09 p.m. ET, April 5, 2022
New Zealand to impose tariffs on all Russian imports
From CNN's Wayne Chang
New Zealand said it will impose a 35% tariff on all Russian imports and extend existing export prohibitions to include "industrial products closely linked to strategic Russian industries."
"These tariff increases work in conjunction with the international community as we seek to pressure (Russian President Vladimir) Putin's regime," New Zealand Minister of Trade Damien O'Connor said. 
"These trade sanctions, in addition to the other measures taken already, work in tandem with Ukraine and international partners to put the most pressure possible on Putin's regime to cease hostilities."
The measures will come into effect on April 25, according to a joint statement by New Zealand's foreign ministry and trade ministry.    
Export of industrial products such as telecommunications equipment and engines will be banned. 
"The images and reports emerging of atrocities committed against civilians in Bucha and other regions of Ukraine is abhorrent and reprehensible, and New Zealand continues to respond to Putin's mindless acts of aggression," New Zealand's Foreign Minister Nanaia Mahuta said.
Mahuta said New Zealand has called on Russia to be held to account for war crimes and, along with 41 other nations, supports an International Criminal Court prosecution.
10:40 p.m. ET, April 5, 2022
US authorizes additional $100 million for anti-armor systems for Ukraine
From CNN's Oren Liebermann and DJ Judd
The United States authorized an additional $100 million for anti-armor systems to Ukraine, the Biden administration announced on Tuesday.
The additional shipment will be released to meet an urgent demand from Ukraine for the Javelin anti-tank missiles, which are among the weapons that have proven most effective against Russian forces.
Shipped quickly: President Joe Biden authorized the drawdown of the Javelin anti-armor weapons from US inventories, meaning the weapons will be pulled from existing Defense Department stocks and can be shipped to Ukraine quickly. 
Billions in assistance: This latest shipment means the US has now authorized more than $2.4 billion in security assistance to Ukraine since the beginning of the Biden administration, including more than $1.7 billion since the start of Russia's invasion of Ukraine on Feb. 24.
"The world has been shocked and appalled by the atrocities committed by Russia's forces in Bucha and across Ukraine," said Secretary of State Antony Blinken in a statement announcing the decision. 
"Ukraine's forces bravely continue to defend their country and their freedom, and the United States, along with our Allies and partners, stand steadfast in support of Ukraine's sovereignty and territorial integrity."
Further US support: On Friday, the US announced that it will provide another $300 million in security assistance to Ukraine, including Switchblade suicide drones, night-vision equipment and anti-drone systems. But that package, which fell under the Ukraine Security Assistance Initiative, has to be procured from defense contractors.
10:25 p.m. ET, April 5, 2022
New sanctions could target Putin's adult children, western official says
From CNN's Kevin Liptak
The United States could impose sanctions on Russian President Vladimir Putin's adult children as early as Wednesday, according to a western official familiar with the plans.
Putin has acknowledged two daughters with his ex-wife Lyudmila Putin.
The White House has said the latest round of sanctions will be applied in conjunction with European allies. 
The Biden administration is also eyeing an expansion of sanctions on Sberbank — Russia's largest financial institution — and Alfa Bank — another large lender — the official said.
10:37 p.m. ET, April 5, 2022
Zelensky told UN Security Council to remove Russia or "dissolve yourself." Here's what to know
Ukrainian President Volodymyr Zelensky accused Russian troops of indiscriminately killing civilians "just for their pleasure" in an emotionally charged address Tuesday to the United Nations Security Council during which he questioned the very mandate of the Security Council itself.
Here's what to know about his UN speech:
It came a day after he visited the Kyiv suburb of Bucha, where shocking images of bodies in the streets emerged over the weekend.
Zelensky said Russia's actions were no different from those of a terror group, except that Russia is a permanent member of the Security Council.
Russia has veto power at the UN and has previously used that to block a resolution condemning its invasion of Ukraine.
The Ukrainian leader criticized the body, asking representatives point-blank:
"Where is the security that the Security Council needs to guarantee? It is not there, though there is a Security Council."
Zelensky told the UN it should do one of two things:
One was to remove Russia "as an aggressor and a source of war so cannot block decisions about its own aggression, its own war."
The second, "If there is no alternative and no option, then the next option would be dissolve yourself altogether," Zelensky said.
"It is obvious that the key institution of the world designed to combat aggression and ensure peace cannot work effectively," Zelensky said.
In his damning speech, Zelensky said there was "not a single crime" that the Russians "would not commit," alleging Russian troops had "searched for and purposefully killed anyone who served our country."
Zelensky also warned that the horrors found in Bucha would be replicated in other cities across Ukraine and demanded accountability.
The president also demanded full and transparent investigations and security guarantees for Ukraine.
Read more on Zelensky's UN speech here.
9:35 p.m. ET, April 5, 2022
Poland signs $4.75 billion deal for 250 US tanks
From CNN's Brad Lendon
Poland is buying 250 Abrams tanks from the United States in a $4.75 billion deal signed Tuesday in Warsaw.
Deliveries are slated to start later this year as Poland, a NATO member that borders Ukraine in the east, ramps up its defenses following Russia's invasion of its neighbor.
The top-of-the-line US tanks will go to the Polish Army's 18th Mechanized Division, which is based near the border with Ukraine.
"The task of these tanks, and the consequence of the fact that the Polish authorities are developing the Polish Army, is to deter a potential aggressor. We all are aware of what is happening beyond our eastern border," Polish Defense Minister Mariusz Błaszczak said in a statement.
The deal includes maintenance vehicles, portable bridges, training and logistics as well as ammunition, Błaszczak said.
"This is a very important reinforcement of the Polish Armed Forces," he said.
The Defense Ministry said the deal, first agreed last July, is one of the largest in Polish history.
As part of the modernization of its military, Poland is also buying US-made F-35 stealth fighter jets in a deal signed in 2020. Those 32 warplanes are scheduled to begin arriving in Poland in 2026.
11:12 p.m. ET, April 5, 2022
Female soldiers released from Russian captivity "subjected to torture," Ukrainian official says
From CNN's Abby Baggini and Kostan Nechyporenko in Vasylkiv, Ukraine
More than a dozen female Ukrainian soldiers captured by Russian forces were "subjected to torture and ill-treatment in captivity," according to a Ukrainian human rights official.
The 15 women were among 86 soldiers released from Russian captivity on Friday.
Following their capture by Russian forces, the women were taken to Belarus and then to a pre-trial detention center in Bryansk, Russia, where they "were tortured and threatened," Lyudmyla Denisova, the Ukrainian Parliament Commissioner for Human Rights, said on her official Telegram page.
Stripped naked: According to Denisova, female prisoners were stripped naked in the presence of men, forced to squat, cut their hair, and interrogated in an effort to break their morale. Some of the women were also forced to take part in the filming of Russian propaganda videos.
Article 13: Denisova said Russia's actions amount to a violation of Article 13 of the Geneva Convention relative to the Treatment of Prisoners of War. Article 13 states that "prisoners of war must at all times be humanely treated." 
"I call on the UN Commission for Investigation Human Rights Violations of Russia's Invasion of Ukraine and the expert mission set up by OSCE participating states under the Moscow Mechanism to consider these violations of the rights of Ukrainian prisoners of war," said Denisova.
Denisova previously said on Monday that Ukrainian prisoners of war had been subject to beatings, starvation, frostbite, and intimidation while in Russian captivity.
Following negotiations last week, Ukraine and Russia's exchange of 86 prisoners from each side marked the conflict's largest prisoner swap to date.
8:04 p.m. ET, April 5, 2022
European leaders plan to phase out Russian coal imports as part of new sanctions package 
From CNN's Anna Cooban
European leaders have planned to phase out Russian coal imports in response to harrowing scenes in Bucha, a suburb of Kyiv.
On Tuesday, the European Commission proposed a phased ban of 4 billion euros ($4.3 billion) worth of Russian coal imports per year as part of a fifth package of sanctions designed to further diminish Russian President Vladimir Putin's war chest. Other proposals target Russian technology and manufacturing imports, worth another 10 billion euros ($10.9 billion).
Europe has imposed punishing sanctions on Russia's economy since Putin's tanks rolled into Ukraine in late February, but stopped short of targeting Russia's energy sector — until now. Images of unarmed civilians, bound and shot, lying along Bucha's roads — which were until recently under Russian occupation — have convinced leaders to change tack.
More details on the new round of sanctions, including the timeline for the ban on coal, are expected Wednesday when EU ambassadors meet for talks. The measures still need the approval of all 27 member states.
Sanctioning coal will bite some European countries, but it's among the easiest energy sources to wean off — much of the world is already doing just that. The trickier question is: What happens next?
Read the rest of this story here.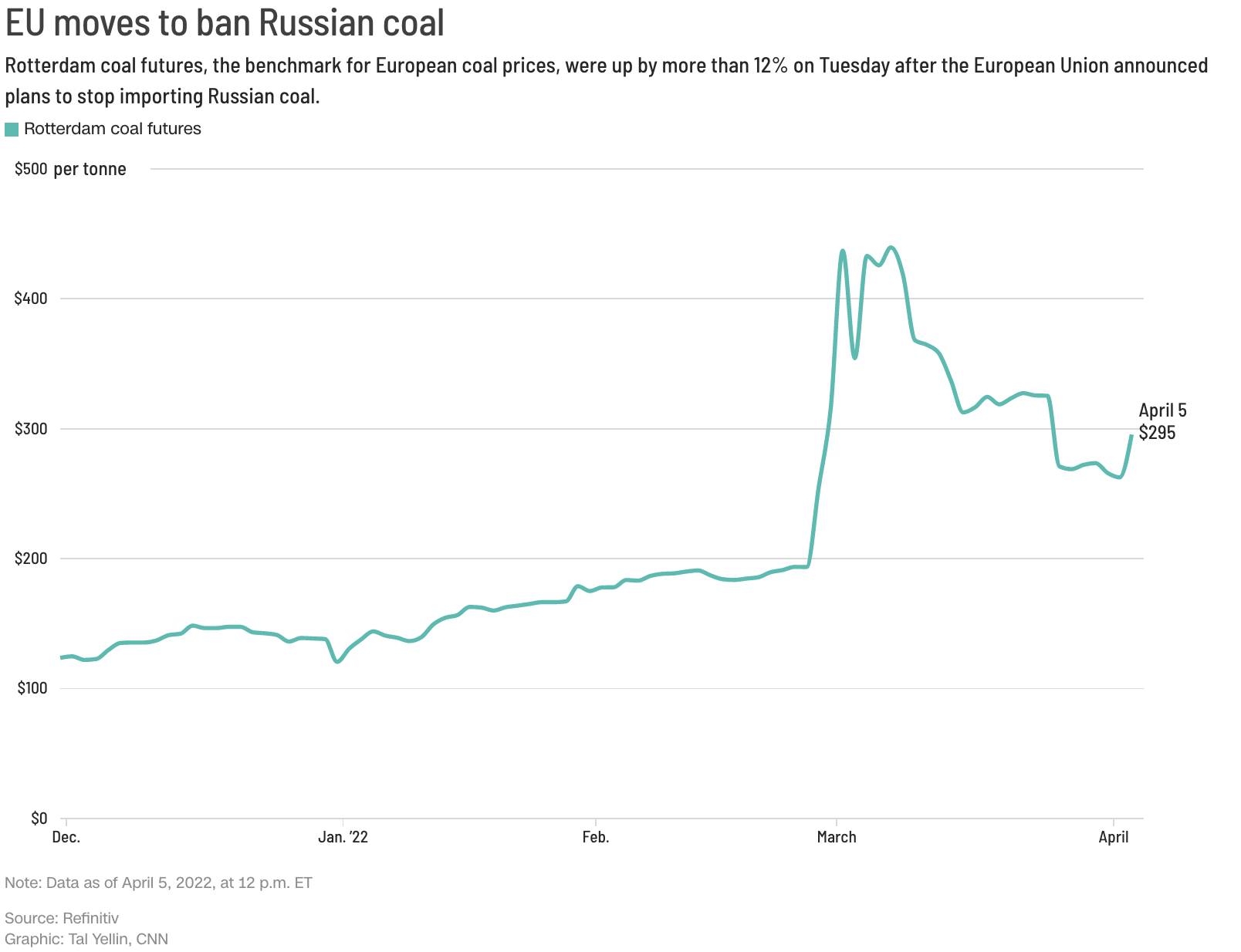 7:12 p.m. ET, April 5, 2022
The US is expected to announce new sanctions against Russia Wednesday. Here's what we know so far. 
From CNN's Phil Mattingly, Kaitlan Collins, Sam Fossum and Sean Lyngaas
The US will announce new sanctions on Russia Wednesday in coordination with Group of 7 nations and the European Union, according to an administration official.
The official said the sweeping package "will impose significant costs on Russia and send it further down the road of economic, financial, and technological isolation."
The new sanctions package will:
Ban all new investment in Russia
Increase sanctions on financial institutions and state-owned enterprises in Russia
Sanction Russian government officials and their family members
The new sanctions package will mark the latest escalation in efforts by the US and its allies to impose costs on Russia for its invasion and, over time, cut off critical economic sectors the country utilizes to wage the ongoing war.
They also follow new revelations of further atrocities committed by Russian forces in northern Ukraine, with the images of the atrocities committed in Bucha serving as an accelerator to ongoing discussions between the US and its European allies to ramp up the economic costs, officials said.
"These measures will degrade key instruments of Russian state power, impose acute and immediate economic harm on Russia, and hold accountable the Russian kleptocracy that funds and supports Putin's war," the official said. "These measures will be taken in lockstep with our allies and partners, demonstrating our resolve and unity in imposing unprecedented costs on Russia for its war against Ukraine."
The official added, "We had already concluded that Russia committed war crimes in Ukraine, and the information from Bucha appears to show further evidence of war crimes. And as the President said, we will work with the world to ensure there is full accountability for these crimes. One of those tools is sanctions — and we have been working intensively with our European allies on further sanctions."
More context: The expected sanctions come after the US Treasury announced it will no longer allow Russia to pay down its debt using dollars stockpiled at American banks. While Washington had imposed sanctions on the Russian Central Bank freezing their foreign currency at US banks, the Treasury Department had previously allowed Russia to use those reserves to repay its debt.
It's a move that officials say will substantially raise the risk of default and undercut urgent efforts by the central bank to stanch the economic bleeding that immediately arrested the Russian economy in the wake of the Western response to the invasion.
Read more about the sanctions here and watch CNN's reporting below: