Mark Zuckerberg testifies before European Parliament
3:06 p.m. ET, May 22, 2018
Our live coverage has ended. Scroll through the posts below to read more about Mark Zuckerberg's testimony.
3:04 p.m. ET, May 22, 2018
Zuckerberg offered few new answers today
From CNNMoney's Seth Fiegerman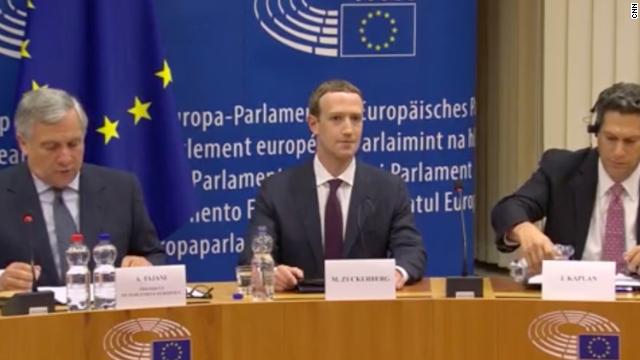 European lawmakers hit Mark Zuckerberg with a series of pointed questions at a hearing today. Zuckerberg responded with few new answers.
The Facebook CEO responded to broad themes of questions with familiar talking points about his openness to regulation and commitment to protecting elections after complaints about misinformation campaigns and data privacy.
As he did when testifying before Congress last month, Zuckerberg talked up Facebook's investment in security and played down concerns about its potential monopoly power.
"From where I sit, it feels like there are new competitors every day," he said.
And once again, Zuckerberg appeared uncomfortable getting into specifics around Facebook's data collection practices.
At the end of the hearing, a member of parliament pressed Zuckerberg on Facebook's shadow profiles, or data Facebook collects from non-users. Zuckerberg offered a brief response, then quickly tried to change the subject and return to higher level "themes."
2:09 p.m. ET, May 22, 2018
European Parliament member: "You asked for this format for a reason"
From CNNMoney's Seth Fiegerman
Members of the European Parliament pushed back against Zuckerberg's answers — or lack thereof — and the format of the hearing as the CEO tried to wrap up his appearance today.
Lawmakers went around the table asking Zuckerberg a series of tough, pointed questions. His responses came at the very end — and accounted for only a small portion of the total hearing time.
Zuckerberg stuck to the "high level" themes of the questions, repeating well rehearsed lines about regulation being inevitable and downplaying concerns about Facebook's monopoly power.
He initially avoided thorny questions about Facebook's data collection practices. As he sought to bring his remarks to a close, some members protested.
Philippe Lamberts, representing the Green party, said: "You asked for this format for a reason."
1:58 p.m. ET, May 22, 2018
Zuckerberg says more Facebook apps will probably be banned
Mark Zuckerberg, speaking at a meeting at the European Parliament, said Facebook continues to investigate third-party apps for potential privacy violations, and he thinks the company will find more to ban.
"There are many thousands more that we need to investigate. This is going to take many months," Zuckerberg said.
"I do anticipate there will be other apps that we want to take down."
Zuckerberg said Facebook already investigated thousands of apps and has taken down more than 200. He said it's part of Facebook's resolution to take a much more proactive approach in regulating the apps that run on its platform.
1:43 p.m. ET, May 22, 2018
Zuckerberg tells European Parliament that election transparency is "top priority"
In a meeting with European Parliament, Mark Zuckerberg said Facebook is trying to prevent a recurrence of the fake news scandal during the 2016 US presidential election. 
"This is one of our top priorities: to make sure that we prevent anyone from interfering in an election as the Russians were able to do in the United States in 2016," Zuckerberg said.
To combat interference, Facebook is introducing a number of transparency measures to reduce fake accounts. He said those features will be rolling out this summer.
1:36 p.m. ET, May 22, 2018
Zuckerberg: No place for hate speech, bullying and terror on Facebook
Mark Zuckerberg tried to assure members of the European Parliament that Facebook is working to flag destructive content on its platform.
"The bottom line here: Hate speech, bullying, terror, violence, all this content has no place on our services."
The Facebook CEO said the company needs to do a better job at executing its policies and upgrading its platform and AI systems.
Zuckerberg conceded that Facebook will "never be perfect on this."
But he said the company is working on being more proactive, versus reactive.
1:14 p.m. ET, May 22, 2018
European Parliament member: "I really think we have a big problem here"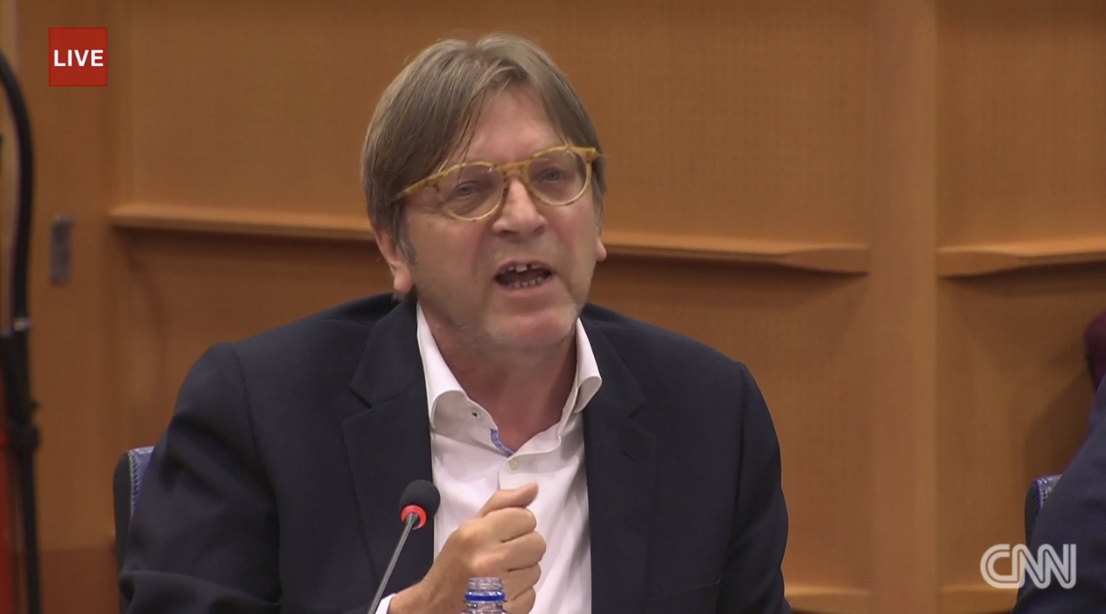 Guy Verhofstadt, chair of the Alliance of Liberals and Democrats for Europe, said Europeans want Facebook to accept regulations for its platform.
He also wanted to know if Facebook would "open your books" to see if it has a monopoly over social media.
"I really think we have a big problem here," he told Facebook CEO Mark Zuckerberg today.
Verhofstadt then asked Zuckerberg to think deeply about his legacy and future.
"You have to ask yourself: How you will be remembered as one of the big internet giants, together with Steve Jobs, I should say, and Bill Gates, who have enriched our world and our societies?"
"Or on the other hand, the fact that a genius would create a digital monster that is destroying our democracies and our societies. That's a question you have to put for yourself."
12:59 p.m. ET, May 22, 2018
The tough questions lawmakers are asking Zuckerberg right now
From CNNMoney's Seth Fiegerman
Multiple members of the European Parliament pressed Mark Zuckerberg on whether Facebook is a monopoly, with one asking whether the CEO could convince him that Facebook does not need to be broken up.
These were just some of the tough, pointed questions directed at Zuckerberg early in the hearing.
Members also asked Zuckerberg about Facebook's data collection practices, tax policies and whether he could guarantee no other data scandals are coming in the near future.
12:58 p.m. ET, May 22, 2018
Zuckerberg's opening statement sounded quite familiar
From CNNMoney's Seth Fiegerman
Mark Zuckerberg kicked off his appearance before the European Parliament with a list of talking points that sounded very similar to what he told Congress last month.
He apologized for Facebook's platform being used to spread fake news and misinformation campaigns.
He talked up the need for the company to take a "broad" view of its responsibility.
He also repeated his intention to spend enough on security that it impacts Facebook's profitability.
Here's what he told Congress in April: