India election phase 5: Latest updates
6:50 a.m. ET, May 8, 2019
For more on India's election
For Prime Minister Narendra Modi's rally in New Delhi and other election coverage read more.
6:59 a.m. ET, May 6, 2019
Election tourism offers travelers a chance to see Indian democracy in action
From CNN's Kate Springer
For most travelers, a trip to India might center around temples, forts, festivals and food.
But for one niche set of visitors, it's all about "election tourism" right now.
Home to the world's largest democracy -- with up to 900 million votes being cast in the current parliamentary election -- India is an ideal place to immerse yourself in politics, history and culture.
Throughout the elections, on till May 23, local villages, towns and cities are buzzing with energy and events. And that's exactly what Akshar Travels hopes to highlight with its collection of political tours and experiences.
"When elections are happening, it's like a festival over here. The people and all the political parties are holding events, rallies, parties and parades to promote their visions," Manish Sharma, founder of Akshar Travels, tells CNN Travel.
"You can see that the energy and the participation is tremendous. It is in our blood, it's our passion."
This year, the company expects to welcome about 10,000 travelers on its six- to eight-day election tours. Each group is accompanied by a dedicated guide, which Akshar Travels has hand-picked and trained.
So far, Sharma says the majority of guests tend to be researchers, university students, special interest groups, history lovers, culture enthusiasts and journalists from all over the world -- in particular, the United States, the United Kingdom and Japan.
Read more on India's election tourism here.
6:50 a.m. ET, May 6, 2019
Phase five voter turnout 50.32% at 3 p.m.
India's Election Commission has released its estimated voter turnout from polling for phase five, as it stands at 3 p.m. local time.
Estimated turnout across all seven states voting Monday is 50.32%. A more complete turnout will be released at the close of polls.
Here's a state by state run down as it stands currently:
6:47 a.m. ET, May 6, 2019
Phase five in pictures
Some 87 million voters across seven states are casting their ballots today in India's mammoth elections.
674 candidates are contesting for 51 seats in the Lok Sabha -- India's lower house of parliament.
Here's the polling in pictures:
Security is tight in Shopian district in Jammu and Kashmir, where a group attempted to set fire to a school which was housing a polling station but were stopped by security officials.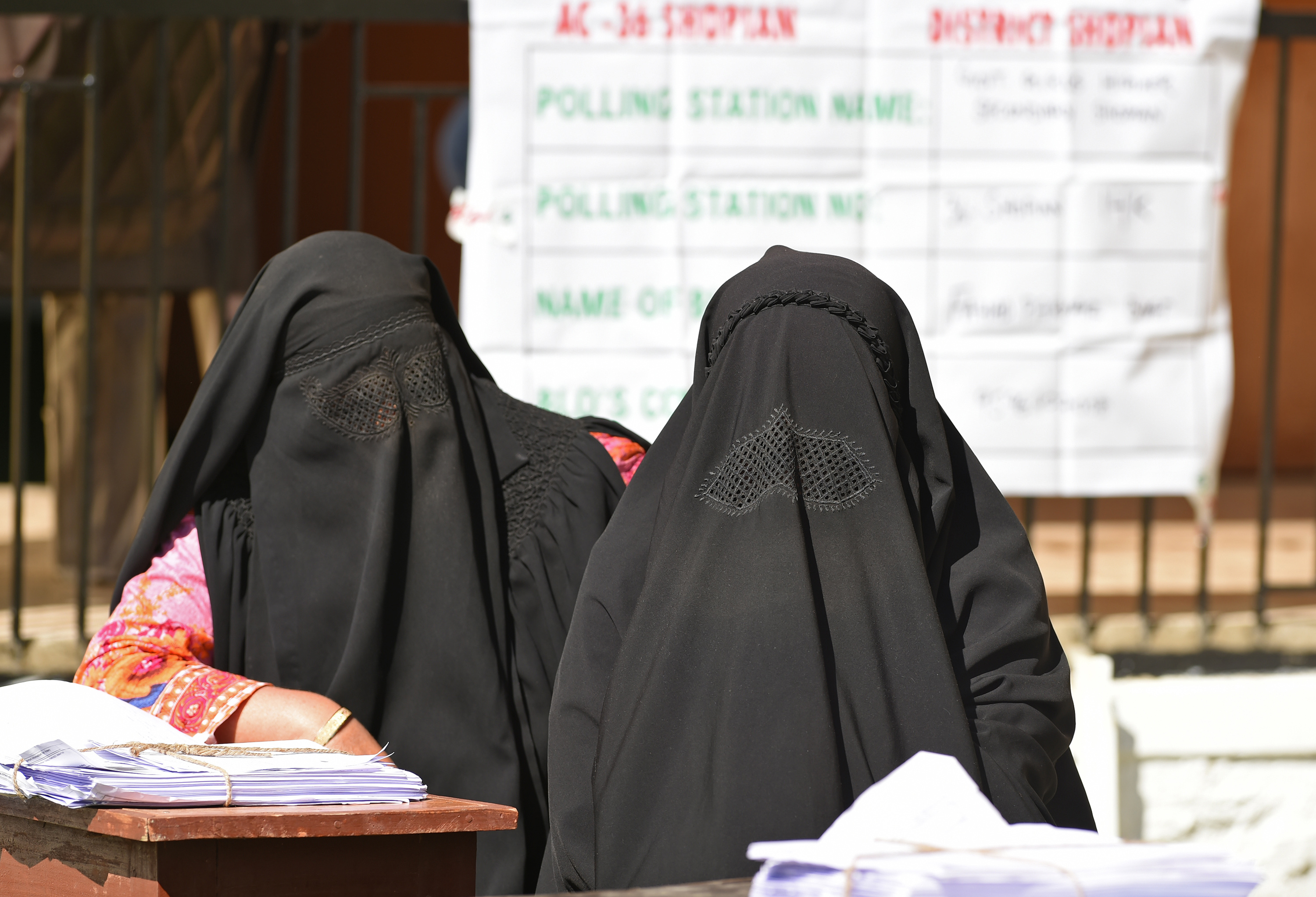 Kashmiri women wearing burkas work at a polling station in Shopian district, south of Srinagar.
Indian women walk past a queue of voters at a polling station in Charanwala village, in Sanganer on the outskirts of Jaipur.
Voters queue at a polling station to cast their vote in the village of Panwaliya in Sanganer, on the outskirts of Jaipur.
An Indian woman poses for a picture as she shows her ink-marked finger after casting her vote in village Kapoorawala on the outskirts of Jaipur.
6:10 a.m. ET, May 6, 2019
Modi urges people to vote today 'in large numbers'
Indian Prime Minister Narendra Modi urged those voting Monday to do so in large numbers.
There are 87 million people eligible to vote today and they'll be doing so in 96,000 polling stations in constituencies across seven states, mainly in the north and central India.
Those states include the massive Uttar Pradesh, restive Jammu and Kashmir, Bihar, Jharkhand, Rajasthan, Madhya Pradesh and West Bengal, which recently felt the brunt of Cyclone Fani.
5:47 a.m. ET, May 6, 2019
Modi visits cyclone-ravaged Odisha
Indian Prime Minister Narendra Modi visited Odisha state to inspect the damage wrought by Cyclone Fani.
The state was hit by an "extremely severe cyclonic" storm Friday with more than 100 million people in its path.
Due to rapid evacuation of villages along the coastal region accompanied by door-to-door warnings and instruction by the National Disaster Response Force (NDRF), the state was able to avoid a high death toll.
"Around 30 people have died due to the cyclone," said Sanjeeb Panda, senior official with the Odisha police.
The casualties died due to wall or roof collapse or in some instances when a tree was uprooted and fell on them, he added. The state does not have a count for the number of injured yet as officials are still working to restore communications, electricity and infrastructure.
"The people Odisha have done a great job. They should be appreciated. The fishermen should be appreciated. It is because of them, there were fewer deaths. Otherwise we were scared as to what will happen," said Modi in Odisha.
Modi also reiterated the monetary commitment of the federal government and announced that a total of $144 million will be given to the state along with man power and technology needed to rebuild.
The cyclone weakened as it moved up to West Bengal and later to Bangladesh where 2.1 million people were evacuated to thousands of shelters.
Four people died and 53 people were injured in Bangladesh due to the cyclone, said Enamur Rahman, State Minister for Disaster Management and Relief in Bangladesh
5:49 a.m. ET, May 6, 2019
City at the center of bomb attack goes to the polls
From CNN's Manveena Suri and Mukhtar Ahmed
Voters are casting their ballots in Pulwama district in Indian-administered Jammu and Kashmir -- the site of a car bomb attack that killed 40 Indian paramilitaries in February this year.
India claimed neighboring Pakistan had a "direct hand" in the February 14 bombing, and responded by sending fighter jets across the Line of Control (LoC), the de facto border that divides the disputed region between India and Pakistan.
Pakistan disputes India's version of events and denies any role in the bombing.
Polling in Pulwama comes just days after Gul Mohammad Mir, district vice-president of Anantnag district in Jammu and Kashmir, was shot dead by suspected militants.
Mir, 60, a member of India's ruling Bharatiya Janata Party, received bullet wounds to his chest and abdomen on Saturday. He was taken to the Anantnag district hospital where doctors declared him dead on arrival, according to CNN affiliate News 18.
Neighboring Anantnag and Pulwama districts are two of six parliamentary constituencies in Jammu and Kashmir state.
Security has been further tightened ahead of polling.
Earlier in the day, district officials confirmed that a blast-like sound was heard near a polling station in Pulwama. However, no damage or casualties were reported.
In Shopian district, also a part of Anantnag, a group attempted to set fire to a school where a polling station was set up but were stopped by security officials.
Voter turnout is expected to be low with numbers as of 1 p.m. local time at just 1.5% in Pulwama.
Read more on Kashmir here.
1:38 a.m. ET, May 6, 2019
Here's who is voting today
From CNN's Manveena Suri
Votes are being cast in 51 constituencies across seven states in the fifth phase of India's general elections.
In northern Uttar Pradesh state, the constituencies of Amethi and Raebaerily will be key battlegrounds. Both are considered strongholds of the Gandhi-Nehru political dynasty.
Rahul Gandhi, president of the main opposition Congress party, will be contesting from his current seat of Amethi. In the 2014 elections, Gandhi won the seat by with a margin of over 100,000 votes. Gandhi has represented the constituency for three consecutive terms since 2004, his first election.
Challenging him is the ruling Bharatiya Janata Party's Smriti Irani.
Neighboring Raebaerily is being contested by his mother Sonia Gandhi who is seeking a fourth term. She has held the seat after vacating Amethi for her son Rahul.
Also in Uttar Pradesh, India's Home Minister Rajnath Singh is seeking re-election from Lucknow.
1:31 a.m. ET, May 6, 2019
Just joined us? Here's a catch up on India's election so far
The world's largest exercise in democracy is well underway, with the fifth round of polling taking place on May 6. We'll be following every twist and turn as up to 900 million people vote to choose their next leader. 
Due to the sheer size of the operation, polling will unfold over seven phases around the country ending on May 19.
The results will be declared on May 23.
87 million people will be voting across 7 states today for 51 constituency seats.
Key issues include the economy, jobs and unemployment.
Prime Minister Narendra Modi and the Bharatiya Janata Party (BJP) are seeking re-election after a landslide victory in 2014.
They face a fragmented opposition but competition could come from the Congress Party, led by Rahul Gandhi.