'I know she is still alive'
The headline on the front page of Sycamore's afternoon paper screamed the bad news that everybody in town already knew: "Missing Girl, 7, Feared Kidnapped."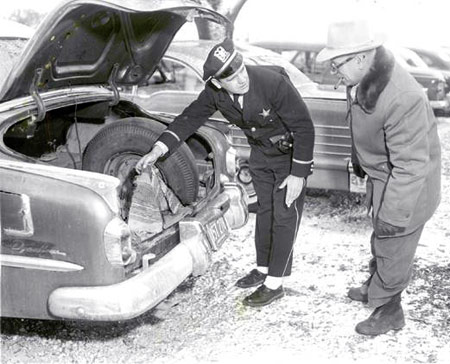 Foul play was suspected, but there were no clues. When she vanished, the newspaper said, Maria was wearing a brown, three-quarter-length coat, black corduroy slacks, brown socks and freshly polished saddle shoes. She was 43 inches tall, weighed about 55 pounds, and wore her hair in a wavy brown bob with bangs.
The man who called himself Johnny, police said, wore a striped sweater of blue, yellow and green. He had long, blond hair that curled in the front and flopped onto his forehead.
Already, there were conflicting reports about the exact time of Maria's disappearance. Was she snatched closer to 6 p.m.? Or did it happen later, at about 7? Police and FBI reports, as well as news accounts from the time, contain details that support both scenarios.
Sycamore's police chief, William Hindenburg, told FBI agents that Kathy and Maria went out to play at 6:02 p.m., but the DeKalb County sheriff said Maria didn't call Kathy and ask her to come out and play until 6:30. Maria's mother later altered her original estimate, saying the girls could have been outside as early as 10 minutes to 6.
When the case was reopened half a century later, every minute would matter.
As the days passed, Maria's mother pleaded with the kidnapper for her daughter's safe return. "God forgives mistakes. We would, too," Frances Ridulph, 44, said, using the media to send a message to whoever might have her daughter. Maria was "nervous," she said, a nail biter who could quickly become hysterical if things didn't go her way.
Maria would make a noise if something seemed wrong, her mother said. And no kidnapper "would put up with that for long."
"Whoever took her away hit her weak spot. He played with her," the frantic mother added. On television, she delivered a message to her baby: "Don't cry, Maria. Above all, don't cry. Don't make a fuss. We'll be with you soon."
Maria's father, Michael, who earned $80 a week at a wire and cable factory in Sycamore, scolded reporters camped out at the police station: "For God's sake, quit saying she is dead. I know she is still alive. Nobody would have any reason to kill her."
Later, he pulled one reporter aside and explained, "I want fathers to help look for my little girl."
Chuck Ridulph accompanied his dad to the fire station on the morning of December 4 and was assigned to a search team. Hundreds of people fanned out over the fields surrounding Sycamore. Others opened car trunks and cellar doors.
"People were even carrying guns," he recalled.
In a neighborhood called Johnson's Greenhouse, where new streets were going in, Chuck was asked to climb down a manhole because he was the only one in the search party small enough to fit. Later, searchers joined hands as they walked in a line through the frozen cornfields where Sycamore High School now stands. They found a gunnysack of abandoned kittens, and that unnerved Chuck. Other searchers discovered a torn, bloody petticoat in a farm field, but it was not Maria's.
Two FBI agents took up residence in the Ridulphs' parlor. A half dozen crop-dusters and military planes circled the sky, searching. The J-11 Roping Club sent riders out on horseback.
Local police with bullhorns urged residents to keep their porch lights on and report anything suspicious. The Illinois State Police set up half a dozen roadblocks; railroad cars, motel rooms and the bus station were searched — as was every house in Sycamore.
Maria's doll and blue hairbrush were shipped off to the FBI lab near Washington for analysis. So were her schoolbooks, a toy oven, a tin saxophone and records of songs such as "Three Little Kittens" and "The Farmer in the Dell." They bore witness to a childhood interrupted.
Her little friend, Kathy Sigman, found herself under 24-hour police guard. The family doctor checked her for signs of sexual molestation. The newspapers ran a picture of Kathy showing off her mittens and pointing to the corner where Maria was snatched.
Kathy spent hours poring over mug shots of ex-cons and what police called "known perverts," but she didn't see Johnny. She remembers the shouting reporters and flashing camera bulbs that appeared every time she was escorted to a police lineup. At first, she enjoyed the attention, but as the case dragged on she felt exposed, like she was being put on display.
She recalls her mother bending down, placing her hands on her shoulders and looking her square in the eye.
Remember his face, Kathy, she said. You have to remember his face because you are the only one who can catch him. You are the only one who knows what he looks like.