Raw, rustic charm runs all the way through Canada's Cape Breton Island. You'll find it in the locals and the land and the toe-tapping music.
A rugged 110-mile-long island in northeastern Nova Scotia, Cape Breton sits between the Gulf of St. Lawrence and the Atlantic Ocean, rising to the province's highest point at nearly 1,750 feet above sea level.
Though not uncharted by scenery seekers, only one in five -- mostly Canadian -- visitors to Nova Scotia make it to Cape Breton, according to tourism figures. And less than 10% of international visits to Canada include Atlantic Canada at all.
To see what you've been missing, drive the Cabot Trail.
Cutting curly ribbons through the wilderness, the roadway loops around the northern part of Cape Breton, hugging the coasts for views that beg for a stop. You can finish the loop in a day, but to really explore, you'll need longer.
Along the way, near-vertical rock faces plunge to the water below, while the textured terrain seems to mirror a hearty local blend of Scottish, Acadian, Mi'kmaq and Irish traditions.
John Cabot visited the island at the end of the 15th century, and it had stints as a colony of France and Britain before rejoining Nova Scotia in 1820.
Gaelic culture is thick here, with fiddle music at its core. Cape Breton native and award-winning fiddler Natalie MacMaster describes the sound as "a hand-me-down tradition."
"The people and the lifestyle, it all goes, it all matches. Even the land, if you look at Cape Breton Island, it's similar to the music in that it's a rugged land, it's beautiful, it's strong, it's not refined. It's very, very natural."
For pure nature, stop along the top of the Cabot Trail in Cape Breton Highlands National Park, where 26 hiking trails invite you to explore the wilderness on foot.
There's rich history, too.
The impressive Fortress of Louisbourg recreates part of a key French trading harbor and fortified capital as it was during the 1740s when the island was known as Ile Royale. The site is on the eastern coast less than an hour from Sydney, the island's urban center.
Just don't lose yourself in sightseeing so much that you miss out on experiencing the traditional music at a ceilidh (pronounced kaylee), Gaelic for a party or gathering.
Check local listings, visit pubs such as the famous Red Shoe in Mabou, or attend a square dance at the West Mabou Hall, MacMaster suggests.
"What you see is what you get" in Cape Breton, she says. "It's just an honest place in this world that really doesn't change too too much."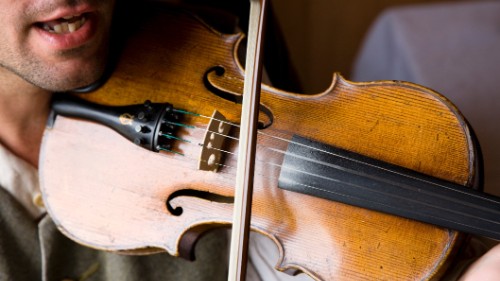 Fiddle music is a rich Cape Breton tradition. (Pete Ryan/National Geographic/Getty Images)