Hong Kong protests: In the thick of it
Tens of thousands of people are expected to swell pro-democracy protests in central Hong Kong on National Day, October 1. For days, protesters have been sleeping in the streets, preventing traffic from flowing through the city center. Volunteers have been bringing supplies, including water, food and umbrellas, which have become a symbol of the city's so-called "Umbrella Revolution." They were used earlier this week when police shocked protesters by firing tear gas and pepper spray into the crowd.
The student-led unrest was sparked by China's insistence that it vet candidates for a 2017 election in Hong Kong - even though residents in Hong Kong had been promised that they would be able to freely elect their leaders. The protest marks the biggest demonstration in Hong Kong since it the British handed over the territory to China in 1997.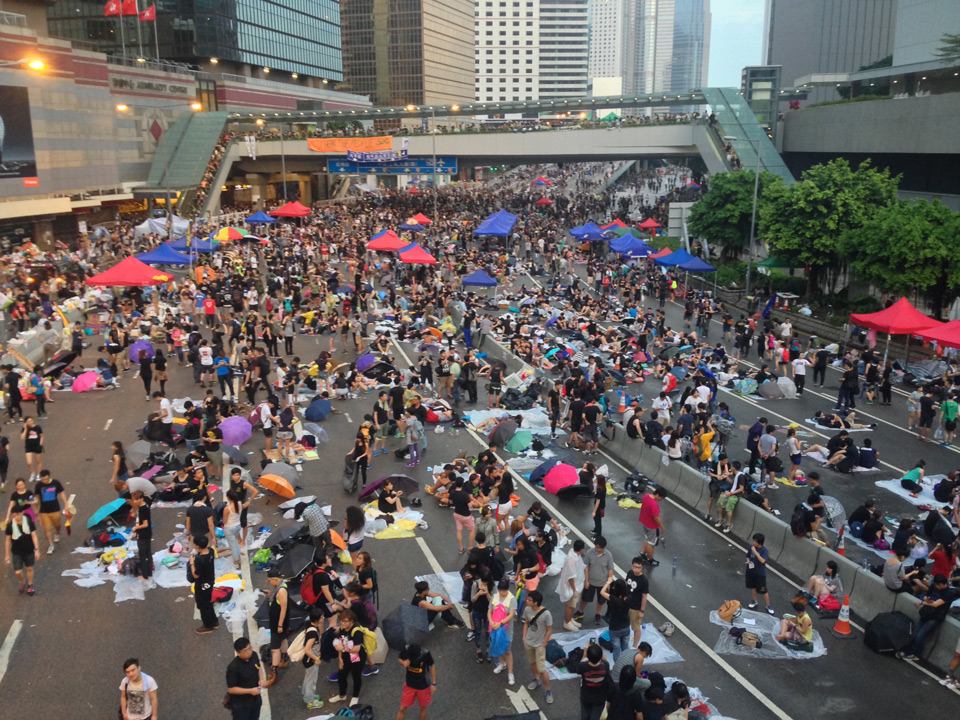 The sun rises in Hong Kong on National Day, Wednesday 1, as protesters weary from the night before get some sleep. (Photo: Vivian Kam/CNN)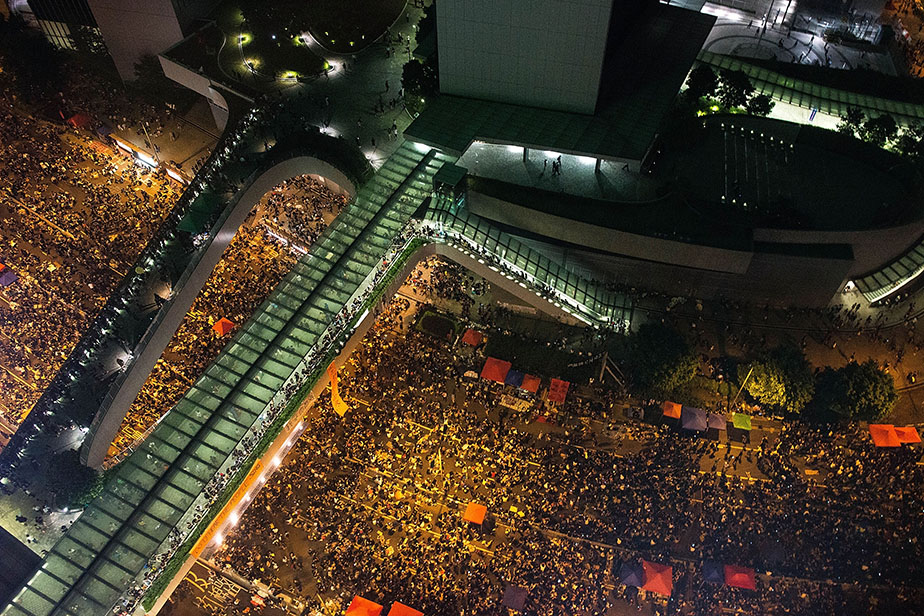 Protesters continue to rally outside the Hong Kong Government Complex on Tuesday, September 30, 2014. Hong Kong Chief Executive C.Y. Leung urged protesters to clear the roads Tuesday, saying they might pose a risk to public safety. (Photo: Anthony Kwan/Getty Images)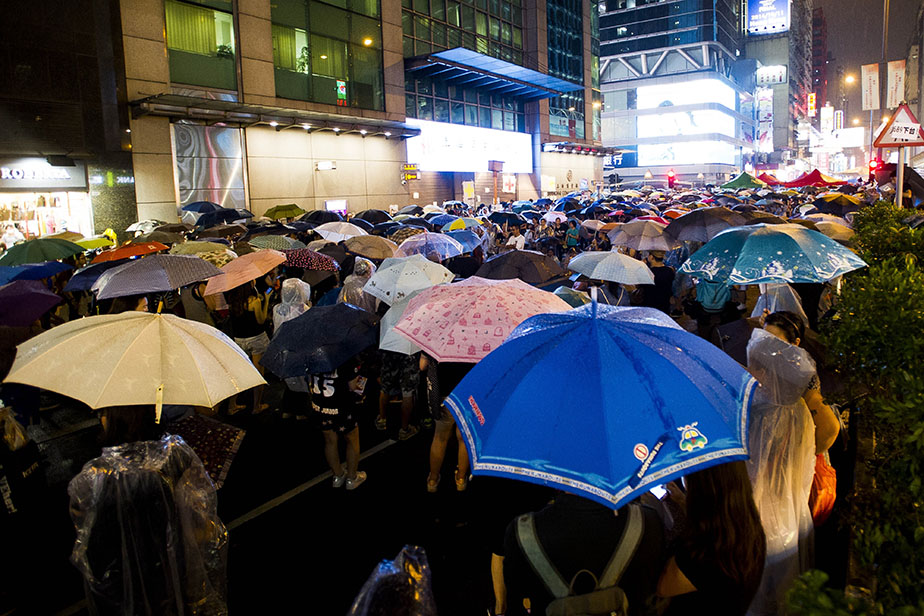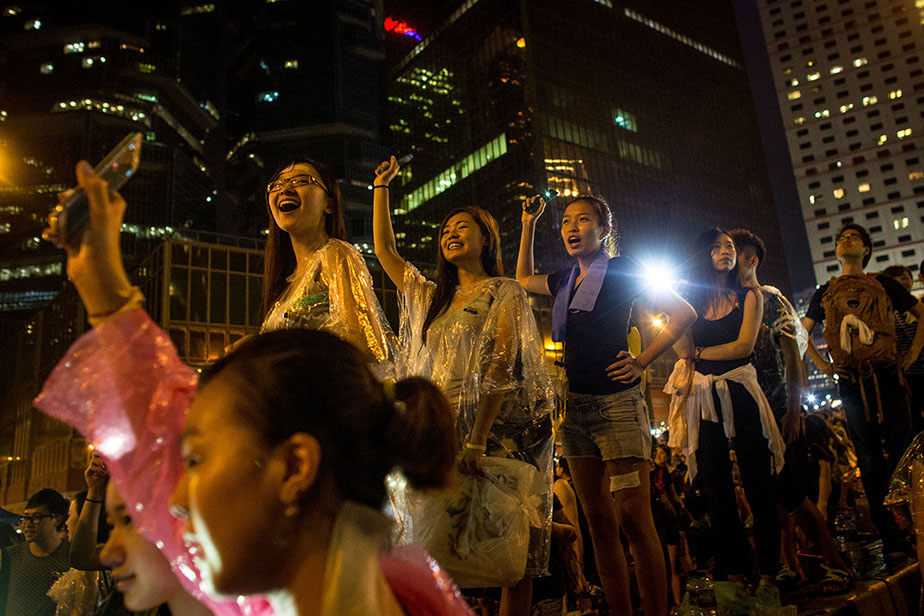 People attend a speech despite rainy weather in the Mong Kok district of Hong Kong Tuesday night. At right, protesters sing and wave their cell phones after the inclement weather passes. (Photos, from left: Xaume Olleros/AFP/Getty Images and Chris McGrath/Getty Images)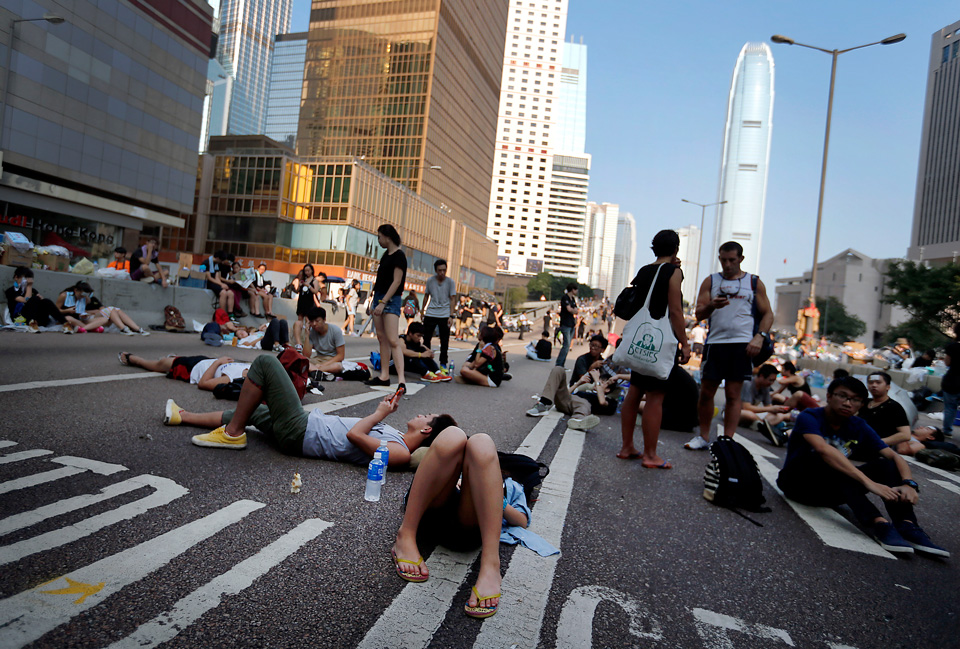 After huge crowds dispersed overnight, hundreds of protesters slept on Hong Kong's main thoroughfare to guard against police moving in to clear the site. Over loud speakers, protesters were urged to stay until 8 a.m. local time Tuesday morning when more demonstrators would join them. (Photo: Wong Maye-E/AP)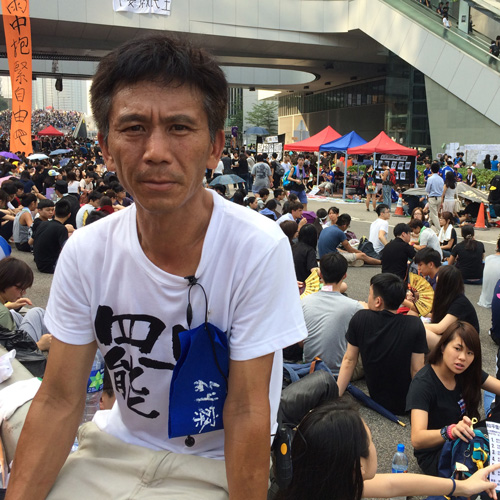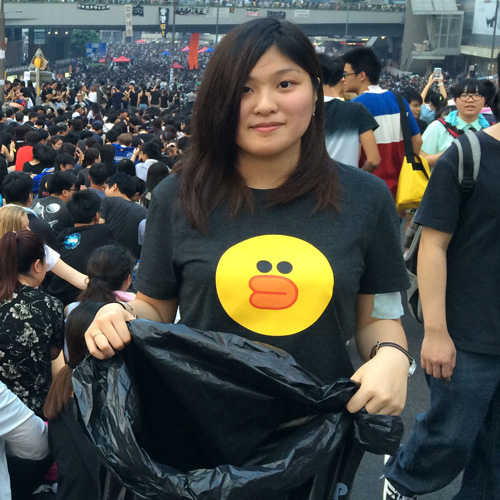 Alex Kwok, left, a senior Hong Kong trade union official, says he's been helping with the organization of the main protest area. After involvement in several pro-democracy protests in the city earlier this year, Kwok says he's coordinating "supplies and discipline" at the current demonstration. The protests are turning "a new page for Hong Kong," he says. Alicia Yu, 19, is a student who's been helping collect trash and distribute food and water to fellow pro-democracy protesters in central Hong Kong. She says the demonstrators, who have taken over key areas of the city, want Hong Kong's Chief Executive, C.Y. Leung, to come and talk to them. "He doesn't respond to us," she says. (Photos: Jethro Mullen/CNN)
CNN's Andrew Stevens reports from the main protest site, near Admiralty, where protesters have set up food, water and aid stations.
Chinese artist Ai Weiwei tweeted, "I am a Hongkonger," to show solidarity with the protesters. He tells CNN's Kristie Lu Stout the protests are being very closely watched in China.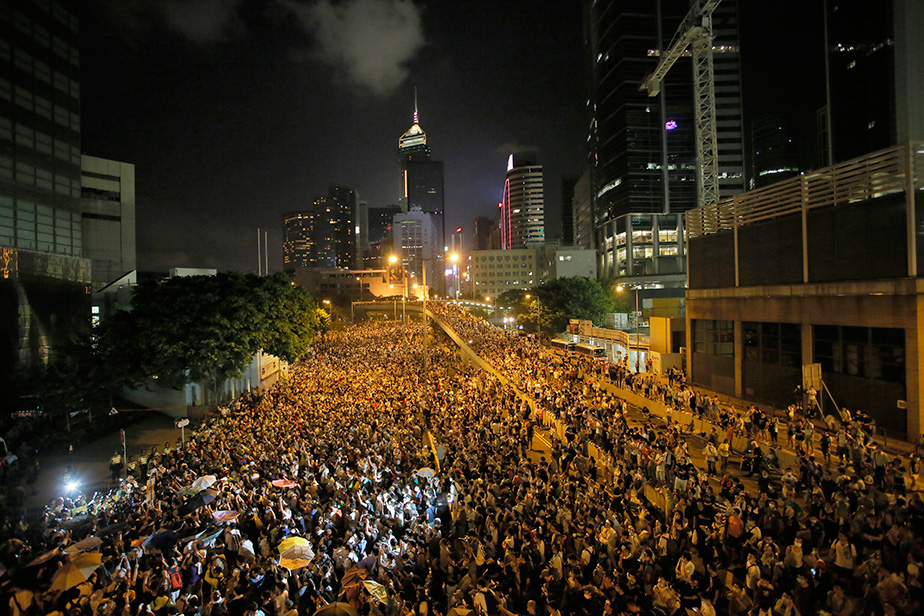 What started as a protest by pro-democracy students escalated into a paralyzing demonstration after riot police tried to clear the streets using tear gas, batons and pepper spray over the weekend. (Photo: Vincent Yu/AP)
CNN's Ivan Watson was reporting live from the standoff between police and chanting protesters – some pleading on their knees --when tear gas was fired, enveloping the crowd. "Both sides were appealing for calm, and then the tear gas just exploded in the midst of everybody," he said.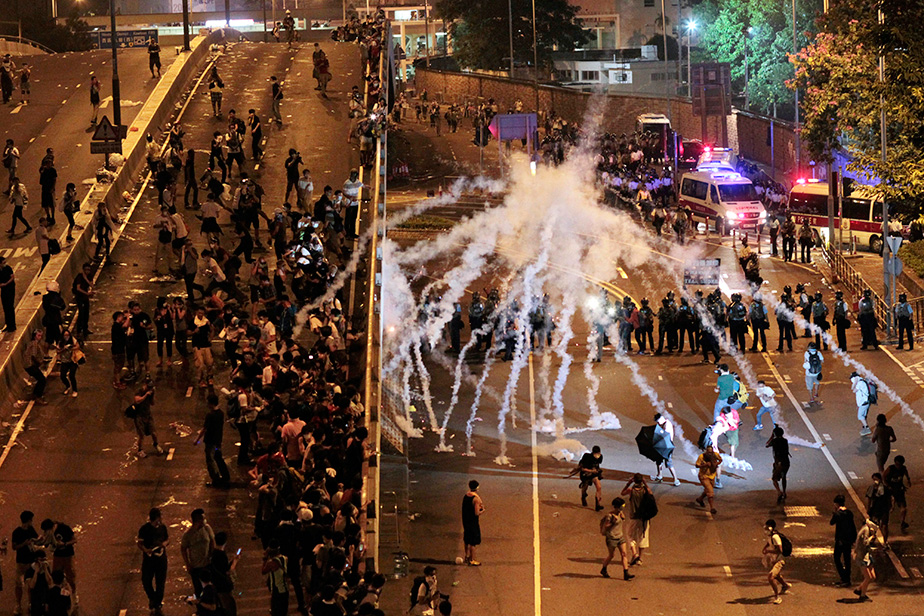 Demonstrations began in response to China's decision to allow only Beijing-vetted candidates to stand in the city's 2017 election for the top civil position of chief executive. Protesters say Beijing has gone back on its pledge to allow universal suffrage in Hong Kong, which was promised "a high degree of autonomy" when it was handed back to China by Britain in 1997. Watson said the use of tear gas was unexpected: "People here have never been hit by tear gas before, and it comes as quite a shock to them -- even the use of pepper spray. ... This is a big shock for a city that is famed for its law and order." (Photo: Wally Santana/AP)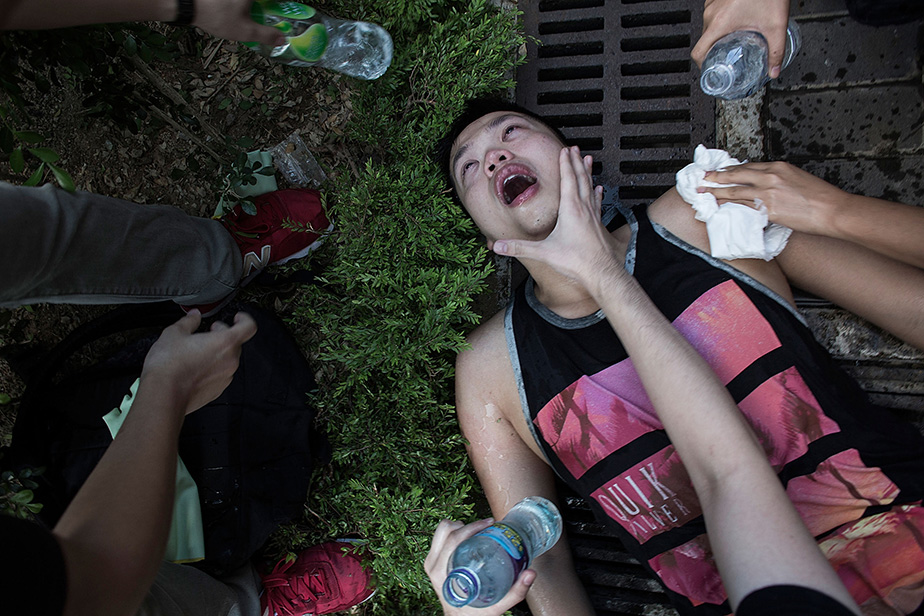 Demonstrators' use of umbrellas to protect themselves from choking tear gas and stinging pepper spray has caused the demonstration to be dubbed the "umbrella revolution." Hong Kong authorities say that more than 40 people have been injured. (Photos: Vincent Yu/AP and Lam Yik Fei/Getty Images)
The crackdown by authorities drew defiance and led to an increased number of people taking to the streets. The protests have been called illegal by the Hong Kong and central Chinese governments, and some commentators have expressed fear that Chinese troops could be used to clear the streets, as happened in Beijing's Tiananmen Square in 1989.
CNN's Ivan Watson and Andrew Stevens capture scenes from the demonstrations.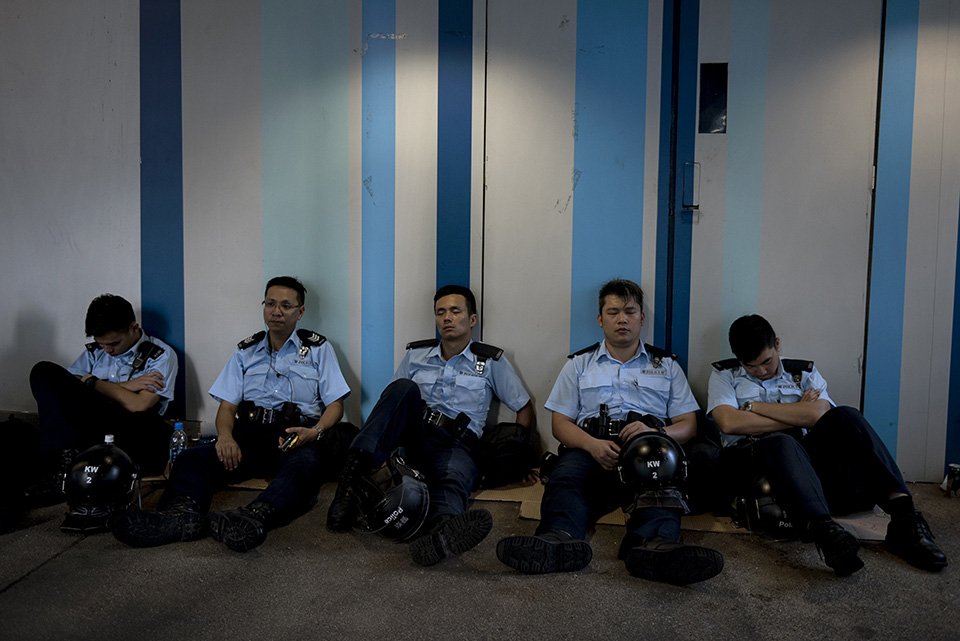 Police officers rest amid the protests. (Photo: Alex Ogle/AFP/Getty Images)
Hong Kong's de facto constitution, the Basic Law, states that Hong Kong will coexist with China as "one country, two systems" for 50 years after the handover of power in 1997. Due to expire in 2047, it states that the city "shall safeguard the rights and freedoms of the residents."
CNN's Susannah Cullinane, Sean O'Key, Ashley Fantz, and Jethro Mullen contributed to this report.