A creed wasn't the only thing Harry missed when he left the church. Nearing 40, he longed to find people, not just authors or online avatars, who shared his new beliefs.
He quickly found one fellow atheist.
A salesman in Harry's business and one of his closest friends, Joey Carabetta, had been a committed nonbeliever ever since a hospital in California insisted on sending chaplains to his then-wife's room when she miscarried.
Talking on the phone one night, Harry and Joey decided to seek out other atheists, and were happy to see a group on MeetUp.com that gathered for "heathen happy hours" and other social events.
If you're going to be an atheist in North Carolina, where 86% of the population calls itself Christian, it helps to live in the Research Triangle. The region's tech companies and universities – including Duke, North Carolina and North Carolina State — draw highly educated and often secular-minded transplants from across the country.
Attending Parenting Beyond Belief play dates and local lectures on atheism, Harry bonded with fellow atheists who shared a sense of being islands amid an ocean of faith, their shores pounded by wave after wave of believers: The evangelists who were invited to their children's schools. The conservative politicians who hold sway at the state Capitol in Raleigh. The neighbors who casually slip church-talk into conversations.
One night, several couples Harry had met through Parenting Beyond Belief gathered at a house in Wake Forest, where they confided their stories about becoming atheists, described how they "came out" to family members and talked about the challenges of raising secular children in the Bible Belt. Looking around the table, Harry thought: These are my people.
Charlotte, though, often stayed home. She was suffering from depression and didn't feel like socializing. Why did her husband need play dates with atheists, anyway?
She also worried about upsetting Harry's parents, who knew he'd left the church but didn't yet know that he was an atheist. What if they asked her about it? What if they asked if she was an atheist, too? At the time, Charlotte tried to embody the Southern image of the perfect wife, doting daughter and self-possessed mother. If people knew she was an atheist, she thought, that portrait would be marred.
Charlotte and Harry had talked about atheism, of course, and all the books he was reading. (Charlotte, who is dyslexic, didn't read as much.) He shared his strongest arguments against God, and often she agreed.
But Charlotte clung to certain religious comforts, especially the idea that she would see her grandmother, Grace, again in the afterlife. "It took me a long time to grieve the loss of that wonderful idea."
It was Grace, her daughter, who convinced Charlotte that she was an atheist. It wasn't a question about Catholicism this time. It was driving lessons. As Grace turned 18 and starting leaving the house with keys in hand, Charlotte found herself praying for her daughter's safety.
One day, it dawned on her: Here she was, asking a God she didn't believe in to protect her daughter. It might help ease her anxieties, she laughed to herself, but it wasn't real.
Eventually, Charlotte agreed to tag along for a few atheist lectures and "heathen happy hours," and, as she met actual atheists, her thinking changed. These people didn't seem to fit the stereotypes she'd been raised to believe. They were open and kind, raising happy, healthy children. She needed to be just as open about her beliefs, Charlotte thought, for the sake of her own family.
"It is who I am, and I need to own it, for myself and to be a good role model to my kids, so that they know that I really believe the things I'm teaching them."
The Shaughnessy children are sharp. They knew something was awry when their Sunday mornings became church-free. But Charlotte and Harry hadn't wanted to explain their beliefs until they were sure they were finished with faith.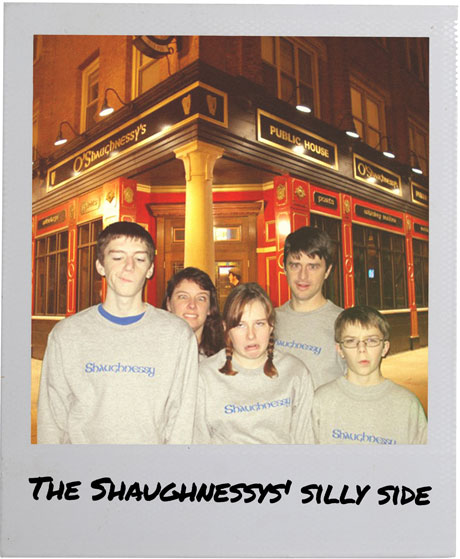 When that day came, they sat Grace, Todd and Brennen down in the living room for a family chat — and blamed all of their angst on Grace.
No, they didn't do that.
Rather, Charlotte and Harry explained that Grace's question about confession inspired them to take a hard look at the religious traditions they'd inherited.
The Shaughnessys never had another family meeting about religion. It's wasn't their style to stay serious for very long. Instead, they relished Harry's ability to invent goofy games and Charlotte's readiness to play along.
Still, Harry and Charlotte seized everyday opportunities to teach their children to be open-minded and skeptical about religion.
If a commercial about Scientology played on TV, Harry told them that it was founded by a sci-fi writer.
If they were learning about American history, he might mention that Mormons believe Jesus once traveled to America.
If they were driving to a family Christmas party, Charlotte listed the pagan traditions, like the Christmas tree, borrowed by Christians.
And if the children wanted to go to Vacation Bible School with their friends or Mass with Harry's mother, Harry and Charlotte let them.
Atheism is what we believe, they told their kids. But they gave their children permission to research and explore religion on their own. If they decided to be religious, Charlotte said, they would have her blessing.
Not that Harry would stand by and watch his children turn into evangelicals. He made sure Grace, Todd and Brennen understood why he found fault with each and every faith.
All three embraced atheism.
Raising atheists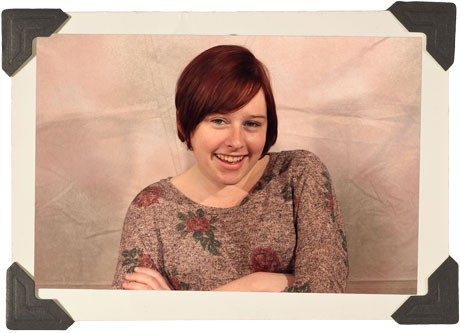 Grace, 22, is almost a carbon copy of Harry, sometimes to her great chagrin. She's funny, silly and smart as heck. At the University of North Carolina-Greensboro, where she graduated last December with a degree in women's studies, Grace was president of the Secular Student Alliance, a campus group for young atheists.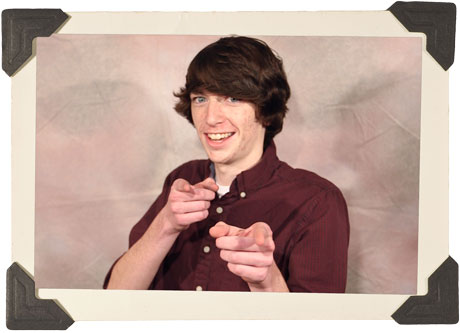 Todd, 19, says he's an atheist but doesn't really care about religion or atheism. By the time he had grown up, his parents had stopped going to church, so he never developed an attachment or antipathy to faith.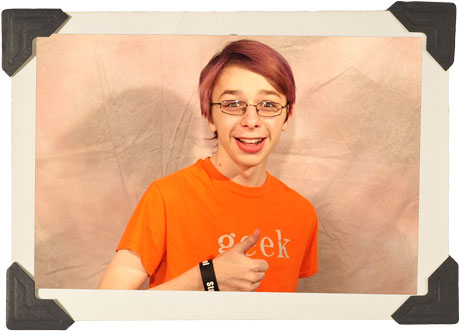 Brennen, 16, says he's the only atheist at his high school but doesn't feel out of place. "I'm out to everyone." The kids in gym class called him "co-pilot" after he wore a T-shirt that said "Science is My Co-Pilot," but Brennen brushed the sobriquet aside. "I ignored them," he says, "because they're idiots."
Harry wants his kids to resist conforming to the South's overwhelmingly Christian culture. Few things tick him off more than people proselytizing to children, so he carefully monitors school calendars and has protested evangelical events that target toddlers. Each year, Harry takes Todd and Brennen to Camp Quest, a secular summer camp where Harry is a counselor.
All this may be too late for Grace, though, who says she can't wait to kick the Carolina clay from her heels and light out for a secular city like Seattle.
Charlotte said she suspects a few parents canceled sleepovers with her children after learning that the Shaughnessys no longer spent Sunday morning in church. Grace and Brennen say they've experienced some awkward moments as the only open atheists at school – but nothing too serious.
The serious difficulties came from Harry's family.
Harry's mother, for one, did not give up on her son and his family. In various ways, some more subtle than others, Marjorie urged them to return to the fold. She told them she prayed for them. She scheduled family events around Mass, hoping they would attend.
When the extended family gathered for dinner, Harry tried to disappear during the pre-meal prayer. He couldn't stomach pretending to pray and would walk out of the room, waiting for his family to finish, hoping they would notice his lack of interest in participating.
Harry's brothers, Jim, 50, and Tim, 42, are believers but don't regularly attend religious services. Jim says their parents were devastated by Harry's break with Catholicism.
Harry's sisters, Ursula, 46, and Trish, 40, are active Catholics married to devout men. Both said they weren't comfortable talking to me for this article.
Both sisters tried to persuade Harry and Charlotte to give the church another try, suggesting books by C.S. Lewis and taking them out for lunch to talk about religion and raising children. Harry and Charlotte say the concern came from a good place. They know Harry's family cares about their souls. Still, they found it irritating.
At Grace's 13th birthday party, her Aunt Trish told her to come to the basement for a special present. There, she gave Grace a set of rosary beads and told her not to tell her parents. At the time, Grace says, she still believed in God. But the present deeply upset her.
Grace took the beads, walked back to the party and promptly gave them to her parents. Then she ran up to her room and cried.
"I was upset because, at this point, there were a lot of mean things happening in my family, and now I was being dragged into it — on my birthday of all days."
Harry and Charlotte were livid.
Harry says his sister felt bad, and it never happened again. But he and Charlotte couldn't help but read the message this way:
Here, please take this gift so you'll become more religious.
I want to save you.
But don't tell your parents.
That last part most troubled Harry and Charlotte.
"Do you really want adults to say to kids, 'Here's something for you and don't tell your parents about it?'" Harry asks. "We don't want to teach our kids to keep secrets."
Harry told his family to stop giving the children religious gifts, and says he returns the favor. He avoids talking about religion with his Catholic nieces and nephews, even when they ask why he doesn't go to church.
But Harry is no saint. He started an online spat with a brother-in-law that led to a serious family feud.
Harry posted something about the Pope on Facebook. Exactly what, Charlotte and Harry can't – or won't – recall.
Ursula's husband, Rod Ruiz, posted a response, and Harry rallied his new atheist friends to join his side. They piled on, and the thread got painfully personal.
Ursula and Rod didn't attend the family Christmas celebration that year. Harry's mother, who lives to have her children together on the holidays, was devastated.
"None of us liked seeing her so upset," Grace recalls. "My dad and everyone else realized: This needs to get better."
Marjorie still sends cards to Harry and Charlotte every Easter, a quick note to let them know that she's arranged to have a Mass said for them. But she has stopped trying to persuade Harry and his family to come back to the church.
I visited the Shaughnessys' church, St. Joseph's, in Raleigh, this winter to talk with their pastor, hoping to understand more about families who disagree about religion. Monsignor Jeffrey Ingham said neither Jim nor Marjorie Shaughnessy had confided in him about Harry, but many other families have sought his advice in similar situations.
"There's only one thing they can do," he said, "and that's pray for their son. It is possible to bring him back to the church, but not by argument — only by example."
Ingham noted that the day we met – December 14 — was the feast day of St. John of the Cross, the 16th-century Spanish friar who wrote about his spiritual crisis in the poem "The Dark Night of the Soul."
John of the Cross suffered intensely, writing some of his poems while imprisoned by fellow friars, but he allowed his agony to goad him closer to God, Ingham said.
"We experience the blahs, the emptiness, the sense that things aren't the way they're supposed to be. But that's all part of God's grace. He's calling us to something deeper."
For many doubters, their angst is sharpened by a sense of isolation, a feeling that nobody knows the trouble we've seen, in the words of the old spiritual. But Harry comes from a large and loving family, which, as he well knows, suffered alongside him. That's especially true of his mother, Marjorie.
"She told me she cries every day," Harry says. "That's painful to hear – but at least she told me."
I asked Harry if anything could change his mind about atheism. He said he's always open to new information but tried to believe in God for a long time.
"My mother says faith is a gift," he says, "and I just don't have that gift."
As he became more involved in atheism, Harry felt the closeness he'd shared with his mother slipping away. He decided to set a monthly lunch date with her.
At first, he says, it was awkward. The chasm between them was hard to bridge. But they found other topics to talk about, like Grace's success at college and Brennen's interest in writing.
After lunch one day, as Harry and his mother walked through the parking lot, she noticed that they both had bumper stickers on their cars.
Hers said "JMJ," which stands for Jesus, Mary and Joseph, the Holy Family.
His: "Imagine No Religion."
Mother and son shared a laugh.