They call themselves the Ice Breakers: six runners with a history of mental illness and a coast-to-coast mission.
Their goal: Break the ice of talking about a once-taboo subject so other sufferers might find help.
These men and women spent the past few weeks running across America -- the first time, they say, that a six-person relay team has made such a journey. Together, they've logged 5 million steps over 3,100 miles.
They began May 15 in Santa Monica, California, and have traversed 11 states. They finished Wednesday near the nation's capital, at Mental Health America's annual conference in Alexandria, Virginia.
They ran in four-hour shifts around the clock every day for 3½ weeks. All six were rarely together at the same time. While one runner hit the road, two RVs and a support van shuttled the other five to and fro.
They were served pie in Pie Town, New Mexico, when word got out about their cause. They got drenched in storms across Texas, and they navigated the gridlock of Atlanta traffic.
'If you need help, go find help. If you can't find help, ask us, and we'll help you find it.'
Team leader Charlie Engle
Dads wept with them about their warrior sons returning home with post-traumatic stress disorder. Moms opened up about their addictions. Sometimes people didn't say anything, just gave them hugs. They were often joined by guest runners, and thousands more followed them on Facebook and Twitter.
The team members -- all accomplished ultra marathoners -- were hand-picked by leader Charlie Engle. Most didn't train for the relay; they believed their bodies -- used to the rigors of running -- could handle it. Engle trusted them and knew they had life struggles that millions of Americans could relate to.
Each stands as a symbol of survival. Of low points. Of pain. Of overcoming. 
Among them: a 23-year-old woman from North Carolina who struggled with self-harm. A recovering addict from Colorado who dropped half his weight in the face of a doctor's death sentence. A California woman who plans to run 200 miles when she returns home because she loves a good challenge.
Their message: Everyone knows a friend or relative who needs help. Reach out to that person to see what's going on.
"Our goal was to talk to people. We are a group of talkers," says Engle. "We wanted to be able to get this message out. To be able to say to people, 'If you need help, go find help. If you can't find help, ask us, and we'll help you find it.'
"I don't care how many tens of thousands of people you reach on the internet or social media, the human contact -- one on one, people coming up to us and running with us -- it's these stories that motivate us. We get to listen to people and allow them a way to tell their stories.
"You'll be surprised how many people respond to that," he says. "You might just save somebody's life."
Each runner knows that to be true: They've been there. If it's you struggling, these six stand as testament to the idea that change is possible.
Meet the runners and read their stories in their own words, which have been edited for length and clarity:
'I like challenging myself further'
Catra Corbett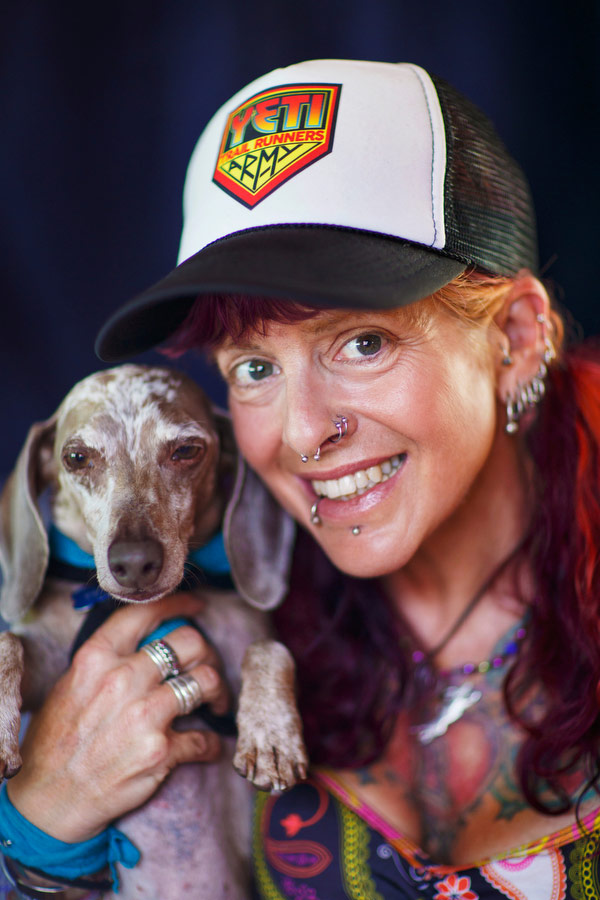 At 51, Catra Corbett is one of the most prolific ultra runners in the world, having run in more than a hundred 100-mile races. A recovering alcoholic and drug addict, she's struggled with anxiety and depression in recovery. She's often seen on trails running with her miniature dachshund, TruMan, who has run with her in several 50K (31 mile) races.
Lowest point: I ended up in a jail cell and woke up thinking, "How did I get here?" That's not who I was or how I was raised. I realized "This is way out of control." That was 1994. When I got arrested, I got scared straight. That was my lowest point, realizing and thinking right before that, "I'm going to be on drugs the rest of my life."
Biggest achievement: I've had a lot of accomplishments running, and people always ask, "What's the most amazing thing you did?" To me, I feel like being clean and sober for 22 years is pretty amazing.
Power of running: It helps to keep me clean and sober, and I like the challenge. I'm constantly challenging myself. So it's not like I'm simply running a 100-mile race, which I've done many times. I've run 122 100-mile races. There's only five people in the world who have done that, and I'm one of them. Kind of a big deal. But I like challenging myself further. I've done 200 miles a couple of times. When I get home after doing this, I'm going to run from my house in the Bay Area up to the top of Yosemite's Half Dome. It will be about 198 miles.
Toughest thing about this run: The humidity. I'm a California girl. I can handle 100-degree-plus weather and heat, but humidity is very zapping. There was a day that was 103 degrees and very humid. You're just constantly soaking wet.
Greatest part of the run: Going through New Mexico. It was really beautiful. We had a lot of climbing in there. We got up to 7,700 feet. I like mountains. I'm not a road runner. Even going into this, I was like, "I'm going to get beat up and probably run really slow." But actually I've gotten stronger along the way.
'I run for my mental health'
Charlie Engle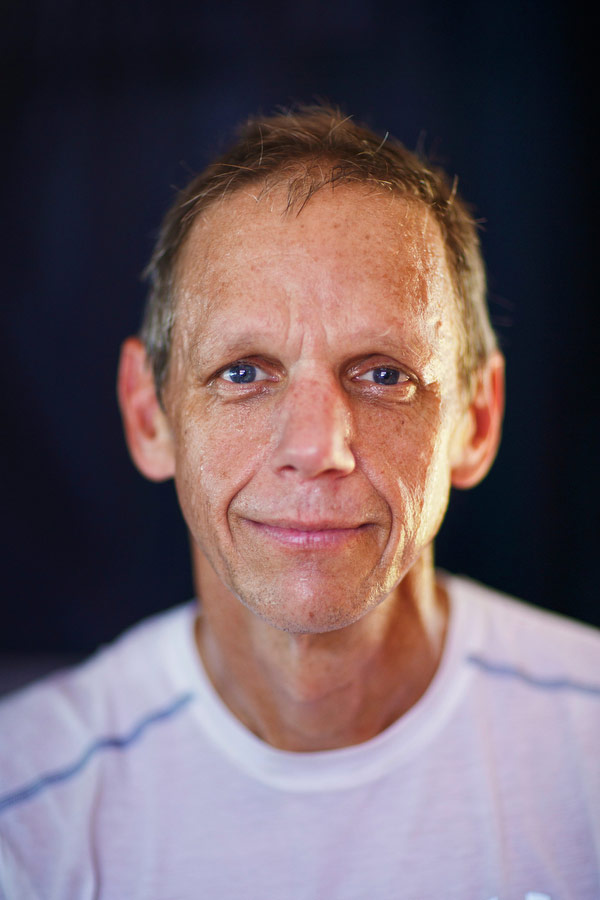 At 53, Charlie Engle is one of the world's most accomplished runners, having run across the entire Sahara Desert in 2007. He is the Ice Breaker team leader, helping plot the course and other logistics between logging his four-hour run every day.
Lowest point: During the Rodney King riots that took place in April 1992, the verdict came in. I was in a $10 a night hotel in Orlando, Florida, and I'd been there for a couple of days. I was not in a good part of town. Riots broke out in the streets a block away. I distinctly remember how much I wanted to escape from that news. So I went into another daylong drug binge just because I wanted desperately to be disconnected. Unfortunately, I had about 50 of those low points. Every time, I told myself, "That's the last time." I finally got clean and sober after a horrendous incident in Wichita, Kansas. July 23, 1992, is my sobriety date. I was sitting outside a hotel in Wichita, Kansas, with bullet holes in my car and police going through it. Literally, at that moment, I said, "This seems like a pretty good time to quit." And that's what I did. I went to a recovery meeting that night. I went to one every day for an entire year.
Biggest achievement: Far and away, the greatest achievement is my sobriety. Without sobriety, I know that I'm dead.
Power of running: I run for my mental health. My grandfather was the head track coach at UNC-Chapel Hill for 40 years. He died when I was young, but I grew up with people in my family telling me, "You're going to be a runner." I wasn't all that fast in high school, but I loved the feeling of running from the time I was a kid. I spent my 20s basically as an addict, and the day I got sober I ran the very next day. I ended up running about 30 marathons in the first three years.
Toughest thing about this run: The logistics is ridiculous. In particular, the sleep logistics. My job is to make the schedule in such a way that the five other runners only have to worry about the running. Their job is to run, and when they're not running, they need to be resting, eating and sleeping. If I'm doing my job right, I'm doing all those things, too.
Greatest part of the run: My two sons grew up with me traveling the world and doing crazy races. This is the very first time my 24-year-old son is with me on this journey. He looked at me the other day and hugged me. He was like, "OK, I get it." Now, both my sons want to go and do things like this. That's hugely satisfying for me.
'This amazing affirmation'
David Clark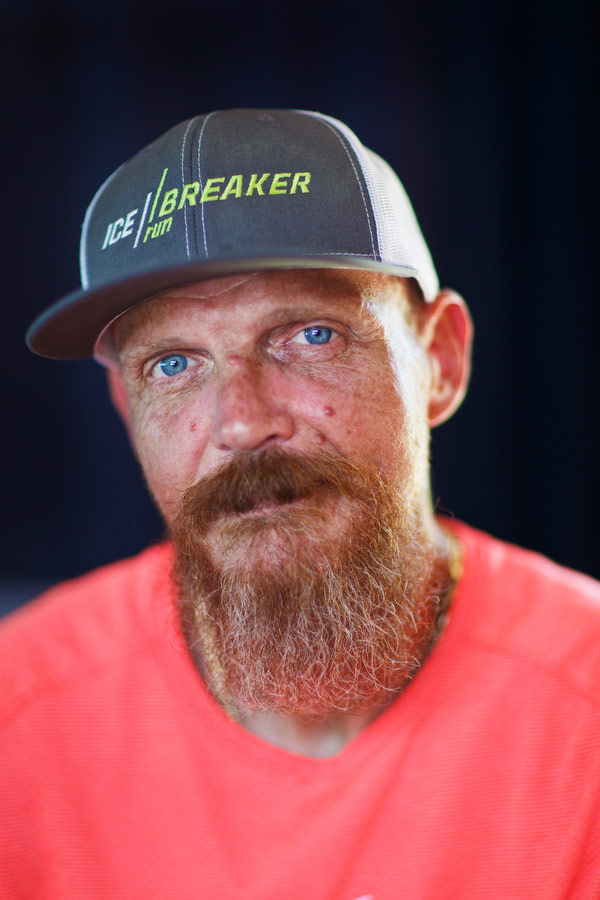 A little over a decade ago, David Clark weighed 320 pounds and struggled with alcohol, drugs, depression and suicidal thoughts. In 2003, his doctor told him he was going to have a stroke and die if he didn't change. Now at 160 pounds, the 45-year-old is a world-class ultra runner and two-time finisher of Death Valley's Badwater 135. He's also the best-selling author of "Out There: A Story of Ultra Recovery."
Lowest point: It was Christmas 2002, and I had just been in a really bad place. I had started passively-aggressively attempting suicide. I would drink all day, and then, at night, I would take five, six, seven Vicodins. I ended up staying awake and getting so intoxicated that I was unable to wrap Christmas presents. I was alert and coherent enough to realize that I should be able to do this simple task but too inebriated to get it done. I ended up wrapping the gifts with black electrical tape and making a mess of the whole thing. The next morning, my wife came down with our two kids. They were too young to really know what was going on – thank God. I felt subhuman.
Biggest achievement: Every day since I got sober. What sobriety gave me more than anything is the ability to be present in my life. There's a thousand simple moments in my life that I would never have experienced if I stayed in that place where I was.
Power of running: I needed something where the emotional stakes were high. I needed a goal, something to interrupt the process. I chose running. I can't even really say why. I never wanted to be a runner. I didn't have runners in the family. But it appealed to me. Now, running has become this amazing affirmation. Before, there was no comfort in life for me. As a result of that, I hid from things that were uncomfortable. To be able to put myself in uncomfortable situations – like running 100-mile races or running across the country – and trust myself that I'm going to come through is just an affirmation of life. Because I used to give up all the time on myself. Always. Now, I've given myself the tremendous gift of believing in me.
Toughest thing about this run: The logistics. That probably sounds absurd. The running is the easy part, but the toughest really is the non-running thing.
Greatest part of the run: When you put love out – purely, authentically put love out – it always finds the right heart to land on. We've seen that along the route. It's been amazing to see who has found out about the run and what it's meant to them.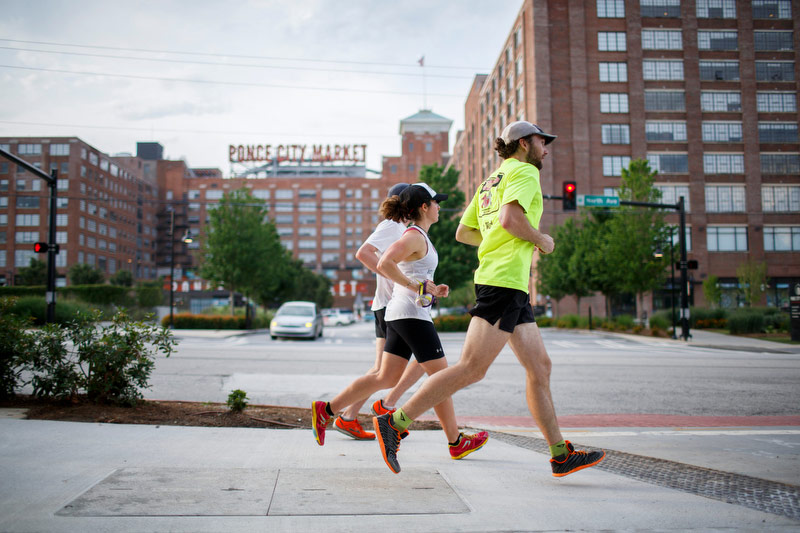 'I run out of 100% gratitude'
Pam Rickard
A mother of three, Pam Rickard has run more than 40 marathons or ultra marathons. The 54-year-old is a recovering alcoholic; 10 years sober, she spends her time working with people struggling with substance abuse issues.
Lowest point: I experienced three DUIs within 18 months. I never went to bars, but I was drinking at home. I was drinking when I was driving to and from places. My lowest point wasn't even my third DUI, which was in February of 2006. My lowest point was several weeks after that. I was in my own bathroom, and I hated myself. It was the first time I ever felt like I understood what it felt like to want to commit suicide. Not because I was sad or angry or upset. I just felt so scared and so empty that I truly didn't think I could get well.
Biggest achievement: No doubt about it: restoring the relationships in my family. My husband of 30 years, Tom, and I have never been stronger and closer. I wouldn't wish addiction on anyone, but I'm telling you: If you trust the process and are willing to fail and stumble along the way, you can come out of it stronger than you were before. I've seen it in other people, and I've certainly experienced it myself.
Toughest thing about this run: Honestly, the relentless nature of it. I love these people. I've been laughing my head off. I love hard things. I'm choosing to be tired and exhausted and thirsty and hungry. But it is relentless.
Greatest part of the run: My oldest daughter was a loving, wonderful kid, but she was so hurt and so scared by my alcoholism, she was not willing to forgive me. Even after she got over all the anger, she said, "Mom, I just want you to know that I'll never respect you or love you. But I'm glad you're sober." That was when I was about a year and a half sober. Last week, she and her husband drove to Dallas to surprise me on this run. I can't even put into words. ... That's just an example of how far we've come. When I saw her, it physically fueled me. It completely surprised me. She showed up in the middle of the road, figured out where I was going to be and found me. It was like a movie.
Power of running: I started running in college. I smoked. I drank. I got away with a lot of stuff. I ran in a race as a joke in college, and I kind of liked it. So I kept running. But now I run – it might sound kind of dorky -- but I run out of 100% gratitude. Even 10 years down the road of sobriety, I can't believe it.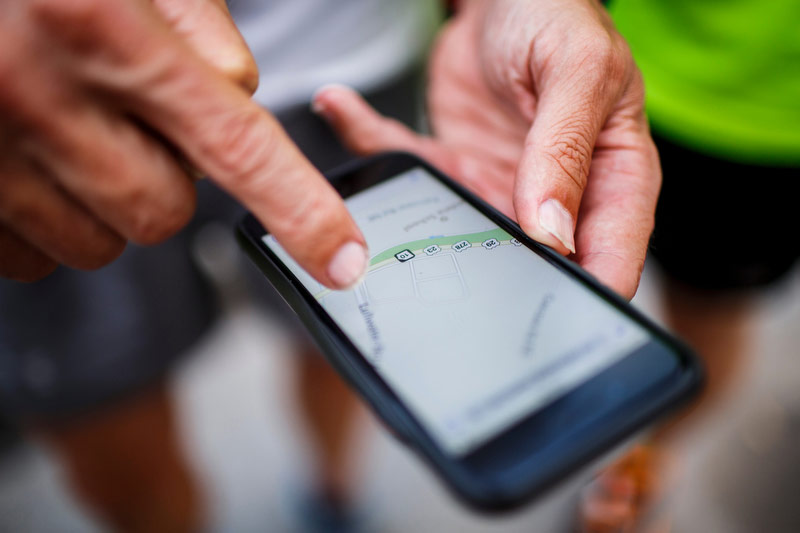 'My release and my escape'
Phil Nimmo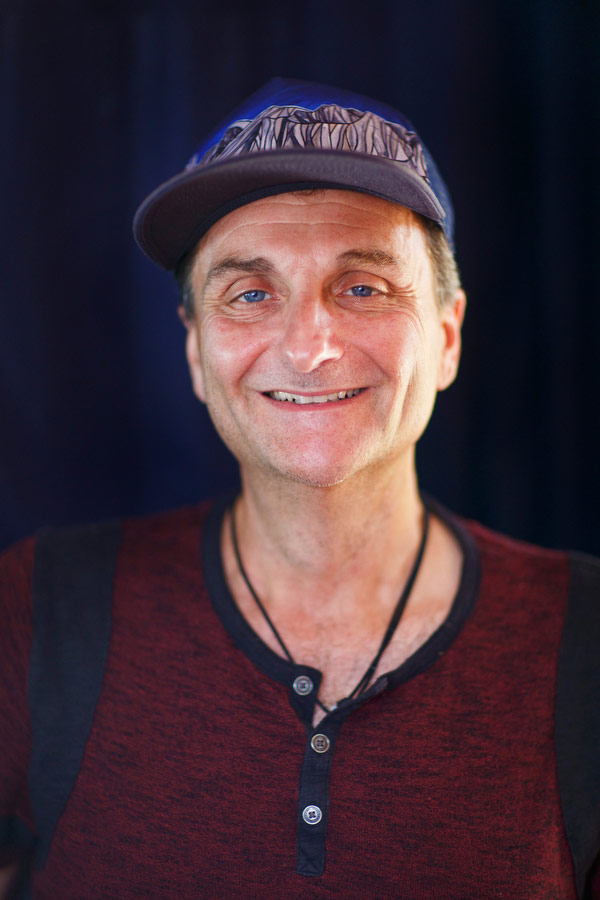 At 52, Phil Nimmo wasn't an original member of the Ice Breaker team. He stepped in when another runner tore his Achilles tendon in Texas. Nimmo had seen the team off in California and had planned to be a guest runner with them in Texas. However, he soon became a permanent fixture.
Lowest point: In my high school and college days, partying was taking precedence over pretty much everything. It was having an impact. My family recognized it and tried to get me to realize it earlier. I was slow to respond. After graduating, I continued my habits until I managed to rack up a couple DUI or impaired arrests and convictions. Two in a six-month period was enough to get my attention, to say, "You know what, my choices are out of hand. My habits do need to change." I was in my early 20s, in the late 1980s.
Biggest achievement: I had high cholesterol and needed to lose weight. I didn't know how to get my cholesterol in line. I decided diet and exercise was a great place to start. So I started running and have just gone further and further with it. That was around 2000. So for the last 16 years, my greatest accomplishments were more and more and more pushing myself.
Power of running: I use running as my release and my escape, giving me time to get out on the road and go longer and longer distances. I'm able to think through things and sort out my own life as I go and put my own decisions in check.
Toughest thing about this run: The schedule, trying to get in the groove. Everybody was in their groove when I got here. I had no idea where we were going, what we were doing or what was next up. I've been pretty much in that mode of, "Just point me in the right direction and tell me when to run."
Greatest part of the run: The confidence this group has. They knew I hadn't been training for this. When they had a need, they looked at me and said, "How far can you go? How much can you help us? ... We're glad to have you. Come on out." That's a high point.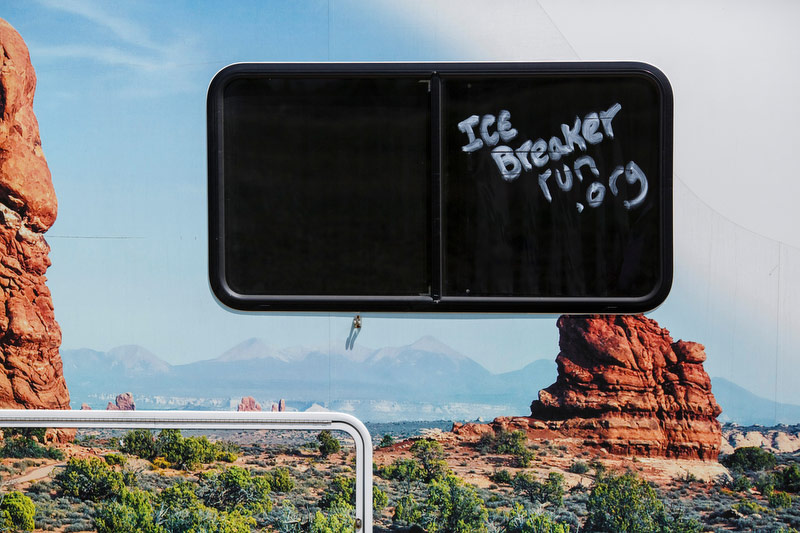 'When I'm out here ... I feel invincible'
Sophie Kashurba
A former cross-county runner at Gettysburg College, Sophie Kashurba credits running with helping her overcome her thoughts of self-harm. At 23, she is the youngest of the six-member team.
Lowest point: Right when it started, around seventh grade. I kind of had the idea of cutting and all of that, but I really didn't have any support. As much as my family would've been there if I had said something, I didn't reach out to them. I wasn't really relying on anyone other than a friend. For a long time, I really didn't see a way out. That was a tough year. Being 13 sucks.
Biggest achievement: Honestly, getting through college without self-harming -- without really struggling as much as I thought I would -- is a big accomplishment.
Toughest thing about this run: Running at night has been the biggest challenge. I've had to learn that whatever's crunching in the bushes is not actually as big as I think it is. The other tough part has been talking to people and just being honest about stuff. This is the first time I've told my story. Sometimes it's hard. You don't know how people are going to react. I've also had some moments when I didn't realize that saying some of the stuff would make me so emotional. It's been a great growing experience.
Greatest part of the run: My mom came out in New Mexico. She's the biggest inspiration in my life, and being able to go out and run with her – and just have her there, especially at night – was incredible. My mom is an ultra runner. She's also one of the team doctors for the Ice Breaker run. So much of my story has to do with looking up to her and knowing that things are possible because she did them first.
Power of running: It honestly started as just a way to hang out with my mom. Then it turned into a way for me to relieve stress. But when I'm out here running, even if I feel awful and crappy and I'm moving 1 mile per hour, I feel invincible. Very few people get up every day and run. That's just a gift to be able to use my body and have a clear mind.
Photo editor: Brett Roegiers
Developer: Sean O'Key