He's toured with some of the greatest rock bands in history, getting the kind of rare access that hardcore fans would almost kill for.
He's photographed Ozzy Osbourne's wedding, played chess with Ray Charles, and spent time in the studio with the Jackson 5.
And now, photographer Neal Preston is opening up his legendary archive and sharing the stories behind his images.
"Neal Preston: Exhilarated and Exhausted," an upcoming book from Reel Art Press, includes many of Preston's iconic photos and some shots that have never been seen before.
"I want this book to really let the reader experience, as much as possible, what it's like to have a job like mine," he said. "When you finish the book, I want you to be able to feel like you've just come off the road with Led Zeppelin for six months and Queen for two months and around the world with Bruce (Springsteen)."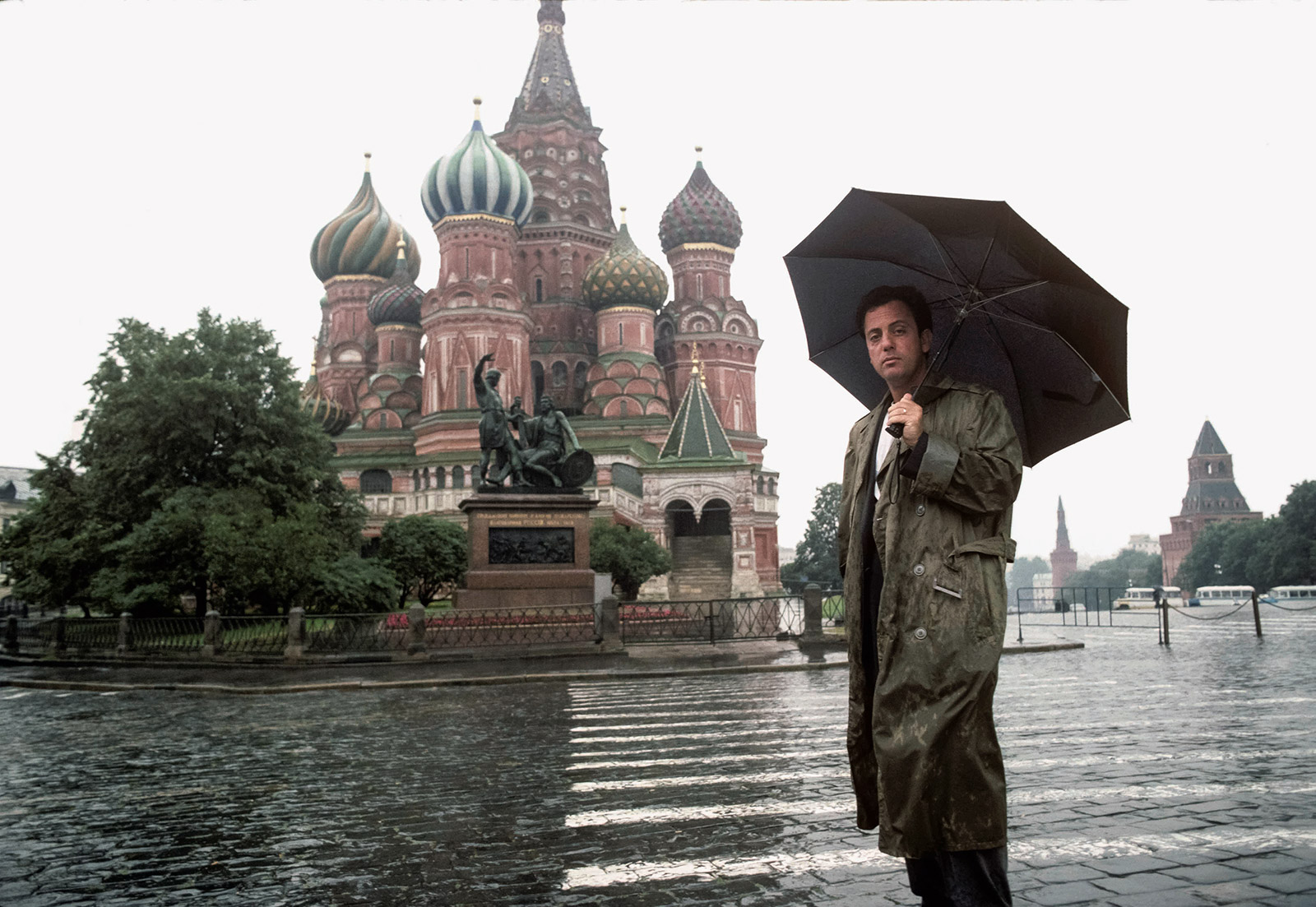 For nearly 50 years, Preston has photographed the biggest names in music. He's photographed them on stage, backstage, on the road and in the studio. Many of his photos have appeared on album covers or in magazines such as Rolling Stone, People, Time and Newsweek.
His new book allows him to take a step back and share details of these shoots, the stars he met, and "the whole roller-coaster ride I've been on."
"I wanted it to be conversational," he said. "I want it to be just like when people come up to the house and look at prints and have dinner or something and everyone wants me to tell them stories."
Here are just a few of the stories Preston shared in his book and in a telephone interview with CNN: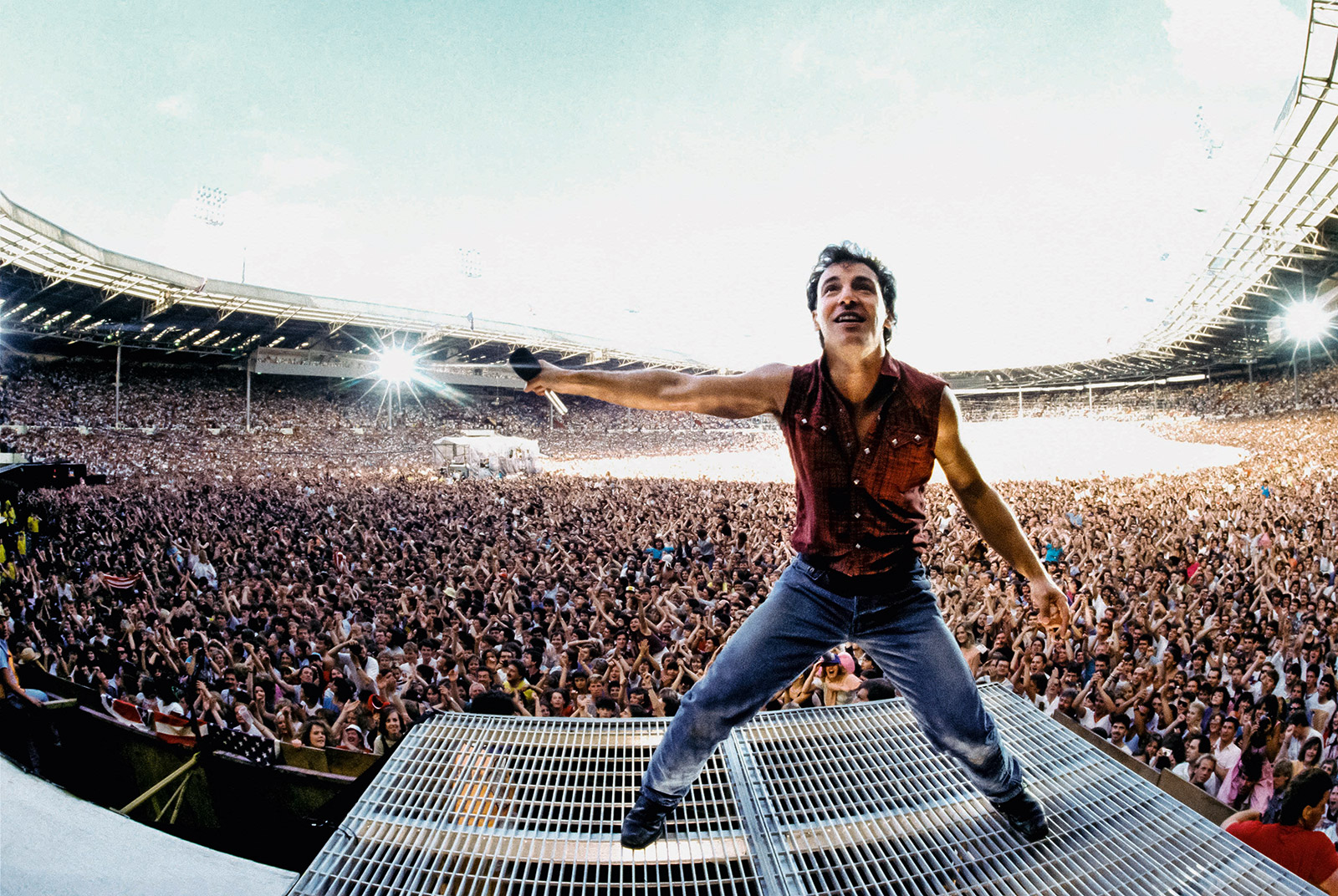 Bruce Springsteen, 1985
Springsteen plays at London's iconic Wembley Stadium during his "Born in the U.S.A. Tour."
Preston was actually under the stage here while Springsteen performed. He had a camera set up on stage, and he operated its shutter with a remote cable.
Preston remembers prepping Springsteen on the plan – face the back of the crowd during "Hungry Heart." But it was frantic right before the show, there were a million things going on at once, and Preston walked out of the dressing room never thinking Springsteen would actually remember to do it.
But "The Boss" was a total pro, Preston said, and he came through. As Preston saw Springsteen's boots come running down the runway during "Hungry Heart," he took a deep breath and fired off 36 frames. It wasn't until he developed the film the next day that he saw the amazing results.
"It was unbelievable," he said. "Not only did he do it. He almost over-gave this."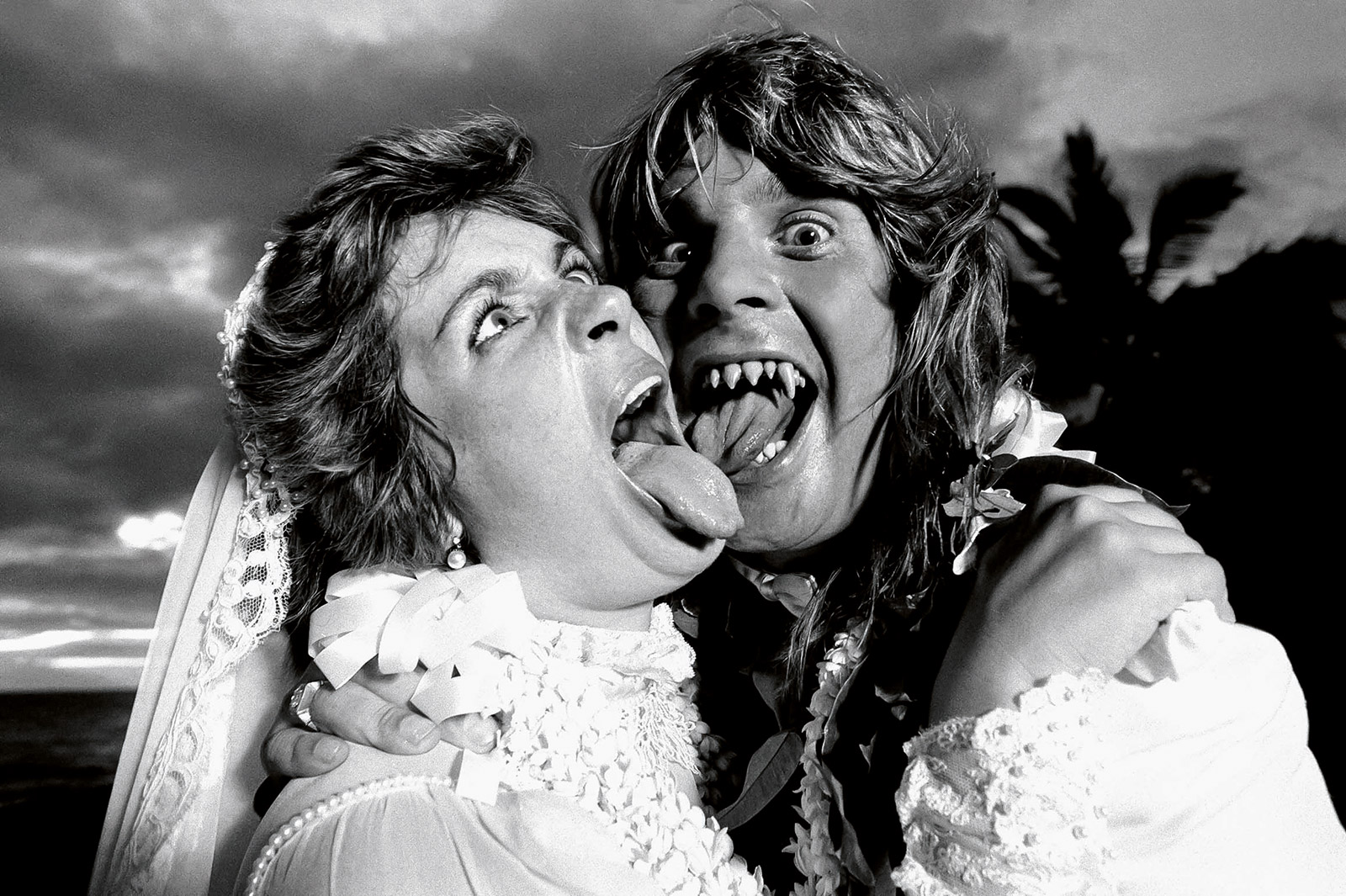 Ozzy and Sharon Osbourne, 1982
"Sharon is a tough cookie and I love her, and she and Ozz have both always been great to me," Preston said. "They had me come out and shoot their wedding (in Hawaii). I've done a certain amount of weddings in my time. …
"We had some funny pictures to send out the magazines. And Sharon never had any problem going along with the jokes."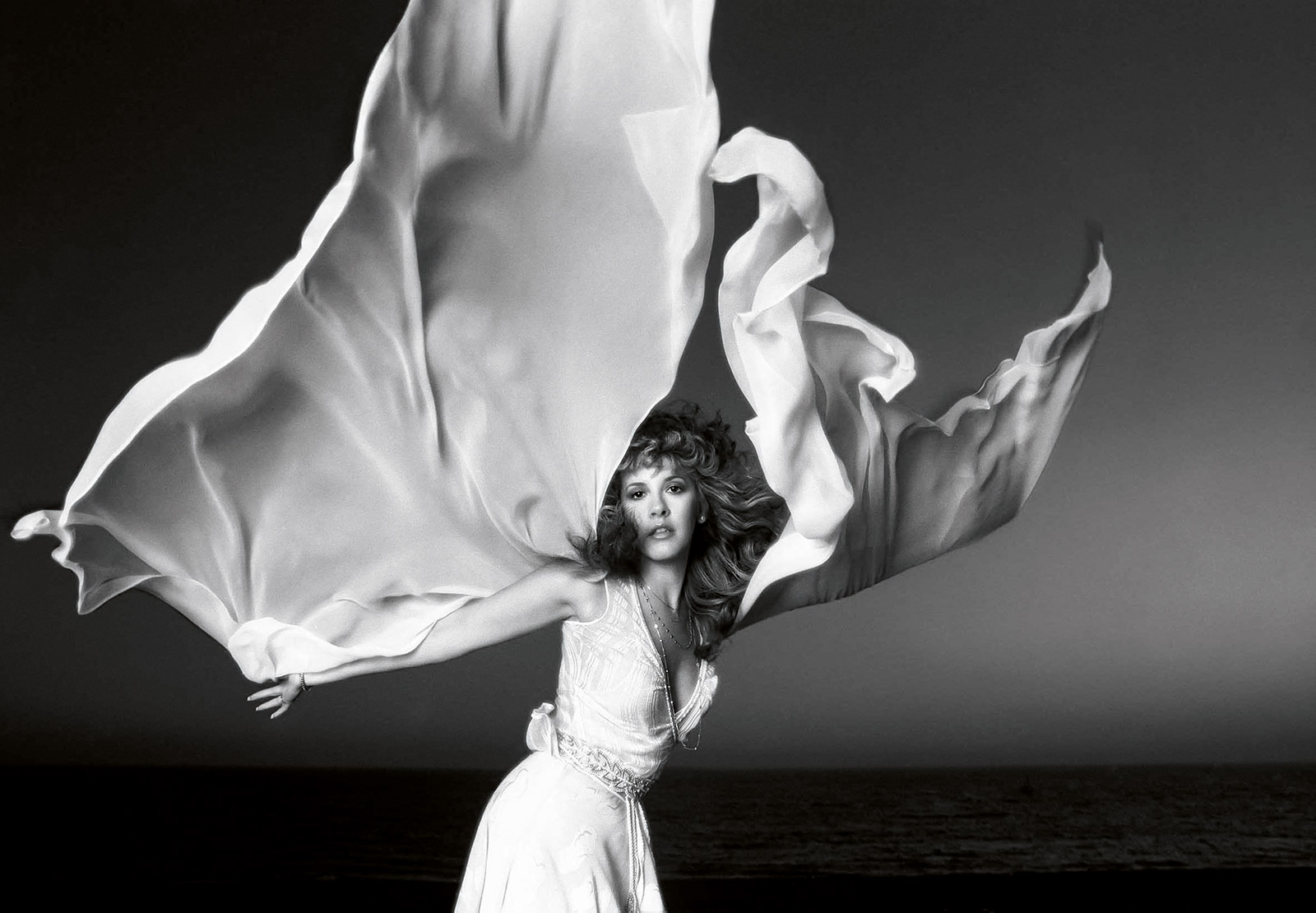 Stevie Nicks, 1981
"I love anyone with a great sense of humor, and Stevie was funny as hell," Preston wrote. "In fact, absolutely hysterical, with more charisma in her little finger than most people can ever dream of having."
For this shoot, an assignment for People magazine, Preston photographed Nicks on the rooftop of her condo in Venice Beach, California. Her dress was perfect to catch the wind and make it look like she was a bird about to fly away.
But what you don't see is one of Preston's assistants, lying flat on his stomach, holding one of Nicks' ankles to make sure she doesn't actually fly away.
"She was right at the edge of the roof, and it got so windy and dangerous I became very concerned she would fly right over the side of the building — which would have made it a very bad day for the people in Time Life's insurance department," Preston said. "Besides, I didn't want to be in the grocery store looking at the next cover of the Enquirer with the headline 'Rock Star Falls Six Stories During Bizarre Beachfront Photo Shoot!' "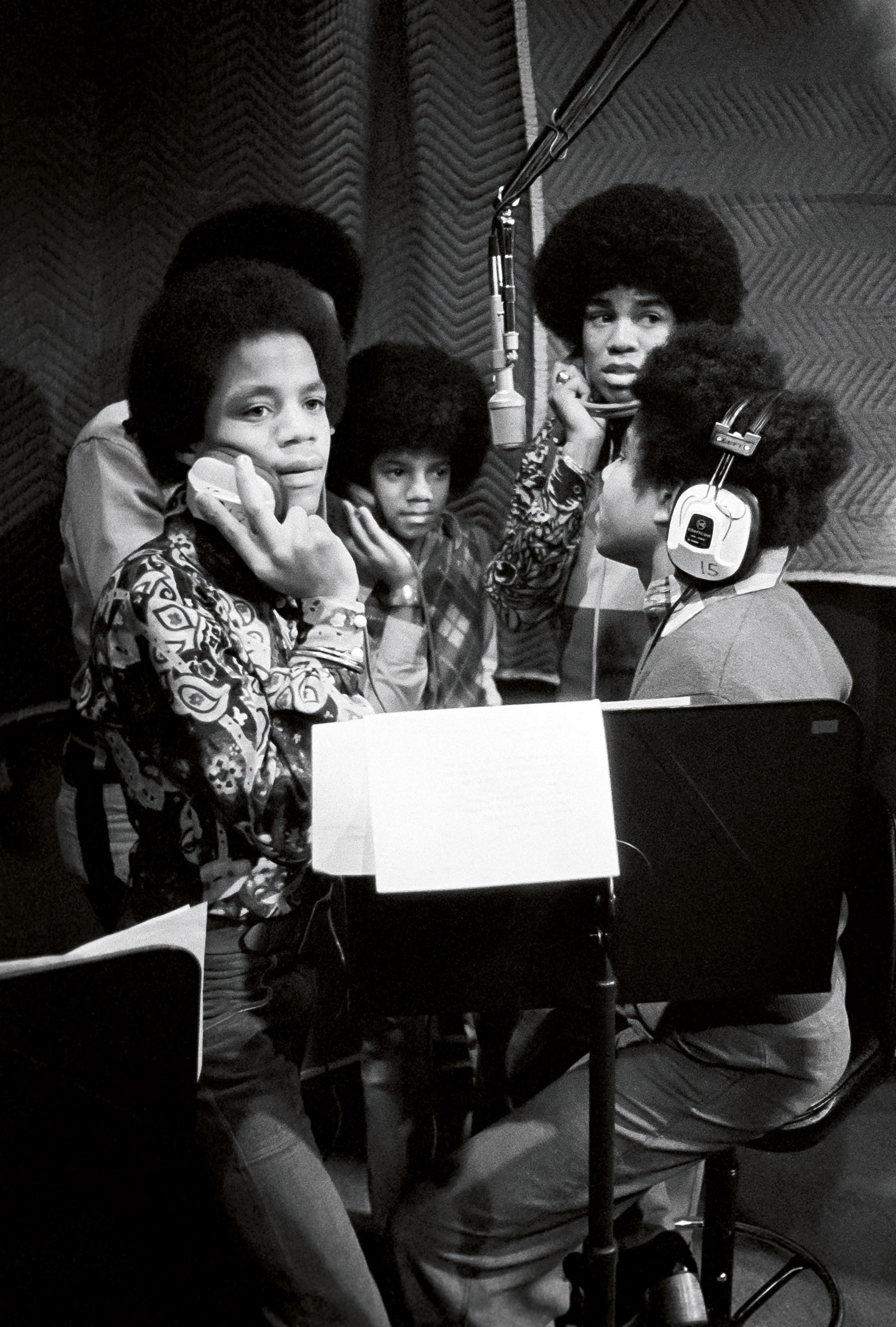 The Jackson 5, 1974
Preston shot many photos of the Jacksons for teenybopper magazines. He took this shot through the glass as they recorded at Motown's studios in Los Angeles.
"Michael even then, if he wasn't the star he was certainly being groomed to be the star," Preston said. "And then he became even bigger than anyone ever imagined.
"I shot him many times over the years. When he got older, he remembered me and he was always very sweet. He always had a sense of — how can I put this? — pressure on him. That was hard to explain. … Like the weight of the world was on his shoulders deep inside and you knew there was something going on but you obviously weren't privy to what it was. And I always found that interesting about him."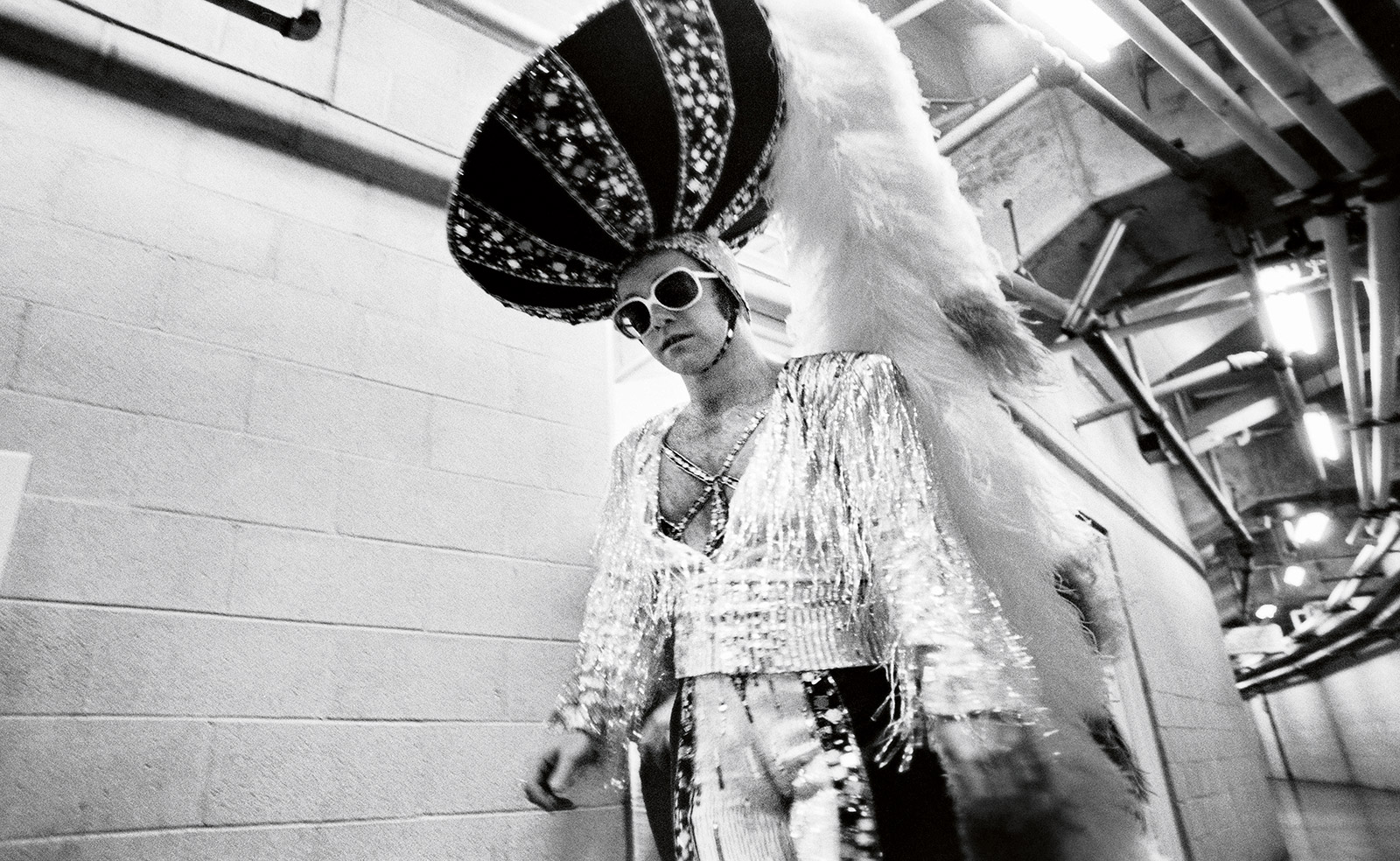 Elton John, 1974
"When Elton first burst through," Preston said, "every tour he did got more and more flamboyant in terms of the show and his costumes. 'Elton's coming to town. What's he going to wear this time?' You know, that kind of thing. And I think it probably peaked around that time I think I shot that picture. …
"I was in the corridor in front of the dressing rooms, and he just popped out. He was going on stage, I didn't realize he was, and I had a Nikon with a 24mm (lens) on the body. And I shot from the hip. It's a true 'grab shot,' and it just turned out the framing was perfect."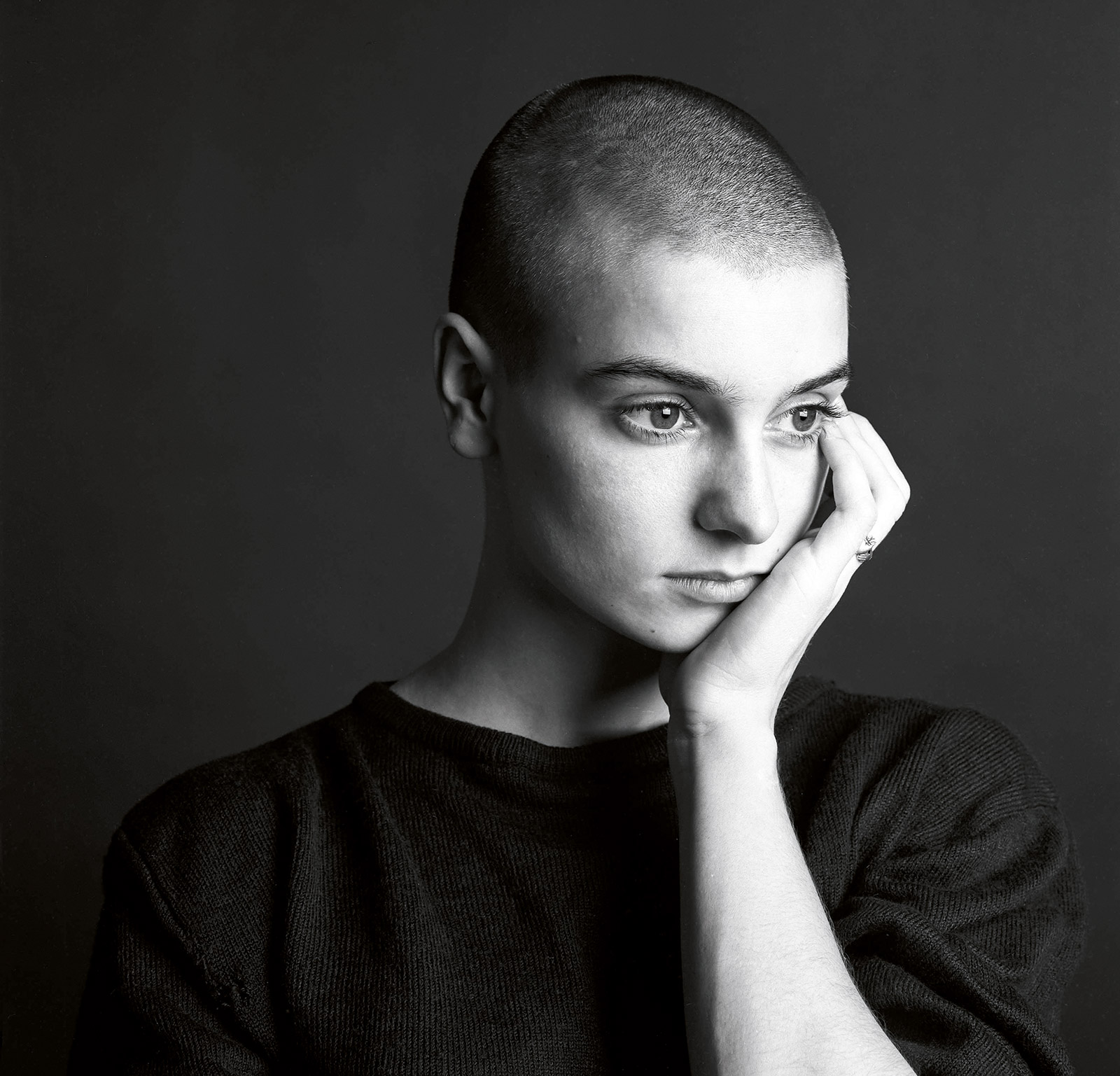 Sinead O'Connor, 1990
O'Connor made People magazine's list for the year's 25 Most Intriguing People, and Preston was assigned to get shots of her for that issue.
"I don't know how she is now, but she was very serious," he recalled. "And I have a slightly snarky sense of humor."
Preston was tasked with getting some light-hearted pictures, and he considered it a breakthrough when he finally got her to smile in one of them.
"She was a really tough one to crack," he said. "I mean I did everything I could but stand on my head and spit out nickels. … She was as serious in life as she is in this photo."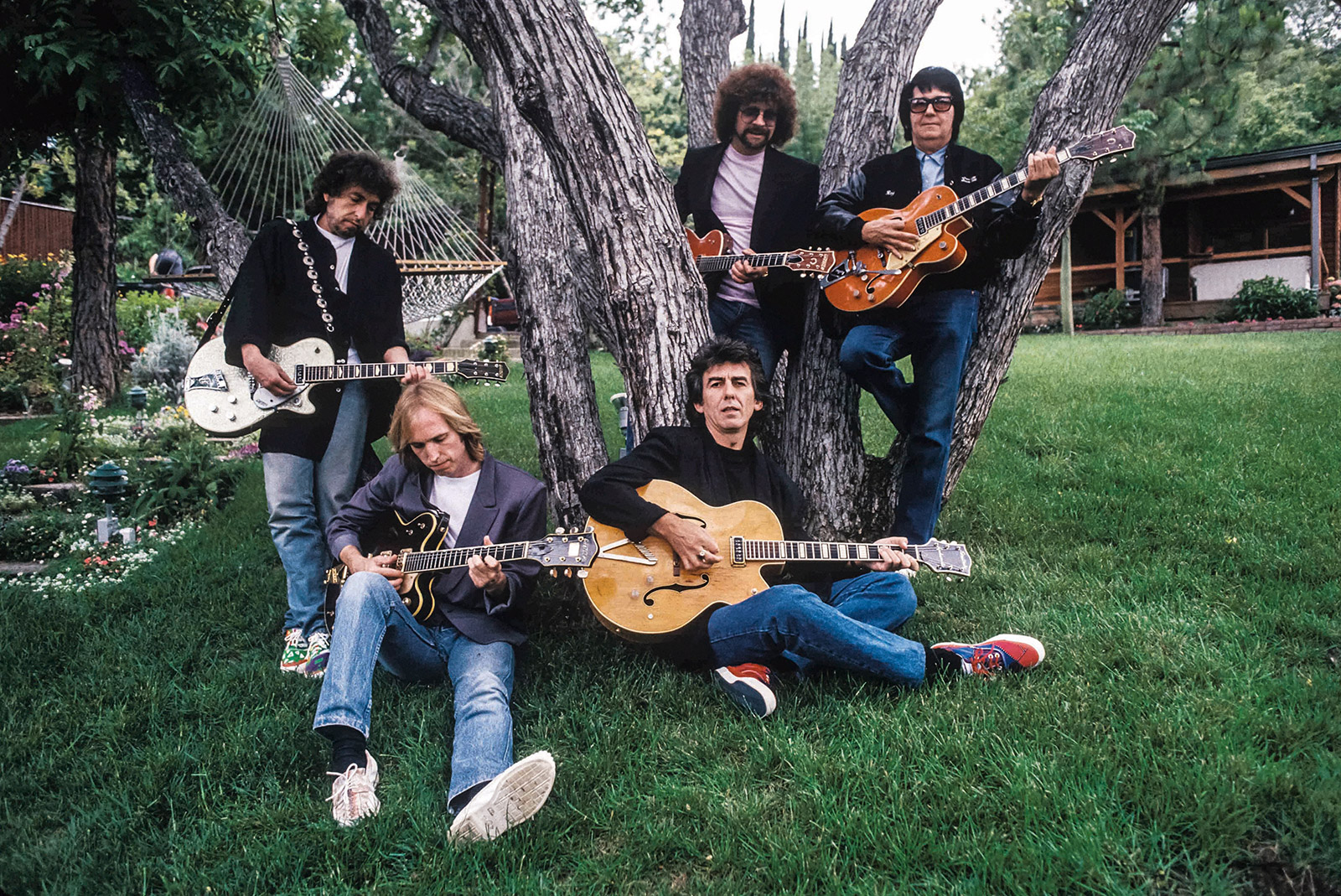 The Traveling Wilburys, 1988
Preston had photographed Tom Petty before, and he remembers Petty calling him out of the blue and asking if he'd swing by for a photo shoot.
"(Petty) puts me on the phone with some guy named George. 'Hello Neal, this is George and the address is …' And as he's telling me the address — with a distinctly Liverpudlian accent — I realize it's George Harrison.
"I remember nothing after that point of the conversation," laughed Preston, who fell in love with music after seeing the Beatles on "The Ed Sullivan Show" in 1964. "I know (Harrison) gave me the address. I know we got there. I remember nothing else."
When Preston got to the house in Encino, California, he was amused at how everyone in the supergroup sort of walked on eggshells around Bob Dylan. The shoot was dependent on Dylan's mood and when he was ready.
"I've been around Bob before, and Bob's a good guy. But, you know, he's Bob Dylan," Preston said. "We all have our good days and bad days in our lives."
Once it started, the shoot lasted about an hour or so. Orbison died later that year. "It was never meant to be the iconic Wilbury shoot," Preston said.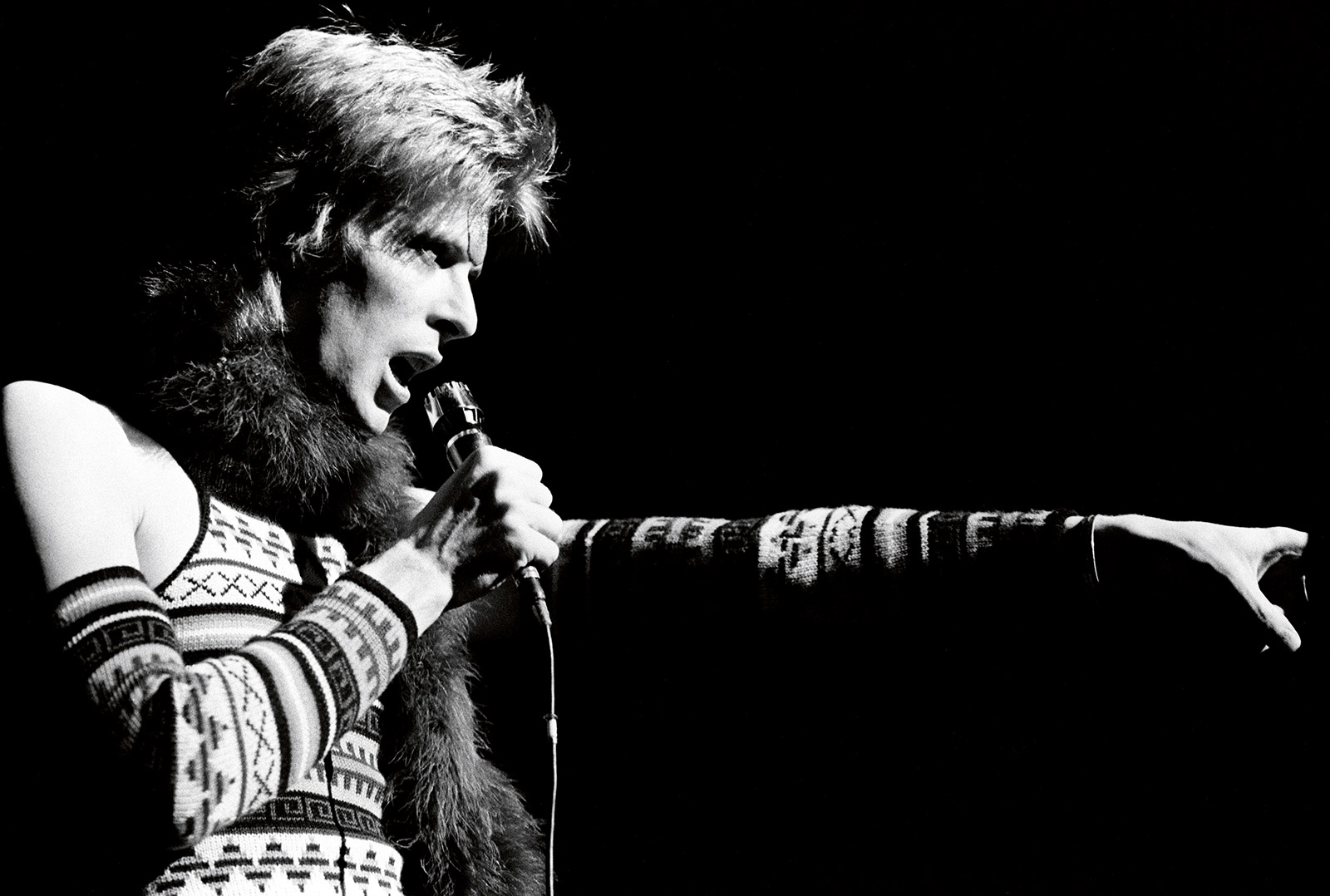 David Bowie, 1973
It's been a rough time for Preston as he's watched many of his friends and favorite subjects pass away in the last few years.
"Every one of those (deaths) takes a chunk of my heart," he said. "It's not good. And they all really upset me. (The death of) Keith Emerson really upset me. Glenn Frey really upset me. Tom (Petty), a couple of weeks ago, really upset me. …
"David Bowie I had shot eight or 10 times but never as a one-on-one thing. And even that chips away another 3% of my heart. And it's just weird that (these deaths) happen in such rapid fire."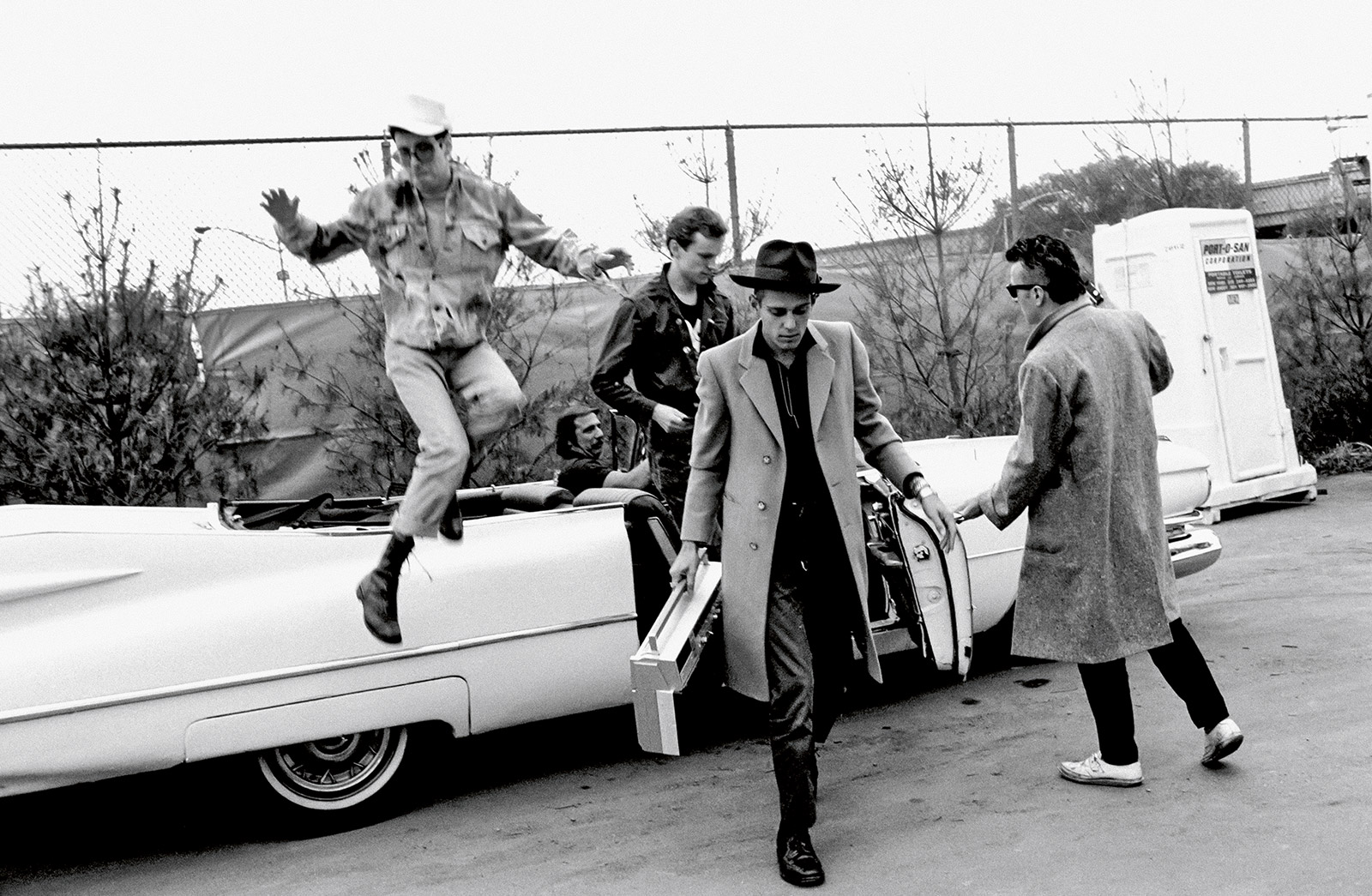 The Clash, 1982
"I was working for The Who at Shea Stadium in '82 and The Clash opened," Preston said. "I was standing backstage, and up drives this car and four guys pop out and I didn't even realize who it was until they popped out."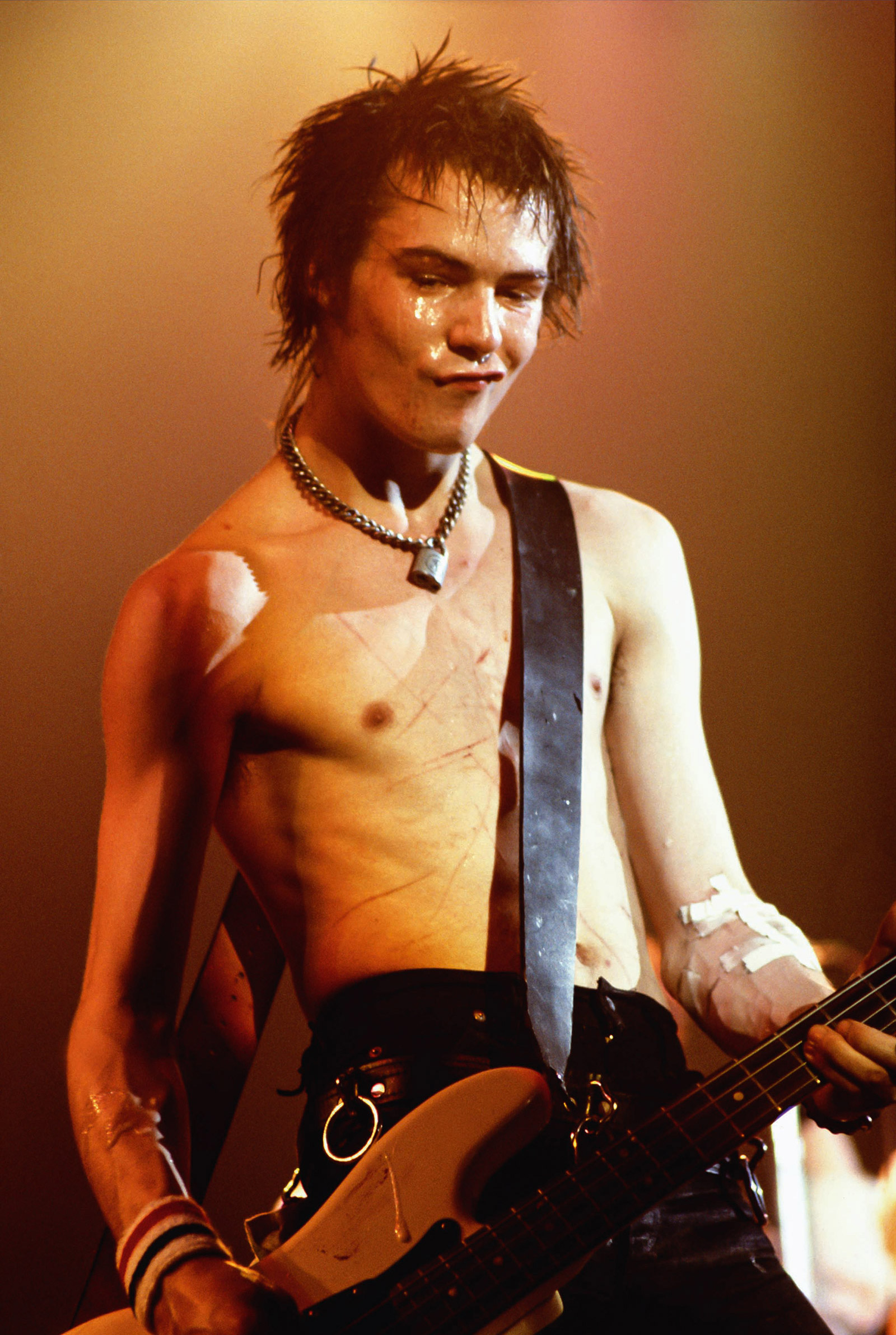 Sid Vicious, 1978
This shot was taken on the last show of the Sex Pistols' US tour, Preston said. Just hours later, the punk band would break up.
"They went back to the hotel, and my girlfriend at the time told me she just was down the hallway and she heard that they had broken up," Preston said.
He said the necklace Vicious is wearing here is on display at the Hard Rock Hotel and Casino in Las Vegas.
"A guy bought it at auction who works for the Hard Rock, and he used my picture in back of it. So if anyone wants to see the necklace, it's in Vegas."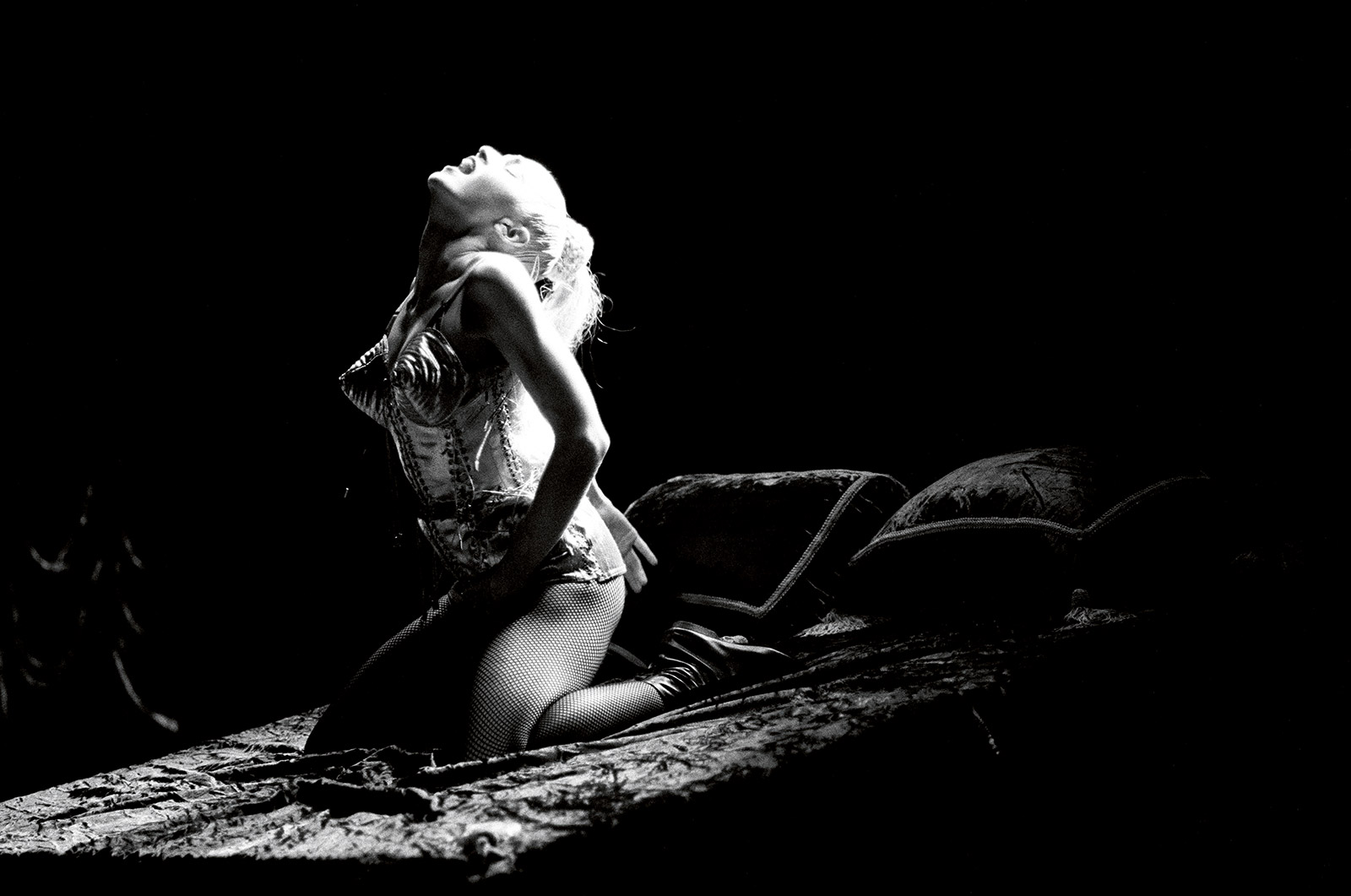 Madonna, 1990
"I would call this Madonna having a private moment in front of 80,000 people. And leave it at that," Preston said.
The photo was taken in Tokyo during the pop star's Blonde Ambition World Tour.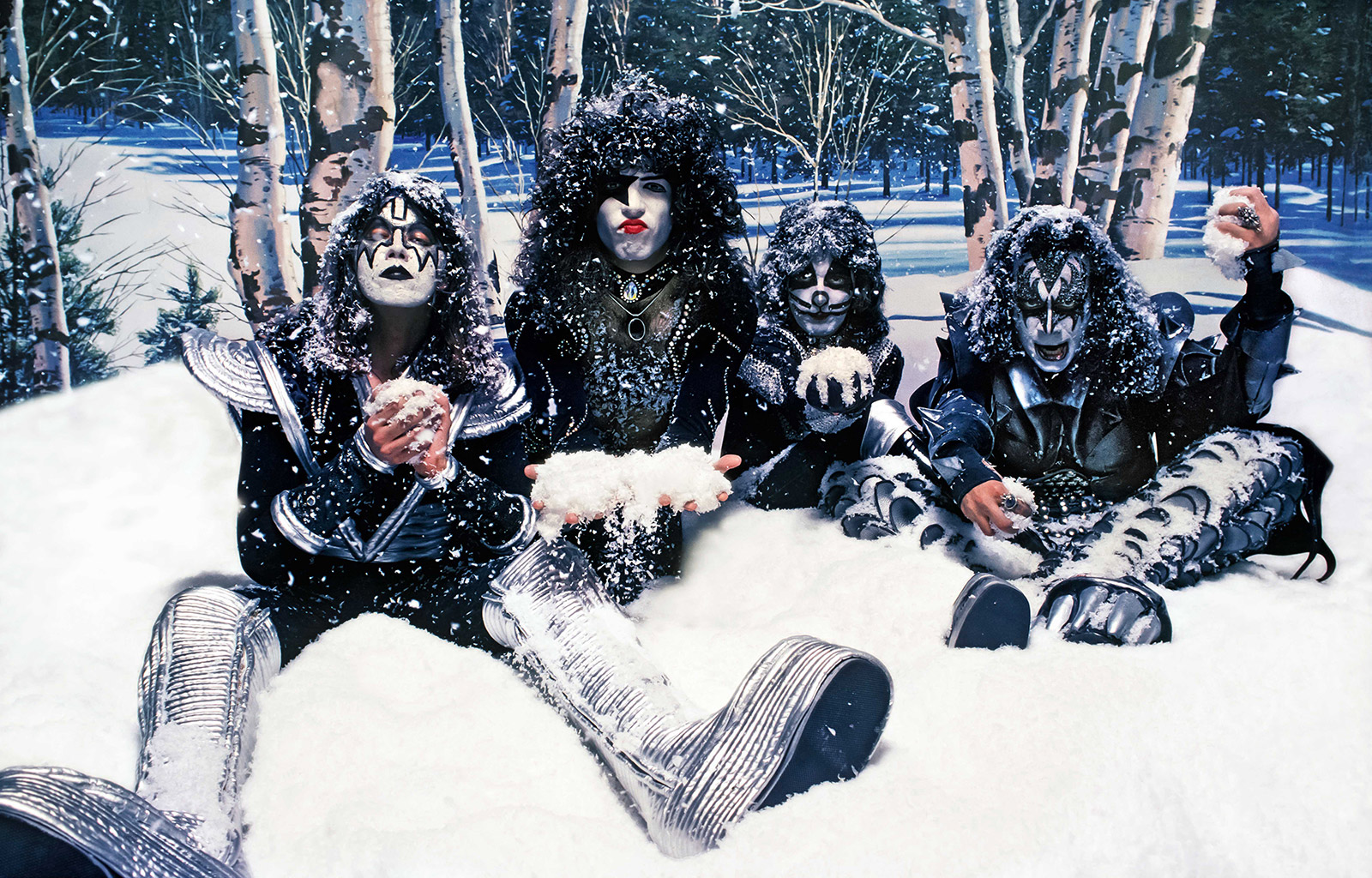 Kiss, 1976
This holiday-themed shoot was an assignment for Creem magazine. It didn't go according to plan.
"I was in the next room grabbing a different lens when I heard a sort of flat 'thud' come from the set," Preston wrote. "It sounded like someone had dropped a couple of sandbags on the floor. I was worried that something had fallen on one of the band members, and I immediately ran back in and found that the inevitable had happened: Ace Frehley had passed out cold, face down in a 'snowdrift.'
"Unfortunately it was a highly toxic snowdrift because the fake snow was made out of some sort of chemical that was not to be inhaled (that particular brand of prop snow is not made any more just for that reason). He had taken a few big whiffs of the stuff and started coughing uncontrollably. I saw a little blood come up and I knew that was a wrap for the day."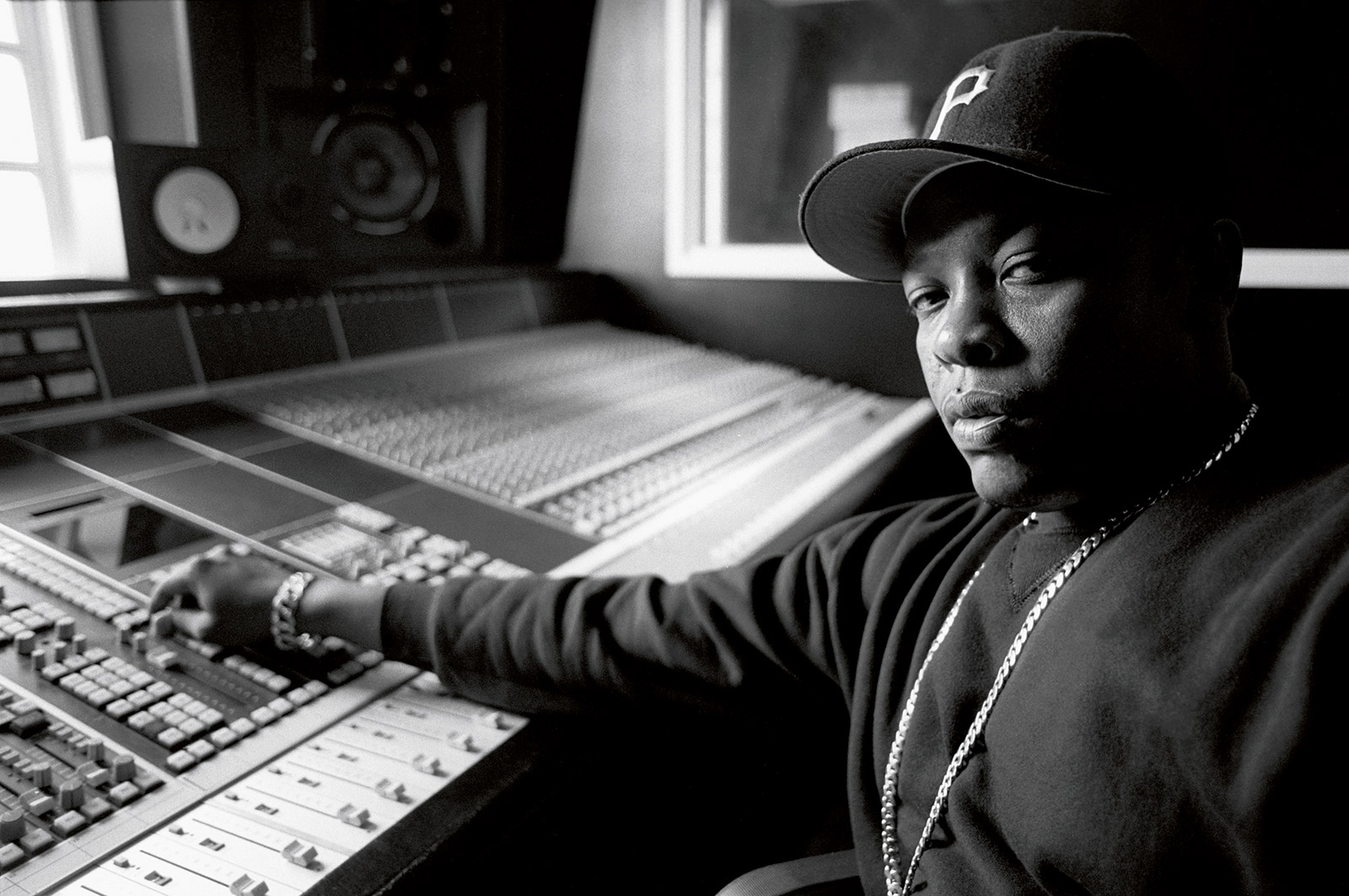 Dr. Dre, 1994
"My favorite photographs, not necessarily mine, are photographs of people in the recording studio," Preston said.
"To me, the recording studio is kind of a secret place that I'm not really supposed to be. ... It's where (musicians) make their magic. To me, it's reverential. It's almost hallowed ground. And to this day I always feel a little bit of an outsider in a recording studio."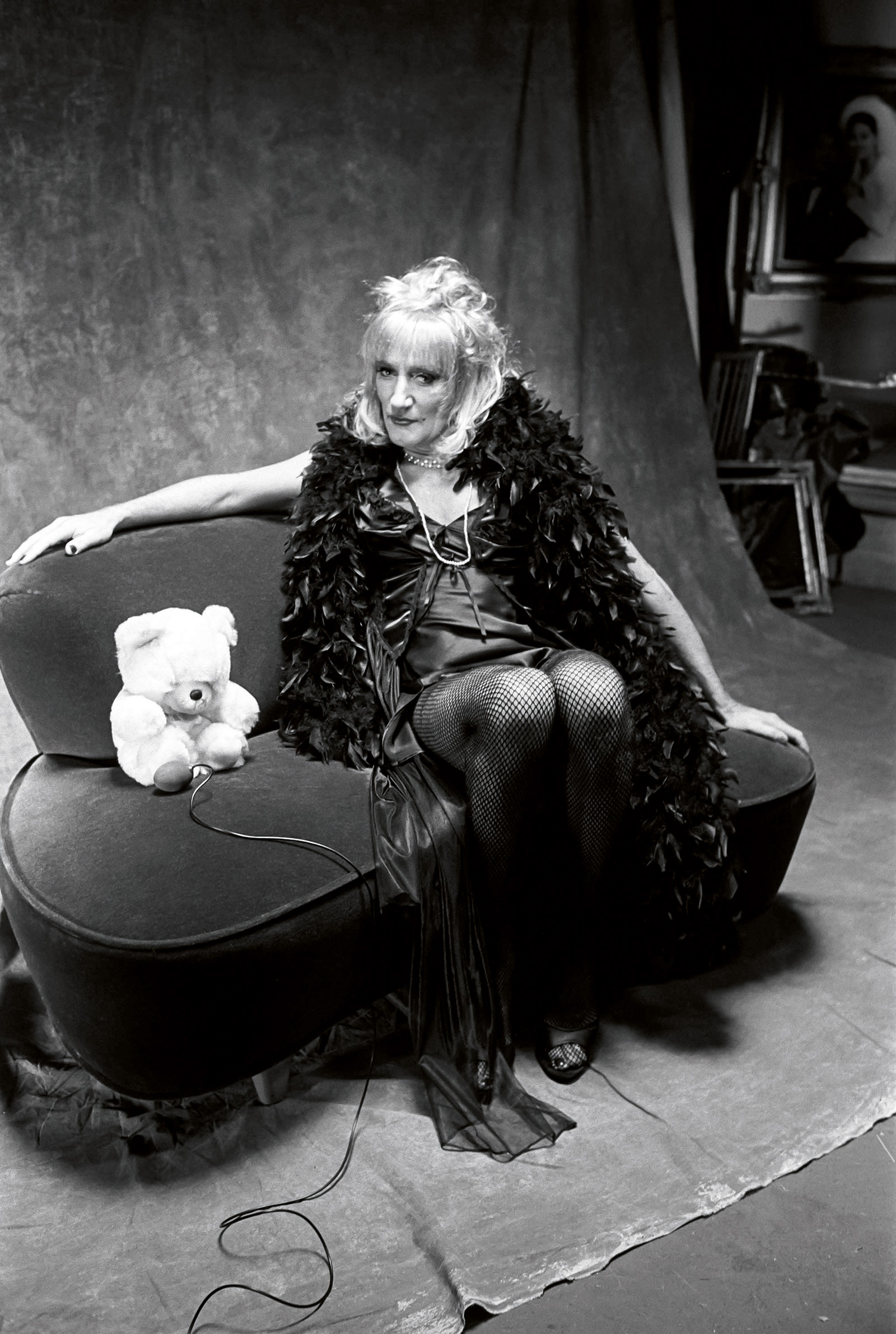 Rod Stewart, 1996
Stewart dressed in drag for his music video "If We Fall in Love Tonight." Preston also took some photos of Stewart getting made up.
"I like that he looked like an aging Miss Moneypenny from a James Bond movie," Preston said. "Like if the original Miss Moneypenny had come back 40 years later to play Miss Moneypenny, that's what she would have looked like."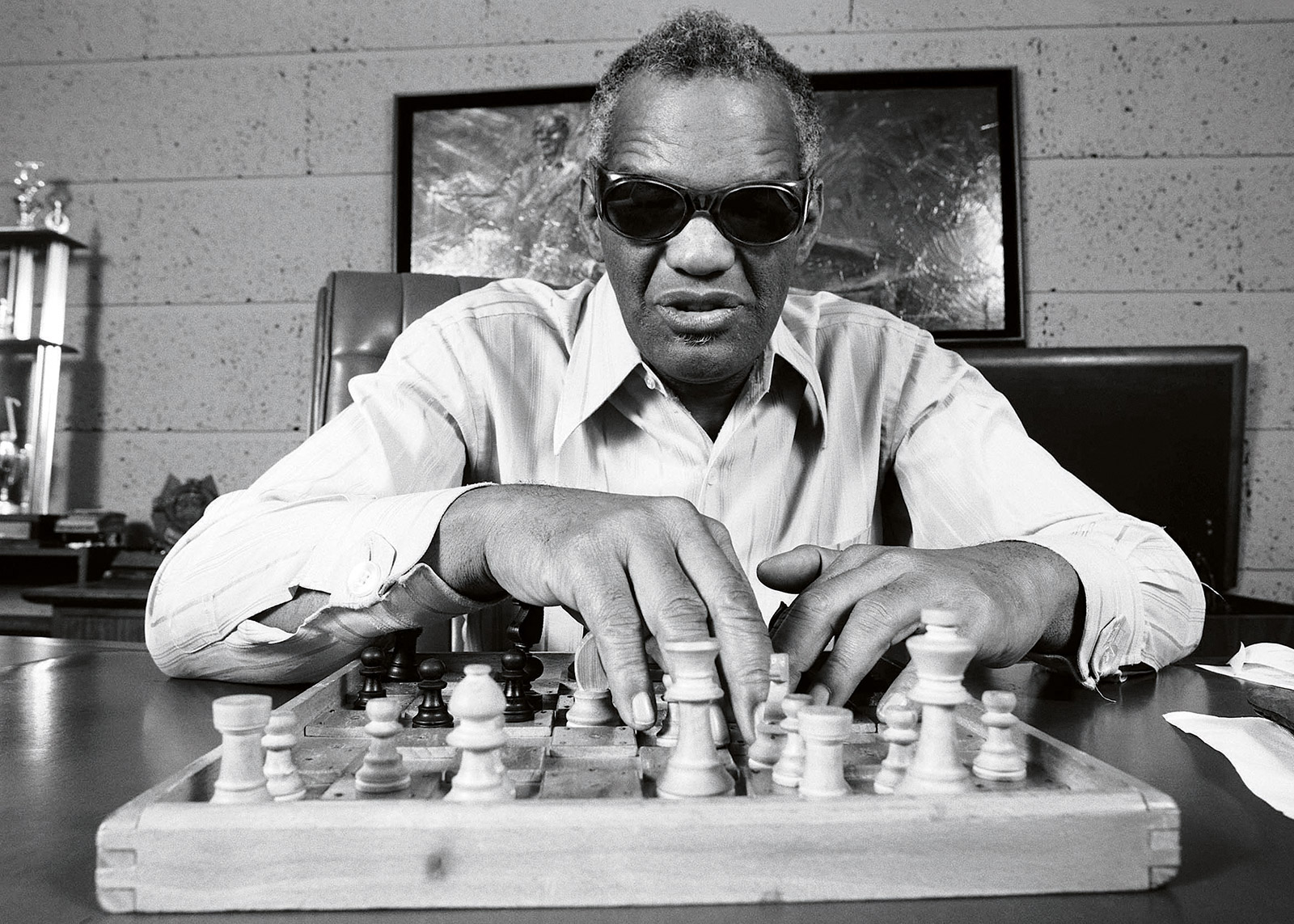 Ray Charles, 1981
Charles had a braille chess set, and Preston was happy to take him on.
The game didn't last very long. Charles won in seven moves.
"He knew he was going to beat me, OK? He knew it," Preston recalled. "Now I'm not Bobby Fischer, but I've been playing chess since I was a kid. Yeah, I was a little distracted because I wanted to make sure I could shoot, but I was fairly certain I could beat Ray Charles, with all due respect to everyone out there.
"And he hammered me."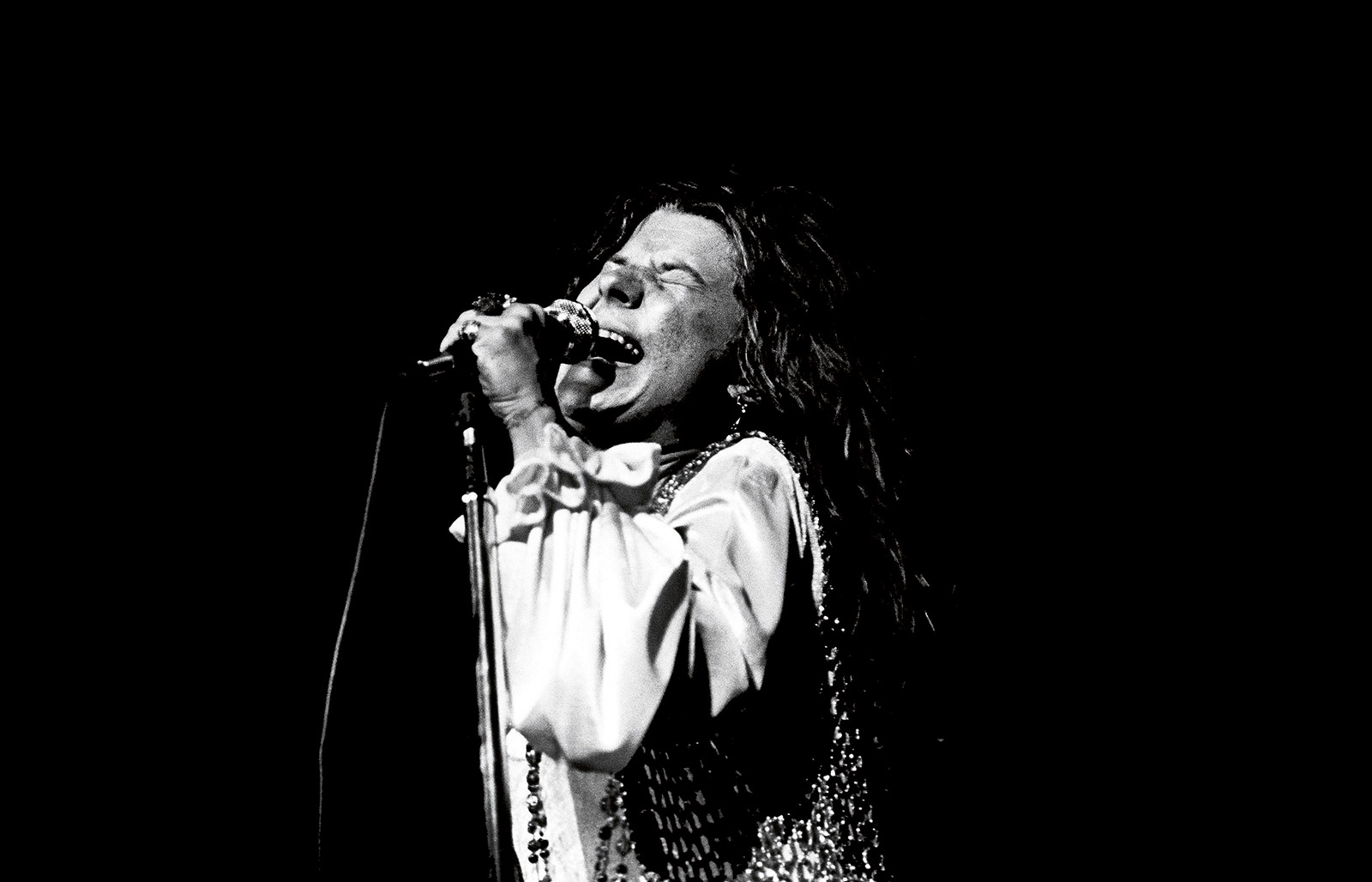 Janis Joplin, 1970
Preston was only 18 when he shot this photo of Joplin performing at the Transcontinental Pop Festival in Toronto.
"I like Janis Joplin, I love the Big Brother (and the Holding Company) album, but I wasn't a mega fan and I was kind of shocked at how unhealthy she looked," Preston said.
"She sounded great, but she did not look good. And I think that she did about seven or eight more gigs in her life before she passed away." Joplin was 27 years old when she died from a heroin overdose.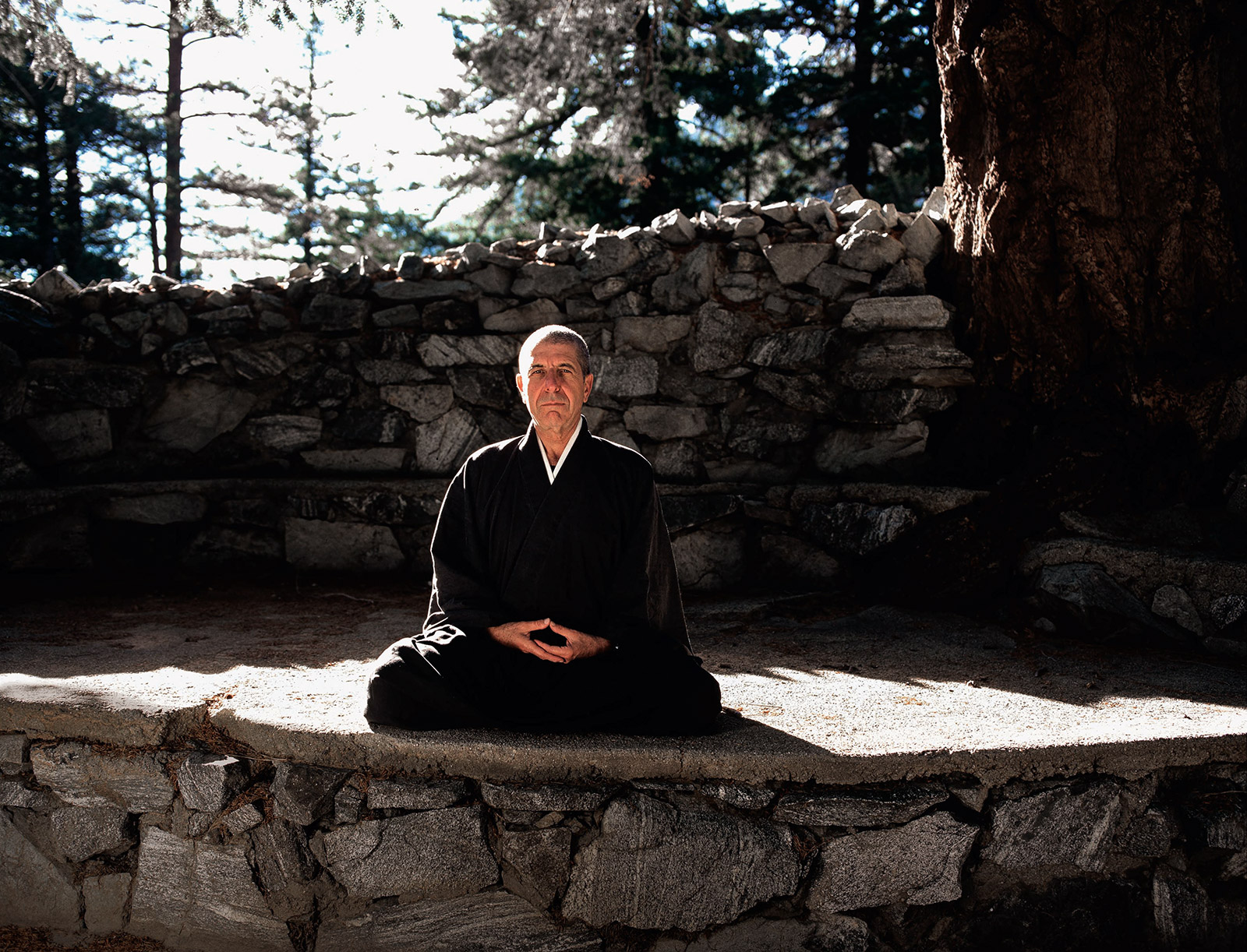 Leonard Cohen, 1996
"This was a People (magazine) assignment, and the assignment was to go up to Mount Baldy — which is a couple hours outside of LA — for this monastery where (singer) Leonard Cohen was a monk," Preston said.
It was a far cry from Preston's usual shoots.
"So we get up there, and it's very nice. But he's a monk! I mean he's not playing a monk in a movie. He's a monk, he's living the sterile life and everything. It's not like he didn't talk to me, but he's really a monk — except that sometimes on weekends he'd go down the hill and play a couple of gigs. It was a little odd."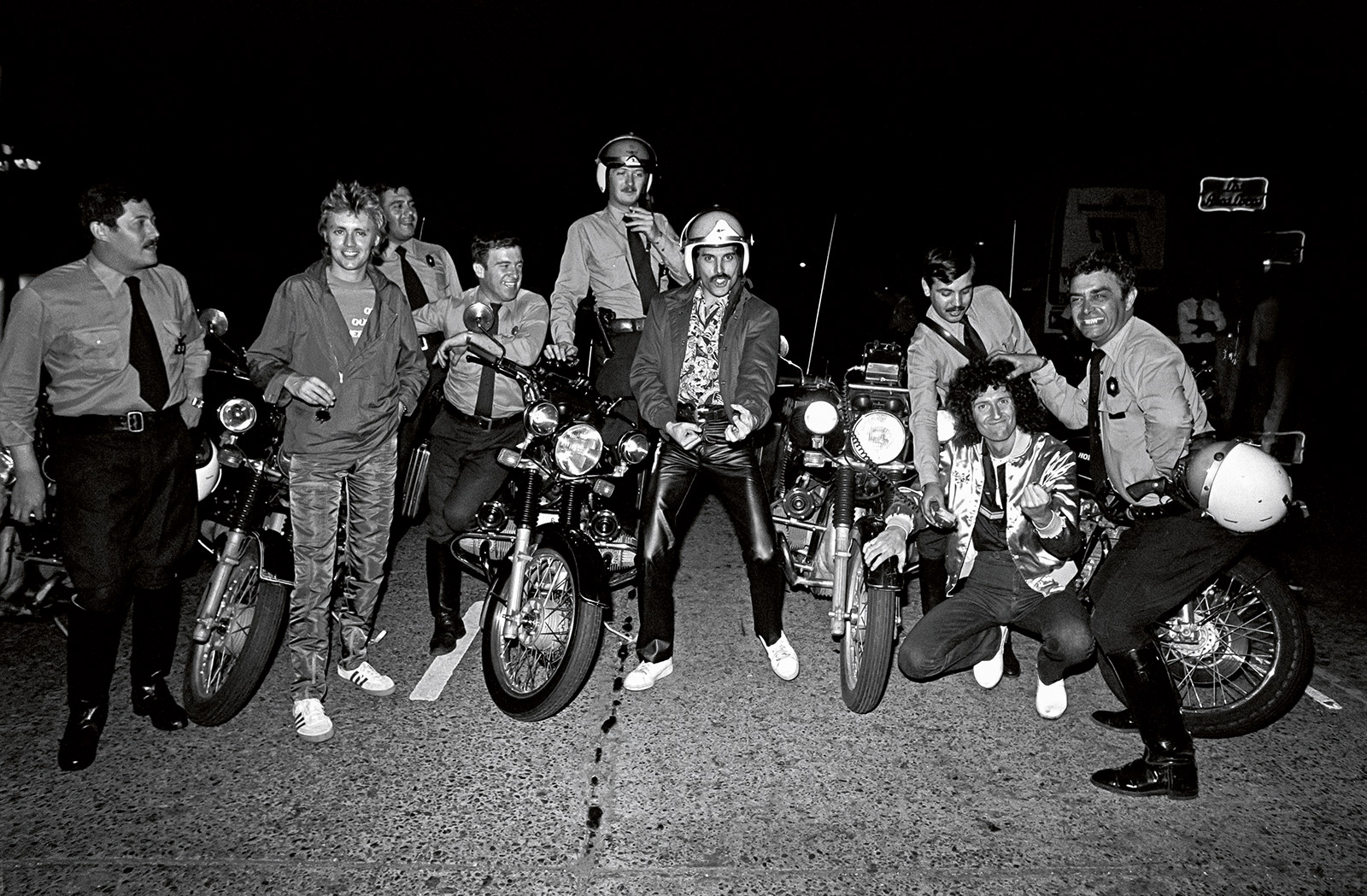 Queen, 1981
Soldiers pose with Freddie Mercury, center, and other members of the rock band Queen during a tour of South America. The band performed in massive soccer stadiums.
"The fans there treated the band like they were the Beatles," Preston said. "I mean, it was unbelievable. Kids yelling all night in front of the hotels 'Freddie, Freddie, Freddie.' It was insane."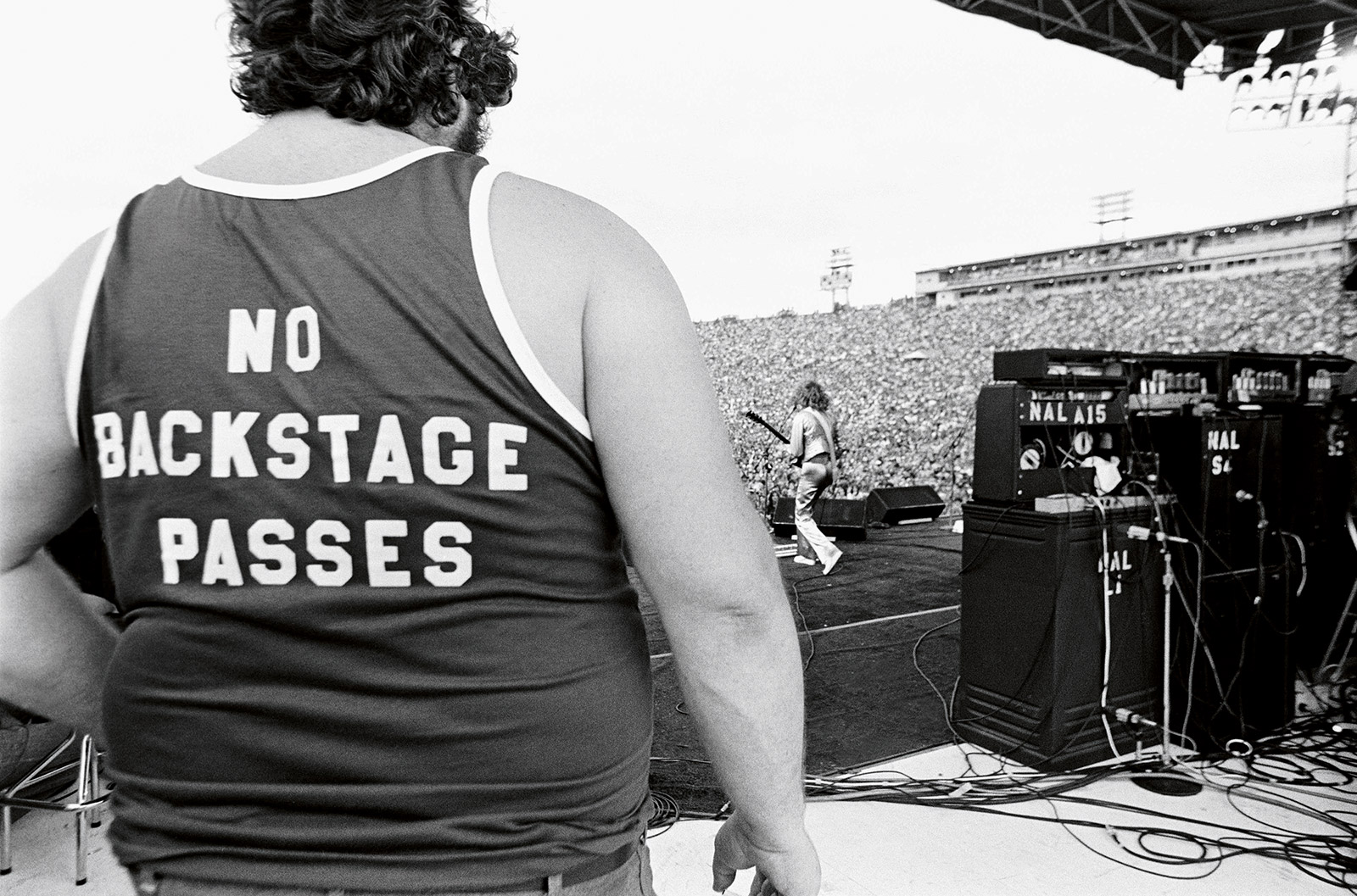 Peter Frampton, 1976
"To the real true rock fan, the Holy Grail — you know, the top of the mountain, the summit — is to go backstage, to go to the dressing room, for whatever reason," Preston said. "Most people would rather just go backstage than see the damn show. … Walking through an audience with a pass around my neck, it's kind of a stone-cold aphrodisiac, and if you throw a Nikon on my shoulder it's even more so.
"And look, let's be honest I've been offered all kinds of things to take someone backstage, be it cash, merchandise, guitars, cameras, drugs or sex, you name it. And I'm not going to say I haven't accepted a couple of the latter.
"But don't forget you're there to do a job. You have to do the job. You can't let any of that stuff interfere with your job."
Neal Preston is an American photographer based in Los Angeles. His latest book, "Neal Preston: Exhilarated and Exhausted," is available for preorder through Reel Art Press.
Photo editors: Clint Alwahab and Brett Roegiers