When gun manufacturer Sig Sauer was about to land a massive deal in 2016 to supply the US Army with a new pistol, the military made a disturbing discovery during testing. If dropped at a certain angle, the gun would go off by itself. The company won the deal last year anyway, then fixed the guns before shipping them.
The Army's apparent endorsement helped make a nearly identical Sig Sauer pistol, the P320, a popular choice for police departments and the general public. But for several months, the company sold its commercial version of the gun without the fix it had made for the military, a CNN investigation has found.
Over the past two years, three law enforcement officers say they have suffered gunshot injuries when their P320s fired after being dropped or jostled, according to lawsuits and police department documents obtained by CNN Investigates. One sheriff's deputy in Virginia had her femur shattered when the gun went off as she removed the holstered pistol, according to a lawsuit she filed against Sig Sauer in April, and she has been told she may never walk normally again. At least six other P320 users have had their guns go off accidentally as well.
As the gun community started to circulate word of the problem, Sig Sauer announced a "voluntary upgrade" program in August 2017, allowing P320 owners to ship their guns to the company for a free fix to guard against the "rare occurrence" of accidental discharge in a drop. But its website insists that the unrepaired gun "meets and exceeds all US safety standards," and the company has not issued a recall.
"They had knowledge of defects with this weapon before my client was shot. The trigger was too heavy. It was fixed on the military version. They got the half-billion-dollar contract. But the commercial version was left alone," said Jeff Bagnell, the lawyer for the Virginia deputy.
Despite CNN's repeated requests over several weeks, Sig Sauer would not respond to questions. Company spokesman Joel Harris initially said CEO Ron Cohen was traveling and unavailable. Executives later ignored emails, phone calls, and LinkedIn messages. A lawyer representing Sig Sauer in court refused to comment last week, citing pending litigation.
The upgraded P320 is now what Sig Sauer ships to stores. But more than 500,000 pistols were sold before Sig Sauer acknowledged the problem publicly, according to company statements to several gun trade publications. Today, numerous unrepaired P320s remain on the streets and are available for purchase, both new and secondhand.
CNN called large and small gun shops in 20 states in early May. The older version of the P320 pistol was still on store shelves in 11 of the 40 gun shops we reached. And a CNN review of private seller postings in early May on Armslist.com, an online marketplace for guns, found that at least 162 of the 400 models being sold there since March were the problematic older version — easily identified by its thick trigger.
Of the sellers online, only four warned potential buyers about the problem. Three sellers displayed unrepaired guns, yet claimed they had been upgraded. Another seller photographed the gun with the ammunition magazine laid over the trigger area, leaving the prospective buyer guessing whether the gun was upgraded or not.
The gun they're selling is one that its manufacturer maintains is safe. But the company's coveted deal to supply the Army with an almost identical model — a contract worth up to $580 million — depends on guns that got the fix. That contract is a badge of honor that the company's sales representatives used to convince police chiefs and city councils all over the country of the gun's safety and reliability.
"That's used as a selling point: If it's good enough for the US Army, it's good enough for the police department," said Matthew Griffin, a former captain with the Army Rangers who spent years as a contractor providing gear to military special operations teams. "But they were knowingly putting our officers in danger. There has to be some degree of culpability."
Unintended discharges
The problem affecting the original P320 is what the gun industry calls an "unintended discharge," or as one lawsuit against Sig Sauer explains: "The weapon fires without a trigger pull." Firearms experts say these types of malfunctions — even when guns are dropped — are exceedingly rare. When the Centers for Disease Control and Prevention analyzed data from 27 states in 2015, it found that 193 people were killed "due to unintentional firearm-related injuries"; a "dropped gun" was to blame for 12 of those deaths. CNN is not aware of any deaths due to malfunctioning P320s, but at least three people have allegedly been injured.
On January 5, 2017, Stamford Police Department SWAT team member Vincent A. Sheperis was loading tactical gear into his hatchback car's trunk when he dropped his holstered P320 pistol, he claims. The gun went off on its own, and the bullet tore through his left knee behind the patella, according to a lawsuit he filed against Sig Sauer.
"The bullet could easily have taken his life," says the lawsuit, filed in Connecticut federal court seven months later. "At no time before, during or after the incident did Officer Sheperis place his finger on the P320's trigger or touch the holstered firearm in any manner."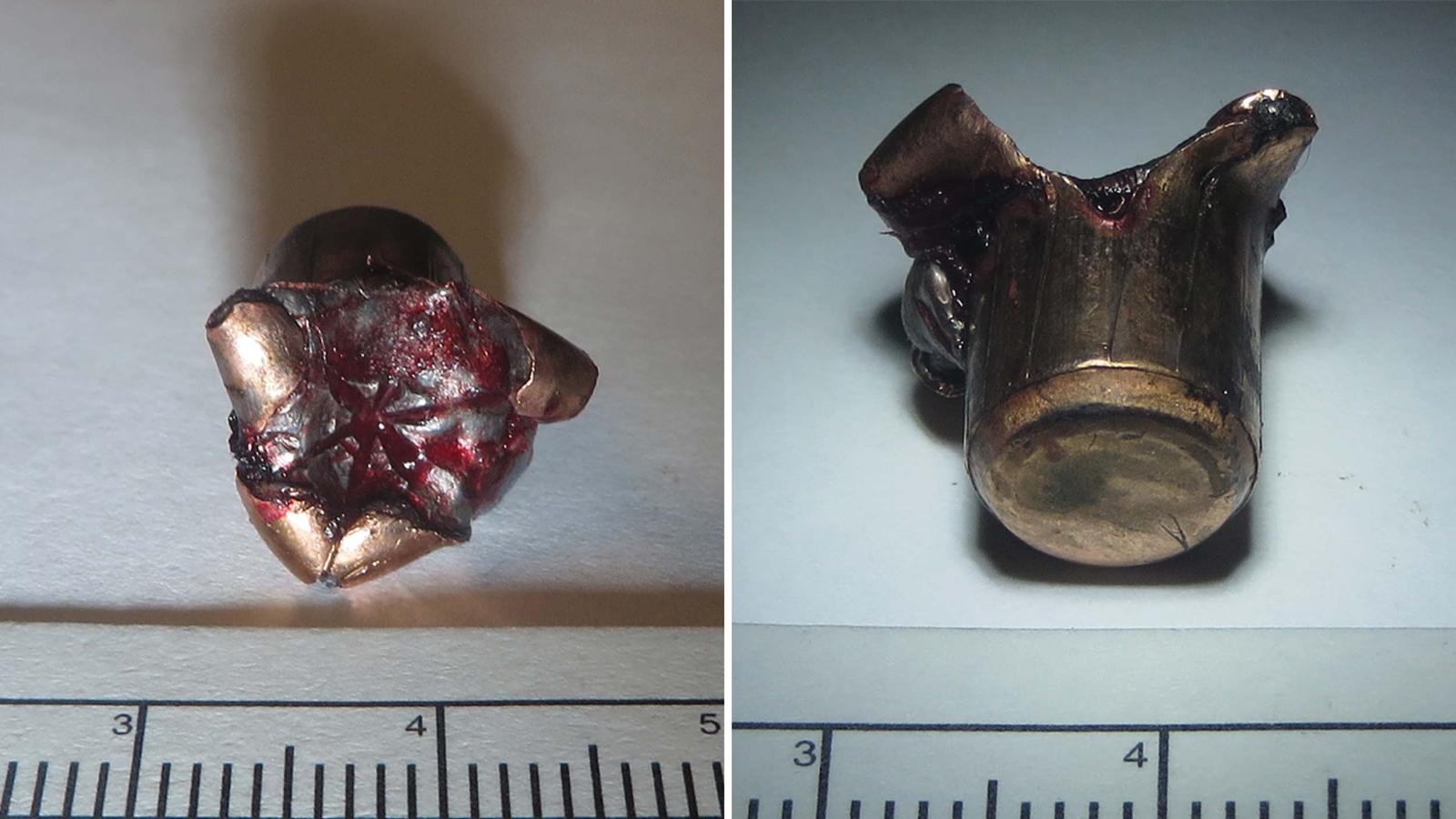 Five days after that incident, Stamford police officers traveled to Sig Sauer's service center in New Hampshire to have them inspect the weapon. CNN viewed video footage of the visit, during which two company employees took the gun apart and inspected it as the Stamford department's then in-house firearms expert, Sgt. Tom Wolff, described what had happened.
Sig Sauer has since fought back against Sheperis' lawsuit in federal court. In court documents, the company acknowledged that it was notified, calling it "the first alleged drop fire incident involving a P320 that SIG Sauer was made aware of." But among other claims, the company argues Sheperis can't claim a "breach of contract" because he didn't buy the pistol — the police department did. Sig Sauer also says it has done enough to warn consumers with its voluntary upgrade program.
"Sig denies any allegations that suggest that the P320 model pistol was subject to a recall or is otherwise defective," the company responded in a court filing.
Another incident happened on the windy night of October 1, 2017, in the small city of Riverdale, Georgia, when another cop narrowly missed injuring himself. Sgt. Derrick Broughton and two other officers were responding to a "suspicious person" call at a suburban home when he slipped on a cement block and fell — setting off his holstered P320. No one was hurt. Back at the precinct, Broughton found a spent round inside the chamber of his gun, according to Riverdale Police Department emails obtained by CNN.
"In light of this incident, I believe that it may be in the best interest of the City of Riverdale Police Department to have the Sig Sauer P320 removed from service ASAP," reads a letter from a city employee to a police captain.
The city decided to keep them. It was the only incident of its kind since the department purchased the pistols two years earlier, Riverdale Police Chief Todd Spivey told CNN. Instead, five months after the officer's experience, the department took up Sig Sauer's offer to "upgrade" the weapons.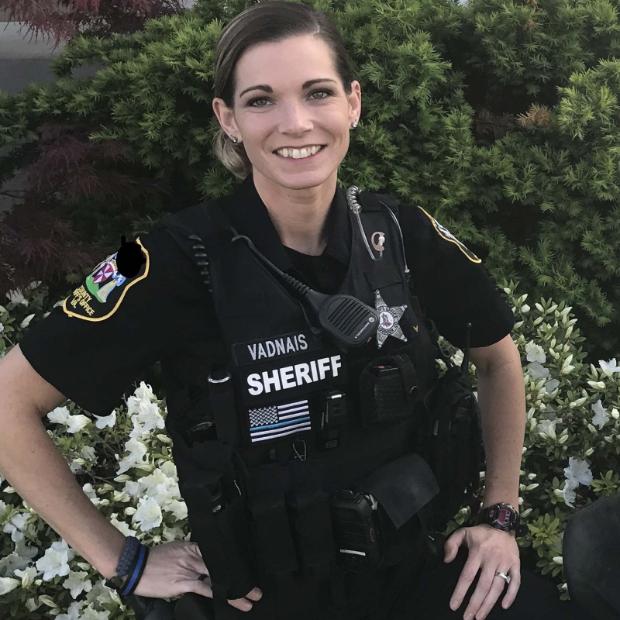 On February 7 of this year, sheriff's deputy Marcie D. Vadnais was merely removing her holstered pistol when the gun went off on its own, sending a 9 mm bullet into her upper right thigh and shattering her femur bone in half, she claims. The Loudoun County, Virginia, law enforcement officer is now taking daily painkillers and recovering from an injury that may prevent her from ever walking normally again, according to a lawsuit she filed in federal court.
The Loudoun Sheriff's Department would not make Vadnais available to CNN for comment. In an email, a department spokesman wrote that Sig Sauer had contacted them in August 2017 and offered replacements — but he specified that the company was addressing reports "that dropping the firearm may cause an unintentional discharge." No other risks were cited by the company, and the sheriff's office now points to a Sig Sauer press release at the time that assured that "the P320 meets U.S. standards for safety."
The department is now replacing its Sig pistols with the upgraded models.
Sig Sauer has not yet responded in court papers to the deputy's lawsuit, which was refiled in Virginia last month.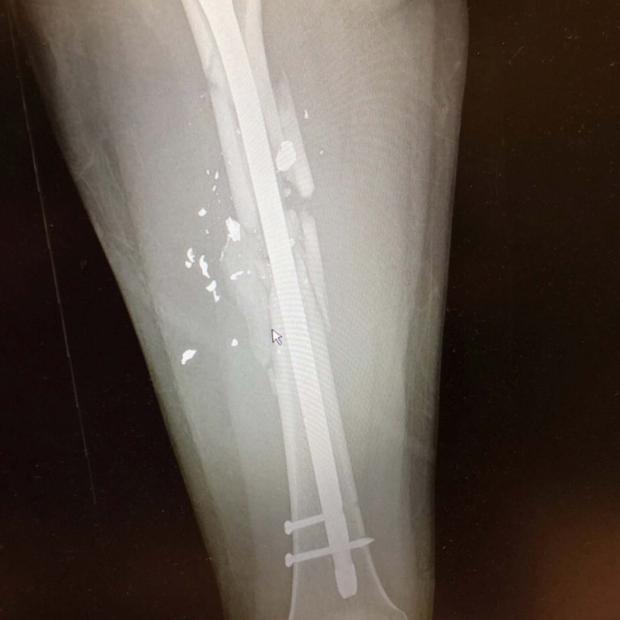 The latest incident known to CNN occurred March 29 of this year, when an officer with the Orlando Police Department was injured by his personally-owned Sig P320. The agency acknowledged the incident to CNN but would not provide details, citing an ongoing internal investigation.
His attorney, Jason Recksiedler, told CNN the 50-year-old SWAT officer was at home when a call came in about a possible hostage situation. He ran outside and accidentally dropped his holstered pistol onto his concrete driveway. The gun went off on its own, according to Recksiedler, sending a 9 mm bullet into the officer's left leg and shattering his tibia bone near the knee. The next day, as a safety precaution, Orlando Police Chief John W. Mina ordered all officers to submit their Sig P320s for inspection to make sure they had been upgraded.
'Safety without compromise'
What drives the Sig Sauer P320's popularity with police departments is, ironically, its safety features.
Glocks, long the preferred pistols for American law enforcement, have one awkward quality. To clean the firearm, the user has to pull the trigger. This violates a sacred safety rule: Keep your finger off the trigger until ready to shoot. No experienced shooter would clean a loaded gun, but pulling the trigger on an empty pistol can still be a hair-raising experience.
When Sig Sauer unveiled the Sig P320 model in 2014, a key selling point was that it did away with this necessity.
"Safety without compromise," Sig Sauer promotional materials boast. "We've designed safety elements into every necessary feature on this pistol. From the trigger, to the striker and even the magazine, the P320 won't fire unless you want it to."
Another attractive feature of the pistol is that it's "modular"; users can swap out the pistol frame for different hand sizes or for concealment.
Back in 2016, the police chief of a Salt Lake City suburb in Utah cited safety as the primary reason to swap out their Glocks for Sig P320s.
"It is recommended that the Council approve the Police Department's conversion to a single primary duty weapon, the Sig Sauer P320 Pistol, in order to improve officer safety while being able to maintain flexibility to fit the varying hand sizes of the officers," then Police Chief Lee W. Russo wrote to the West Valley City council.
Sig Sauer also specifically claimed that, even without a common safety feature now regularly found on pistols from Smith & Wesson and Springfield, their gun would be safe if dropped. "You won't need a tabbed trigger safety for your gun to be drop safe," the P320 promotional materials say.
But the drop fire malfunction was exactly the problem Sig Sauer would encounter — and it was one that became known to the company months before it told the American public.
Damage control
When the Army put out a bid for its next-generation pistol in 2015, the weapons industry's top manufacturers fought for a chance at a mega contract. During testing on April 20, 2016, the military says it discovered that the Sig Sauer pistol would fire on its own when dropped. The examination used a test version of ammunition, similar to a blank. A recent Department of Defense report describes what happened.
"During drop testing in which an empty primed cartridge was inserted, the striker struck the primer causing a discharge," the report says. "Sig Sauer implemented an Engineering Change Proposal (ECP) to correct this deficiency by implementing lightweight components in the trigger group mechanism."
It's unclear when Sig Sauer made that improvement, but it was in place in time for Army testing trials in April 2017, the report says. "The [modular handgun system] with this … modification was submitted as the production-representative pistol for [product verification testing] … (T)he Army entered into PVT in April 2017."
The Army assured CNN that since that fix, "there is no drop test deficiency" with its new Sig Sauer pistol, which includes two models of different sizes that the military has dubbed the XM17 and XM18.
But that timing means Sig Sauer provided a repair for the military at least four months before launching the same fix for the civilian market. CNN was unable to reach Sig Sauer to ask how many of the pre-upgrade P320s were sold to the general public. But the company told industry journalists that it sold more than 500,000 before it announced the upgrade, and before the Army put the pistol into the field.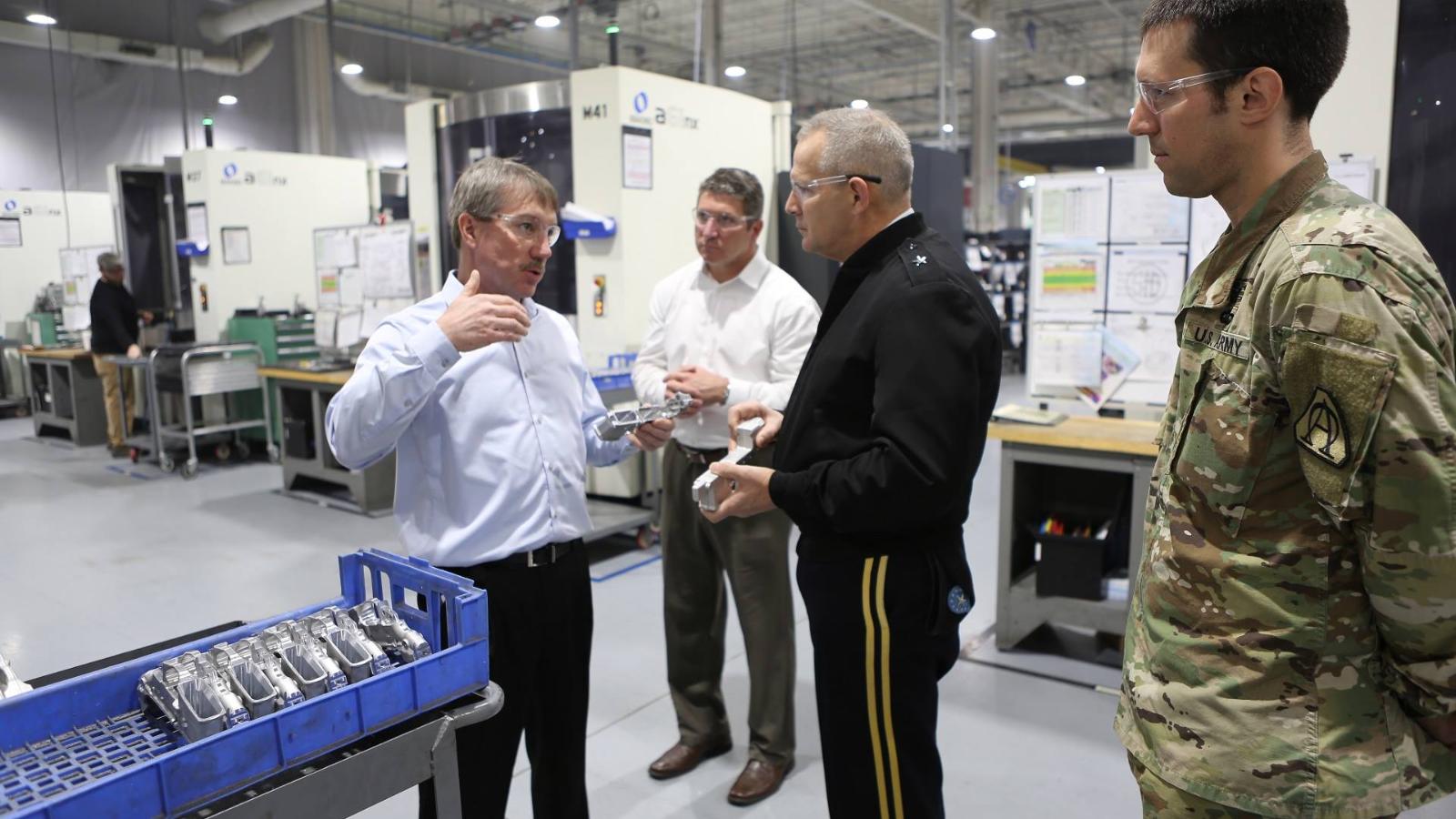 Sig Sauer received several notifications about incidents nationwide that occurred from April to August of last year, according to company disclosures made in court. Those included accidental discharges in Oregon and Texas. CNN has not been able to independently confirm these incidents.
The company was also notified about an incident that occurred in Howell Township, a small suburb near the New Jersey coast. The police department there confirmed the details to CNN. On the night of June 19, 2017, a police officer inside the police station dropped his holstered pistol and it went off on its own, according to the department's in-house armorer, Lt. Bernie Fowler. He told CNN this was "an isolated incident," no one was injured, and "Sig did the right thing" by eventually replacing all 125 of the police force's pistols.
The Dallas Police Department in Texas, which had allowed some officers to carry Sig P320s, decided on July 28, 2017 to have "duty use… temporarily suspended due to safety precautions," according to a spokesman. The Dallas department declined to comment further. News of the decision leaked to firearm blogs.
Sig Sauer remained publicly silent through the summer, even as rumors spread through the American gun community. But, after the Dallas decision, the company moved to defend its product. On August 4, 2017, the company's CEO, Ron Cohen, issued a statement to gun trade publications in which he said: "There have been zero (0) reported drop-related P320 incidents in the U.S. commercial market, with hundreds of thousands of guns delivered to date." It's not clear whether Sig Sauer considers law enforcement sales part of that market.
Three days after that statement, Omaha Outdoors, an online gun store that publishes popular product reviews, published a written and video report exploring the issue. Andrew Tuohy, an Iraq War veteran and firearms expert, tested four P320s on video for the accidental "drop fire" problem. Three of them, when dropped at a certain angle, went off more than half the time, Tuohy told CNN. The fourth had a lighter trigger and never went off when dropped.
But even when the pistols with the heavier trigger didn't accidentally fire, there was still evidence they nearly did, Tuohy told CNN. In every case, Tuohy said, he found marks on the back of the ammunition that showed the gun had tapped the primer, the part of a cartridge that goes bang and initiates the explosion needed to send the bullet flying out of the gun. Testers at Omaha Outdoors concluded the pistol's factory-installed trigger was so heavy that when the pistol was dropped on its back with the barrel facing up, the inertia of the fall caused the trigger to pull.
"We found this result was consistent across calibers, frame sizes, and even different types of ammunition," Tuohy says in the YouTube video he published on August 7. "All of these, when dropped at the right angle, would result in uncommanded firing of the pistol."
That video prompted the Houston Police Department to conduct testing of its own. Sgt. Robert Sandoval, the department's firearms instructor, told CNN he dropped a P320 pistol 30 times in three different ways. It went off four times, he said. The chief was alerted. Officers were warned immediately.
On August 8, Sig Sauer publicly launched its "P320 voluntary upgrade program." It let gun owners send in their pistol for a fix – free of charge. The offer never calls it a repair, merely an optional "upgrade" or "update" to make the gun "enhanced."
So far, the gun maker has refused to issue a recall of the P320 pistol, which would acknowledge the dangers of the pistol and warn users to stop using it until it receives repairs. (It has, by way of comparison, issued a recall for rifles with faulty triggers.) And there is no US government agency that can force its hand. Guns are the only product that, if defective, cannot be recalled by the government, because of a special carve-out in the law that established the Consumer Product Safety Commission in 1972. Firearms enthusiasts and the National Rifle Association have pushed back against a change in the law, citing concerns that government-mandated gun recalls could be used as a means to confiscate guns and violate the spirit of the Second Amendment.
But the pro-gun crowd does look for safety in their weapons, and expects a sense of corporate responsibility. In 2016, a decade-long effort by individual gun owners resulted in a historic class-action settlement with another company, Remington, for selling a popular hunting rifle with a defective trigger. Under intense public pressure and after several documented deaths, Remington launched a "voluntary recall" and offered to replace the triggers. The company still denies wrongdoing.
Police business
Sig Sauer earned the business of several police departments across the country while selling the pre-upgrade version of the pistol. Last year, before acknowledging a fix was available, the company announced deals with the Santa Barbara County Sheriff's Office in California and the North Dakota Highway Patrol.
CNN contacted more than a dozen law enforcement agencies that have ordered the P320. All of them have sent in their pistols for an upgrade or are currently in the process of doing so. Nearly all of them said they were satisfied with the weapon's performance and the company's conduct. Sig Sauer covers the cost of all repairs and shipping.
High Point Police Department in North Carolina, one of the first to adopt the weapon back in December 2014, has replaced all 265 pistols with the upgraded version. Pasco County Sheriff's Office in Florida is in the midst of sending hundreds of P320s for repair. The Alhambra Police Department in California is currently switching to the P320 and expects to receive the fixed version. The Cambridge Police Department in Massachusetts chose to wait for Sig Sauer to release its fixed version, and it will be transitioning to the P320 this fall. None of the departments have experienced any accidental discharges, and all of them assert this purchase was the right decision.
The Hawaii Department of Public Safety, similarly, claims it has "not experienced any malfunction issues" since it adopted the pistol in 2016. "The Sig P320 is a superb firearm that [we] will continue to utilize as our cross operational primary duty weapon for many years to come." Still, that department told CNN it made sure to replace all P320s with the newer version.
One police chief in Morrow, Georgia, told CNN he initially appreciated how Sig Sauer handled the issue. Police Chief James Callaway saw the Army's contract as a blessing of the gun's safety. He went out and bought 37 of them soon after, in March 2017.
"It's been tested and tested with them. You'd think that, with the US Army signing a contract, the federal government thinks it's a good enough weapon," Callaway told CNN he reasoned.
Besides, this was the latest pistol from a gun maker with prestigious European origins and a long history of reliability and quality.
"I saw this as something I could offer as a benefit to my officers. We don't get paid much. A Glock is a Ford. A Sig is kind of like a Mercedes, something we can't afford. I was really happy to give a higher-end labeled weapon to my officers to protect themselves."
Then, on August 10 last year, he saw the Omaha Outdoors video documenting the Sig P320's tendency to fire when dropped. Concerned about the safety of his officers, Callaway pulled out his checkbook and wrote a $13,906 check to a nearby gun shop, buying a Glock to replace every officer's Sig pistol. He felt the drop fire hazard was too real to wait around.
An accidental drop "happens more often than you might think. We're just people. Sometimes you're getting dressed, and you're fumbling around. I wouldn't want one of my officers getting shot," he told CNN.
He had Sig Sauer service the original pistols, which they did for free, and six months later, the department was back to using its P320s.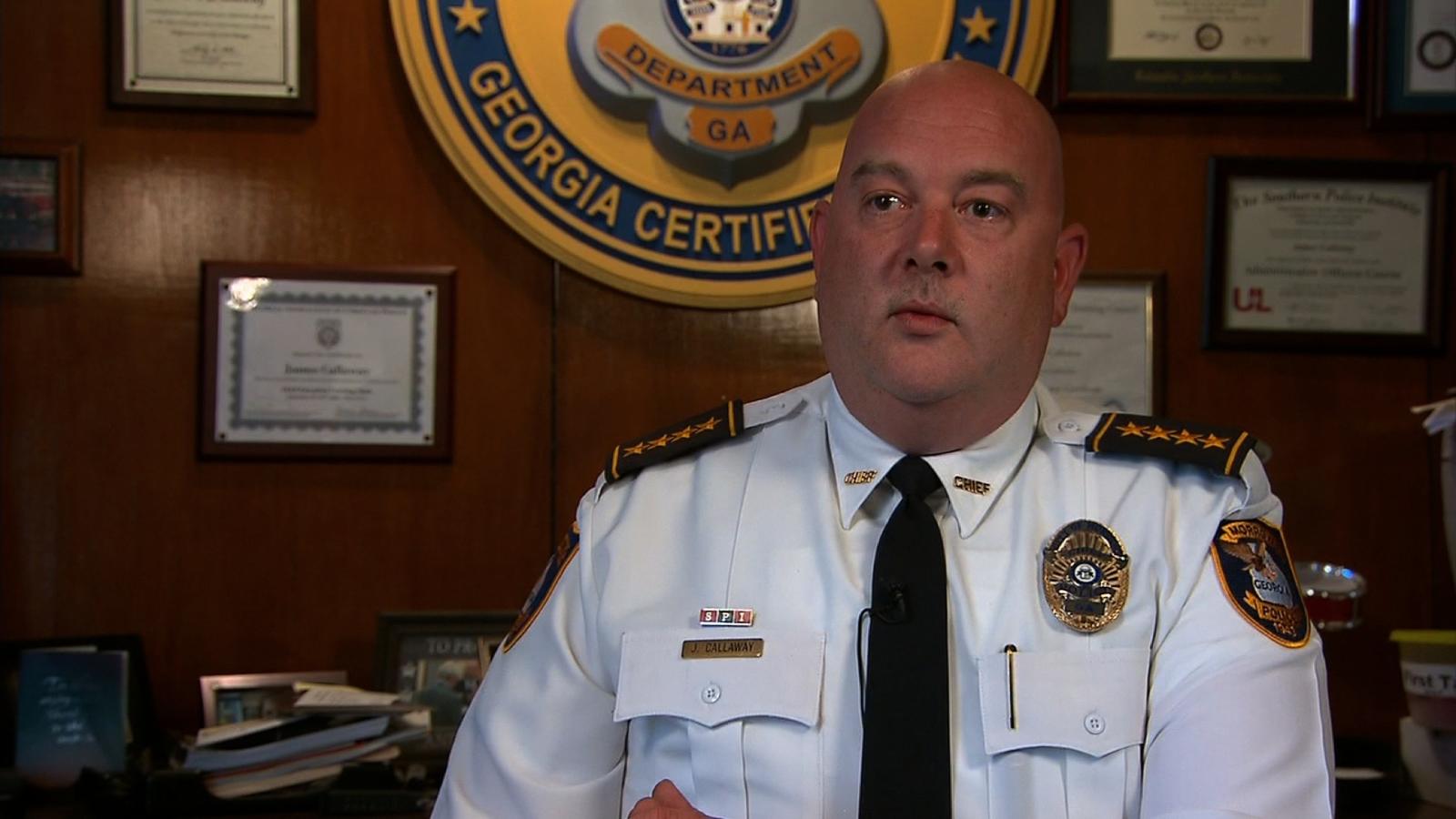 Callaway initially told CNN he was satisfied with Sig Sauer's responsiveness.
"They conducted themselves well. I notified them of my demand they fix these weapons, and they complied within six months, which is pretty reasonable," he said.
But when Callaway was told that Sig pistols had shown the drop fire malfunction in mid-2016 during testing for the Army, and had fixed those guns by April 2017, he was aghast.
On the phone, Callaway could barely contain his anger.
"So why wouldn't they send us the right ones ahead of time?" he asked. "If they knew about this problem ahead of time, before they shipped these pistols, that's egregious."