It's Friday night at the Marriott Marquis in downtown Atlanta, and in the ladies' bathroom, Agent Bloodrayne and Melisandre the Red Priestess are trading beauty tips.
"The key is to layer a few washes of color," says one of the women, leaning by a sink. They are sporting identical cherry-red hair. Melisandre's falls down her back over a full-length oxblood gown and Rayne's is cropped, like her black and red leather corset. Toning the hair is critical too, they agree. It keeps the hue looking fresh.
As they talk, a trio of Sailor Venuses in matching orange skirts and blonde wigs file in and inspect themselves in the mirror. A Gamora in green body paint does the same and discovers, miraculously, that she doesn't need a touch-up.
Through it all, nobody bats an eye. It's Dragon Con, after all, and this is the most normal thing you may see all day.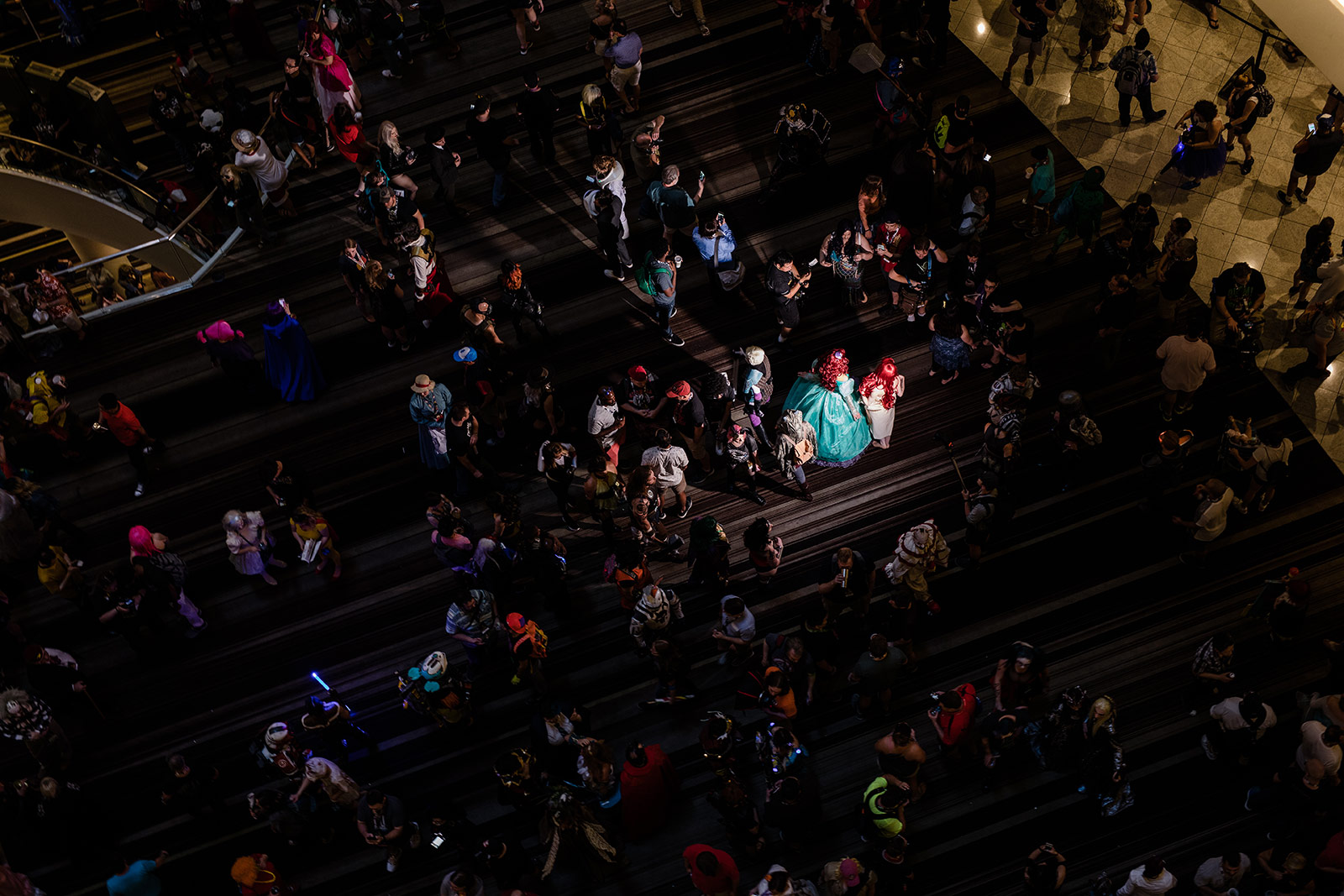 Outside, the atrium of the hotel is teeming with all manner of man and beast. A thick carousel of aliens and Spidermen and '80s wrestlers and Targaryens and Pickle Ricks mingle around the floor, sidling up to the bar for heavy pours of vodka sodas or $14 Bacardi buckets while "Chun-Li" by Nicki Minaj wafts from somewhere above. It's like someone has put every comic book character, movie villain, video game hero and pop culture artifact in a blender, splashed in some rum for good measure and set it to high.
Suddenly, the steady stream of foot traffic is disrupted by two toddlers in Pikachu costumes who have stopped to gape and wave at a towering Batman in a perfectly rendered rubber suit. Their joy is the purest thing you've ever seen.
"Sorry," their mother says, gently urging them towards the exit. "It's like Halloween for them everywhere around here."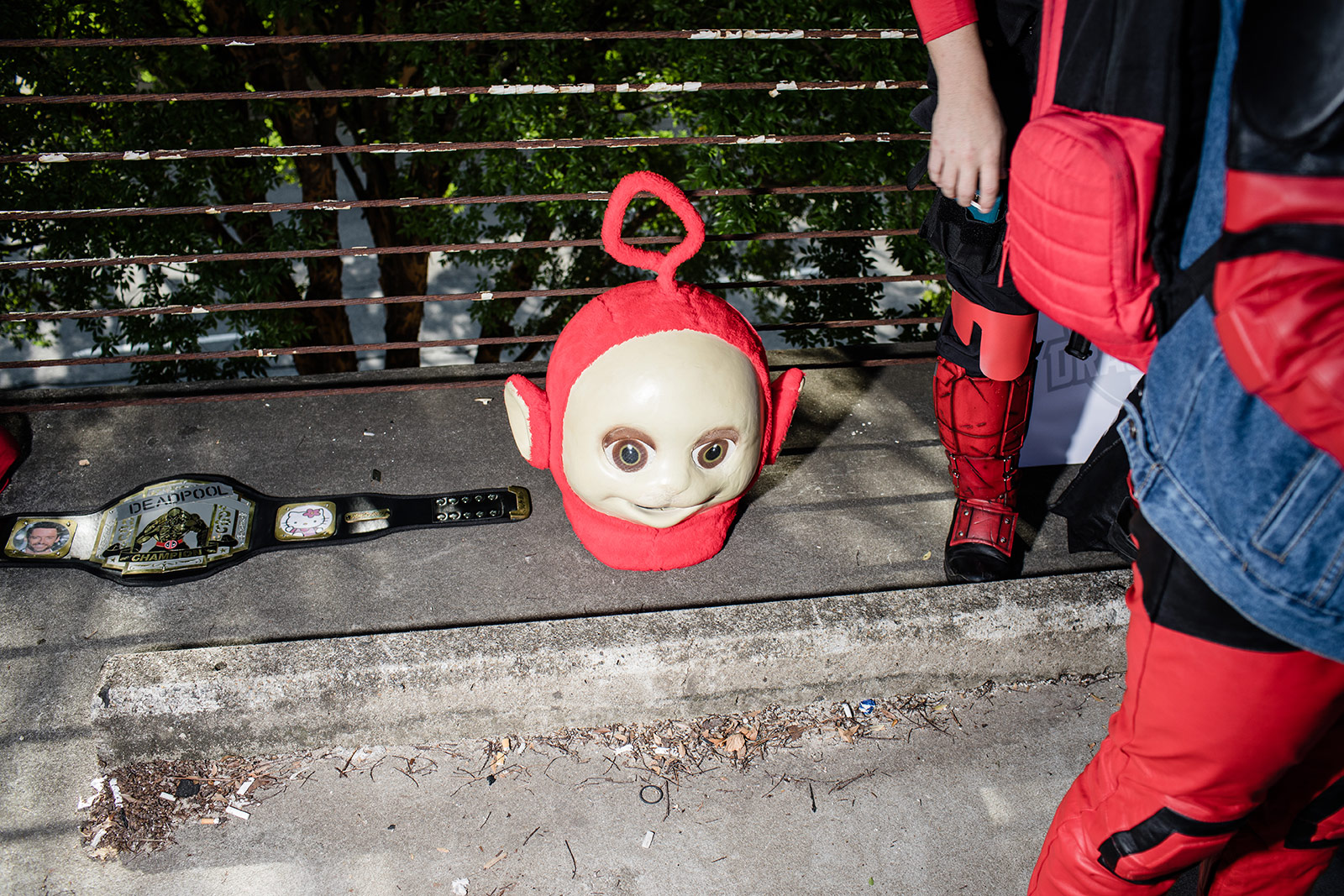 If you only had a few words to describe Dragon Con, "It's like Halloween" would be a start. It's like Halloween on steroids. It's like Halloween, if Halloween involved more than 85,000 people taking over a whole city for an extended weekend and flooding every available inch of the five host hotels, several floors of a nearby trade center and every block in between.
If you only had one word to describe it, it would probably be "overwhelming."
You might be tempted to call it a comic book convention, but Dragon Con is broader than that. If you're into it, it's here: Every movie, every TV show, every genre of literature, every video game character, every obscure nostalgic reference is the subject of loving attention.
Are you a furry? A cyber goth? A theremin enthusiast? A wannabe astronaut? A swing dancer? A romance novel addict? A Wonder Woman scholar? Fear not — there is a panel or event or kindred spirit for that, too.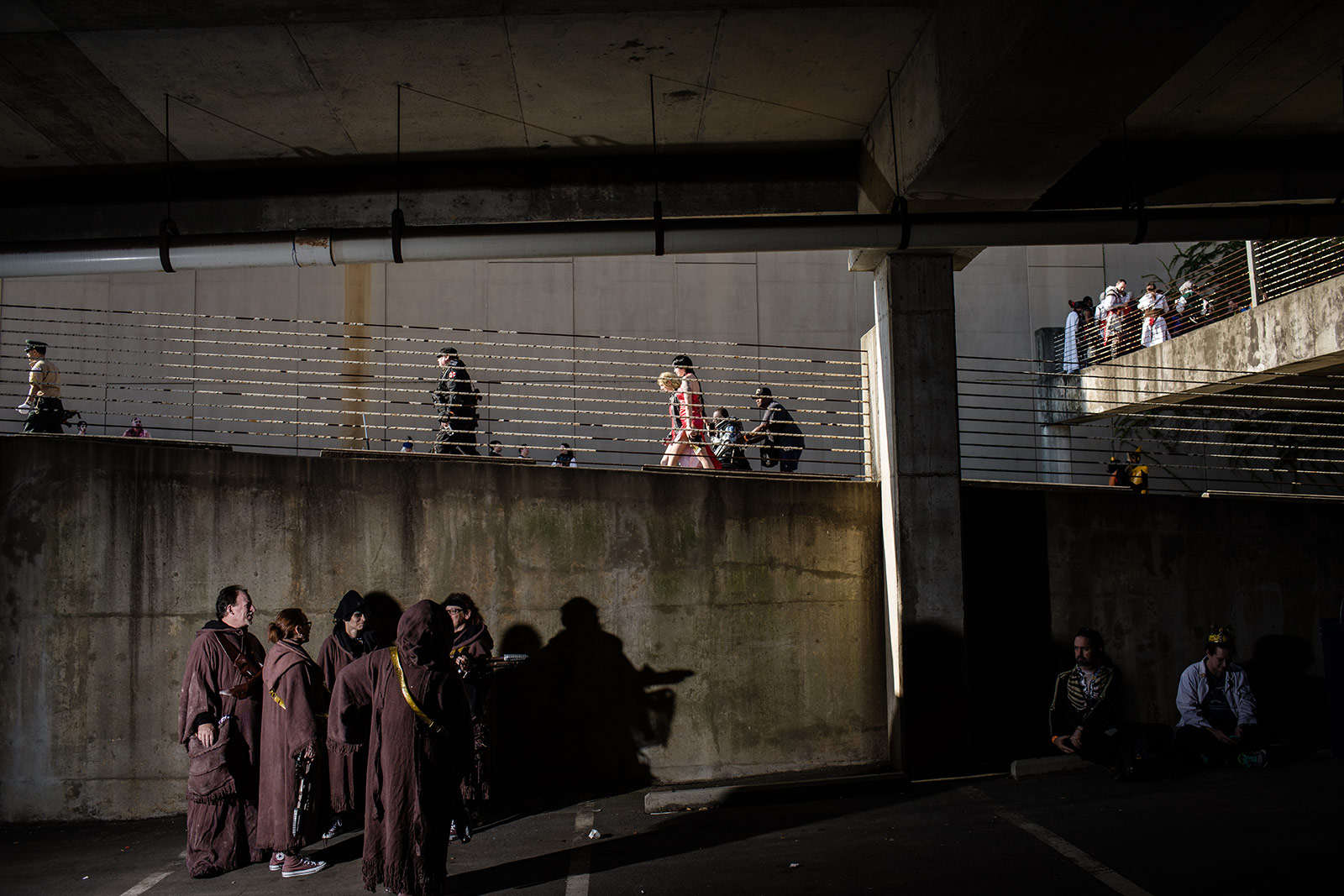 It's a nerd thing, but let's be honest. It's 2018. We're all nerds now. That person in the looming No Face costume from "Spirited Away" could be your lawyer or your child's elementary school teacher.
Take Danielle Green, a chemist from Orlando who's studying for her Ph.D. This is her first con, but you'd never know it from her outfit. She's dressed as Princess Tiana from the "Kingdom Hearts" video game franchise. There's actually no Tiana character yet, so her costume is made of pure imagination. That, and a lot of zip ties.
"I've always been a nerd, but I feel like a few years ago, I really awakened to this," Green says.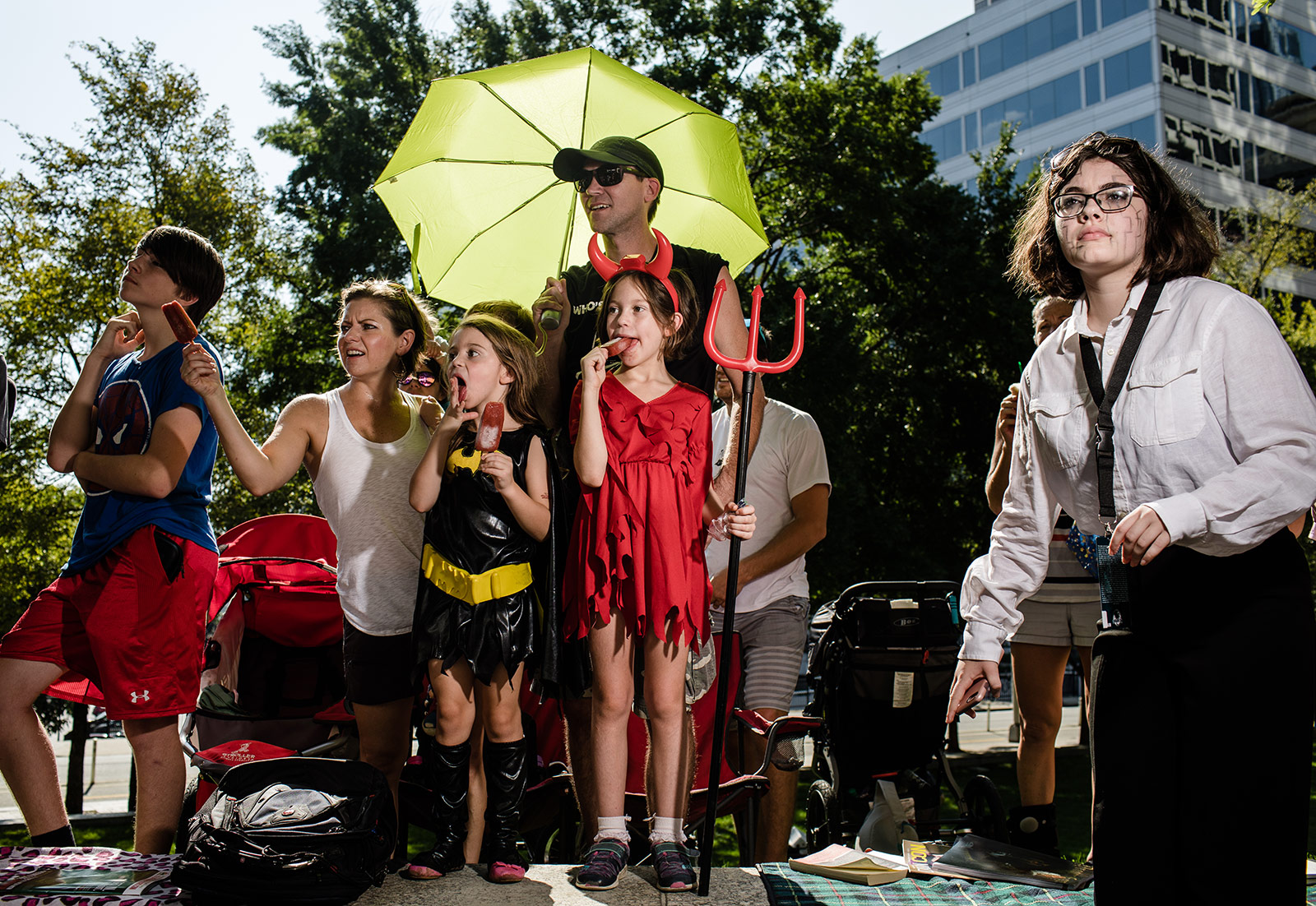 Nearby, a professional propmaker named Adam Greene is dressed as a member of the Red Jaguars from the Nickelodeon show "Legends of the Hidden Temple." He's 3D-printed a full-scale replica of the show's iconic silver monkey puzzle. It's so big he had to use several printers to make all the pieces, and spent hours sanding the seams to perfection.
People can't get enough of it, and for hours it's the center of attention at the little bar table where it sits. He's also made some replicas of the show's pendants, laser-engraved and cast in resin and bronze. The skill and love with which Dragon Con-goers craft their passions — the attention to detail — is worth the price of admission.
It's also a surprisingly effective social lubricant. Every costume and deftly designed prop is an invitation for a conversation, an inside joke or a mutual interest waiting to be recognized. A man wearing an Infinity gauntlet dressed as Snap, the Kellogg's Rice Krispies character, waits patiently as you stare at him trying figure out the pun. He's proud when you get it.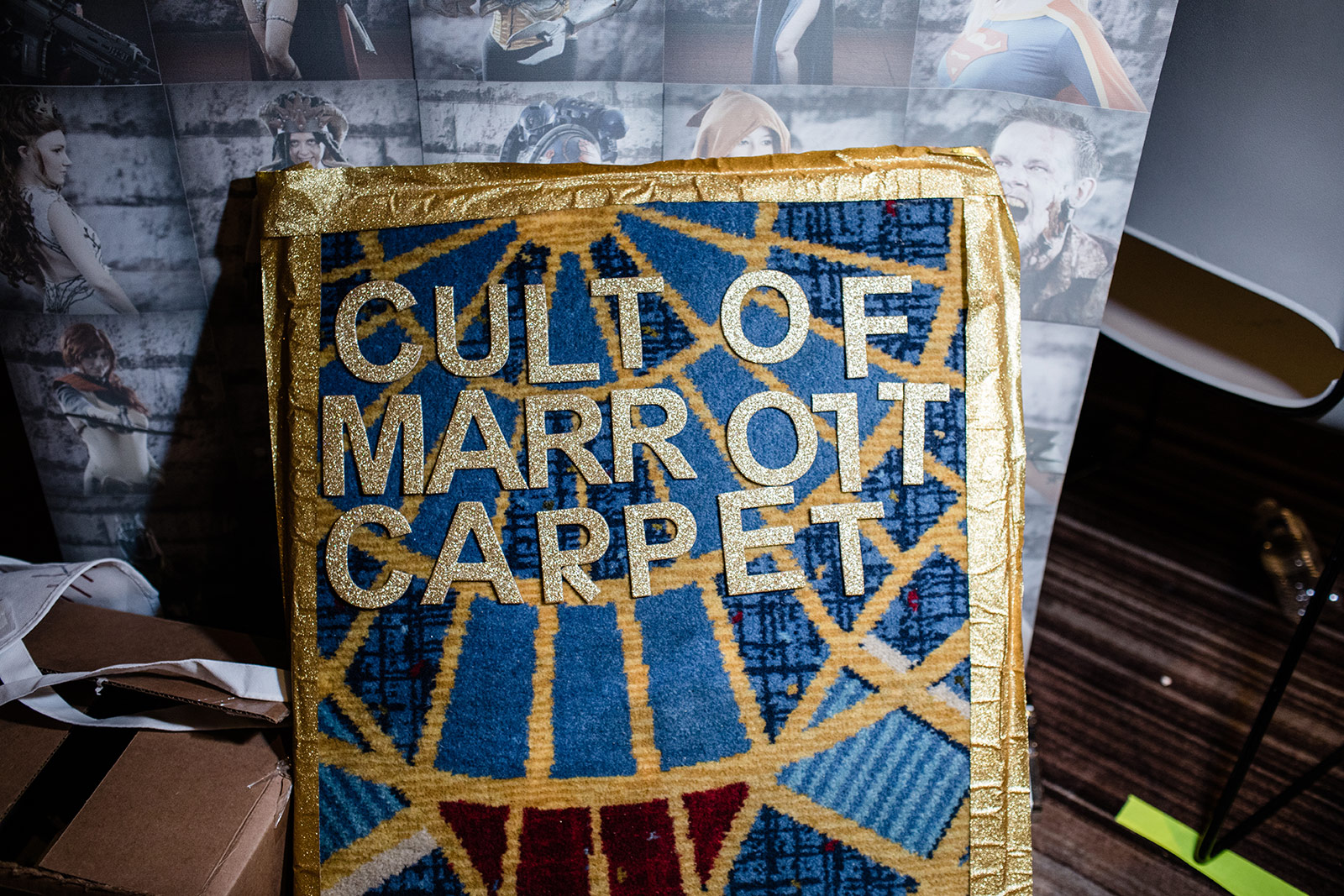 With so much prime people-watching, you could spend all day just milling around, gawking at costumes and booths. Even longtime attendees will assure you that is perfectly acceptable. If you're in costume, you could even just stay in the lobby of your hotel, posing and chatting as person after person asks you for a photo.
On Saturday, a trio of women dressed as Pennywise the clown from "It" are doing just that. Their costumes are fantastic — as one onlooker put it, "Both sexy and really scary." Keely O'Connor, Andrea Shank and Samantha Kane traveled here from Fairfax, Virginia, and their Pennywise outfits are just one of the group cosplays they're planning for the weekend. They've already done David Bowie, Prince and Freddie Mercury. On Sunday, they're doing Lando, Han and Luke from "Star Wars."
"This is one of the coolest parts of cons," Kane says. "Just meeting everyone and taking pictures."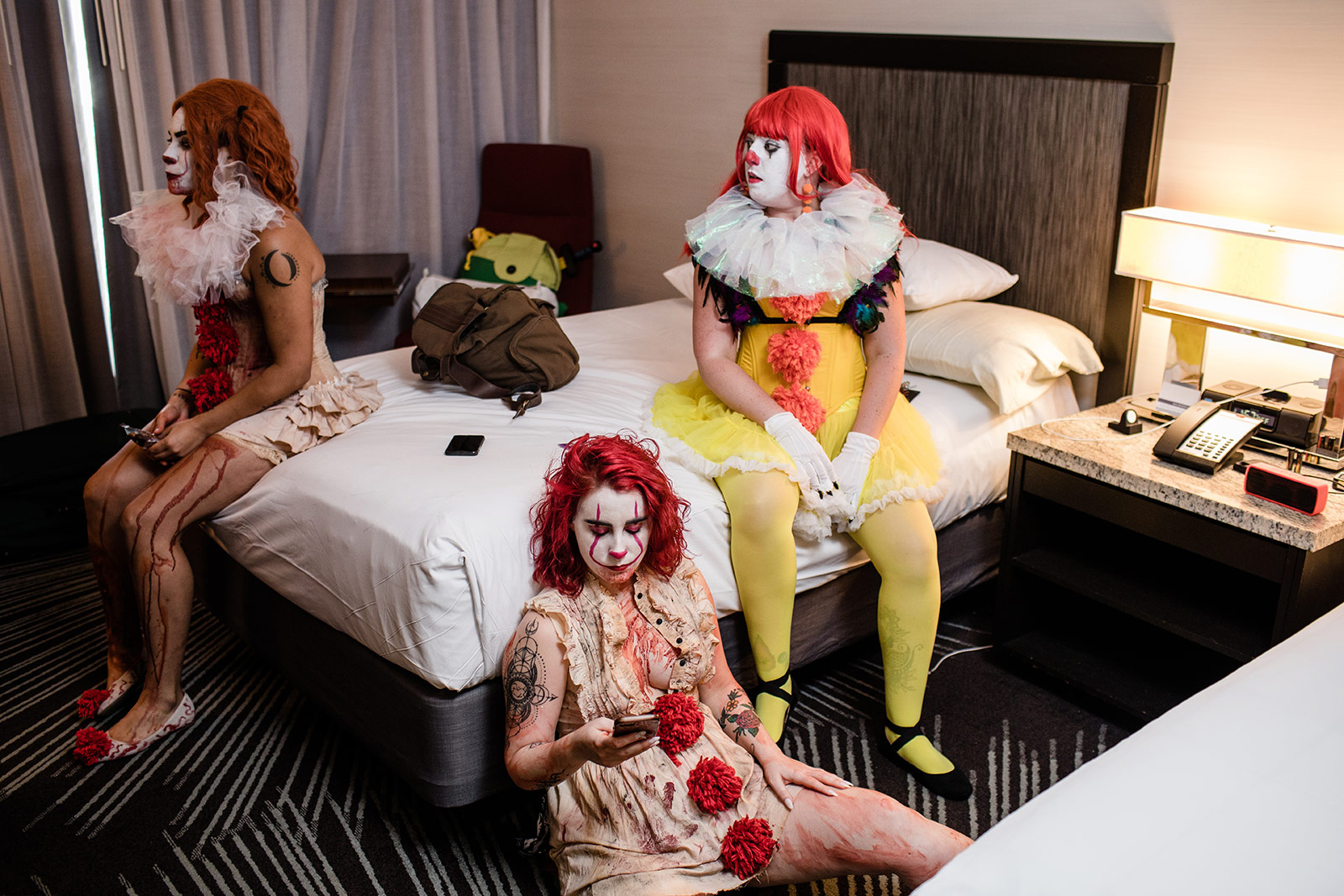 As they pose, a man in luminous blue face paint storms up to them. He's furious. "Where were you yesterday?" he says. He doesn't actually know them, and he's not actually mad. He was just Pennywise the day before. (Think of the photos that could have been!) Today though, he is a stunning Jedi genie with a bottle and piercing neon green contact lenses. Aptly, he goes by "Brandon the Shapeshifter."
While the private ins and outs of Dragon Con are endlessly fascinating, you don't get to see the true public effect of the event until Saturday morning, when thousands of celebrants march through the streets of Atlanta in the Dragon Con parade. It's a big deal. The local TV shows set up live broadcasts and the sidewalks fill up five rows deep of onlookers, snapping pictures and waving. A beautiful Black Panther float gets a rolling roar of approval from the crowd, as do the annual throngs of Deadpools and Stormtroopers.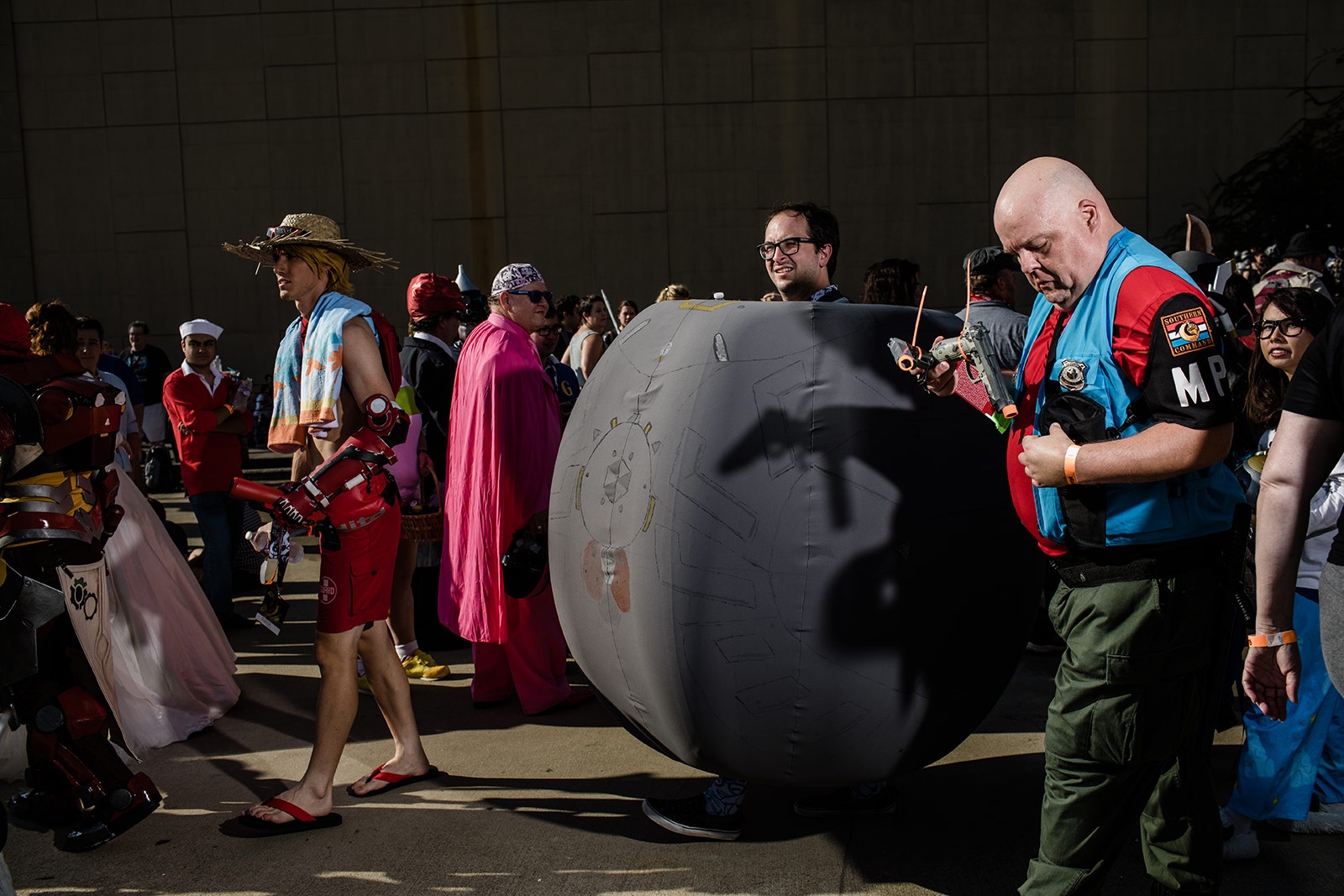 This year, the people dressed as Wonder Woman seem to be especially popular. Little boys and girls in their superhero finest call out to them excitedly, beaming when they get a hug or a wave like they've just seen the Amazon goddess herself and not a cosplay-loving paralegal from South Carolina. Walking the route feels like a mile-long hug. If this is a nerd thing, then the world needs more nerd things.
During the day, most of Dragon Con is completely kid-friendly. But at night, people tell you with a smirk, things start to get weird. The panels get a little racier as the night goes on; there's a hentai one (Google with care) and an erotic fiction one and a workshop about constructing costumes for "mature audiences." There are burlesques and cabarets that don't start until midnight. If you're not looking to be titillated, Klingon Karaoke sounds like a safer option. On Friday and Saturday nights, the parties can last until 5 or 6 in the morning.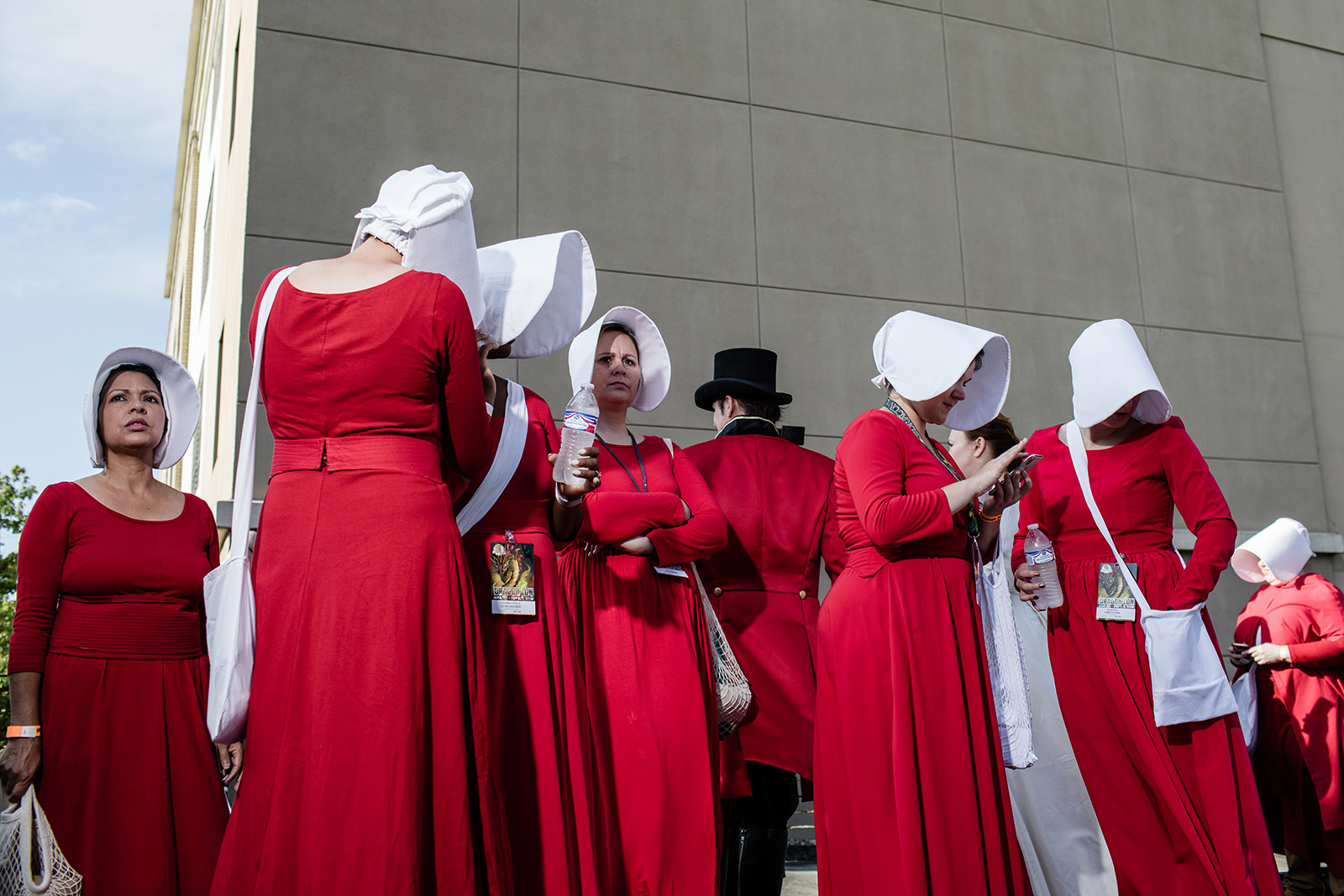 At the Heroes and Villains Ball in the Westin ballroom, the party is still jumping Sunday at 1 a.m. Throngs of people bounce on the dance floor as lasers splay out above their heads. If you close your eyes you could almost imagine this to be a normal party, but then you'd miss the man in the exceedingly creepy Pennywise outfit standing stock-still in the middle of the room, his balloons hovering above the revelers. You'd miss the blow-up T-Rex in the corner, waddle-dancing with a blow-up unicorn.
A few blocks away, a bacchanalia is brewing in the courtyard of the Sheraton, and the spicier side of the con that people keep talking about starts to come into focus. The hotel pool is full of people who have shed their armor and corsets in favor of swimsuits. Around the outside of the pool, a woman in the remnants of some sort of steampunk outfit has pulled up her skirt and is being spanked with a paddle while a small crowd watches. (She's clearly running the show.) A few yards away, a group of other women are topless except for pairs of gigantic googly eyes covering up a few critical centimeters of breast.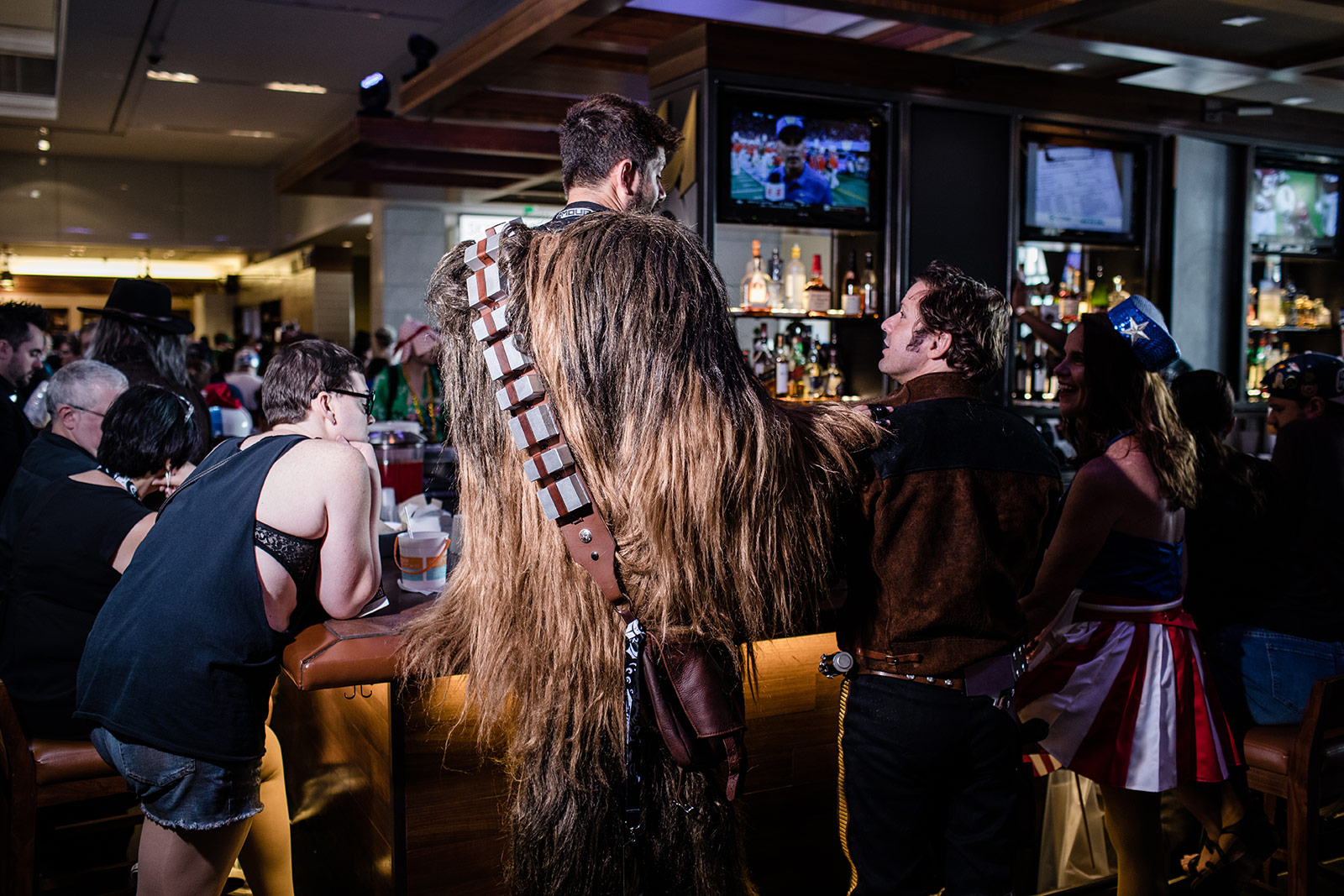 A ring of hotel rooms opens out onto the scene, and people in various states of dress file in and out of them, giggling. Everyone is holding a drink. The greenery and wrought iron in the courtyard give the whole thing a romantic air, and for all of the sins tucked away in this little pleasure garden, it's a rather respectful scene. The music isn't too loud, the conversation isn't too raucous; the bodies are never quite nude. Can you be well-behaved while misbehaving?
Fully costumed revelers are still trickling along the streets, refueling or regrouping, as night flirts with morning. A million little human dramas have played out over the evening. Someone can't find their bag. Someone has lost their friends. Someone drank too much and now they're crying for no good reason.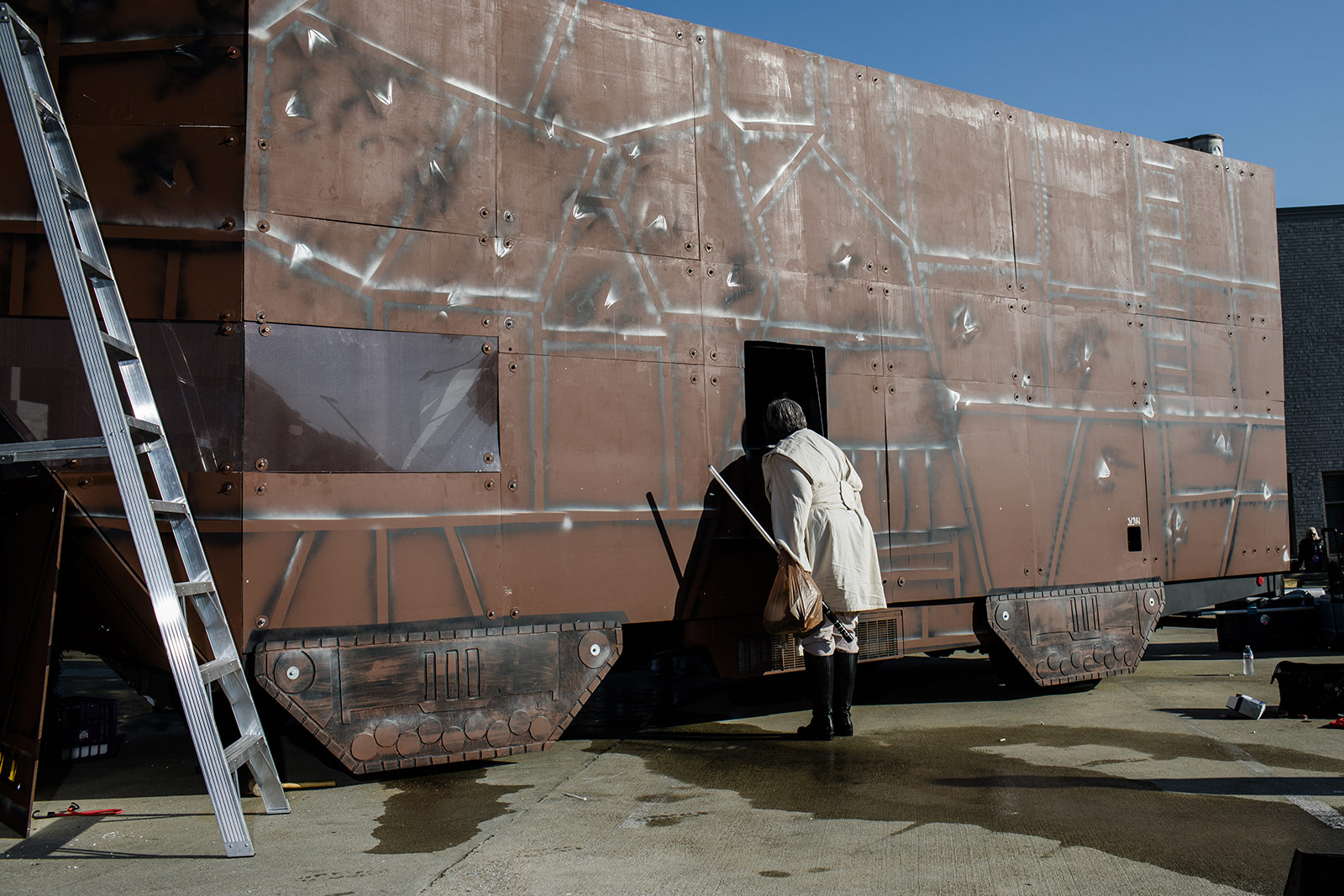 Images of pleasant dissonance are everywhere. A Rocket the Raccoon takes off his mask to crush a slice of late-night pizza. A red-robed handmaid types furiously on her iPhone.
This is a place and time where magic and mundanity meet, where even a trip to the bathroom looks like a fantasy fever dream, where no day job is too rooted in reality to keep someone from transforming themselves into something out of this world.
Raymond McCrea Jones is a photographer based in Atlanta. He is represented by Redux Pictures. Follow him on Facebook, Instagram and Twitter.
Photo editor: Brett Roegiers