Iran's top general Soleimani killed in US strike
5:39 a.m. ET, January 3, 2020
New images emerge of scene of air strike
CNN has obtained the following daylight images of the scene of the air strike that killed Qasem Soleimani.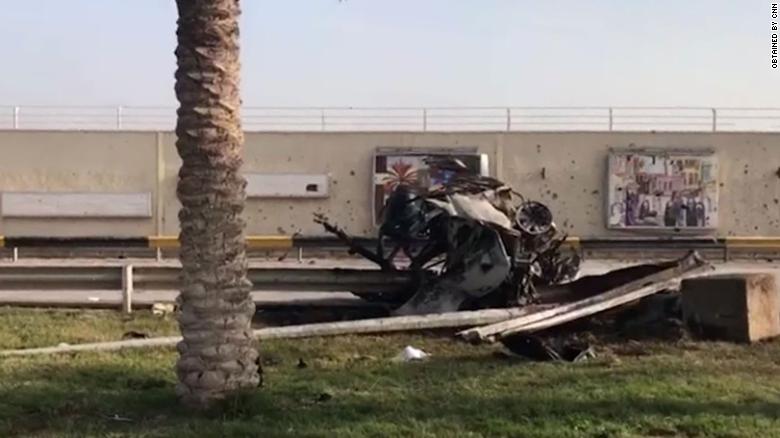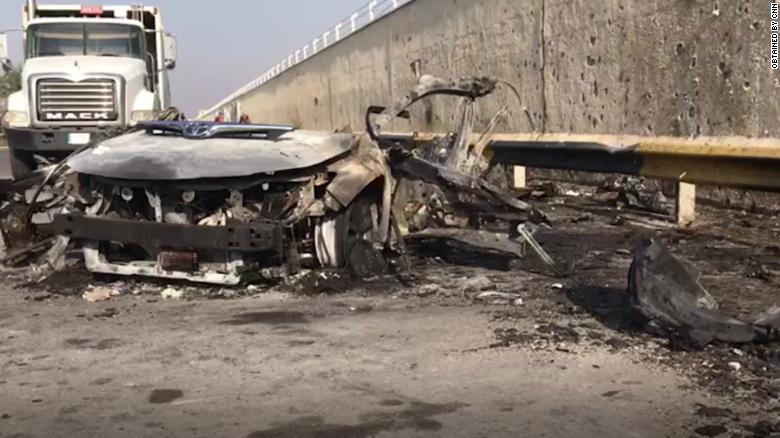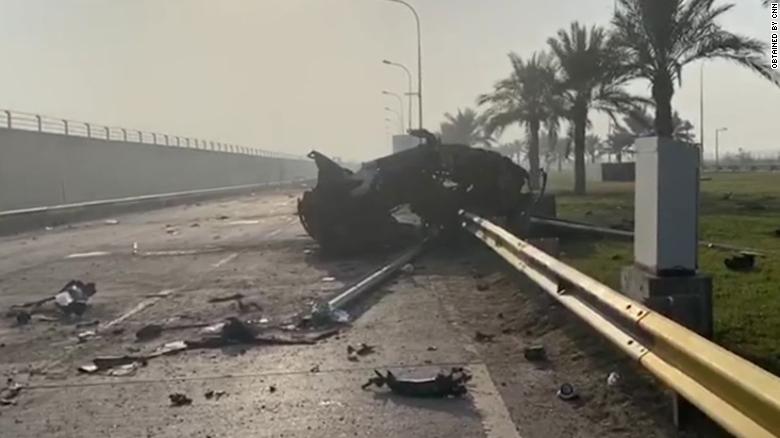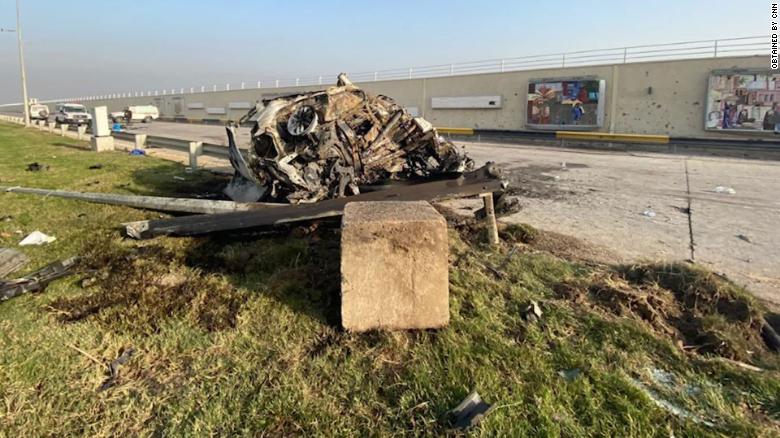 5:46 a.m. ET, January 3, 2020
Top Shiite cleric Sadr says his militias are ready to protect Iraq
From CNN's Sharif Paget in Atlanta. Translation by Eyad Kourdi in Gaziantep, Turkey.
An influential Shiite cleric in Iraq, who heads the largest political bloc in Iraq's parliament, says he is mourning the deaths of Qasem Soleimani and Iraqi militia leaders killed in US strikes on Friday, adding that his militias are ready to defend Iraq during this time.
Muqtada al-Sadr said in a Twitter statement he has given orders to his previously dismantled Mehdi Army to be prepared to "protect Iraq."
"As the patron of the patriotic Iraqi resistance I give the order for all mujahideen, especially al-Imam al-Mehdi Army, Promised Day Brigade, and all patriotic and disciplined groups to be ready to protect Iraq," he said.
Sadr also called on Iraqis to exercise "wisdom and shrewdness" and asked that God "protect the region from dangers and protect our beloved Iraq."
5:35 a.m. ET, January 3, 2020
UK urges "all parties" to de-escalate
The UK's foreign minister has issued a brief statement in response to the killing of Soleimani, saying that the threat of further conflict is in "none of our interests."
Dominic Raab's statement reads: "We have always recognized the aggressive threat posed by the Iranian Quds force led by Qasem Soleimani. Following his death, we urge all parties to de-escalate. Further conflict is in none of our interests."
5:34 a.m. ET, January 3, 2020
Western intel official: Iranian response to Soleimani's death "highly likely," could involve cyberattacks or proxies
From CNN's Nick Paton Walsh in London
A Western intelligence official told CNN that Soleimani's "cult status inside and outside Iran" means an Iranian response is "highly likely," be it through its proxies or cyberattacks.
It is highly likely there will be some response because of [Soleimani's] cult status inside and outside Iran. That could be Iran expanding their proxy funding -- that would disperse the threat. A cyber response is also a possibility as they have been aggressively running a campaign of that on a state and non-state level."
In terms of the longer-term impact, the intelligence official said: "This overt and covert sparring has been going on for 40 years and while there could be a short-term high-profile response, expect Iran to be in this for the long haul."
5:11 a.m. ET, January 3, 2020
Iraqi PM says US airstrike is a "flagrant violation" of agreement on troops
Iraq's Prime Minister Adil Abdul Mahdi has said the killing of Abu Mahdi al-Muhandis in the US airstrike violates the conditions for the presence of American troops in the country.
Muhandis, Iraq's deputy head of the Iran-backed Shia paramilitary forces known as the PMF, was killed alongside top Iranian military commander Qasem Soleimani in the airstrike.
"It is a flagrant violation of the conditions for the presence of the American forces in Iraq and their role which is supposed to be limited to training Iraqi forces and fighting ISIS within the international coalition forces, under the supervision and approval of the Iraqi government", Abdul Mahdi said in a statement issued Friday.
He went on to call for an extraordinary parliamentary session to convene and decide on the next steps Iraq could take. 
On Thursday evening, US Secretary of Defense Mark Esper said he had received requests from Iraq to downsize the US military presence in the country, currently at about 5,000 troops.
The US confirmed it was sending around 750 additional soldiers to the Middle East on Wednesday, after attacks broke out in Baghdad among hundreds of protesters in response to airstrikes in Iraq and Syria conducted by US forces.
4:46 a.m. ET, January 3, 2020
The airstrike sharply divides US politicians
The news of Qasem Soleimani's death has sharply divided politicians along party lines, with almost uniform praise for US President Donald Trump by Republicans, while Democrats have expressed concerns over the legality and consequences of the strike.
Former Vice President Joe Biden, a Democratic candidate in this year's presidential election, said Trump had "tossed a stick of dynamite into a tinderbox" with the airstrike.
And while Soleimani "deserved to be brought to justice for his crimes against American troops and thousands of innocents throughout the region," Biden warned that "we could be on the brink of a major conflict across the Middle East."
Sen. Bernie Sanders, who is also running for president in the Democratic primary, called it a "dangerous escalation" that brings the US "closer to another disastrous war in the Middle East that could cost countless lives and trillions more dollars."
"Trump promised to end endless wars, but this action puts us on the path to another one," he said.
House Speaker Nancy Pelosi warned that the US could not "put the lives of American service members, diplomats and others further at risk by engaging in provocative and disproportionate actions," in a statement.
Meanwhile, fierce Trump ally Sen. Lindsey Graham praised the President's "bold action against Iranian aggression" in a series of tweets, in which he warned Iran against retaliatory action.
Republican Sen. Marco Rubio of Florida accused Soleimani's Quds Force of choosing "the path of escalation" after Trump imposed economic pressure.
"Iran chose to respond to economic pressure with #IRGC sponsored & directed attacks aimed at killing Americans," Rubio said in a tweet.
"They chose to ignore these warnings because they believed @POTUS was constrained from acting by our domestic political divisions. They badly miscalculated."
Sen. Ben Sasse, a Republican from Nebraska, said "General Soleimani is dead because he was an evil bastard who murdered Americans," in a news release.
4:14 a.m. ET, January 3, 2020
Russia offers "condolences" to Iranians after strike
From CNN's Mary Ilyushina
Russia's Foreign Ministry has said the US airstrike will lead to growing tensions in the Middle East and issued condolences to the Iranian people, according to Russian state-run news agency TASS.
"We consider Soleimani's murder in a US missile strike in the suburbs of Baghdad an adventurous step that will lead to growing tensions throughout the region," a representative of the Russian Foreign Ministry told TASS in a statement.
"Soleimani devotedly served the cause of protecting Iran's national interests. We are offering our sincere condolences to the Iranian people," the statement added.
Earlier on Friday, prominent Russian senator Konstantin Kosachev issued a statement on his official Facebook page, saying the killing of Soleimani is "a mistake" that can hurt the US in the long run and "destroys" all efforts to save the Iran nuclear deal.  
Kosachev wrote: "I believe this is more than killing an important figure, this is a mistake. And the reason for this mistake is the typical American habit of personalizing any problem: 'Remove Saddam (Milosevic, Yanukovych, Gaddafi, Bin Laden, etc.) and everything will be solved.' But this is the logic of the show, not politics. It doesn't work longterm, but it can hit the organizers of the show like a boomerang."
4:53 a.m. ET, January 3, 2020
Airport strike follows US Embassy attack in Baghdad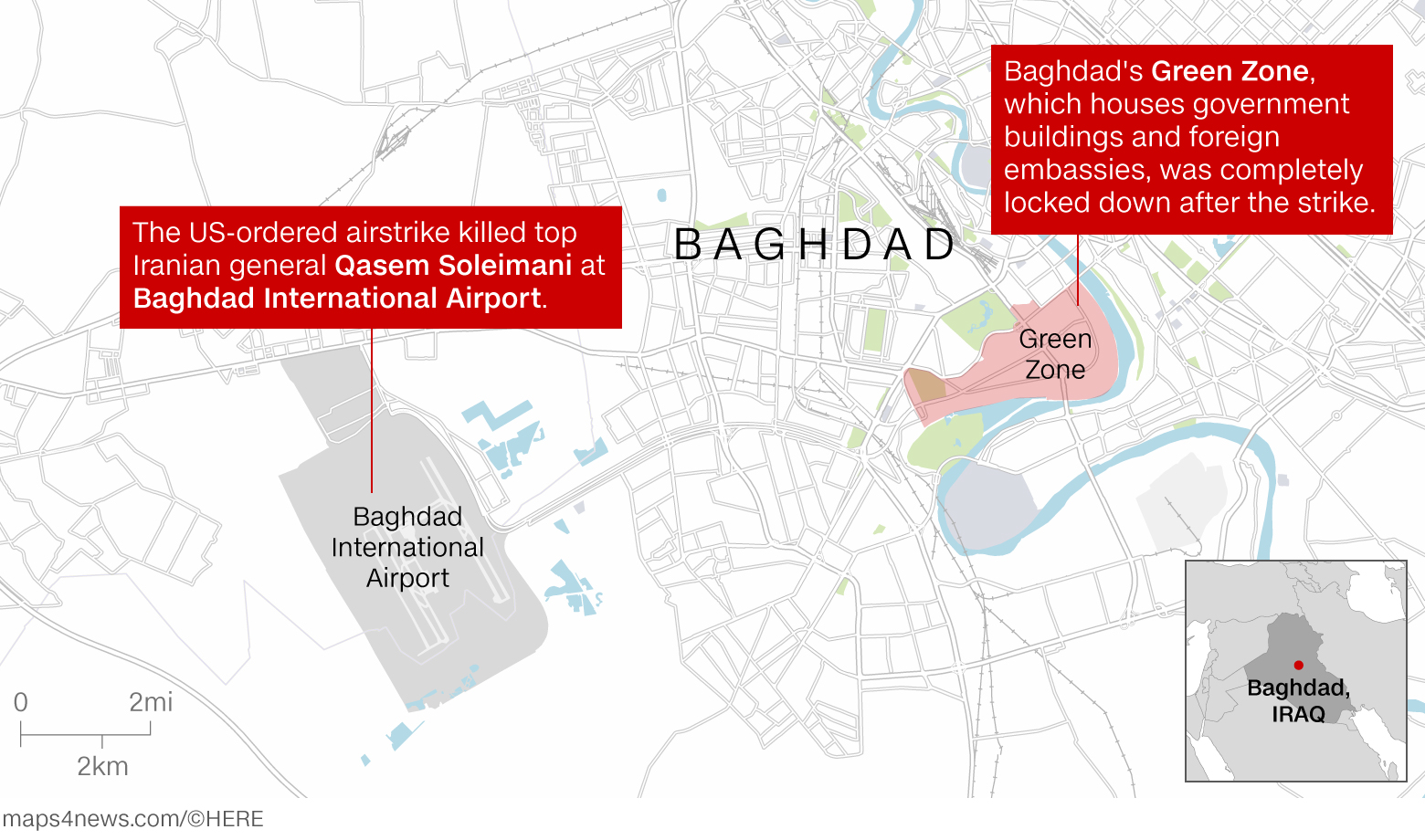 The US airstrike at Baghdad International Airport that killed Qasem Soleimani was only miles away from Bagdad's Green Zone, home to government buildings and the US Embassy, which was attacked by protesters on New Year's Eve.
Protesters attacked the embassy on Tuesday, scaling the walls and forcing the gates of the compound, as hundreds demonstrated against American airstrikes on an Iran-backed militia group in Iraq.
The pro-Iranian demonstrators were mostly from Iraq's Popular Mobilization Units (PMU), a coalition of predominantly Shiite militias. Formed in 2014 to fight ISIS, the PMU were recognized under a 2016 Iraqi law as an independent military force that answers directly to the prime minister.
Despite the Iraqi law, most observers see many of those groups, including Kataib Hezbollah, as maintaining strong links to Iran and its security forces, from which they receive funding and other support, as well as some direction.
Three leaders of powerful militia groups were also seen at the protest, including Kataib Hezbollah leader Abu Mahdi al-Muhandis -- who was later killed alongside Soleimani in Thursday night's airstrike.
3:50 a.m. ET, January 3, 2020
US tells citizens to depart Iraq immediately
The US State Department has urged its citizens in Iraq to depart "immediately" due to "heightened tensions" in the region.
Its statement also told citizens to stay away from the US Embassy in Iraq, which was stormed by pro-Iranian protesters on Tuesday.
The French government has also warned its citizens to stay away from any gatherings in Iran. A statement on the French Embassy's website on Friday advised them to stay "prudent and discreet."
It also recommends people do not take pictures in public spaces.