Iran's top general Soleimani killed in US strike
1:16 a.m. ET, January 3, 2020
Iran's Supreme Leader vows revenge for death of Soleimani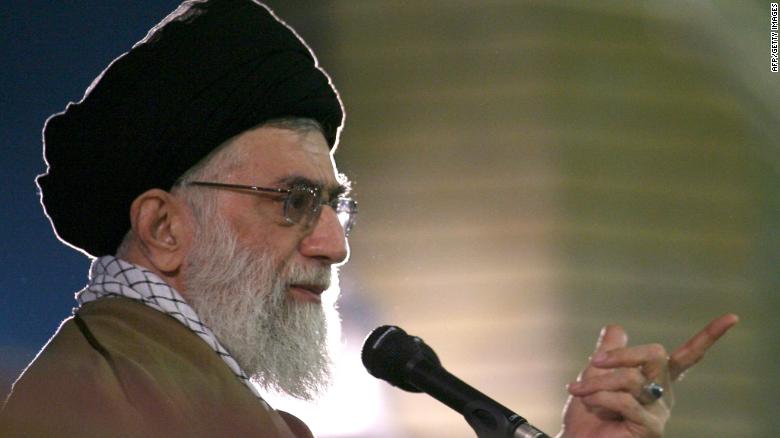 Iran's Supreme Leader Ayatollah Ali Khamenei vows revenge for the killing of the Commander of Iran's Islamic Revolution Guards Corps (IRGC) Quds Force Major General Qasem Soleimani in his first official reaction to the strike on Baghdad.
Khamenei said "harsh revenge awaits the criminals" involved in the killing of Soleimani and others, in a message to the nation published on his official website.
The Supreme Leader also said the fight would continue. "All friends - as well as all enemies - know that the path of Resistance will continue, and definite victory awaits the mujahideen on this this blessed path".
Khamenei then extolled Soleimani saying dying for the cause was the general's great wish. "For years it was his wish to become a martyr, and finally God granted him his highest office", adding "his pure blood was shed in the hands of the most depraved of human beings."  
Khamenei then extended his condolences to Soleimani's wife, children and all Iranian people.
Khamenei also declared there would be three days of national mourning.
1:49 a.m. ET, January 3, 2020
Friday's airstrikes didn't come out of nowhere. Here's what happened in the past week
The killing of Iranian general Soleimani was an audacious and unexpected move -- but there were a number of events in the lead up.
Here's how the past week has unfolded.
Friday, last week: An American contractor was killed in a rocket attack in Iraq. Several US and Iraqi military members were wounded in the attack.
Sunday: US forces conducted airstrikes in Iraq and Syria. The strikes were against five facilities the Pentagon says are tied to an Iranian-backed militia blamed for a series of attacks on joint US-Iraq military facilities that house American forces.
Tuesday: Pro-Iranian protesters attack the US Embassy in Baghdad. US President Donald Trump said he doesn't want war but that if it comes to conflict, Iran wouldn't last long.
Thursday: The Pentagon issued a strong warning to Iran-backed militias. Secretary of Defense Mark Esper said he thinks Iranian backed forces "may do" additional provocations against US interests and if they do, "they will likely regret it." He also said the US "will take preemptive action as well" if they detect an attack is imminent.
Friday: One of Iran's most revered military leaders, general Soleimani, was killed in a US airstrike. In a statement, the Pentagon said the attack was "aimed at deterring future Iranian attack plans."
2:01 a.m. ET, January 3, 2020
Israel plans to hold a security assessment after US's Baghdad strike
Israel's Defense Minister is planning to hold a security assessment on Friday morning, the ministry said in a statement.
The assessment will be held at the Defense Ministry in Tel Aviv, and Defense Minister Naftali Bennett, Israel Defense Forces (IDF) Chief of Staff Aviv Kochavi, and other senior security officials will all be attending.
On Friday morning, IDF announced it was closing Mount Hermon in the northern Golan Heights "in light of the situation." Situated at the northern tip of the occupied Golan Heights, Mount Hermon straddles Syria and Lebanon. The area could be a possible target for a response from Iranian proxies in the region.
How Israel's politicians reacted:
Israel's Prime Minister Benjamin Netanyahu is currently in Greece on an official state visit and has not yet issued a statement about the death of Soleimani.
MK Gideon Sa'ar, a member of Netanyahu's Likud party, tweeted: "God Bless America."
MK Yair Lapid, a member of the opposition Blue and White party, applauded the US's action, saying: "He got exactly what he deserved."
"I congratulate President Trump and the entire Middle East on the strike that killed Qasem Soleimani. He planned and led deadly terror attacks from Damascus to Buenos Aires and is responsible for the murder of thousands of innocent civilians," said Lapid in a statement.
"The Iranian regime is a terrorist regime and, when faced with terror, you act with force and determination. All those involved in Iran's industry of terror should know that their life is at risk."
12:56 a.m. ET, January 3, 2020
Analysis: It's important to remember the role Soleimani played in the fight against ISIS
While Qasem Soleimani was seen by the Americans as a key adversary involved in plotting attacks against their allies and assets, it is important to remember the role both he and Iran played in the fight against ISIS.
While US aircraft, special forces and local allies fought ISIS in Syria, as well as in Iraq, Iranian-backed militia also pushed the terror group back in Iraq. Soleimani was reported to have often led that fight from the front line. Iran saw the radical Sunni militant group as a threat too, but was probably also cognizant of the leverage it received by helping Iraq defeat ISIS.
Whether you endorse or condemn his actions, Soleimani was among the most influential figures in the Middle East of the past decade.
His death -- and the consequences of this stark US attack -- will weigh heavily on the next 10 years in the region.
1:10 a.m. ET, January 3, 2020
US official: Baghdad strike was a "target of opportunity"
The US airstrike at Baghdad International Airport that killed key Iranian military commander Qasem Soleimani was a "target of opportunity," according to a US official.
The strike had presidential authorization, the source said. They opted for a pre-emptive strike after previous moves of maximum pressure didn't change Iran's pattern of behavior, the official said.
The killing of Soleimani, one of the most powerful men in Iran and the wider region, is an audacious and unexpected move that marks a major escalation in tensions between Washington and Tehran that can be traced back to Trump's decision to withdraw from the Iran nuclear deal.
It also comes just hours after the Pentagon issued a strong warning to Iran-backed militias amid concerns they may conduct further provocations against the US following their attempt to storm the US embassy in Baghdad.
Read more here.
12:32 a.m. ET, January 3, 2020
Iran foreign minister: "Foolish" strike is an "act of international terrorism"
Iran's Foreign Minister Javad Zarif has described the US airstrike as an "act of international terrorism."
In a tweet posted from his official account, Zarif also described the act -- which killed top Iranian general Qasem Soleimani -- as "extremely dangerous and a foolish escalation."
"The US bears responsibility for all consequences of its rogue adventurism," he added.
1:40 a.m. ET, January 3, 2020
In Iran, Qasem Soleimani is a revered figure
It's difficult to convey just how revered Qasem Soleimani is in Iran.
To the United States, Soleimani -- who was killed in Friday's strike -- was the head of a terrorist organization.
But to people in Iran, Soleimani looms larger than almost any other figure. He's seen as brave -- and troops love him.
He's also been the mastermind of Iran's policies in Syria and Iraq.
More here:
12:43 a.m. ET, January 3, 2020
Aftermath of an airstrike
Images released by the Iraqi government show the devastation following the deadly airstrike outside Baghdad International Airport.
The strike killed Qasem Soleimani, head of the Iranian Islamic Revolutionary Guards Corps (IRGC) Quds Force unit -- among others.
According to the Iraqi military, three rockets struck near the air cargo hall. A number of citizens were also wounded.
12:19 a.m. ET, January 3, 2020
Middle East expert: "This is a huge deal"
The fact that today's strike happened on Iraqi soil is significant, according to Feisal Istrabadi, the founding director of the Indiana University Center for the Study of the Middle East.
According to Istrabadi, the Iraqi government will be considerably weakened by that. "There will be an opportunity for the destabilization of the country," he told CNN. "This is a huge deal throughout the Middle East.
"The fact that it was done over the territory of Iraq means that Iraq will become what I feared it would become from the beginning: the battleground between Iran and the United States."
He questioned what America's plan was for keeping Iraq stable after this strike.
"I fear they do not have one," he said.
Watch his analysis here: