Hosni Mubarak, former Egyptian president, dies at 91
8:28 a.m. ET, February 25, 2020
Pro-democracy activists react to the death of Mubarak
Activists who helped overthrow Hosni Mubarak in 2011 are reacting to his death on social media.
"The corrupt butcher has died without being held truly accountable for his crimes," Egyptian activist Hossam al-Hamlawy wrote on Facebook. 
"To the dustbin of history, and hopefully Sisi will receive an end fitting of his massacres," he added, referring to current Egyptian President Abdel Fattah el-Sisi, who is widely accused of being more repressive than Mubarak, and violently quashing protests against his rule.
In August 2013, at least 817 protesters were killed by security forces in an Egyptian sit-in, according to Human Rights Watch, which dubbed the attack one of the largest "killings of demonstrators in a single day." 
Mubarak was toppled in pro-democracy protests in February 2011. He was the second Arab dictator to fall in a region-wide wave of popular demonstrations known as the Arab Spring.
The late autocrat was jailed for six years on corruption charges following his overthrow. He spent most of his imprisonment in a military hospital. In 2012, he was sentenced to life in prison for complicity in the killing of protesters during the January 2011 protests. He was later acquitted of those charges.
Amnesty International said at least 840 people were killed and more than 6,000 injured during 18 days of street protests in Egypt. 
"His fall in 2011 gave many hope as he was reviled," tweeted Timothy Kaldas, who took part in the protests, and is currently a Non-Resident Fellow at Washington DC-based The Tahrir Institute.
"He lived to see a more brutal dictator take his place who has done so badly that many now miss Mubarak," said Kaldas. "He died peacefully. The protestors his regime killed weren't so lucky."
Supporters of Mubarak remember his presidency as a period of stability and moderation, a stark contrast from the political turbulence and economic hardships that followed the Arab Spring.
But his critics say his repression robbed Egypt of a political life, paving the way for the turmoil of the last decade.
"Historians will dissect his legacy," tweeted Egyptian-British academic H.A. Hellyer. "Frankly, 9 years after the #Jan25 uprising succeeded in pushing him out of power, but failed to revolutionise Egyptian politics, the first thing that comes to mind is this: much of the turmoil of the past decade is down to Mubarak's rule." 
8:06 a.m. ET, February 25, 2020
Egyptian presidency mourns death of Mubarak in statement
The Egyptian presidency is in mourning over the death of Hosni Mubarak, a presidential statement said on Tuesday. 
"The Presidency mourns, with great sorrow, former President of the Republic, Mr. Mohamed Hosni Mubarak, for what he presented to his homeland as a leader and hero of the glorious October war," the statement said.
Mubarak was hailed for his role as the commander of the airforce in the 1973 October war between Egypt and Israel. 
"The Presidency of the Republic extends its sincere condolences and condolences to the family of the [Mubarak] who passed away this morning," the presidency said.
Egyptian President Abdel Fattah el-Sisi assumed power in 2014, three years after Mubarak was removed after mass protests against him.
From CNN's Sarah Al Sirgany and Mostafa Salem in Abu Dhabi
7:28 a.m. ET, February 25, 2020
Mubarak's life in photos
President Anwar Sadat made Mubarak his vice president in 1975. After Sadat was killed in 1981, Mubarak declared a state of emergency and ruled the country for the next three decades.
Check out the link below to see a photo gallery of Mubarak's career.
7:08 a.m. ET, February 25, 2020
Mubarak's son confirms father's death
Former Egyptian president Hosni Mubarak passed away Tuesday morning, his son posted on Twitter.
"Indeed, to 'Allah we belong and to Allah we shall return.' My father Hosni Mubarak passed away this morning," Alaa Mubarak said on Twitter using a common Muslim prayer.
6:58 a.m. ET, February 25, 2020
Mubarak survived assassination attempts and ill health while in power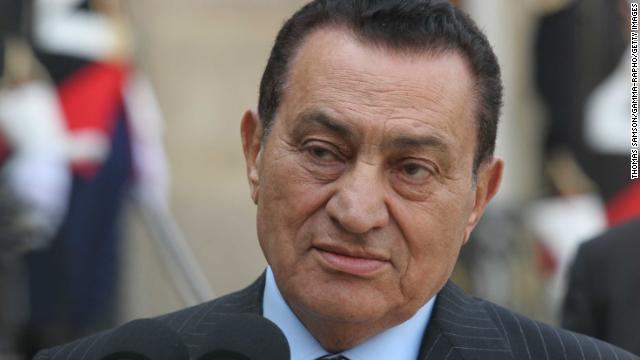 During his 29 years in power, Hosni Mubarak survived would-be assassins and ill health, crushed a rising Islamist radical movement and maintained the peace pact with neighboring Israel that got his predecessor killed.
Mubarak was in the intensive care unit at a military hospital in Cairo when he died. He was in surgery on January 23, according to a tweet by his son Alaa Mubarak.
The Soviet-trained bomber pilot became one of the leading US allies in the Middle East, receiving tens of billions of dollars in American military aid, and his government's continued observance of the Camp David accords with Israel was the cornerstone of the so-called "cold peace" between the formerly warring neighbors.
But following a January 2011 revolt in Tunisia that launched the Arab Spring uprisings, demonstrators on the streets of Cairo stood up to riot police, and the army refused to intercede on his behalf. Mubarak handed over power to a military council in February and went into seclusion in the resort town of Sharm el-Sheikh.
6:33 a.m. ET, February 25, 2020
Former president had been in intensive care unit
Hosni Mubarak was in the intensive care unit at a hospital in Cairo when he died.
The ex-president went into surgery on January 23, according to his son Alaa Mubarak on Twitter.
6:22 a.m. ET, February 25, 2020
Breaking: Hosni Mubarak dies at 91
Former Egyptian President Hosni Mubarak, who ruled Egypt for 30 years before he was overthrown in a popular uprising, has died at 91, according to state media.
Mubarak was a strongman president who led the Arab world's most populous country with an iron fist. He was deposed in 2011, and was the second Arab dictator to fall in a wave of popular protests known as the Arab Spring.