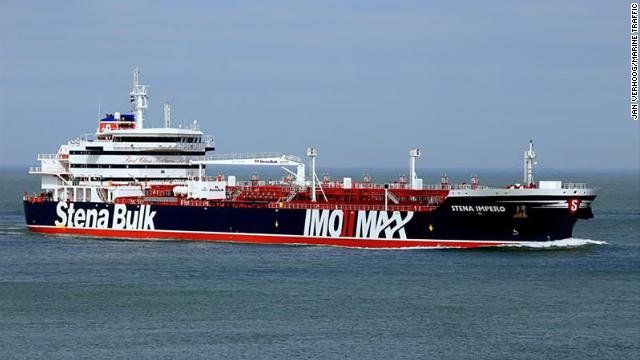 Iran seized one British tanker and stopped another in the Strait of Hormuz Friday, according to Iran's Islamic Revolutionary Guard Corps and US officials. They said the ships were "violating international regulations."
One ship, the MESDAR, has since been allowed to continue its course after Iranian officials followed up with the ship on its environmental regulations, according to Iranian military officials. It is no longer in Iranian waters.
What we know about the seizure: The US military believes the capture of the ship was a preplanned and coordinated Iranian operation. The first tanker was boarded by IRGC and taken into Iranian waters, about a half hour before the second ship was stopped. There were no British citizens on either ship.
What the US said: President Trump claimed the episode proved his warnings about Iran correct.
"This only goes to show what I'm saying about Iran. Trouble. Nothing but trouble," he said. "It goes to show you I was right about Iran."
He also noted the "US has very few tankers going in because we're using a lot of our own energy," but said the American presence in the region was still robust.
What the UK said: UK Foreign Secretary Jeremy Hunt said, "These seizures are unacceptable. It is essential that freedom of navigation is maintained and that all ships can move safely and freely in the region." The UK Chamber of Shipping said the organization condemned the capture and that "this incident represents an escalation."
Rising tension in the region: President Trump said that the USS Boxer downed an Iranian drone that came within 1,000 yards of the Navy ship Thursday. Trump said the drone was "threatening the safety of the ship and the ship's crew" in the Strait of Hormuz and was "immediately destroyed." The drone was destroyed using electronic jamming, according to a US defense official.