Iran shot down plane with two Russian-made missiles, US official says
12:29 p.m. ET, January 9, 2020
Trump says he has his suspicions about what happened during Iran plane crash
President Trump said he suspected that the recent plane crash in Iran was not due to mechanical issues, indicating that "somebody could have made a mistake on the other side."
Asked during a White House event what he thought happened to the plane, Trump said, "Well, I have my suspicions."
"I don't want to say that because other people have their suspicions," Trump said, but added, "Somebody could have made a mistake on the other side … not our system. It has nothing to do with us."
"It was flying in a pretty rough neighborhood. They could've made a mistake. Some people say it was mechanical. I personally don't think that's even a question."
Asked if he thought it was downed by accident, Trump said, "I don't know. I really don't know … that's up to them. At some point they'll release the black box."
"Ideally they'd give it to Boeing," he said, but said giving it to France or "some other country" would be fine, too.
"Something very terrible happened, very devastating," he concluded.
Important to know: Just moments ago, CNN reported that the US believes Iran shot down the plane by accident.
12:54 p.m. ET, January 9, 2020
JUST IN: US increasingly believes Iran shot down Ukrainian airliner by accident
The US increasingly believes that Iran mistakenly shot down a Ukrainian airliner, according to multiple US officials. The working theory is based on continuing analysis of data from satellites, radar and electronic data collected routinely by US military and intelligence.
The flight was downed following Iranian strikes on US forces in Iraq.
Iran's Civil Aviation Organization head, Ali Abedzadeh, said it would not hand the flight data recorders to Boeing or the United States after they were found on Wednesday.
Newsweek was first to report US and Iraqi sources believe Iran shot down the plane by mistake
11:50 a.m. ET, January 9, 2020
UK looking into "very concerning" reports about plane crash
The UK is looking into "very concerning" reports about the Iran plane crash, a Downing Street spokesperson said, according to the PA news agency.
"I'm not going to speculate on this but the reports we have seen are very concerning and we are urgently looking into them," the spokesperson told PA.
Ukraine officials said earlier Thursday they are looking into multiple causes for the crash, including a missile strike or terrorism.
11:22 a.m. ET, January 9, 2020
"We are not ruling out anything," says Sweden Minister of Foreign Affairs
Sweden's Minister of Foreign Affairs Anne Linde told CNN's Becky Anderson that nothing was being ruled out concerning the causes of the plane crash. Ten Swedish nationals were among the 176 dead.
This comes as Iran's Civil Aviation Organization invited Sweden to join the crash investigation on Thursday.
Linde told CNN said it was important to have "transparency" in the investigation, and said she did not think it was problematic that Iran was leading the inquiry.
It is "just following international rules because the plane crashed in Tehran and it's their authority to lead," she said.
She added that Sweden had no concerns about a lack of transparency on the ground.
"We are counting on the Iranian authorities to be transparent [and] to let all the experts from different countries to be able to check all the evidence," she said. "We have no reason to doubt anything at this stage." 
10:56 a.m. ET, January 9, 2020
There is physical damage to plane's black boxes, says Iranian preliminary report
Ali Abedzadeh, the chief of Iran's Civil Aviation Organization, wrote in a preliminary report on the crash that both of the plane's black boxes have been damaged, with physical damage visible.
"Both devices have been damaged by fire and the accident. There is the memory parts in both devices, however, physical damage is visible on them," the report wrote.
He added that the aircraft first rose to an "altitude of 8000 feet" before disappearing from the radar screen, and the aircraft hits the ground.
There were no radio messages from the pilot before it crashed, Abedzadeh wrote. It appeared the plane was heading westward from the airport, and when problems occurred it turned right, and crashed as it attempted to return to the airport, he added.
10:23 a.m. ET, January 9, 2020
Ukraine asks Britain to join Iran crash investigation
Ukraine's President Volodymyr Zelensky invited the United Kingdom to join the crash investigation in a phone call with British Prime Minister Boris Johnson.
A statement released by Zelensky's office Thursday stated that Johnson supported this idea and stressed that the best British experts should be involved in finding out all the circumstances of the tragedy.
"In our contacts with the Iranian side, we clearly insist on conducting a transparent, comprehensive and objective investigation in order to establish the circumstances of this tragic event as soon as possible," Zelensky said.
CNN has reached out to the UK Department of Transport and the Air Accidents Investigation Branch for comment.
9:48 a.m. ET, January 9, 2020
Ukrainian President sends condolences to British and Afghan leaders
Ukrainian President Volodymyr Zelensky talked to UK Prime Minister Boris Johnson Thursday, expressing condolences over the three British citizens who died in the crash.
"Ukraine is grateful for the UK's comprehensive support. Looking forward to stepping up our bilateral cooperation & to visiting London on invitation of Boris Johnson," Zelensky added.
He also spoke to Afghanistan President Mohammad Ashraf Ghani, saying he would "provide all information about the results of the investigation to the Afghan authorities."
According to a statement, Zelensky sent condolences over the death of four Afghan citizens in the plane crash.
"Ukraine sincerely shares the grief of the families of the dead. Truth is most important to us," he added.
9:03 a.m. ET, January 9, 2020
A visual guide to what we know about the crash
Investigators are scrambling to determine the cause of the crash that killed all 176 people on board a plane that came down shortly after takeoff from Tehran.
The Boeing 737 jet, operated by Ukraine International Airlines, took off early on Wednesday en route to the Ukrainian capital Kiev and disappeared from radar minutes later.
Eighty-two Iranians, 63 Canadians, and 11 Ukrainians died in the crash, which took place between the cities of Parand and Shahriar.
There were also 10 Swedes, four Afghans, three Germans and three British nationals among the victims.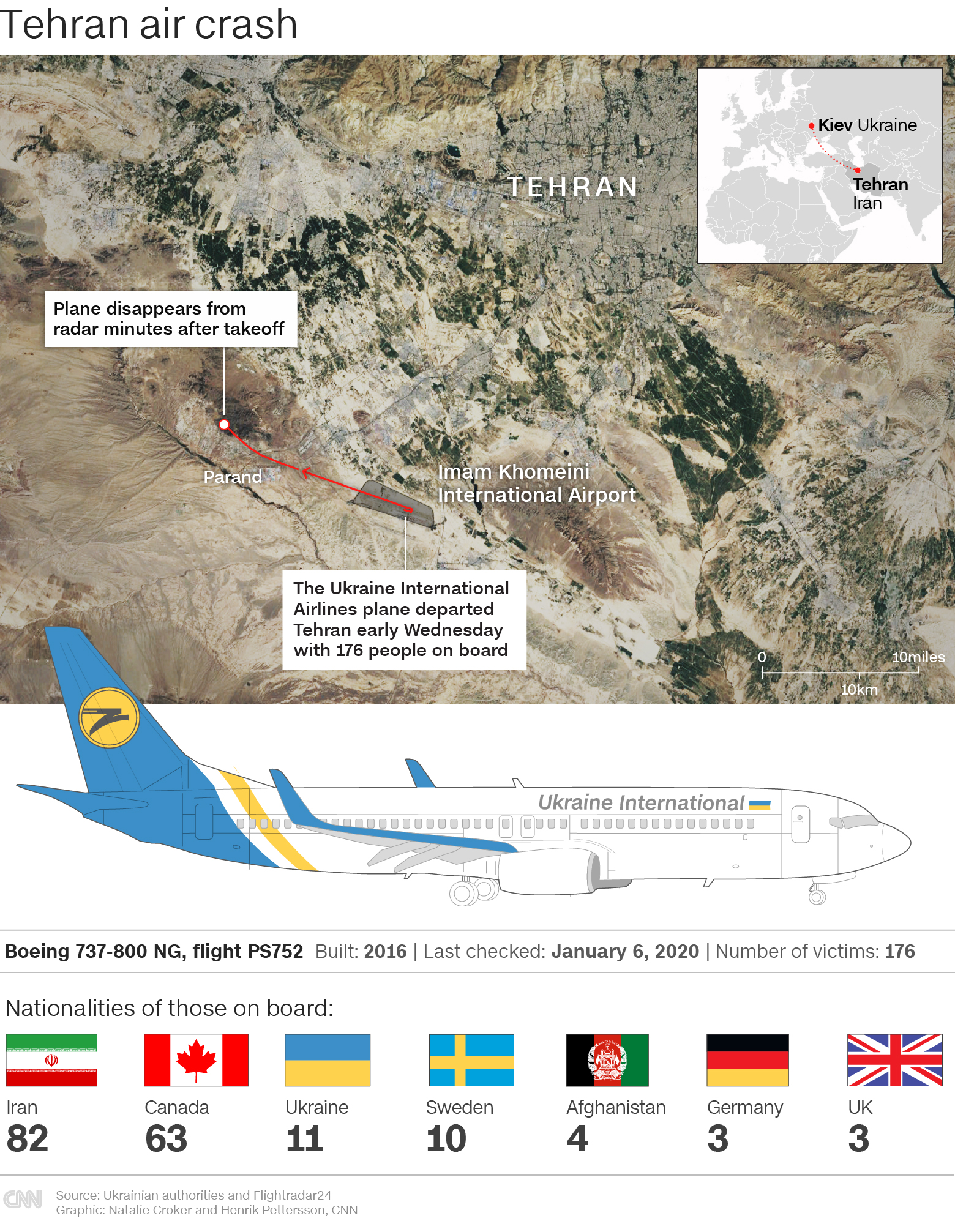 8:26 a.m. ET, January 9, 2020
The fate of the black boxes
There have been numerous questions around the fate of the black boxes recovered from the Ukraine International Airlines Boeing 737, which crashed outside Tehran.
If a country where a crash took place did not have the technology to analyze data, the black box would instead be sent to places that have extensive experience and tools to read raw flight data -- such as the UK, US, France and Australia.
What we don't know is whether Iran has the technology to do that. If not, Iran may need to decide where to send the two recovered boxes.
What would be devastating is if it botched an attempt to read the boxes; in the worst case scenario this could destroy the data.
The boxes could be sent to Russia which has the means to read black box data.