A large explosion rocked the Lebanese capital of Beirut on Tuesday at 6:07 p.m. after a major fire broke out near the city's port, killing at least 78 people and injuring 4,000.
What caused the blast: Initially, there were conflicting reports on what caused the explosion. It was earlier blamed on a major fire at a warehouse for firecrackers near the port.
Lebanon's Prime Minister Hassan Diab later said in a statement that an estimated 2,750 tons of ammonium nitrate, an explosive, had been stored at a warehouse for the past six years. Lebanon's general security chief said the substance had been confiscated years ago.
What's it like on the ground: In a word, apocalyptic. The blast tore through the city and wreaked havoc on nearly all of Beirut's quarters. The shockwave from the explosion was visible in footage of the incident.
Buildings as far away as 10 km (6 miles) from the site of the explosion were damaged. Streets were filled with shattered glass.
One witness told CNN the port was "totally destroyed."
Emergency wards were inundated with the injured, while the Lebanese Red Cross implored the public on Twitter for blood donations to help the wounded. One of Beirut's major hospitals, Hotel Dieu, received around 400 injured patients, an employee told CNN.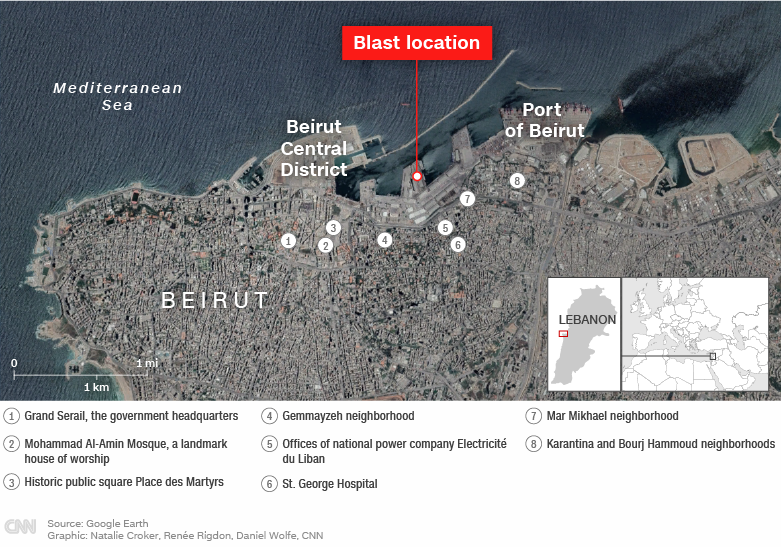 What's the government doing: Lebanese President Michel Aoun ordered military patrols in the city and vowed to investigate. Prime Minister Diab said the storage of ammonium nitrate at a warehouse was "unacceptable" and would be investigated.
"I will not rest until we find those responsible for what happened, hold them accountable, and impose maximum punishment," he said.