Trump lifts all sanctions against Turkey
6:15 p.m. ET, October 23, 2019
What to know about Trump's announcement today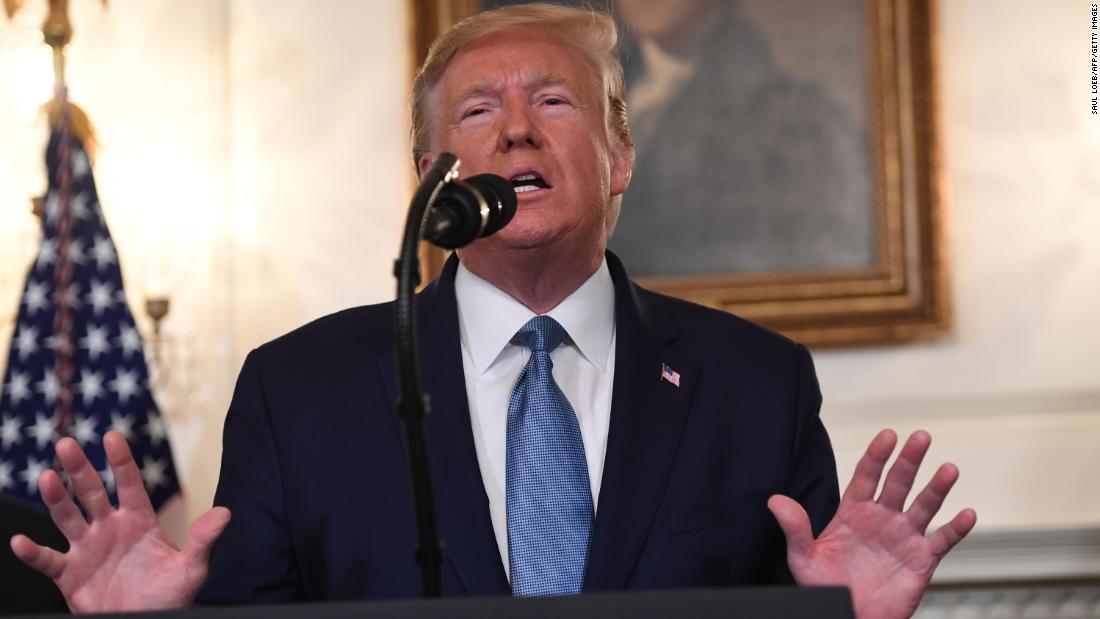 President Trump announced today that he was lifting all sanctions against Turkey after it agreed to halt its attack on America's former Kurdish allies in northeastern Syria.
Here's what we know about his decision:
What Trump didn't mention: Turkey's potential violations of international law. The US special envoy for Syria and the Global Coalition to Defeat ISIS, Jim Jeffrey, told the House Foreign Affairs Committee today that the US believes Turkish-backed opposition forces in Syria have committed war crimes. "We've seen several incidents which we consider war crimes," Jeffrey said.
On ISIS fighters: Trump said his administration had done a "good job," and claimed ISIS fighters who had escaped Kurdish jails after the Turkish attack have "been largely recaptured." He said the Kurds' military leader was "extremely thankful for what the United States has done" and has assured the US "that ISIS is under very, very strict lock and key." But Jeffrey told House lawmakers that the US now estimates that more than 100 ISIS fighters had escaped and that "we do not know where they are."
Trump contradicted himself: Trump said today that America was "getting out" of the Middle East, yet earlier this month, he announced the US would send up to 3,000 additional troops to Saudi Arabia, which would pay for them.
Anger on Capitol Hill: Sen. Marco Rubio, a Florida Republican, pointed out that Trump's decision undermines all three of the administration's stated goals in Syria — preventing an ISIS resurgence, gaining US leverage in any political solution in Syria and pushing for the withdrawal of all Iranian forces.
A deal without the US: Russian President Vladimir Putin and Turkish President Recep Tayyip Erdogan met yesterday to broker a deal regarding Syria's civil war. Under the agreement, the Russian military police and Turkish military will patrol the border. The US was not included in the negotiation.
3:20 p.m. ET, October 23, 2019
Top envoy for Syria says the US is looking into allegations of war crimes
In his House Foreign Affairs Committee hearing, US envoy Jim Jeffrey said the US is looking into allegations of war crimes in Syria.
He said the US sent packages and "a high-level demarche" to Ankara, Turkey to discuss the war crimes the US has seen committed by Turkish-supported opposition (TSO).
He also elaborated on those incidents, saying they involved the killing of Kurdish politician Havrin Khalaf and "the killing of several people who are defenseless with their hands tied."
"We're looking into that now. We immediately reached out to Ankara and asked for the highest level explanation of this and we're not going to give up on that. But that's the incident that we're all focusing on right now, there haven't been a lot of them," Jeffrey said.
1:59 p.m. ET, October 23, 2019
Trump continues to call Syria "successful," ignores questions
President Trump made brief remarks on Syria prior to boarding Marine One, but he did not take any questions on the topic — or any other matter.
"It's been very successful. We'll see what happens," Trump said of his dealing with Turkey on Syria, saying, "Turkey has done what we've asked them to do."
"It's a very volatile part of the world, but so far it's been pretty amazing what's gone on recently. Lost no soldiers, didn't have a soldier hurt. We didn't have a finger broken. It's pretty unusual, and we have thousands of soldiers that have moved out or are moving out of various areas."
Trump added that the US has the situation under "very good control." 
Remember: Jim Jeffrey, the US envoy for Syria and the coalition against ISIS, said the US believes that Turkish-supported opposition forces in Syria have committed war crimes. 
2:06 p.m. ET, October 23, 2019
Iraq's prime minister and US Defense Secretary Mark Esper met today
Iraqi Prime Minister Adil Abdul-Mahdi met with US Defense Secretary Mark Asper today. The two discussed "bilateral relations, stressing continued cooperation in countering terrorism and supporting the government's efforts to enhance security, stability and national sovereignty," according to the Information Office of the Iraqi Prime Minister.
They also discussed "the worrying developments in Syria, especially with regard to terrorists imprisoned in Syria and the possibility of their escape and infiltration into Iraqi territory, in addition to displacement as a result of military operations there," the office said in a statement.
Some background: Esper has previously said more than 100 ISIS fighters have escaped in Syria.
1:10 p.m. ET, October 23, 2019
Syrian Democratic Forces commander thanks Trump for "tireless efforts"
The commander of US-backed Syrian Democratic Forces (SDF) thanked President Trump today for his "tireless efforts" that stopped the Turkish military offensive in northern Syria.
"I just spoke with President Trump and explained to him the Turkish violations of the truce that would not have been possible without his great efforts. We THANK President Trump for his tireless efforts that stopped the brutal Turkish attack and jihadist groups on our people, " General Mazloum Abdi tweeted.
The commander said Trump will continue a partnership with SDF and "long-term support at various spheres."
Earlier today, Trump confirmed he spoke with the commander, saying, "General Mazloum has assured me that ISIS is under very very strict lock and key and the detention facilities are being strongly maintained, there were a few that got out, a small number relatively speaking and they have been largely recaptured." 
12:54 p.m. ET, October 23, 2019
Mitt Romney: "It's unthinkable that Turkey would not suffer consequences"
Sen. Mitt Romney, a Republican from Utah, took to Twitter to respond to President Trump's announcement to lift all sanctions on Turkey, saying "it's unthinkable that Turkey would not suffer consequences for malevolent behavior."
What we know: Romney has criticized Trump's actions related to Turkey and Syria. Last week, he delivered harsh remarks to Trump from the Senate floor following the announcement of a ceasefire in Syria, saying it was "not a victory" and questioned the timing of the negotiations made.
12:27 p.m. ET, October 23, 2019
Here are some of the false claims Trump made in his Syria address today
During his address about Syria from the White House moments ago, President Trump repeated some of the false claims he has made before about Syria and Turkey. 
Trump said the US military deployment to Syria was supposed to last a mere "30 days." There was never a specific timetable attached.
He also said the deployment happened "almost 10 years ago." The US began airstrikes in 2014 and deployed ground troops in late 2015. (At least a small number of intelligence officers were on the ground in 2012, but "almost 10 years" is a stretch even if he was referring to these Americans.)
Trump said others had tried to make a deal like his for "many, many decades." This is nonsensical, as we explained here. Trump made a narrow deal to stop the Turkish offensive that followed his own decision to withdraw US troops. It is not some sort of broad accord that resolves longstanding regional issues.
12:25 p.m. ET, October 23, 2019
Trump's top adviser on Syria says the US doesn't know where the ISIS fighters are
President Trump, speaking at the White House today, said that the ISIS fighters who have escaped in Syria have "been largely recaptured," directly contradicting Jim Jeffrey, his US special envoy for Syria and the Global Coalition to Defeat ISIS.
About an hour ago, Jeffrey addressed the issue of the escapees, saying, "We do not know where they are."
Trump also said there were "a small number, relatively speaking" who escaped — both Jeffrey and Defense Secretary Mark Esper have said the number is more than 100.
12:22 p.m. ET, October 23, 2019
Pence warned last week Turkey's sanctions would be lifted
Vice President Mike Pence previewed President Trump's announcement to lift all sanctions on Turkey last week when the temporary ceasefire was declared.
Last Thursday, Pence said once a permanent ceasefire was achieved, the President would withdraw the sanctions that were placed on Turkey.
A senior US official told CNN last week that the US' deal with Turkey was essentially validating the Turkish offensive.
"This is essentially the US validating what Turkey did and allowing them to annex a portion of Syria and displace the Kurdish population," the official told CNN last week. "This is what Turkey wanted and what POTUS green lighted. I do think one reason Turkey agreed to it is because of the Kurds have put up more of resistance and they could not advance south any further as a result. If we don't impose sanctions, then Turkey wins big time."