February 6, 2023 Turkey-Syria earthquake news
12:01 a.m. ET, February 7, 2023
Our live coverage of the major earthquake in Turkey and Syria has moved here.
11:39 p.m. ET, February 6, 2023
Australia and New Zealand pledge more than $11 million in aid for Turkey and Syria
From CNN's Angus Watson in Sydney
The leaders of Australia and New Zealand on Monday announced a combined total of $11.5 million in aid for victims of the devastating earthquake in Turkey and Syria.
During a joint news conference in Canberra on Tuesday, Australian Prime Minister Anthony Albanese said the country would provide an initial $10 million in humanitarian assistance through the Red Cross, Red Crescent and humanitarian agencies.
"Australia's assistance will target those in greatest need." he said.
New Zealand Prime Minister Chris Hipkins, who is on his first state visit to Australia, said Wellington would contribute $1.5 million.
In a statement Tuesday, New Zealand Foreign Minister Nanaia Mahuta said the "humanitarian contribution will support teams from the Turkish Red Crescent and Syrian Arab Red Crescent to deliver essential relief items such as food supplies, tents and blankets, and provide lifesaving medical assistance and psychological support."
10:49 p.m. ET, February 6, 2023
Turkey urges people to "leave roads open" for search and rescue teams following earthquake  
From CNN's Sahar Akbarzai 
Turkey's Disaster and Emergency Management Agency (AFAD) is urging people to stay off the roads to help search and rescue efforts following the earthquake.
"Please leave the roads open and do not go into traffic unless necessary so the search and rescue teams and the emergency vehicles that are directed to the earthquake zones can carry out their work," the agency tweeted Monday.  
At least 300,000 blankets, 24,712 beds, and 19,722 tents have been sent to affected earthquake areas, AFAD said. 
AFAD said in order to provide "psycho-social" support services to affected individuals, 765 personnel workers and 50 vehicles were dispatched to affected earthquake areas.  
10:45 p.m. ET, February 6, 2023
First of two Indian disaster relief teams depart for Turkey
From CNN's Manveena Suri in New Delhi
The first of two Indian disaster relief teams left for Turkey on Monday night, according to the Indian Air Force.
The Indian Air Force tweeted Tuesday that a C-17, a strategic transport aircraft, left for Turkey "bearing search and rescue teams of the National Disaster Response Force (NDRF)."
India's Ministry of External Affairs (MEA) tweeted a similar post, writing, "The first batch of earthquake relief material leaves for Türkiye, along with NDRF Search and Rescue Teams, specially trained dog squads, medical supplies, drilling machines and other necessary equipment."
The rescue efforts come in the wake of a deadly earthquake that struck Turkey and Syria on Monday. Soon after, Indian Prime Minister Narendra Modi offered his condolences with his office saying in a statement that "relief material would be dispatched immediately" in coordination with the Turkish government.
"Two teams of NDRF comprising 100 personnel with specially trained dog squads and necessary equipment are ready to be flown to the earthquake hit area for search and rescue operations," the statement said. "Medical teams are also being readied with trained doctors and paramedics with essential medicines. Relief material will be dispatched in coordination with the Government of Republic of Türkiye and Indian Embassy in Ankara and Consulate General office in Istanbul."
India's Minister of External Affairs S. Jaishankar also extended his condolences, tweeting Monday night that he had contacted his Syrian counterpart, Faisal Mekdad.
"Expressed solidarity and conveyed our support including through supply of medicines," he tweeted.
10:34 p.m. ET, February 6, 2023
There have been 100 aftershocks so far in Turkey, USGS says
From CNN's Taylor Ward
At least 100 aftershocks measuring 4.0 or greater have occurred since the 7.8 magnitude earthquake struck southern Turkey on Monday morning local time, according to the United States Geological Survey.
As the time from the original earthquake extends, the frequency and magnitude of the aftershocks tend to decrease. However, 5.0 to 6.0-plus aftershocks are still likely to occur and bring a risk of additional damage to structures that are compromised from the original earthquake. This brings a continued threat to rescue teams and survivors.
The aftershocks stretch for more than 300 kilometers (186 miles) along the fault zone that ruptured in southern Turkey, oriented from southwest to northeast and stretching from the border with Syria up through the province of Malatya.
10:10 p.m. ET, February 6, 2023
Aid planes from Iraq and Iran land in Syria
From CNN's Ruba Alhenawi and Mitchell McCluskey
Planes carrying aid shipments from Iraq and Iran arrived at Damascus International Airport after a magnitude 7.8 earthquake devastated Turkey and Syria, Syrian state media SANA reported.
The Iranian aid arrived on Monday and the Iraqi aid was delivered early Tuesday morning local time, SANA reported.
Mahdi Ghanem, an official at the Iraqi Ministry of Foreign Affairs, told SANA that each plane carried about 70 tons of food, medical supplies, blankets and necessary supplies.
On Monday, Iraq's Prime Minister Mohammed S. Al-Sudani announced they would send a shipment of emergency medical supplies, first aid and shelter supplies as well as medicine and fuel.
Iran's Foreign Minister Hossein Amir-Abdollahian told Syrian Foreign Minister Faisal Mekdad he would dispatch humanitarian aid to the area, Iranian state media IRNA reported.
9:47 p.m. ET, February 6, 2023
Japan sends disaster relief rescue team to Turkey
CNN's Mayumi Maruyama in Hong Kong
Japan has sent the country's Disaster Relief Rescue Team in response to the earthquake in Turkey, according to a Monday statement by Japan's Ministry of Foreign Affairs.
"Upon the request of the Government of Turkey, and in light of humanitarian perspective and Japan's friendship relations with Turkey, Japan has decided to provide this emergency assistance to Turkey to meet its humanitarian needs," the statement read.
The Disaster Relief Rescue Team departed for Turkey on Monday night to support search and rescue operations, the statement read.
9:50 p.m. ET, February 6, 2023
Death toll climbs to 4,372 after earthquake rocks Turkey and Syria
From Gul Tuysuz in Ankara
At least 4,372 deaths have been confirmed after a powerful magnitude 7.8 earthquake rocked Turkey and Syria early Monday.
Turkey's toll rose to 2,921 as of Tuesday morning, according to Yunus Sezer, Turkey's head of disaster services.
A total of 15,834 injuries have been reported, Sezer said in a news conference in Ankara.
Sezer said he would provide a more comprehensive update at 6 a.m. local time (10 p.m. ET).
In Syria, 1,451 deaths and 3,531 injuries have been reported by officials.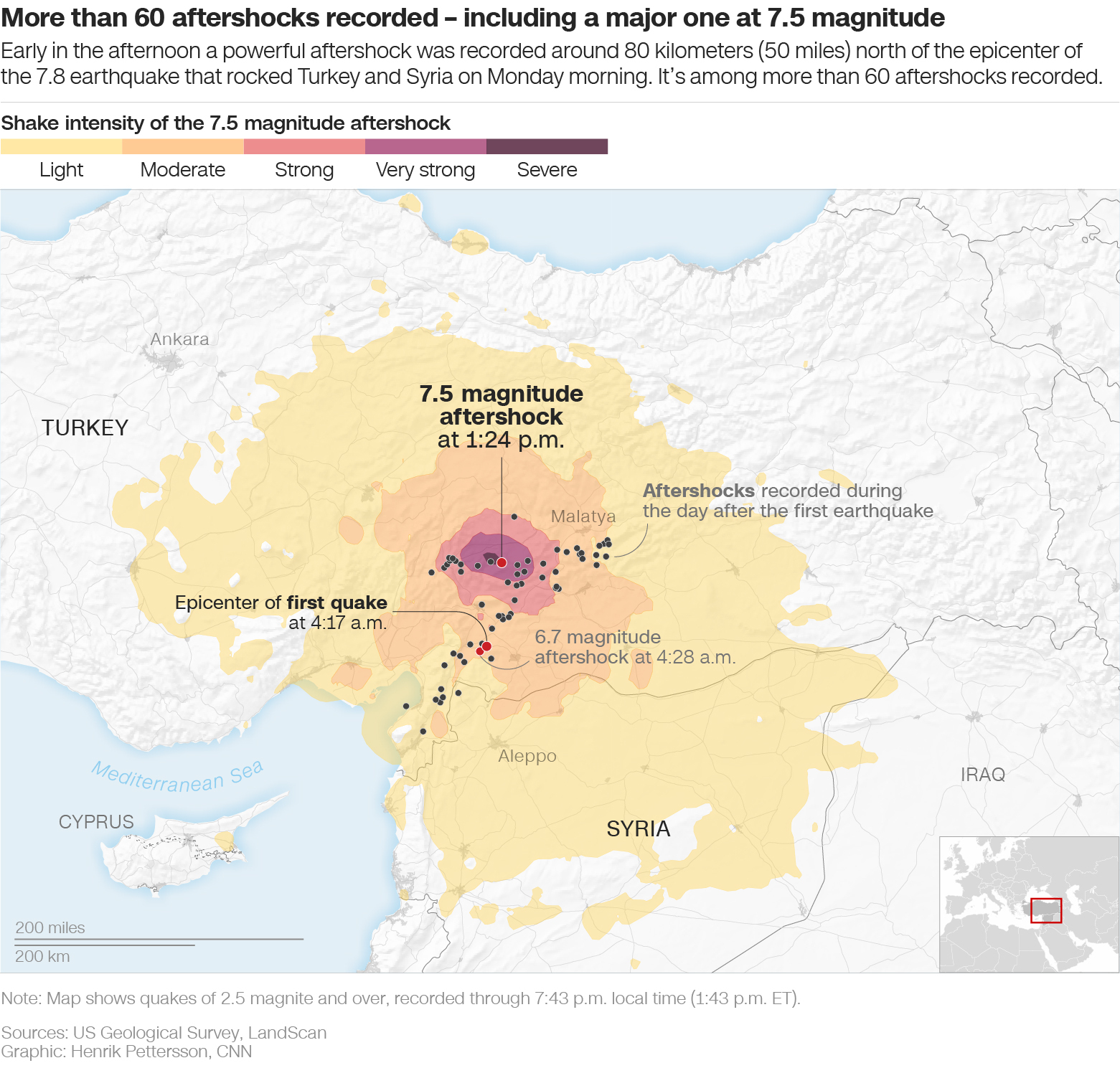 10:08 p.m. ET, February 6, 2023
Los Angeles County Fire Department sends search and rescue team to Turkey
From CNN's Taylor Romine and Sara Smart
The Los Angeles County Fire Department is sending 78 members of their Urban Search and Rescue (USAR) team to Turkey after the country experienced devastating earthquakes Monday, the department announced in a news release. 
At the request of the Bureau of Humanitarian Assistance (BHA), the fire department is sending the USAR team, known as USA-2, and an additional seven personnel members to assist operations, they said. 
The team will depart Monday evening and may be deployed for two weeks or longer, the department said. 
"This USAR team is the best of the best and will be instrumental in saving lives and rescuing people who continue to be stuck under rubble," said Kathryn Barger, Los Angeles County fifth district supervisor, in a release.
The USAR team includes rescue specialists, physicians, K-9 search teams and structural engineers who have spent a lot of time training for these events, Los Angeles County Fire Chief Anthony Marrone said during a news conference Monday evening.  
"This team is highly skilled and elite in urban search and rescue and is specially trained to assist in rescue efforts, especially in earthquakes like the one that just struck central or southeast Turkey," Marrone said. 
One of the team's biggest concerns is how they are going to be able to get to the areas in Turkey that need help after so much infrastructure collapsed during the quake, North Region Deputy Fire Chief Tom Ewald said. The United States Agency for International Development is currently working on those logistics, he added.  
The Los Angeles USAR team will be joined by the Virginia Task Force 1, which is sending a crew of 79 members and six dogs to Turkey, the team tweeted on Monday.