February 10, 2023 Turkey-Syria earthquake news
12:09 a.m. ET, February 11, 2023
Our live coverage of the quake and rescue efforts in Turkey and Syria has moved here.
9:54 p.m. ET, February 10, 2023
Death toll climbs to 23,831
From CNN's Jonny Hallam
The number of people killed following Monday's devastating earthquakes in Turkey and Syria has reached at least 23,831, according to authorities.
The death toll in Turkey rose to 20,318, with 80,052 reported injuries, according to the country's disaster agency. 
In Syria, the total number of those killed stands at 3,513, including 2,166 deaths in rebel-held areas in the northwest of the country, according to volunteer organization Syria Civil Defense, also known as the White Helmets.
Syrian state media also reported 1,347 deaths in government-controlled parts of Syria.
10:51 p.m. ET, February 10, 2023
3 brothers rescued in Turkey after nearly 5 days under rubble
From CNN's Talia Kayali and Philip Wang
Three brothers were rescued from the wreckage of a five-story apartment building 120 hours after the earthquake struck, Turkish state media TRT reported Friday.  
The network showed footage of the third brother being rescued. He was wrapped in a thermal cover and was sent to the hospital for further medical evaluation, it said. 
According to TRT, the rescue team worked for nine hours at the location in Antakya – the main city of hard-hit Hatay province – digging down to the second floor. The team rescued the first brother at the 117th hour and the second one at the 119th.
8:42 p.m. ET, February 10, 2023
Red Cross calls for urgent access in northern Syria to offer "impartial humanitarian assistance"
From CNN's Philip Wang and Mohammed Tawfeeq
Mirjana Spoljaric, president of the International Committee of the Red Cross called for more access to all parts of northern Syria following the deadly earthquake.
"What is most important now is that we gain access to all parts of northern Syria to help people who need our urgent support," Spoljaric said in a statement Friday. "Impartial humanitarian assistance should never be hindered, nor politicized."
Some background: The delivery of urgent supplies to quake-hit rebel-held areas in northern and northwestern Syria has been complicated by a long-running civil war between opposition groups and the Syrian government.
Earlier Friday, CNN reported that the government approved sending aid into rebel territory in the northwest area, but no timeline was provided.
8:14 p.m. ET, February 10, 2023
The search for survivors is over in rebel-held areas of Syria, White Helmets say
From CNN's Mohammed Tawfeeq
The volunteer organization Syria Civil Defense, also known as the White Helmets, announced the end of its search and rescue operations for survivors in rebel-controlled areas in the north and northwest following the earthquakes that hit the country and Turkey on Monday.
The group said it believes no one trapped under the rubble is still alive after 108 hours of searching.
However, it is now searching for the bodies of those under collapsed buildings.
"Since the beginning of the earthquake on Monday at 4.17am local time until the announcement of the end of the search and rescue operations, 2,166 deaths were registered and more than 2,950 injured in all the areas hit by the earthquake in north and northwestern Syria," the White Helmets said in a statement released Friday.
"Our teams have conducted 108 hours of work in more than 40 cities, towns and villages in northwestern Syria, in which about 479 residential buildings were completely destroyed, and more than 1,481 buildings were partially destroyed," the statement added.
According to the statement, many women and children were among the dead people in the most affected areas, including in the towns of Jindires and Haram in north Syria.
8:06 p.m. ET, February 10, 2023
Teenage boy pulled from rubble in Turkey 119 hours after earthquake
From CNN's Talia Kayali and Jonny Hallam
A 16-year-old boy was pulled alive from the rubble of a destroyed building in the Turkish city of Kahramanmaras 119 hours after the devastating earthquake hit the country and Syria.
In dramatic scenes shown live on CNN affiliate, CNN Turk, Kamil Can was brought to the surface with a smile on his face. He appeared to be in OK condition. 
Rescuers said they had been prompted to search the location after hearing his voice come from below the wreckage.
Kamil was taken away on a stretcher, looking alert, to waiting relatives who could be seen kissing him with joy.
7:32 p.m. ET, February 10, 2023
Here's what you need to know about the earthquake
Monday's deadly earthquake has left millions of people homeless in Turkey and Syria in the middle of winter, according to aid organizations, and survivors are finding refuge in temporary shelters amid freezing temperatures.
In Syria alone, approximately 5.37 million people will need shelter assistance, according to a preliminary estimate from the United Nations High Commissioner for Refugees,
There are still glimmers of hope for survivors under the rubble. On the fifth day since the earthquake, teams were able to rescue a mother and her two daughters, as well as another family of six in Turkey. But the pace of rescues has slowed.
Meanwhile, families are grieving as they begin to bury their loved ones. Salma Salazar, who lost members of her family, told CNN her family is "very heartbroken."
Here's what you need to know:
A record-breaking quake: Monday's disaster was the deadliest earthquake to strike Turkey in more than 80 years. The quake has left more than 23,000 people dead, which is more than those killed in Japan's Fukushima disaster of 2011.
Government intervention: Turkish President Recep Tayyip Erdogan said Friday that the country's government will pay citizens' rent for one year if they do not wish to stay in tents. He also vowed penalties for "abusers" involved in crime during his declared state of emergency. He's reported attacks on businesses and robberies in regions impacted by the earthquake. Turkish Minister of Justice Bekir Bozdag said Friday that judicial investigations have started for builders in regions affected by the quake, according to Turkey's state media Anadolu. 
Aid efforts: Erdogan said more than 141,000 rescue personnel are working on the ground in 10 earthquake-struck provinces in Turkey. And according to the White House, the US will be "ramping up" its assistance to Turkey and Syria.
But in Syria, President Bashar al-Assad criticized Western countries Friday for having "no regard for the human condition." His comment is in line with statements heard from government officials and Syria's state-run media, who have pinned the lack of humanitarian aid and hindered rescue equipment on US and EU sanctions. On Friday the Syrian government approved sending aid into rebel-held territory in the northwest of the country, but the aid group International Organization for Migration tells CNN they haven't received any specifics from officials on the announcement.
4:48 p.m. ET, February 10, 2023
This is Turkey's deadliest earthquake in more than 80 years
From CNN's Jhasua Razo and Krystina Shveda
While Turkey is no stranger to strong earthquakes, Monday's disaster is the deadliest to strike the country in more than 80 years.
Here's what we know: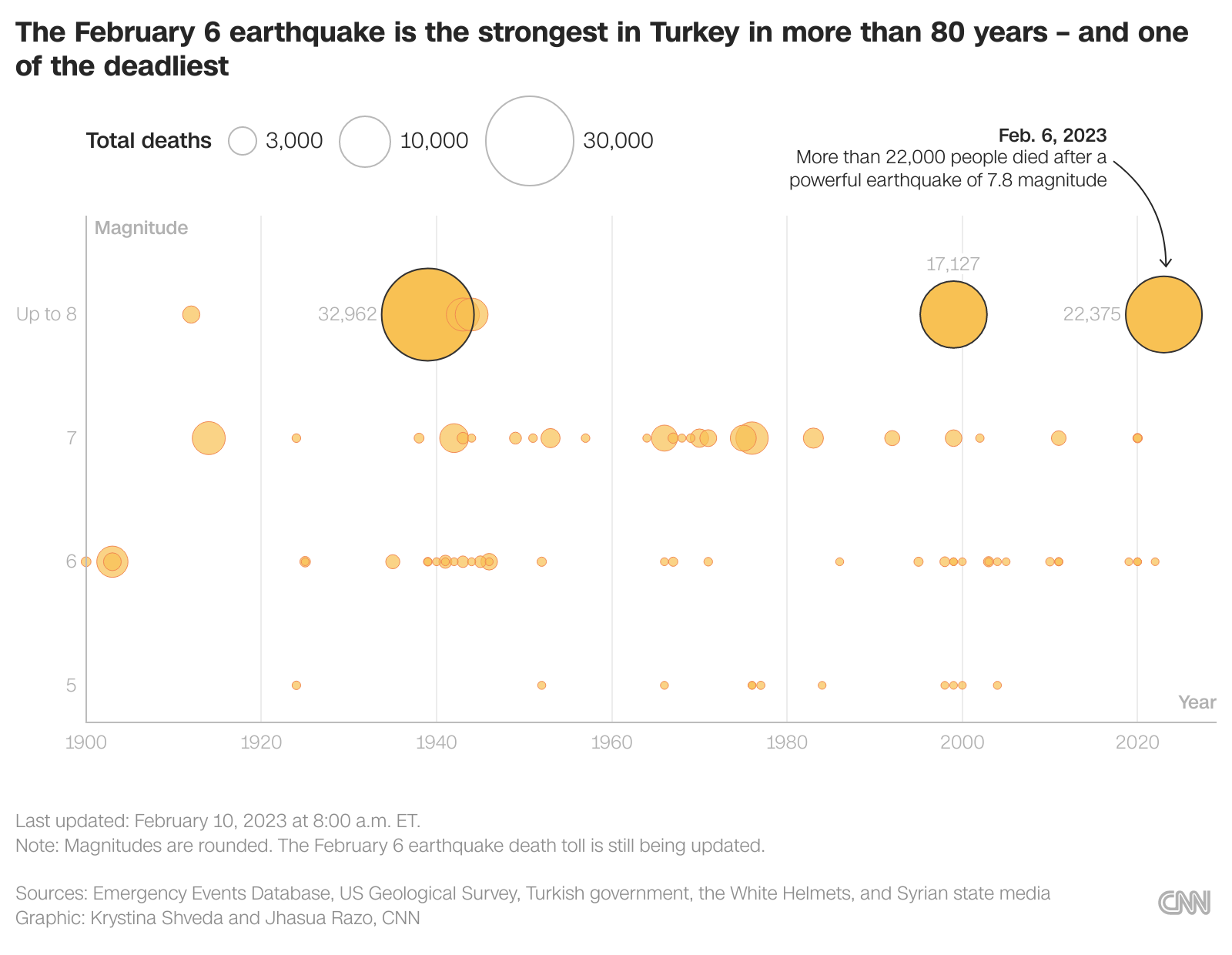 3:32 p.m. ET, February 10, 2023
In photos: Survivors of Monday's earthquake find temporary shelter
From CNN Digital's Photo Team
Monday's deadly earthquakes left thousands of people in Turkey and Syria homeless in the middle of winter. They are now finding refuge in temporary shelters.
Here's a look:
Click here for more photos from the region devastated by the earthquake.