The latest on the US-Iran crisis
11:22 a.m. ET, January 6, 2020
Pentagon chief of staff will resign as Iran tensions mount
The Chief of Staff to the Secretary of Defense, Eric Chewning, is resigning at the end of January. In a statement, Pentagon press secretary Alyssa Farah said Chewning "will be leaving the department at the end of January to return to the private sector."
Chewning became the chief of staff to then-acting Secretary of Defense Pat Shanahan in last January.
Here's part of Secretary of Defense Mark Esper's statement:
"I'm grateful for Eric's professionalism, judgment, and leadership over the last seven months as I moved into the Secretary of Defense role ... In an incredibly demanding job, Eric has been a source of calm and tireless work. He will be missed by all. We wish him all the best upon his return to the private sector."  
The announcement of the resignation was expected, but it comes as tensions with Iran are mounting.
11:02 a.m. ET, January 6, 2020
Iran-backed Hezbollah threatens to cut Gulf oil flow to US
Iranian-backed Iraqi Shiite militia Kataib Hezbollah threatened to cut the Gulf oil flow to the US in response to Trump's remarks regarding imposing possible sanctions on Iraq today. 
Abu Ali al-Askari, the security leader of Kataib Hezbollah, wrote in a Twitter post that "If Trump the fool imposes economic sanctions on Iraq then we will work with our friends (Iran) to stop the flow of Gulf oil to America."
"Regarding the air base it will be brought to the ground if they (US troops) insist to stay in Iraq." al-Askari added.
More on this: Yesterday, in response to a vote by the Iraqi parliament to end the presence of "all foreign troops on Iraqi soil," Trump threatened, "If they do ask us to leave, if we don't do it in a very friendly basis. We will charge them sanctions like they've never seen before ever."
Trump also said that "We have a very extraordinarily expensive air base that's there. It cost billions of dollars to build. Long before my time. We're not leaving unless they pass us back for it"
11:00 a.m. ET, January 6, 2020
Kellyanne Conway: Congress should "celebrate, not denigrate" Soleimani killing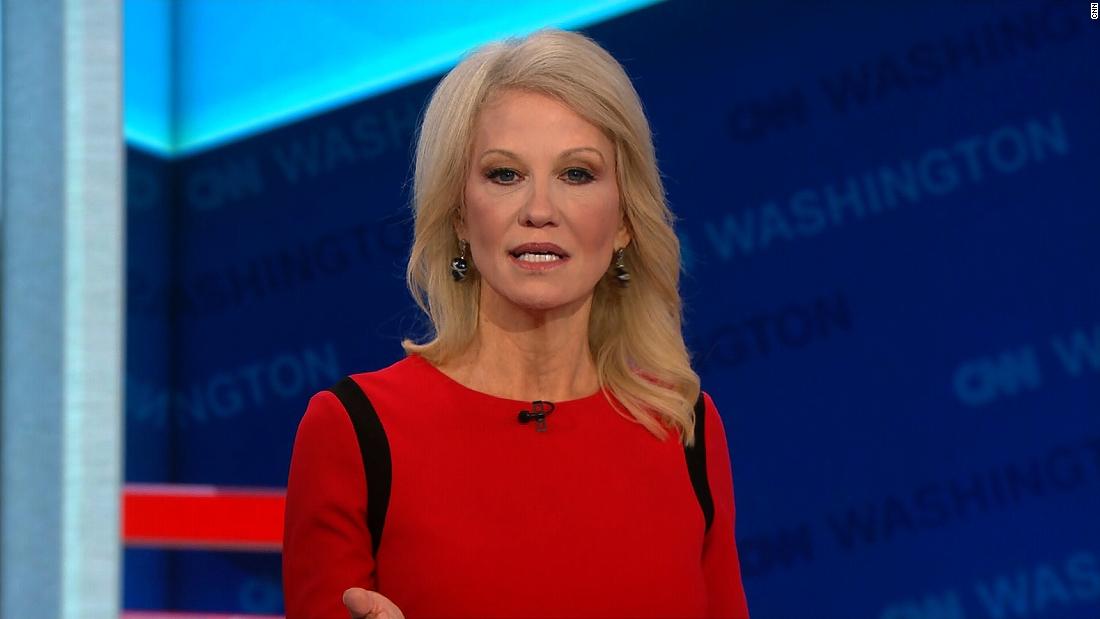 Counselor to the President Kellyanne Conway spoke to reporters at the White House today on the killing of Qasem Soleimani.
Conway defended Trump's comments on targeting Iranian cultural sites but would not provide further clarity, echoing Pompeo that "we will be within the law" and somehow claiming Trump "didn't say he's targeting cultural sites."
She later added, "The President has identified all those sites and has said it may happen if Iran retaliates in a certain way."
Conway squarely criticized a letter from Sens. Chuck Schumer and Bob Menendez urging Trump to declassify the formal notification he sent to Congress on January 4. She also dismissed the prospect of a meeting with House Speaker Nancy Pelosi, citing all the times she has left the White House "in a fit."
She said Congress should "celebrate, not denigrate" Soleimani's death:
"Yes, they will be briefed but they also should calm down and celebrate, not denigrate, the fact that the world's greatest terrorist, who is singlehandedly responsible for the deaths of hundreds of Americans and the injuries of thousands of others, they should celebrate, not denigrate, that fact."
At one point, she read an op-ed from former Democratic Sen. Joe Lieberman in the Wall Street Journal that praised Trump's actions.
10:26 a.m. ET, January 6, 2020
UN culture director says US signed agreements barring attacks on cultural sites
The director of the UN's cultural agency discussed tension in the Middle East with the ambassador of the Islamic Republic of Iran, according to a news release on the meeting.
Audrey Azoulay, the director general of United Nations Educational Scientific and Cultural Organization (UNESCO), cited international agreements which bar attacks on cultural sites.
Some context: President Trump has said his administration has identified 52 Iranian sites, including culturally important locations, to target if Iran retaliates.
The Director General cited two legal instruments — both of which were signed by the US and Iran:
One that stipulate states will not take deliberate measures that would damage cultural and natural heritage
Another that condemns acts of destruction of cultural heritage
Azoulay "stressed the universality of cultural and natural heritage as vectors of peace and dialogue between peoples, which the international community has a duty to protect and preserve for future generations," the release said
10:18 a.m. ET, January 6, 2020
Saudi Prince to "call for restraint," source says
Saudi Deputy Defense Minister Khalid bin Salman (KBS) will "call for restraint" and discuss "de-escalation" in a meeting with Secretary of State Mike Pompeo in DC today, a Saudi government source told CNN.
The source said Saudi authorities are concerned about an escalation following the killing of Iranian general Qasem Soleimani. 
"We know what that looks like… We don't want chaos in the region. We have been a target before. We could be a target again," the source said.
"He [KBS] is there at the direction of the Crown Prince [his brother]," the source added. "He is there to discuss way to de-escalate the situation."
The official also said that the Saudi government is not aware that Soleimani had any messages for them before he was killed as indicated by the Iraqi Prime Minister.
Prime Minister Adil Abdul Mahdi told the Iraqi parliament Sunday he was due to meet Soleimani who "was to carry a message from the Iranian side in response to the Saudi message that we brought to the Iranian side in order to reach important agreements in the situations in Iraq and the region."
 "We are not aware that he [Soleimani] had any message," the Saudi source said.
10:08 a.m. ET, January 6, 2020
Iranian official asks Trump: "Do you still want to listen to the clowns advising you?"
The Iran's Foreign Minister Javad Zarif asked President Trump in a tweet today: "Do you still want to listen to the clowns advising you on our region?"
Zarif also wrote "Have you EVER seen such a sea of humanity in your life @realdonaldtrump?"and posted pictures of the huge crowd at the funeral for Iranian general Qasem Soleimani who was killed by a US drone strike in Baghdad last week.
"And do you still imagine you can break the will of this great nation & its people? End of malign US presence in West Asia has begun." Zarif added.
10:01 a.m. ET, January 6, 2020
Experts say the risk of an Iranian cyberattack is real
The risk of an Iranian cyberattack is real and could cause significant disruption to the United States, experts say. 
Though Iran lacks the hacking prowess of more powerful adversaries, such as China and Russia, it is capable enough to be dangerous. It's moved from being a third-rate nuisance in cyberspace to at least a second-tier threat in recent years. 
"They have capability to cause serious damage, especially if they're not worried about attribution," said Peter W. Singer, a strategist at the New America Foundation who studies the future of warfare. "It is not just a matter of their capability but also how we have a wide range of soft targets, especially on the civilian side."
An unclassified assessment released last year by the intelligence community said Iran has grown "increasingly sophisticated" in its online spying capabilities — gaining intelligence on companies, US officials and government organizations to prepare for an eventual cyberattack. That could potentially include attacks on critical infrastructure such as power grids, financial networks and other key targets.
"It is capable of causing localized, temporary disruptive effects," said the report, "such as disrupting a large company's corporate networks for days to weeks."
In the past, Iran has been accused of shutting down the websites of US banks and attacking the computer systems of American casinos, resulting in the loss of credit card information and Social Security numbers. 
But now US officials are bracing for a much wider range of attacks. On Friday, the Department of Homeland Security briefed officials from city and local governments, telecom companies and other potential victims on the potential for an Iranian cyberattack.
9:59 a.m. ET, January 6, 2020
Trump tweets: "IRAN WILL NEVER HAVE A NUCLEAR WEAPON!"
President Trump just tweeted that Iran "WILL NEVER HAVE A NUCLEAR WEAPON!"
This tweet comes after Iran said it will no longer comply with restrictions on uranium enrichment under the Iran deal.
1:13 p.m. ET, January 6, 2020
Here's a look at where US troops are across the Middle East
The US has tens of thousands of troops spread across the Middle East.
According to CNN's Barbara Starr, the US military footprint in the Middle East is "all potentially an Iranian target list." 
Starr adds, "That is the real challenge here. How do you go ahead and protect all of this."
More on this: The US is deploying 3,500 additional troops to the Middle East following the attack that killed top Iranian military commander Qasem Soleimani.
Watch more: