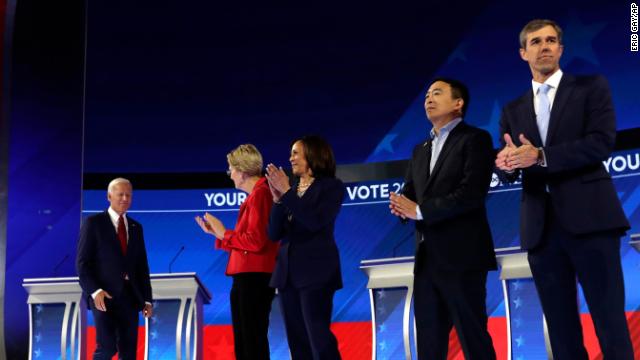 Round three of the Democratic presidential debate was devoid of knockout punches, but full of jabs on health care, gun control, and immigration. With the primary goal to energize the base and motivate moderates, Thursday night's debate did not move the "record player" needle one bit in terms of top tier candidates.
After spending previous debates smack dab in the crosshairs, former Vice President Joe Biden flipped the script, putting Sen. Bernie Sanders and Massachusetts Sen. Elizabeth Warren on defense over how to pay for their Medicare-for-All plans. Neither had a strong answer. In politics: if you're on the defense, you're losing.
Sen. Amy Klobuchar was solid in taking it to Sanders and his Medicare-for-All bill, saying it's not a bold idea, "it's a bad idea," and making her case that she wants to be a president for "all of the country."
Sen. Kamala Harris spent the most time taking it directly to President Donald Trump on health care and denoucing his divisive rhetoric. One thing's for sure, referring to him as a "small dude" will guarantee she is next in line for a Trump-style nickname.
Sen. Cory Booker and former Texas Congressman Beto O'Rourke took turns calling President Trump a racist. O'Rourke went on to blame Trump for inciting the gunman in last month's mass shooting in El Paso that killed 22 people. Furthering his call for gun confiscations, O'Rourke said "hell yes, we're going to take your AR-15, your AK-47."
Mayor Pete Buttigieg delivered another strong argument in his "Medicare for all who want it" message by stressing that a public alternative will ensure "the American people will figure that out for themselves."
Former Housing and Urban Development Secretary Julian Castro took a cheap shot at Biden on his age and memory, by implying Biden could not remember something he said moments earlier. It was a calculated risk that failed. Policy differences are one thing, getting personal is another. Plus, if you're going to deliver a low blow, be right on the facts. Castro was not.
Entrepreneur Andrew Yang had me, yet again, wondering how he has garnered the support he has. His gimmick to give 10 families $1,000 a month from his campaign will no doubt build an email list, but it will also have difficulty passing the campaign finance law smell test.
The challenge moving forward is for Democrats to continue to highlight their divisions on policy without hindering the inevitable call for unity in the party. It's a delicate dance of primaries. As of now, there is no clear candidate who has demonstrated they have what it takes to take on President Trump. 
Alice Stewart is a CNN political commentator, Resident Fellow at the Kennedy Institute of Politics at Harvard University, and former Communications Director for Ted Cruz for President.