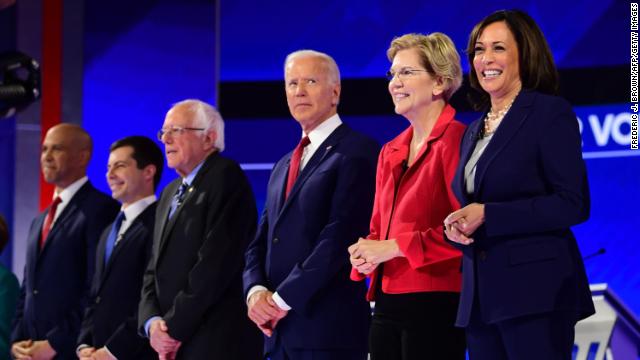 If you had been paying no attention to Democratic politics until Thursday night and then watched the full three hours of debate, you would probably have had a hard time figuring out who the frontrunners are. Indeed, it often seemed that the second tier candidates were the more compelling.
Cory Booker and Kamala Harris both came charging out of the gate in the opening round, Booker in passionate calls for unity, and Harris looking straight into the camera with a scathing attack on Donald Trump. Amy Klobuchar and especially Pete Buttigieg were both highly effective in arguing that Democrats should trust Americans to make their own choices on health insurance. 
Beto O'Rourke was gripping on gun control, and Julian Castro — despite what appeared to be a nasty swipe at Joe Biden--had a generally smooth performance as well, especially on policy questions. 
One wondered if the lower tier candidates, knowing their chances have been dimming, had the good sense to relax and be more themselves (always a good idea on television).  In contrast, the three front runners — Biden, Elizabeth Warren, and Bernie Sanders — seemed rushed and frequently defensive. They were on top of the facts but they tried to stuff too much into their answers. All three are better in one-on-one TV interviews when they are less hot and more conversational.
Democratic commentators were mostly gleeful after the debate. There were indeed moments they could celebrate. But they are kidding themselves if they think any of the candidates is yet ready to slug it out with Trump. Just for starters, it is still devilishly difficult to know how much their promises will cost and how they will be paid for by just taxing the rich. If they wait much longer to define their budget plans, they will find Republicans defining them for them — and it won't be pleasant. 
Bottom line: this third debate probably didn't change the basic dynamics of the race. But it did give some hope to second tier candidates: a couple of them could make a vice presidential short list — and one of them may still catch fire before Iowa and New Hampshire. 
David Gergen has been a White House adviser to four presidents and is a senior political analyst at CNN. A graduate of Harvard Law School, he is a professor of public service and founding director of the Center for Public Leadership at the Harvard Kennedy School.