Live commentary on the fourth Democratic debate
1:31 p.m. ET, October 16, 2019
Debate coach: The candidates' report card is in...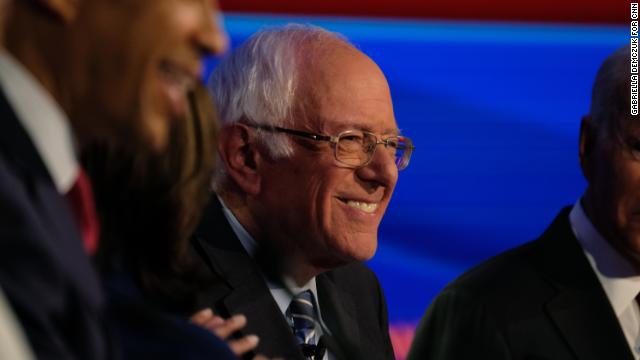 At Tuesday night's Democratic presidential debate, I'm afraid most of the candidates blended into the stage for me at some point. But that doesn't mean there wasn't a star among them. Here's how each candidate performed:
Bernie Sanders: A
Throughout the three-hour event, Sen. Sanders was consistently sharper than normal, and he outperformed the others, especially Elizabeth Warren, when explaining the financials of his healthcare plan. I liked his attitude about his health: we can judge it by watching him take the campaign by storm. He was the star of the evening...
Kamala Harris: A-
Sen. Harris flourished by doing the opposite of Sanders. Rather than being restrained, she brought a bit more energy to her debate performance, which she needed. On the topic of abortion, nobody was more powerful than Harris...
Elizabeth Warren: C
Sen. Warren needs to answer the questions. She is simply too smart to ignore the topic she is being asked to address -- especially when she's asked the same thing multiple times. Should Trump's Twitter account be suspended? I personally don't know -- and neither, it seems, does Warren. How is she planning to pay for Medicare for all? Again, she left us wondering...
Joe Biden: C-
The best part of former Vice President Joe Biden's debate came toward the end when he highlighted his accomplishments...
Unfortunately, this came a bit late in the night. And for every good answer, Biden had multiple slip-ups...
To read more of Todd Graham's op-ed, click here.
Todd Graham is the director of debate at Southern Illinois University. His debate teams have won five national championships and he has been recognized three times as the national debate coach of the year. Follow him on Twitter. 
12:08 p.m. ET, October 16, 2019
Joe Biden's shining moment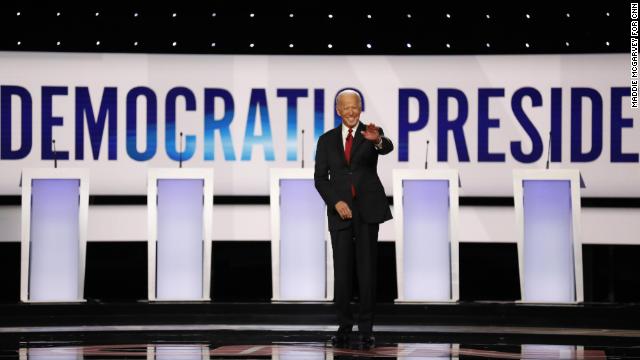 Americans – and the world – will wake up the morning after the debate wishing the Democratic candidates focused more sharply on the increasingly urgent matter of US foreign policy. The topic received short shrift on Tuesday night, even though it dominates headlines due to the chaotic, incoherent policies of President Donald Trump, which have already triggered an impeachment inquiry in the US and continue to cause turmoil in the Middle East.
Trump has turned US foreign policy on its head by abandoning our allies, manipulating foreign powers for personal political gain, and expressing an inexplicable affection for anti-democratic rulers.
That's what former Vice President Joe Biden pointed out in his most passionate and effective moment of the night. "We have an erratic, crazy president, who knows not a damn thing about foreign policy and operates out of fear for his own re-election," Biden said.
Biden also called Trump out for siding with Russian President Vladimir Putin, all while the Kremlin tries to break up NATO. Biden added a chilling – and utterly credible warning – "If [Trump's] re-elected, I promise you there will be no NATO."
Tulsi Gabbard, who has a track record of defending Syrian dictator Bashar al-Assad, also had harsh words for Trump when she said, "Donald Trump has the blood of the Kurds on his hands," before adding that everyone who supported what she called a "regime-change" war in Syria does as well.
Biden vehemently disagreed and said the US intervened not for regime change, but to "make sure that the regime did not wipe out hundreds of thousands of innocent people between there and the Iraqi border." He also said the US intervened to prevent ISIS from attacking America, something he said might now happen after Trump's policy reversal.
Frida Ghitis, a former CNN producer and correspondent, is a world affairs columnist. She is a frequent opinion contributor to CNN, a contributing columnist to the Washington Post and a columnist for World Politics Review. Follow her on Twitter @fridaghitis.
12:18 p.m. ET, October 16, 2019
Bernie Sanders showed his power---and his heart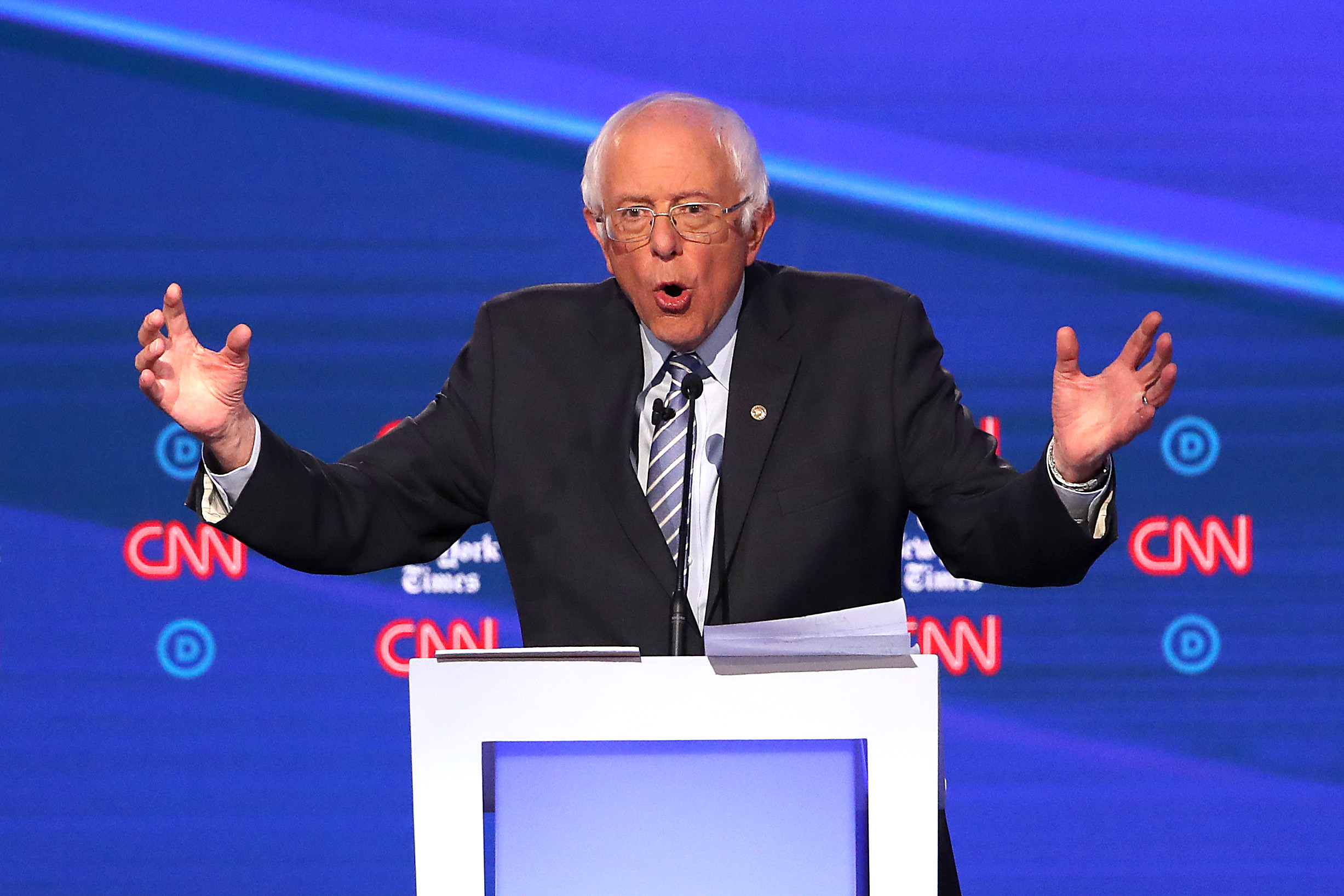 My major take-aways from tonight's debate:
Rehearsed Joe Biden doesn't work, plain and simple. He was at his best in the few exchanges when he was unscripted and unfiltered. That energy and passion is precisely what people expect and love about Biden. Let Joe be Joe.
Amy Klobuchar and Pete Buttigieg brought the much-needed perspective and pragmatism of middle-America. They stood out tonight by engaging in vigorous policy debates -- and also by reminding us that you can disagree without being disagreeable.
Bernie Sanders had a heart attack -- and got a heart. It's often been said that he lacks a certain human touch. That vulnerable moment tonight when he thanked people for their well wishes and prayers was powerful. His defense of his positions and policy proposals was equally powerful. Anybody who thought he'd be weakened or diminished after the health scare -- anybody who thought he'd pass the progressive torch to Elizabeth Warren and go out to pasture -- was gravely mistaken. There's still a lot of fight left in the guy.
Elizabeth Warren learned what it's like to come into a debate as the woman on top: It means everyone shoots their arrows at you. Until today, she was untested as a frontrunner. Tonight's debate left her a little bruised, but it will ultimately make her a better candidate. Detailed plans are not enough -- people also want to know how you're going to implement and pay for those plans.
Democrats have shown again that there is great diversity of thought within their party. Whether it's health care, gun reform, regulating big tech or so many other issues, it's clear that many ideas are welcome in the Democratic tent.
If the presidency eludes her grasp, Tulsi Gabbard may want to explore a future career as a debate moderator. But tonight wasn't the night to start auditioning.
Ana Navarro is a Republican strategist and CNN political commentator.
12:08 p.m. ET, October 16, 2019
The newly supercharged candidacies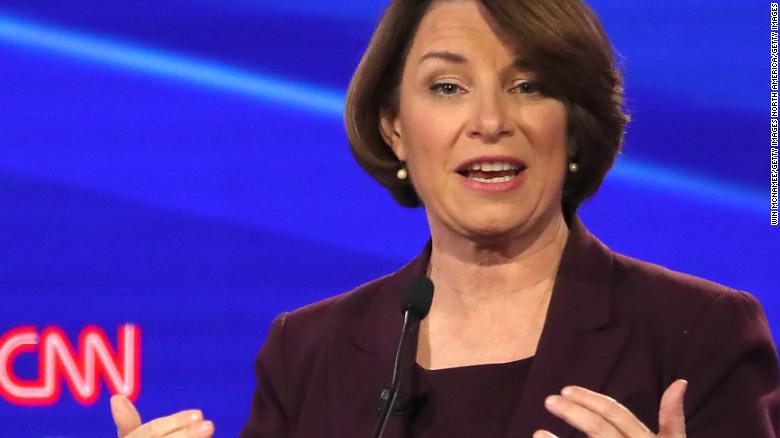 Bernie Sanders rebounded from his heart attack. Joe Biden maintained his steady, stable, strength. And Elizabeth Warren fended off a slew of attacks. But two candidates clocking in single-digit poll numbers stole the show. Amy Klobuchar and Pete Buttigieg used wit, facts, and charm to supercharge their candidacies.
Klobuchar, especially, used the crucial first 30 minutes to command the stage. She took the fight squarely to President Donald Trump on his precipitous withdrawal from Syria, saying, "I would like to hear from him about how coddling up to Vladimir Putin makes America great again. It doesn't make America great again. It makes Russia great again."
Another single-digit candidate, Pete Buttigieg, ripped Elizabeth Warren on health care: "Your signature, senator, is to have a plan for everything, except this. No plan has been laid out to explain how a multi-trillion-dollar hole in this Medicare for All plan that Senator Warren is putting forward is supposed to get filled in."
Yes, before the debate, the top tier was Elizabeth, Joe, and Bernie. But after tonight's debate, keep your eye on Amy and Pete. 
Paul Begala, a Democratic strategist and CNN political commentator, was a political consultant for Bill Clinton's presidential campaign in 1992 and served as a counselor to Clinton in the White House
1:34 p.m. ET, October 16, 2019
Upstarts come after Biden's base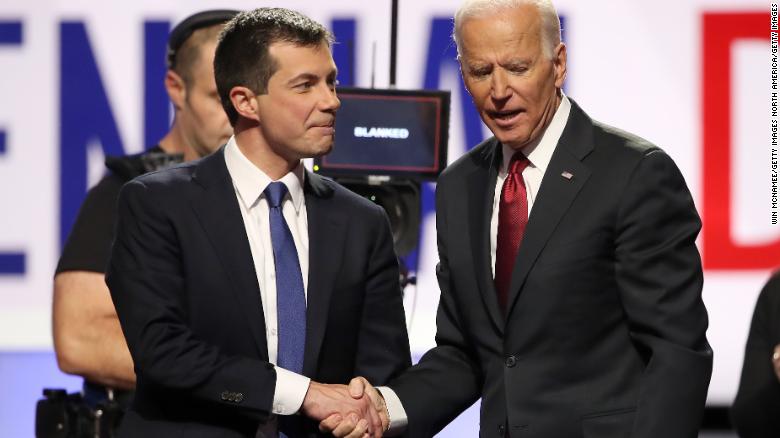 For three debates, Mayor Pete Buttigieg has been proficient but not commanding. He has offered thoughtful, well-turned answers but without much power or connection.
Tonight, he brought something more. On health care, guns and particularly, President Trump's withdrawal from Syria and the betrayal of our Kurdish allies, Buttigieg, a war veteran who served in Afghanistan, showed genuine edge and passion.
He directly challenged frontrunner Elizabeth Warren and others on the stage over Medicare for All and delivered a riveting rebuke of President Trump's precipitous withdrawal from Syria.
The boyish South Bend mayor needed to bring an A, for Alpha, game to address the stature gap that has been a barrier to his progress. Already showing movement in the first-in-the-nation Iowa caucuses, Buttigieg needed a spark tonight to help his campaign ignite--and he may have gotten one.
Similarly, Amy Klobuchar had a very strong night just when she absolutely needed it. Flirting with elimination from the November debate due to poor poll numbers and laggard fundraising, Klobuchar more aggressively reached to claim the centrist mantle she has sought from the beginning.
In previous debates, Klobuchar seemed uncomfortable and unwilling to fully contest the issues with her opponents. Not so tonight. She engaged with Warren on health care and other issues with well-crafted, colloquial points and flashes of her trademark humor.
If Buttigieg and Klobuchar took a step up tonight, it could be at the expense of Joe Biden, who seemed to disappear for long periods. The two upstart candidates are vying for the votes of centrist Democrats who form the core of Biden's base.
If their candidacies look more plausible tomorrow than they did today, their gains might come at Biden's expense.
David Axelrod, a senior CNN political commentator and host of "The Axe Files," was senior adviser to President Barack Obama and chief strategist for the 2008 and 2012 Obama presidential campaigns.
8:48 a.m. ET, October 16, 2019
The inequality measure that should have been discussed
In a question to Sen. Bernie Sanders about taxing the wealthy, Erin Burnett said, "Income inequality is growing in the United States at an alarming rate."
Burnett went on to ask Tom Steyer, "What's your plan for closing the income gap?"
The Democratic candidate seized the question to justify government interventions -- a creep toward socialism -- by taxing job creators, rather than helping them by cutting bureaucratic red tape.
Burnett, along with the Democratic candidates, chose to focus on income inequality instead of consumption inequality -- a better measure of how the middle class is doing because it examines the market basket of goods necessary to live. It also takes into account whether consumers borrow or save, or receive transfers from family members or the government.
But by framing the conversations about inequality around income instead of consumption, the Democratic candidates ignored the tremendous gains flowing to everyday consumers through technological and other efficiencies. 
We examined this common economic narrative at Accuracy In Media, where we noted research from University of Chicago's Bruce Meyer writing for the Manhattan Institute think tank: "Since 2006, the ratio of the 90th percentile to the 10th percentile shows rising inequality when incomes are compared, but a decline in inequality when consumption is examined."
Carrie Sheffield is National Editor for Accuracy In Media, a citizens' media watchdog whose mission is to promote accuracy, fairness and balance in news reporting.
1:59 a.m. ET, October 16, 2019
A Republican ranks the debaters
1. Elizabeth Warren
2.Joe Biden
3.Amy Klobuchar
4.Bernie Sanders
5. Pete Buttigieg
6. Tulsi Gabbard
7. Kamala Harris
8. Cory Booker
9.Beto O'Rourke
10. Julian Castro
11. Andrew Yang
12. Tom Steyer
Alice Stewart is a CNN political commentator, a resident fellow at the Kennedy Institute of Politics at Harvard University and former communications director for Ted Cruz for President. 
1:59 a.m. ET, October 16, 2019
A Democrat ranks the debaters
1. Amy Klobuchar
2. Pete Buttigieg
3.Cory Booker
4.Bernie Sanders
5. Joe Biden
6. Kamala Harris
7.Elizabeth Warren
8. Julian Castro
9.Andrew Yang
10. Beto O'Rourke
11. Tom Steyer
12 Tulsi Gabbard
Joe Lockhart was White House press secretary from 1998-2000 in President Bill Clinton's administration. He co-hosts the podcast "Words Matter." 
2:01 a.m. ET, October 16, 2019
Biden runs strong--in the moderate lane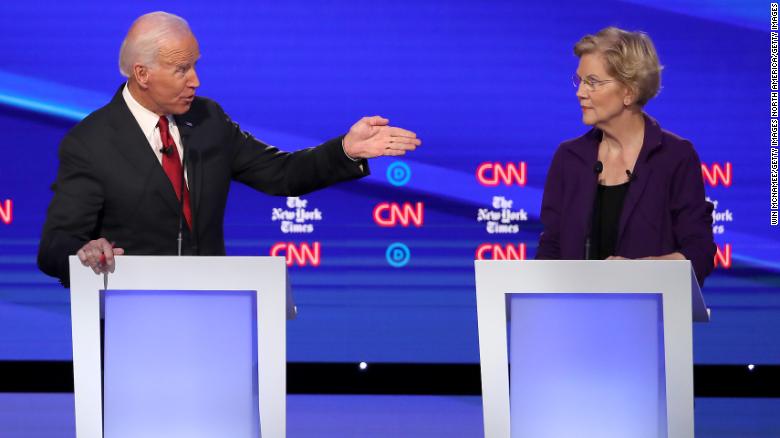 If Amy Klobuchar and Pete Buttigieg were as good at the first Democratic debate as they were last night in the fourth, the race for the party nomination might be very different. Both were passionate and engaging and offered voters a choice of a more moderate standard-bearer for the party. 
They were tentative in earlier debates, trying to find firm footing. It was previously difficult to imagine either one in the Oval Office. They fell into a second, even third tier and seemed close to the exits. But they found their voices last night and gave Joe Biden and especially Elizabeth Warren strong pushbacks.
Their success may not last; coming into last night, it appeared that Klobuchar may not even make it to the debate stage for the next round. It will be interesting to see if voters now spark to her campaign.
Another unknown is whether there is truly room in the Democratic Party for a more centrist candidate to seize the nomination. To draw upon language now popular among Democrats, Joe Biden currently occupies the moderate lane. Only if he falters badly will Klobuchar or Buttigieg have a major opening. But last night was Biden's best debate — he was especially strong on the Middle East and in his closing statement — so he is likely to come out of the debate a bit stronger than when he entered.  
It also became apparent last night that the fight between moderates and the Democratic left -- while healthy -- could be highly consequential for the general election. 
Elizabeth Warren remains the single best debater but her insistent embrace of Medicare for All could also be her undoing next fall. Biden, Klobuchar and Buttigieg all made persuasive arguments against her, asking to see her numbers. If they can drill holes so easily, it isn't hard to see Donald Trump showing up with a bulldozer.  
David Gergen is a CNN senior political analyst and professor of public leadership at the Harvard Kennedy School, where he founded the Center for Public Leadership.