Live commentary on the impeachment hearings
12:04 p.m. ET, November 13, 2019
Obama's failure on Ukraine helped get us here
Adam Schiff's opening statement reminded me that Ukraine is a problem for the United States today because Russia invaded it during the Obama administration.
In 2012, President Obama told Russia then-President Dmitry Medvedev that he would have more "flexibility" in dealing with contentious issues like missile defense after the election. In 2014, the Russians invaded the Crimean peninsula. And then, for two years, the Obama administration refused to provide lethal aid to Ukraine--instead of just military and other aid-- despite that country's former president, our ally, pleading for American help. As was the case in other venues, Russia ran wild in a way that was diametrically opposed to American interests and the Obama administration dithered.
Today, Democrats want to toss out an American president for a brief delay in military aid to Ukraine under Trump, who is actually providing the Ukrainians with lethal aid -- including sniper rifles, rocket launchers and Javelin anti-tank missiles -- to combat the Russians. I wonder why Democrats never bothered to question Obama's motivations for failing to meaningfully respond to the Russians in Ukraine for two years (and as Russia was simultaneously meddling in our democracy).
No matter what is said in these hearings today, remember: just like in the Russia election probe, we are largely here today because of a failure to act decisively and confront Russia by former President Barack Obama and his number two, Joe Biden.
Scott Jennings, a CNN contributor, is a former special assistant to President George W. Bush and a former campaign adviser to US Sen. Mitch McConnell. He is a partner at RunSwitch Public Relations in Louisville, Kentucky.
11:34 a.m. ET, November 13, 2019
Schiff lays out the stakes
Today, two officials who have worked to fight corruption overseas are testifying about allegations of corruption within the highest levels of our own government.
Because of the President's alleged actions, Ambassador Bill Taylor and Deputy Assistant Secretary George Kent are sitting in front of Congress and, under oath, discussing a consistent abuse of power by this President. According to testimony in their depositions, President Trump engaged in the kind of behavior that we fight against overseas -- abusing power for personal gain.
Chairman Schiff importantly began his opening statement by reminding global audiences about the stakes. Ukraine is fighting Russian aggression as we speak -- they're still engaged in armed conflict with Russia in eastern Ukraine, and Russia annexed Crimea. Schiff noted that the US is Ukraine's biggest patron. But, he also reminded viewers that the President's reported actions invited Ukraine's interference in US elections and put Ukraine between a rock and a hard place -- agreeing to do Trump's personal bidding or losing out on the aid that is existential to them for deterring Russia and maintaining their sovereignty.
Samantha Vinograd is a CNN national security analyst. She is a senior adviser at the University of Delaware's Biden Institute, which is not affiliated with the Biden campaign. Vinograd served on President Barack Obama's National Security Council from 2009 to 2013 and at the Treasury Department under President George W. Bush. Follow her @sam_vinograd. 
10:56 a.m. ET, November 13, 2019
George Kent calls out Giuliani
10:40 a.m. ET, November 13, 2019
What Nunes said - and didn't
10:29 a.m. ET, November 13, 2019
The facts of the matter
10:30 a.m. ET, November 13, 2019
Is Trump being treated 'unfairly'?
10:37 a.m. ET, November 13, 2019
On this historic day, commentators are watching with the rest of us
8:52 a.m. ET, November 13, 2019
My third impeachment is really different from the others
Over the past month or so I've been asked repeatedly how the Donald Trump impeachment process compared to President Bill Clinton's. The current situation has certainly stirred memories for me of 1998-99 when I worked in the White House, but it also reminded me of attending the Senate Watergate hearings as a teenager in the summer of 1973.
My father was a producer for NBC News assigned to special events. He did things like plan coverage of political conventions, Olympics and space launches from Cape Canaveral. Because that took him away for long stretches, he'd often bring us kids along for the ride. In 1972, it was the political conventions in Miami Beach. In 1976, it was meeting Jimmy Carter in the NBC headquarters in Manchester, New Hampshire, on election night -- and then asking someone who he was. And in the summer of 1973, it was Washington, DC.
Because he was working all day and didn't have a child care plan for a 13-year-old, my father found a way to get me into the hearings. For three days, I watched White House aide John Ehrlichman testify from beginning to end. Even with the typical teenage attention span and no seat to sit in, it was gripping from beginning to end.
I tell this story because it highlights the biggest difference between the Trump impeachment and the ones of Clinton and Richard Nixon before him.
Read more of Joe Lockhart's op-ed here.  
Joe Lockhart was White House press secretary from 1998-2000 in President Bill Clinton's administration. He co-hosts the podcast "Words Matter." 
6:50 p.m. ET, November 12, 2019
Democrats are wasting America's time on impeachment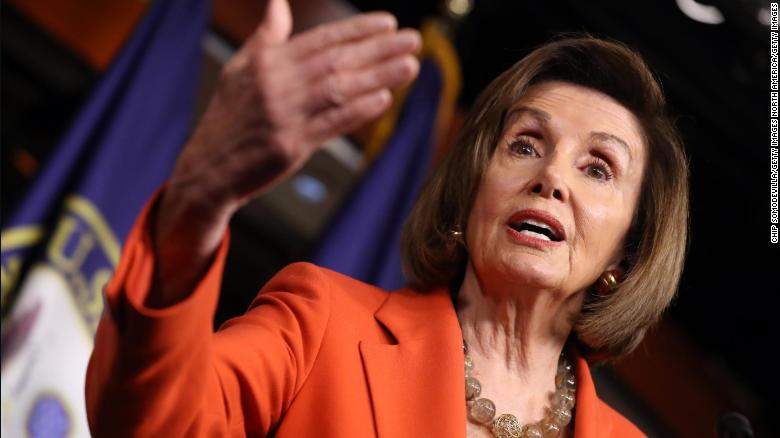 Let me skip to the end: The Democratic-majority US House of Representatives, in partisan fashion, is all but certain to impeach President Donald Trump. The Republican-majority Senate, in partisan fashion, will almost certainly acquit him. And the net result will be that Democrats will have abused the US Constitution to satisfy political passions instead of approaching impeachment as the solemn act the framers intended.
Let's be honest. The Democrats were always going to do this. From the minute we realized on election night that Donald Trump had won, they began fantasizing about nullifying the election results. Indeed, in the weeks leading up to the 2016 election, the Democrats' biggest concern was that Trump would not accept the outcome -- a Hillary Clinton win, of course! -- of which they were quite certain.
And as it turns out, it was the Democrats who had no intention of accepting it. How odd that they have again become what they claim to detest about Trump.
Over the last three years, the desire to impeach Trump among rank-and-file Democrats has only grown with each outrage, real or manufactured. Even as weak as political parties are these days, one thing remains true -- politicians nearly always do what their parties want them to do.
Read more of Scott Jennings' op-ed here.
Scott Jennings, a CNN contributor, is a former special assistant to President George W. Bush and a former campaign adviser to US Sen. Mitch McConnell. He is a partner at RunSwitch Public Relations in Louisville, Kentucky.