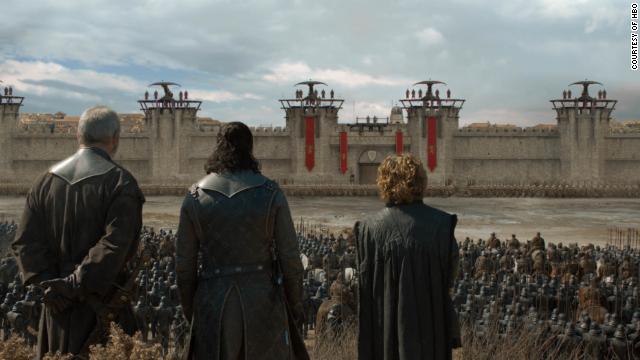 We've all been playing guessing games, trying to decide who should sit on the Iron Throne (my preferred candidate, Varys the Spider, whispered his last whisper in a torrent of dragonflame during the first ten minutes, and Cersei and Jaime Lannister are also now permanently off the board).
This episode underscored a key point that the series has been making since its very first moments: It doesn't matter who wears the crown, because no one who ends up with it will deserve it. Varys himself said it best, when he noted that the best ruler might well be one with no ambition to hold power. Meanwhile, those who want power desperately often find the path they must walk for it corrupting. 
Daenerys has in the past made bloody compromises in the name of justice; in this episode, she engages in a one-woman genocidal assault on a city of innocents -- a city that had already surrendered -- for nothing more than revenge. The behavior of her army afterwards, as they throw aside any pretense of "liberating" King's Landing in favor of looting, raping and the cold-blooded massacre of its inhabitants, shows how lawless, monstrous acts committed by a nation's leaders unleash the very worst in their followers and supporters.
And now we have just one episode left in the story; one 90-minute chapter to wrap up all the remaining threads. Next week, who'll end up winning the Game of Thrones? Will Dany kill Jon? Will Arya kill Dany? Is Gendry still somewhere out there, safe in the North with his bastard Baratheon claim? It doesn't matter as much as we thought. The message of the series is straightforward: When politics is treated as a "game," all of us end up as losers. 
Jeff Yang is a frequent contributor to CNN Opinion, a featured writer for Quartz and other publications, and the co-host of the podcast "They Call Us Bruce." He co-wrote Jackie Chan's best-selling autobiography, "I Am Jackie Chan," and is the editor of three graphic novels: "Secret Identities," "Shattered" and the forthcoming "New Frontiers."