Democrats hit the 2020 campaign trails
9:06 p.m. ET, March 3, 2019
Our live coverage has ended. Catch up on everything from this weekend by scrolling down through our previous posts on checking out CNN Politics.
6:04 p.m. ET, March 3, 2019
Eric Swalwell's last detail to work out before deciding on a 2020 run: Childcare
Democratic Rep. Eric Swalwell said Sunday he is close to announcing his decision on running for president in 2020, but there's just one more thing to work out first.
"We're just sorting out child care. Two kids under two, most families, I think, can appreciate that and understand and once we get that piece together, we'll make our decision," Swalwell told CNN's Ana Cabrera on "Newsroom."
The California Democrat spoke with Cabrera while he was in Iowa meeting with voters. He set out an argument for why he believes he can win despite a large, experienced field of candidates. 
"To solve the issues of education and health care and gun violence, we need an agenda of going big, being bold, and doing good. And I've seen that helped me as the son of a cop who was the first in the family to go to college, I saw them chase their dreams all over the country. But in too many places, like here in Waterloo, that's not reaching every American. I think I'm a connected candidate to the everyday experience that could help make sure that's true."
Last week, Swalwell told the San Francisco Chronicle he would not seek reelection to the House of Representatives if he runs for president.
5:34 p.m. ET, March 3, 2019
Clinton rallies for a '21st century civil rights movement'
In her speech today at the historic Brown Chapel AME Church, 2016 Democratic presidential nominee Hillary Clinton urged the audience to "redouble our efforts for the 21st century civil rights movement" and fight for equal voting rights, as well as registering more people to vote.
Clinton warned that there's "another side in America" that is "motivated every single day to try to pull back rights" and "to try to suppress rights."
"I was the first person who ran for president without the protection of the Voting Rights Act and I will tell you it makes a really big difference," Clinton said, referring to the Supreme Court's 2013 decision that struck down a key part of the 1965 Voting Rights Act.
"We're looking toward a new presidential election, thank goodness. But it's not going to make a difference if we don't bring the lawsuits and win them, right?" Clinton said to the worshippers gathered. "If we don't register everybody the way (former Georgia gubernatorial candidate) Stacey Abrams has been doing since 2014."
"Between 2012, the prior presidential election, where we still had the Voting Rights Act, and 2016, when my name was on the ballot, there were fewer voters registered in Georgia than there had been those prior four years. Think about it my friends. So, we have a calling, a mission. We need to redouble our efforts for the 21st century civil rights movement. Don't just come to Selma once a year. Don't just walk across the bridge. Don't just join hands and sing. We've got to get to work. And that means registering every person and it means persuading them, no matter how disappointed or discouraged they might be that their future depends on them showing up to vote."
5:37 p.m. ET, March 3, 2019
Booker calls out 'appalling silence and inaction of the good people'
Cory Booker delivered an impassioned keynote speech in Brown Chapel AME Church's service this afternoon.
In his speech, Booker made a pointed reference to President Donald Trump and his failure to condemn white supremacists in the aftermath of the deadly 2017 Unite the Right rally in Charlottesville, Virginia. He called out people who focus solely on the racist statements of some politicians, while ignoring other politicians who stay silent on issues of injustice.
"People want to make it just about the people in the highest offices of the land. People who traffic in hatred. People in offices that can't even condemn Nazis or white supremacists. People want to point fingers and forget the lesson of King that what we must repent for is not just the vitriolic words and violent actions of the bad people, but the appalling silence and inaction of the good people," Booker said.
Booker pointedly criticized a sole reliance on "rugged individualism," noting that Americans had to work together to achieve success and demand change.
"I honor those themes in our country that evidenced by countless millions of individuals, but you all know that rugged individualism didn't get us to the moon. Rugged individualism didn't beat Jim Crow. It didn't beat the Nazis. We did these things together. Small groups of people pulling together saying I'm not going to wait for Washington. We are going to bring the change from our communities."
He continued:
"Y'all know we didn't beat back the denial of women to have the right to vote because a bunch of men in Washington got together in 1900 and said, 'Hey fellows, it's about time those women have the right to vote.' No! We didn't get voting rights because a bunch of people in Washington said, 'It's time for those Negro people to have a right to vote.' We didn't get civil rights because Strom Thurmond came down to the Senate floor and said, 'I have an epiphany.'"
4:41 p.m. ET, March 3, 2019
March across Edmund Pettus Bridge on 'Bloody Sunday' Anniversary
Hundreds led by Democrats including 2016 presidential nominee Hillary Clinton, Sen. Cory Booker, Sen. Sherrod Brown, Rev. Jesse Jackson, and Rep. Sheila Jackson Lee marched across the Edmund Pettus Bridge in Selma, Alabama, to mark the 54th anniversary of "Bloody Sunday."
Several marched holding signs that read: "Lift our votes" ..."Voting rights under fire."
As they marched, the crowd broke out into songs like "This Little Light of Mine."
3:14 p.m. ET, March 3, 2019
Crowd in Selma braves storms to watch Booker's speech
Democratic Sen. Cory Booker delivered the keynote remarks at Brown Chapel AME Church in Selma, Alabama, today to commemorate the 54th anniversary of "Bloody Sunday."
Despite severe storms, people gathered outside the church to watch Booker's speech on a large screen.
While the tornado sirens were sounding at the time, Selma itself was never under the warning. CNN's weather team says the tornado-warned cell was east of the Selma city limits.
From CNN's Eric Fiegel
1:20 p.m. ET, March 3, 2019
GOP Rep. Justin Amash hasn't ruled out a Libertarian run in 2020
A Republican congressman from Michigan said Sunday that he has not ruled out running for president as a libertarian in 2020.
Rep. Justin Amash told CNN's Jake Tapper on State of the Union that, although a presidential run is not currently on his radar, he has not ruled it out. He said he believes politics need to return to the "basic American principles."
"I think that it is important that we have someone in there who is presenting a vision for America that is different from what these two parties are presenting," Amash said.
The congressman was one of 13 House Republicans to vote in opposition to President Donald Trump's national emergency declaration last week.
"The fact that there's a debate going on here, and there is not consensus, indicates it's not an emergency in the sense that the President is describing, and he can't just go around Congress," Amash said.  
1:14 p.m. ET, March 3, 2019
Hillary Clinton: 'We are living through a full-fledged crisis in our democracy'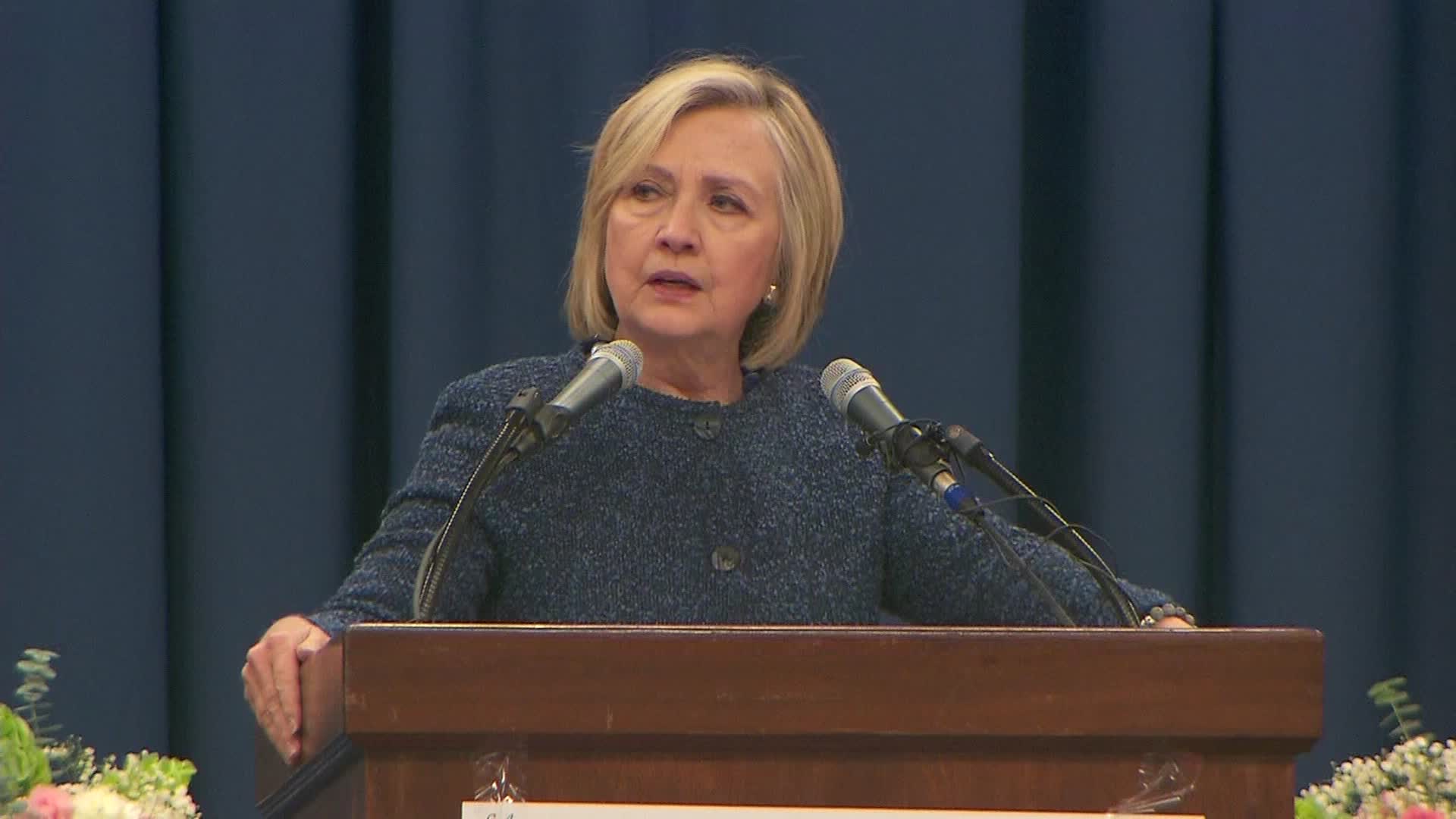 Hillary Clinton did not hold back in her speech at this year's Selma Bridge Crossing Jubilee, saying that "we are living through a full-fledged crisis in our democracy."
Clinton was speaking at an event commemorating the anniversary of Bloody Sunday, when state troopers brutally attacked civil rights demonstrators who were marching for voting rights on the Edmund Pettus Bridge in Selma in 1965.
Here's some of what she said:
"This is a time, my friends, when fundamental rights, civic virtue, freedom of the press, the rule of law, truth, facts, and reason are under assault. And make no mistake, we are living through a full-fledged crisis in our democracy."
Clinton also called out the media and the Trump administration.
"When racist and white supremacist views are lifted up in the media and the White House, when hard fought for civil rights are being stripped back, when the single most important fight of our time, which makes it possible to fight every other fight and must be as Fredrick Douglass would say, our North Star, the fight to protect our vote is not gathering the momentum and the energy and the passion it deserves. We have a lot of work to do, don't we?"
She called on the crowd to renew the fight for voting rights, noting recent setbacks such as the Supreme Court's gutting of the Voting Rights Act in 2013. She also praised the efforts of Georgia's Stacey Abrams and other activists.
"That is why we need starting right now here in Selma, once again, to redouble our efforts with a 21st century civil rights movement devoted to claiming, enforcing and defending the right to vote, once and for all."
The former senator and secretary of state is being honored with the International Unity Award and will be inducted into the National Voting Rights Museum's Women's Hall of Fame.
11:03 a.m. ET, March 3, 2019
Sanders honors Jesse Jackson in Selma
Speaking at an event in Selma to mark the 54th anniversary of "Bloody Sunday," Vermont Sen. Bernie Sanders honored civil rights activist and former presidential candidate Jesse Jackson, who ran in the 1984 and 1988 elections. 
"And let me say a special word when we talk about unity. Because there is a gentleman sitting right behind me whose name is Rev. Jesse Jackson. And when you talk about unity, please do not forget that way back in 1984, this man stood up as a candidate for president and he talked about a "rainbow coalition" -- remember that? And history will not forget that he talked about the imperative of black and white and Latino and Native American and Asian American to come together to fight for a nation of peace and justice and human dignity. Thank you, Jesse Jackson." 
Following his remarks, Sanders shook hands with Hillary Clinton, his former opponent in the 2016 presidential election. Clinton was honored and presented with an award at the event.
From CNN's Devan Cole and Aaron Pellish